(SPOT.ph) In July of 2016, a little show dropped on Netflix about a band of nerdy pre-teens and their super-powered friend fight off a frightening monster in a show that pays homage to the big sci-fi/horror films of the '80s by the likes of Steven Spielberg, Wes Craven, and John Carpenter by way of novelist Stephen King. It had no big names besides a throwback star in Winona Ryder, and it was led creatively by untested twins, creators, and showrunners The Duffer Brothers. It became a word-of-mouth hit thanks to its fun script, fantastic young cast, and loving references to all things '80s.
Three years later, Stranger Things has become a worldwide phenomenon. Not only is it one of Netflix's biggest shows, Stranger Things is also an awards-season regular, the show's actors have become huge stars themselves on and off screen, and even the music and its un-skippable theme song have become recognizable. This is no longer the little unknown show that randomly got dropped one weekend on Netflix. This is a show that, months in advance, people are incredibly hyped for, and are eager to devour as soon as new episodes drop.
ADVERTISEMENT - CONTINUE READING BELOW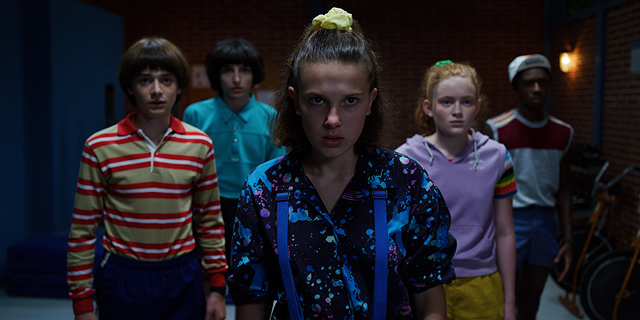 Enter Stranger Things 3. Released on July 4, the latest installment takes place over Fourth of July, 1985. The Hawkins crew of kids are now teenagers—Eleven (Millie Bobby Brown) and Mike (Finn Wolfhard) are in the kissing stage of dating and are ignoring everyone else, much to the chagrin of El's adoptive dad Chief Jim Hopper (David Harbour) and the annoyance of their friends Max (Sadie Sink), Lucas (Caleb McLaughlin), Dustin (Gaten Matarazzo) and Will (Noah Schnapp).
Unlike the previous two installments, which took place around fall, Stranger Things 3 is set under the hot summer sun. Max's brother Billy (Dacre Montgomery) works as a lifeguard at the public pool, and the brand-new Starcourt Mall has just opened—and naturally, it's everyone's new hangout. Lucas' sister, Stranger Things 2 breakout Erica (Priah Ferguson) is almost always there with her friends, and Joe Keery's fan-favorite character Steve works at the food court's ice cream shop with Robin (Uma Thurman and Ethan Hawke's daughter Maya Hawke). Meanwhile, Nancy (Natalia Dyer) and boyfriend Jonathan (Charlie Heaton) are working as interns at the Hawkins Post newspaper.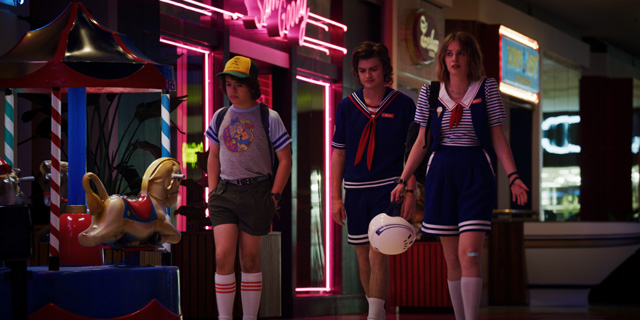 ADVERTISEMENT - CONTINUE READING BELOW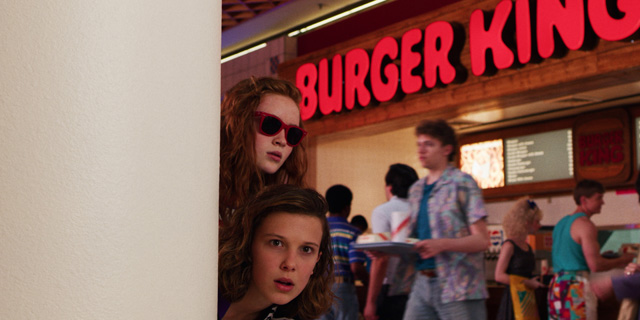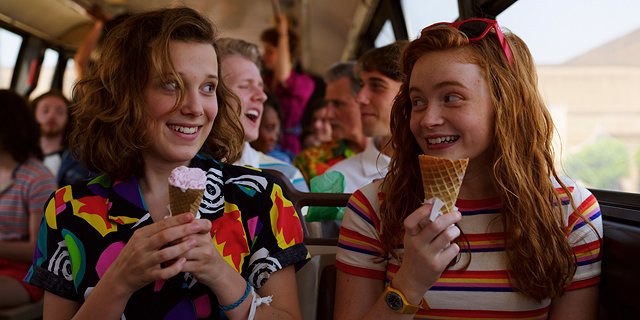 ADVERTISEMENT - CONTINUE READING BELOW
With new locations and a refreshingly different setting, Stranger Things 3 manages to keep things unique, even if its characters are set to square off with a mysterious monster once again. It's definitely a much bigger season, with higher stakes and darker consequences, yet it's also funnier and more mature. "We really wanted to go to the next level with Season 3 and I can't wait for our fans to join us on this wild ride," says executive producer and director Shawn Levy.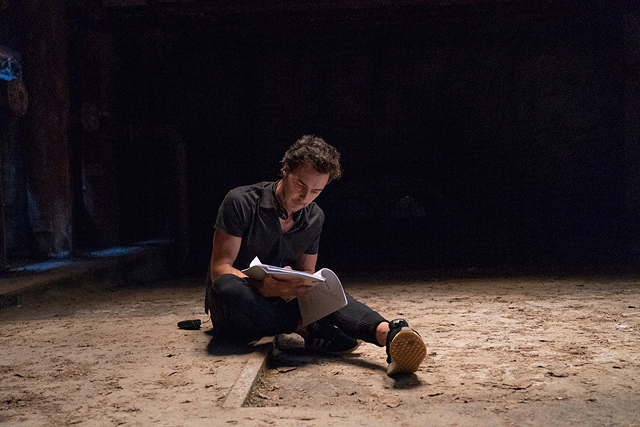 ADVERTISEMENT - CONTINUE READING BELOW
Levy, perhaps best known for directing Real Steel and the three Night at the Museum films, took a chance with the Duffers back in the early stages of development, and has been with the production every step of the way. He's spoken about being an older brother to the twins, and he has directed two episodes each season, including this one.
SPOT.ph got the chance to chat with Levy about what went on behind the scenes of Stranger Things' biggest season yet, aside from the fantastic new sets, the stunning '80s details, the new cast members who make a huge impression, and how he and the Duffers are dealing with the kid-stars growing up fast.
Stranger Things 3 focuses on the idea that the Hawkins crew aren't kids anymore. While the kids have grown, so has the show this season. This season is more mature; it's funnier, darker, bigger, gorier, more complex than ever before. Was that always the path for this season or did a maturing cast alter the course?
ADVERTISEMENT - CONTINUE READING BELOW
Shawn Levy: We've always developed storylines in tandem with the maturation of our actors. Because we realize we can't stop them growing and changing, we made Season 3 largely about the changes and growth in these teenage characters. Since we can't fight it, we embrace it.
You've once again directed episodes 3 ("Chapter Three: The Case of the Missing Lifeguard") and 4 ("Chapter Four: The Sauna Test"), which is a superstition that you and the Duffers share in order to not "mess with the system." How has your relationship evolved with the Duffers?
The [Duffer] Brothers and I are absolutely superstitious about me directing episodes 3 and 4! It's something we hope to never change. As far as our relationship, I very early on stepped into the big-brother role with the twins and it's a role I cherish. Perhaps over the years we have developed a little more trust and candor but above all, I'd say it's the affection that has grown, as we continue to share an experience that is unique, unusual, and will forever change us all.
ADVERTISEMENT - CONTINUE READING BELOW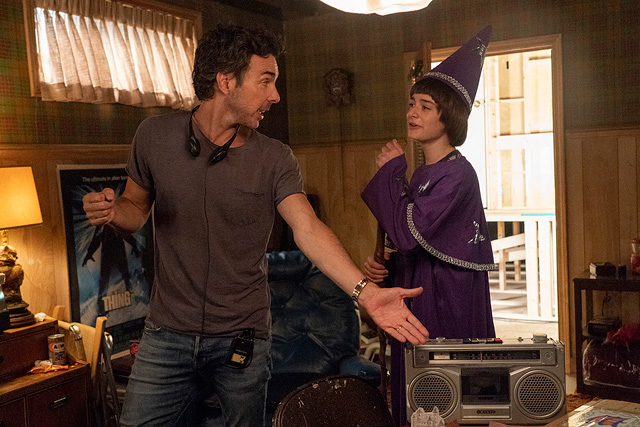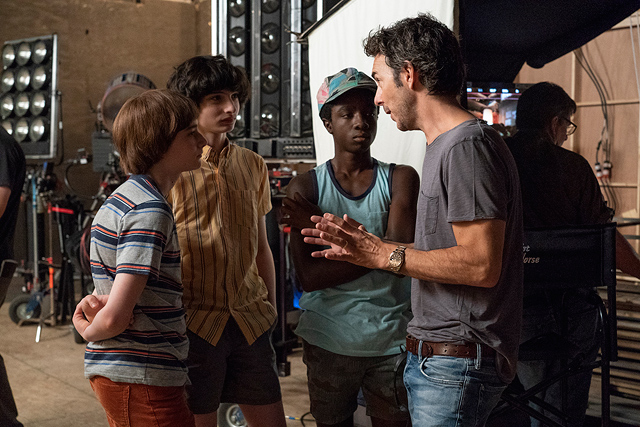 ADVERTISEMENT - CONTINUE READING BELOW
Some of the best parts of Stranger Things 2 took place in your episodes, specifically in Will Byers' story and actor Noah Schnapp's work. In Stranger Things 3, there are a number of emotional moments from this talented cast in your episodes, again including Schnapp. What can you tell us about working with the cast this season, now that they're a bit older and more experienced? Did anything change in the working relationship?
Firstly, I really appreciate your kind words about the memorable [moments] in my episodes every season. I've been lucky, in that [episodes 3 and 4] tend to be the pivot point of each season where things go from normal to truly strange. Directing "The Sauna Test" in episode 4 this year was the most intense sequence I've brought on screen thus far. I'm thrilled to say that our cast has remained the professional and emotionally available young people they've always been. The one change is that I rarely have to remind them about their characters because at this point, they know their characters every bit as well as the Duffer Brothers and me. 
ADVERTISEMENT - CONTINUE READING BELOW
Speaking of directing, you have one new director on board—Uta Briesewitz. Can you tell us about how bringing in new blood behind the camera works for Stranger Things, and what to expect from Uta's work?
We've only brought in a single outside director each season and we take that selection very seriously. Uta is not only a lovely person but a true directing pro. We tasked her with very ambitious and action-packed episodes, knowing that her background as a cinematographer and her experience as an episodic director would equip her with the skills and confidence to pull it off. Her episodes ("Chapter Five: The Flayed" and "Chapter Six: E Pluribus Unum") are fantastic and she delivered on all our wildest hopes.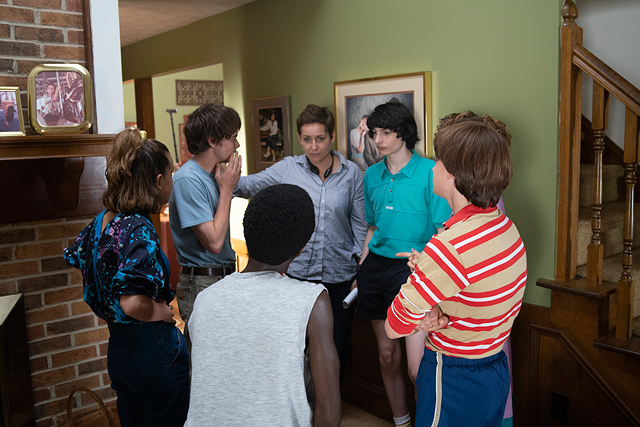 ADVERTISEMENT - CONTINUE READING BELOW
In regards to new blood, we also have some new characters on board this season, including Cary Elwes, who is a great scene partner for David Harbour's Hopper; Jake Busey, who nails his role as that guy you just love to hate; and Maya Hawke, who stands out even in a group of scene-stealers. Can you tell us a bit about these new actors, and how they got integrated in the show?
It's been very fun to incorporate new actors in each season. In the case of Cary and Jake, these are seasoned professionals who fit in perfectly with our Stranger Things family. Maya Hawke, on the other hand, is a young, new talent and from the moment we saw her first audition, we knew she was unique. Our show has always bet on actors with a singular quality, and an unusual quality. Maya has that trait and it's why she feels so alive and unique on screen.
ADVERTISEMENT - CONTINUE READING BELOW
Stranger Things 3 is set in the summer, and this season feels like a summer blockbuster. The budget seems much bigger, the effects, the sets like the Starcourt Mall, the action all seem ramped up. What is a detail you were most excited to tackle or maybe toiled over the most in your episodes for this season?
Well, Stranger Things 3 is far bigger than any before and the largest challenge overall was balancing the huge scope with the small moments of emotion and storytelling. For me personally, the climactic sequence at the end of the "Sauna Test" was my biggest challenge. It is a huge, extended action sequence in a very small space, requiring careful choreography, hundreds of shots, and sustained intensity over the course of several shooting days. The cast and I went in very prepared and excited, and were able to maintain our energy and focus, knowing that this sequence is the pivot point of Season 3, where things transition from somewhat normal to bigger madness.
ADVERTISEMENT - CONTINUE READING BELOW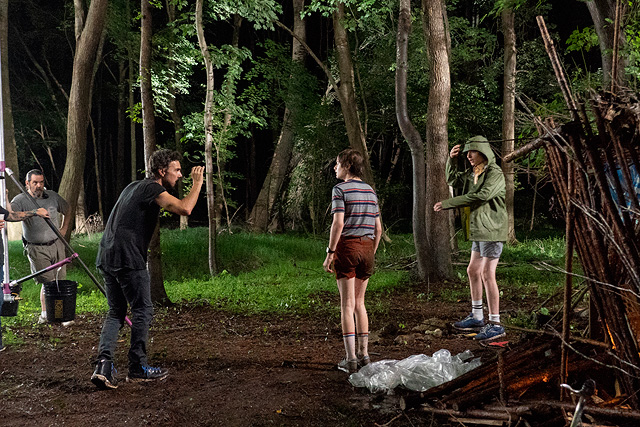 The show always gets the '80s details down so perfectly, not just the sets and clothes, but even the experiences like sneaking into theaters, hanging out at the mall, et cetera. What's a moment or a character this season that you related to the most?
ADVERTISEMENT - CONTINUE READING BELOW
There was a scene I directed in one of my episodes where Max and Eleven are flipping through a teen beach magazine filled with '80s heartthrobs and stars. I vividly remember my sisters doing that and I definitely remember John Taylor on the cover and someday wishing I could be that cool.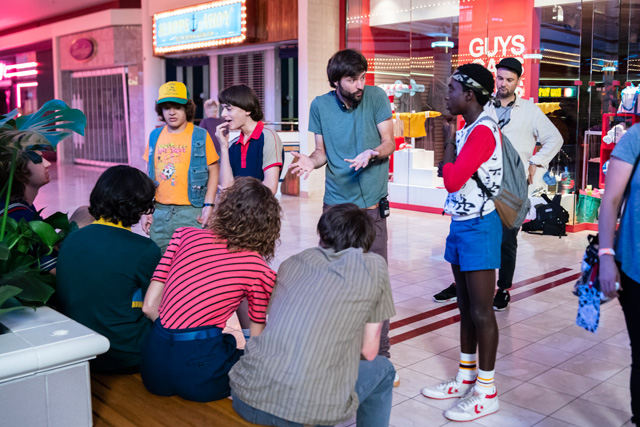 ADVERTISEMENT - CONTINUE READING BELOW
In the official Stranger Things behind-the-scenes companion book (Stranger Things: Worlds Turned Upside Down), you talk about the show being an "anthem for the marginalized and imperfect." With Stranger Things as popular as it is today, how do you maintain that anthem amid the popularity and buzz?
I did say that! I think that the show remains an anthem to the outcasts in spite of its global popularity because our show really stems from the heart of the Duffer Brothers. And in spite of their massive talent and success, they remain [the] same twin boys who never quite fit in the mainstream when they were in school. We're all shaped by the experiences of our childhood and adolescence, and that sense of looking from the outside in is at the heart of the Brothers' characters, which is precisely what I love most about them.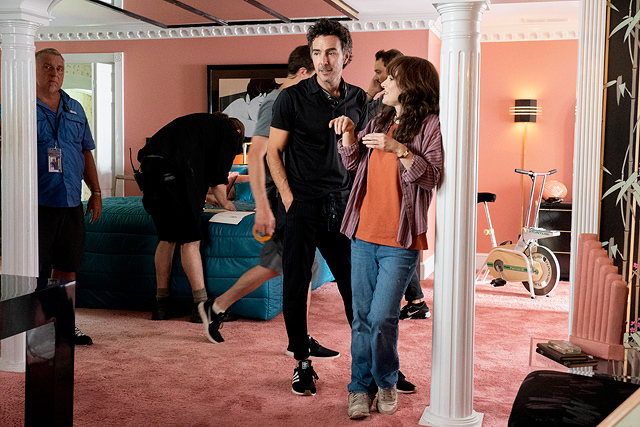 ADVERTISEMENT - CONTINUE READING BELOW
Finally, you've got a full plate with a new Netflix coming-of-age show starting soon (I Am Not Okay With This). You're also in the middle of directing Free Guy (with an all-star cast that includes Ryan Reynolds, Taika Waititi, Jodie Comer, Channing Tatum, and Stranger Things' Joe Keery), but if we hopefully get a Stranger Things 4, what are you most looking forward to when you get started working on that?
No matter how busy I am in my movie directing life, Stranger Things will occupy a central place in my heart. I love my role as adopted big brother to the Duffers and I can't wait to find a way to pull off whatever madness they can dream up for the future.
Stranger Things 3 is now streaming on Netflix. 
Your guide to thriving in
this
strange new world.
Share this story with your friends!
---
Help us make Spot.ph better!
Take the short survey
More Videos You Can Watch
Load More Stories