Forget Sherlock? Millie Bobby Brown Tells Us What Makes Enola Holmes the One to Watch
Here's what to watch for in Enola Holmes, the movie she starred in and produced.
(SPOT.ph) The story of Sir Arthur Conan Doyle's unforgettable creation, master detective Sherlock Holmes, is getting an update—and a younger sister. Yup, Enola Holmes is set to come crashing into Netflix on September 23 and portraying the wild, spunky, new character is none other than Millie Bobby Brown. We know there have been a ton of different variations on the classic character—with Benadryl Camembert, sorry we meant, Benedict Cumberbatch, most recently top of mind—and so this time around, we'll be getting an entirely different take through the Holmes brothers' teen sister, Enola. 
We've got the usually stoic Detective Sherlock (Henry Cavill) and an uptight Mycroft (a mustachioed Sam Claflin) arriving back home to realize their teen sister isn't at all the proper lady one would expect in late 19th-century England. Even worse, their mother—Enola's main companion and teacher—has vanished on the morning of the youngest Holmes sibling's 16th birthday. 
ADVERTISEMENT - CONTINUE READING BELOW
With their mother Eudoria (Helena Bonham Carter) gone, the elder Holmes brother plans to send their sister off to a "finishing" school, but Enola has plans of her own. She sets off to London by herself to find out what happened to her mom—and since this is the Holmes family we're talking about, a chaotic wild ride ensues.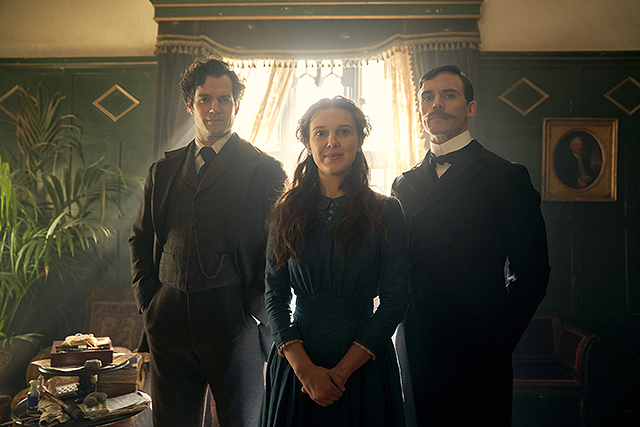 ADVERTISEMENT - CONTINUE READING BELOW
The movie is based on a mystery book series of the same name by Nancy Springer, which featured the teen Holmes as its main detective . As we're sure you've deduced correctly, Enola isn't your typical 16-year-old. She's got her own set of detective and sleuthing skills to work with, possibly at par with her famous brother's, and a goal to accomplish come what may: to find Eudoria. Enola's character gives the classic story a fresh twist that makes it all the more relevant today—but don't just take it from us. We got to chat with Brown about what makes Enola the one to watch! 
"They're two very different detectives," says Brown. "Sherlock is one to sit back and observe and take notes," she explains, saying Enola, is the type to, "Get it done herself." Adding a cheeky, "She's not patient!"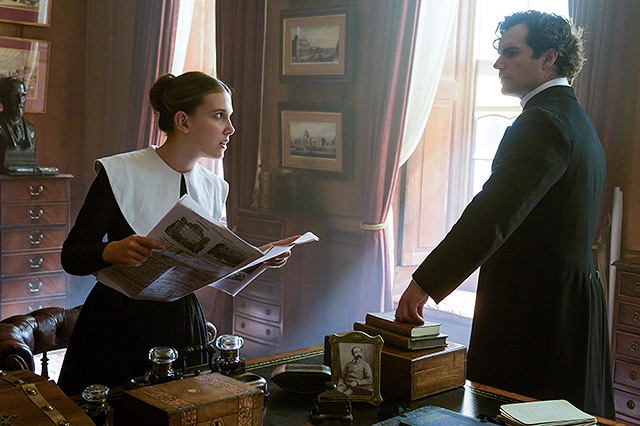 ADVERTISEMENT - CONTINUE READING BELOW
"You know we have a very masculine detective, and then you have a very young, 'Wild Child' detective. Two very different ages, too, but doesn't take away from their incredible skills," says Brown. Enola, in the film, throws herself into the city streets of London after 16 years of having lived peacefully with Eudoria at home—well, as peacefully as possible with a mother that taught her chemistry, archery, martial arts, and more. Oh, and occasionally had tennis games inside the house.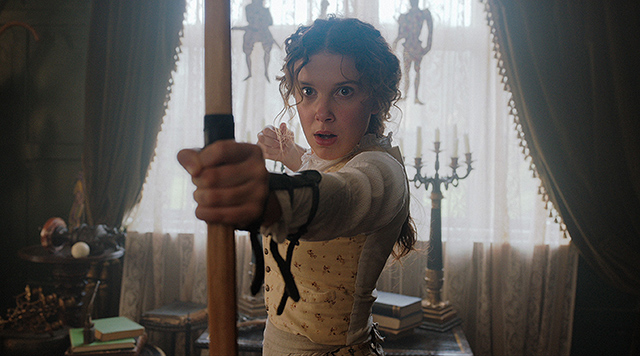 ADVERTISEMENT - CONTINUE READING BELOW
Once alone in London, Enola finds herself questioning what her mother really is up to as her investigation deepens, and she finds herself in something far more serious than a missing person's case. Thankfully, Enola isn't about to bow out of anything—that just isn't her way. And this is something Brown herself relates to, having started working on huge projects so young. 
"When [I was] getting into the film industry and working on Stranger Things, I started becoming more exposed to other projects," she says. "I definitely found myself in situations where I felt like I wasn't getting equal opportunity as other people [...] I started to realize that it was also because of my gender, because of my age because of my experience, and I hated that that's what was holding me back."
"This film gave me the empowerment to be able to talk about sexism," she explains. "Especially in this industry."
ADVERTISEMENT - CONTINUE READING BELOW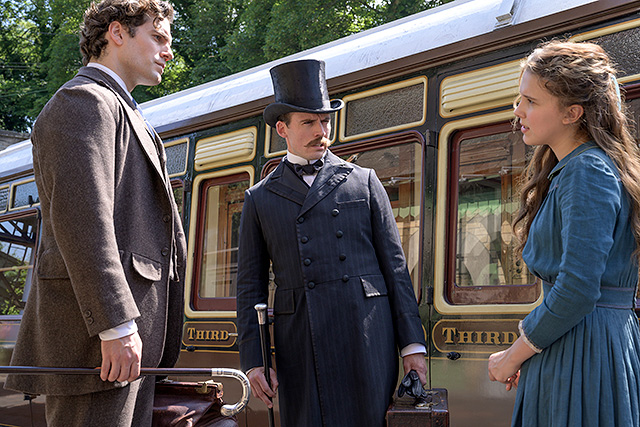 Brown's childhood has not been ordinary—given her fame as Eleven in Stranger Things and her slew of projects, we know you get the idea. She turned 16 recently, the same age as Enola in the movie, and this helped her relate to her character even more. "This is a coming-of-age story about a young girl finding a purpose in life," she says. As a young girl, "it can be difficult to find your place." 
ADVERTISEMENT - CONTINUE READING BELOW
"It's actually my coming-of-age story as well as Enola's, so we were both really going on that journey together," says Brown. And speaking of coming into one's own, the fire Brown had for Enola Holmes had her playing not just a character in the film, but also a producer. Certainly not a feat most 16-year-olds can say they've done! "If I wasn't on set, I was probably at the production office," she says, adding jokingly, "So I definitely felt like the producer, which was very exciting."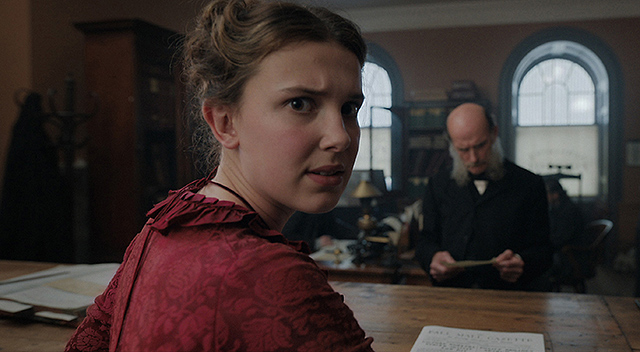 ADVERTISEMENT - CONTINUE READING BELOW
Brown worked closely with Harry Bradbeer, who was both executive producer and director of Enola Holmes on bringing the film to life. "Working with Harry was one of the most special moments of my whole career," she tells us. The magic of Bradbeer, of Fleabag and Killing Eve fame, can definitely be seen in the cheeky fourth-wall breaking moments of Enola Holmes.
And as sure as Enola spells Alone backwards, Brown is proud of what is arguably her first major project. "This is for me, this is my masterpiece," she tells us. "If you love it, I'm so happy, if you don't, then I'm sorry, but this is genuinely one of the most exciting parts of my life," Brown says decidedly. Having a voice may sometimes seem more like a privilege than a right at times, and this film is one way Brown has sent a message. 
Enola Holmes is set in 19th century London, at a time when their society faces a big change—one Eudoria might just be a part of. Brown's character here is more than just Sherlock's unruly younger sister as she takes on an adventure and, of couse, a mystery much bigger than herself or her family's famous last name. 
ADVERTISEMENT - CONTINUE READING BELOW
Hey, Spotters! Check us out on Viber to join our Community and subscribe to our Chatbot.
CONTINUE READING BELOW
Recommended Videos
Your guide to thriving in
this
strange new world.
Share this story with your friends!
---
Help us make Spot.ph better!
Take the short survey
Load More Stories