The Best Horror Movies to Watch on Netflix Right Now
You don't need Halloween to give yourself a good scare.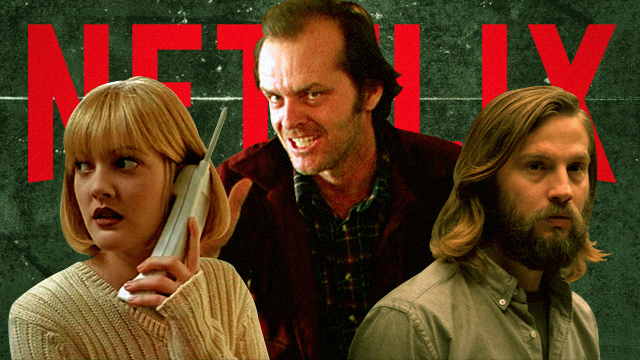 (SPOT.ph) There's nothing quite like the adrenaline rush that comes when you're watching a horror movie—even if that means you'll be sleeping with the lights on for a few days. Thanks to technology, however, you no longer have to wait until Halloween season to give yourself a good scare. Netflix, for instance, is home to plenty of terrifying titles, from good ol' supernatural frights to gross and grisly slashers that'll satisfy any horror aficionado.
A fair warning: Netflix's catalog is always growing and changing so we can't guarantee these films will be there forever. Hey, think of this as more reason to gather your friends ASAP, grab some popcorn, and get ready to hide under the covers when it's all over.
The Similars (2015)
Directed by: Isaac Ezban
Also known as Los Parecidos, this 2015 Mexican film is part-suspense thriller and part-surreal sci-fi. Here, eight strangers are stranded in a bus station on a stormy night in 1968. When they begin to fall victim to a strange condition that alters their faces, fear and paranoia quickly take over.
ADVERTISEMENT - CONTINUE READING BELOW
Hostel (2005)
Directed by: Eli Roth
Written and directed by Cabin Fever's Eli Roth and executive-produced by Quentin Tarantino, Hostel revitalized the "torture porn" sub-genre of the late '90s. Despite spawning two unsuccessful—and admittedly subpar—sequels, the brutal 2005 original still manages to get under your skin and leave you feeling very queasy and disturbed. The story follows a pair of backpacking college students who visit a hostel in Slovakia, only to be tortured in many gruesome and sickening ways.
The Evil Dead (1981)
Directed by: Sam Raimi
Five college students head to an isolated cabin for spring break, where they stumble upon an ancient book that unleashes the undead. Despite a low budget, the film went on to screen at the 1982 Cannes Film Festival and even earned a rare, rave review from Stephen King. Now a cult classic every horror buff should see, The Evil Dead spans an entire media franchise, including two sequels, comic books, video games, and even a TV show.
CONTINUE READING BELOW
Recommended Videos
ADVERTISEMENT - CONTINUE READING BELOW
Creep (2014)
Directed by: Patrick Brice
Think of this film as a fresh and rather oddball take on the found-footage genre that made The Blair Witch Project and Paranormal Activity household names. Director and co-writer Patrick Brice stars as Aaron, a videographer who comes across a cryptic online ad for a one-day "filming service." In desperate need of money, he takes the job and meets his client named Joseph (co-writer Mark Duplass), whose seemingly sincere intentions are not what they seem. If you needed any more convincing, Creep was produced by Jason Blum, who also produced memorable horror flicks like The Purge, Insidious, and Unfriended.
From Dusk Till Dawn (1996)
Directed by: Robert Rodriguez
Written by Quentin Tarantino and directed by Robert Rodriguez, this action-horror stars Tarantino and George Clooney as two sadistic brothers fleeing the authorities and later, take refuge at an isolated club in Mexico. They soon realize that the establishment is actually populated by vicious, blood-sucking vampires, and with the odds stacked against them, they must find a way to survive through the night. Initially opening to a modest box-office take, the film is now widely considered a cult classic by both film—and horror—fans.
ADVERTISEMENT - CONTINUE READING BELOW
The Invitation (2015)
Directed by: Karyn Kusama
In the mood for a psychological thriller? In this critically acclaimed film, Will (Logan Marshall-Green) and his new girlfriend are invited to attend a party hosted by his ex-wife (Tammy Blanchard) and her new husband. After observing their suspicious house guests and strange behavior, Will realizes that their hosts have sinister plans for him. Blending mystery, paranoia, and tension-filled suspense, this horror will have audiences wondering what is real and what is imagined.
Hush (2016)
Directed by: Mike Flanagan
At this point, home invasion horrors tend to be formulaic, but this 2016 film adds a modern and inspired twist to the genre. The film has a relatively simple premise: A deaf woman (Kate Siegel) living a life of seclusion is targeted by a deadly masked man (John Gallagher Jr.). What makes the movie really stand out is the sound design, ingeniously used to put the viewers in the deaf heroine's shoes. We see the terror about to unfold, but it plays out in complete silence—and it will leave you terrified all throughout.
ADVERTISEMENT - CONTINUE READING BELOW
Scream (1996)
Directed by: Wes Craven
The late and great Wes Craven left us with many fantastic horrors to keep us up at night, but Scream still stands the test of time. The franchise (which now boasts four films and a TV show) is credited with reviving the genre by blending a traditional slasher with humor and self-aware horror clichés. The first film, in particular, centers on a teenaged girl named Sydney (Neve Campbell) and her friends, who are targeted by a serial killer that uses horror films as part of his deadly game. Its fantastic opening sequence, which involves a guest appearance from Drew Barrymore, remains a memorable crowd-favorite among movie fans.
The Conjuring (2013)
Directed by: James Wan
The first installment of the highly successful The Conjuring franchise is based on the lives of Ed and Lorraine Warren, paranormal investigators tasked to help a family that's possessed by demonic spirits. The two Conjuring films have been met with positive reviews—no surprise, considering director James Wan was also behind films like the Saw franchise, Insidious, and Lights Out—and its spin-offs, though not as acclaimed, are still successful in the box-office.
ADVERTISEMENT - CONTINUE READING BELOW
The Shining (1980)
Directed by: Stanley Kubrick
Based on Stephen King's 1977 novel of the same name, The Shining tells the story of Jack (Jack Nicholson), who heads to an isolated hotel with his family to work as a caretaker over the winter. There, terrifying spirits reside and influence Jack into horrific violence, while his psychic son (Danny Lloyd) has visions of the hotel's bloody past. Although not an entirely faithful adaptation of the novel, The Shining is widely regarded as one of the greatest horror films of all time and continues to influence pop culture even today.
Your guide to thriving in
this
strange new world.
Share this story with your friends!
---
Help us make Spot.ph better!
Take the short survey
Load More Stories