(SPOT.ph) We've all told a lie or two at some point—whether to help us get away from a sticky situation, to avoid someone we don't like, or to minimize conflict. Lying—or, at the very least, telling white lies—can make things less complicated. But what if lying will ultimately lead to your untimely death; would you still be willing to take the risk? Thankfully, there's no need to actually do so as a Netflix title is set to take you on a vicarious ride. We spotted a Japanese title worth putting on your watch list.
Also Read:
10 Thriller and Horror Anime Titles to Watch for When You Want a Bloody, Scary Good Time
10 Feel-Good Animes To Stream On Netflix After a Long Week at Work
10 Adrenaline-Pumping Anime Series You Can Catch on Netflix
Everything You Need to Know About Usogui Netflix
What Usogui is About
Enter Baku Madarame (Ryusei Yokohama), also known as the "Lie Eater" or usogui—the protagonist who loves to bite on an umeboshi (a type of tsukemono or pickled food) when he's about to go all-out against seemingly formidable rivals. He's a brilliant gambler who barges his way into the shadiest organizations to overturn the rule of swindlers and equally shady personalities invading the country.
ADVERTISEMENT - CONTINUE READING BELOW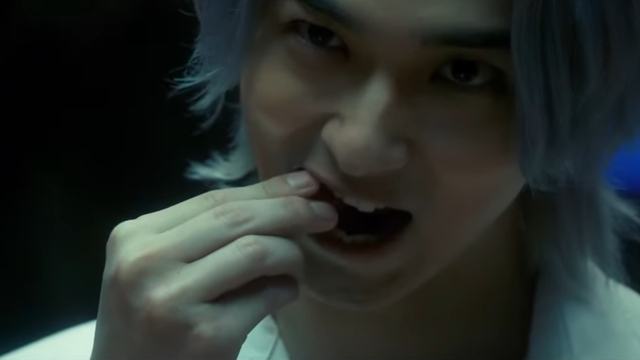 Based on this narrative, he seems like the ideal hero persona one usually sees in movies, except he's not exactly one. He gambles his way to get higher in the ranks and ultimately dominate and take charge of Kakerou, a powerful yet illegal gambling organization that's out to extract payment from those who partake in its games in whatever type or form—without any regard as to power or rank.
Kakerou draws its charm from its potential to pull the strings of a lot of entities—even the national government. It's for those who are into the thrill and eventually look to bask in the power and fame that comes with the membership. But make no mistake about it. Kakerou is not your usual gambling house that allows anyone to just waltz in and place their bets.
What Makes Usogui Worth the Watch
Not everyone has that voracious appetite for risk like the characters portrayed in Usogui, so it's like watching a horror film—only you're going for entirely different genres: mystery and thriller. You get the thrill of the experience without actually being in danger of having something taken away from you should you lose a gambling bet.
Each game also gets more dangerous the longer you watch the movie. If you think money is the ultimate motivator of most characters here, you're in for a surprise. Some of them are in it for the excitement, while others are after the non-monetary favors that come with each victory. It's a mixture of ambition and a pure desire to take on the dangerous risks that can cost them their lives.
ADVERTISEMENT - CONTINUE READING BELOW
It's not just a pure test of luck for all that partake in the games. It's a battle of wits of who cheats better (if they even do) and who gives in to the mind games after a long wait in awkward silence. It's not just a game–it's an endurance test, a barrage of psychological warfare that lasts well after the game ends.
Just like the other gambling-centric live-action shows there are, it's the "how" that takes the viewers in on a deep dive—how they win against the opponent, how a certain card or dice trick works, and how they advance to the next set of games with that crazy happy-go-lucky cocky mindset that drives everyone to the edge of their seats.
The People Behind Usogui the movie
Toshio Sako is the man behind the action-packed manga-turned-live action film, while Warner Bros. Japan is the studio that took a major role with the production side. Hideo Nakata directed the almost-two-hour film, while Era Itaru and Oishi Tetsuya wrote the script for the entire movie. Nao Tokisawa is in charge of the heart-racing and bass-filled music that elevates the mood of each unfolding scene.
ADVERTISEMENT - CONTINUE READING BELOW
Also read: Here's How Netflix's Usogui Cast Compares to the OG Manga Characters
As for the manga, Shueisha Inc. published the 49-volume manga series and Young Jump Comics took care of the imprints. Usogui is also featured in Weekly Young Jump, a magazine that publishes different types of manga on a weekly basis. Toshio Sako then released another spinoff, so it may be an indication of a chance at another live-action movie in the future.
Where to Stream Usogui
As of this writing, only Netflix streams this live-action film. Other providers have yet to verify if they will get their hands on the show.
Usogui Trailer
Your guide to thriving in
this
strange new world.
Share this story with your friends!
---
Help us make Spot.ph better!
Take the short survey
More Videos You Can Watch
Load More Stories