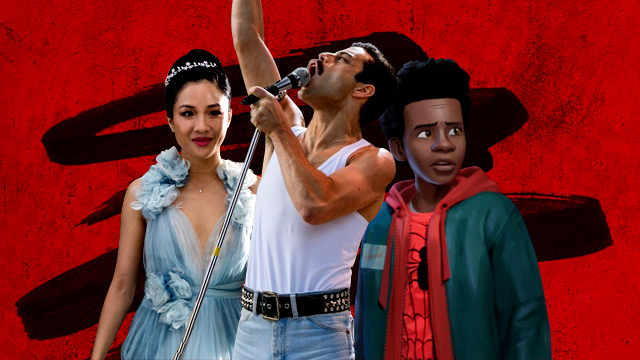 (SPOT.ph) Another year has passed, which means we've got another 12 months' worth of great movies to look back on. 2018 blessed us with amazing films that kept us entertained, whether we caught them at the cinemas or watched them from the comfort of our own homes (thanks, streaming!). Here are the 25 movies that made us laugh out loud, cry buckets of tears, scared us to the core, and brought us to the edge of our seats. 
ADVERTISEMENT - CONTINUE READING BELOW
This list is unranked and focuses on films released theatrically in Philippine cinemas, local film festivals within 2018, and streaming services. 
The Greatest Showman
Directed by: Michael Gracey
Release date: January 31
Never mind the highly fictionalized and inaccurate life story, or the extreme artistic license. This musical biopic of circus impresario PT Barnum is the feel-good movie of the year. With an eminently replayable and karaoke-worthy soundtrack, this Hugh Jackman-starrer champions freaks and outcasts, loving through adversity and public opinion, and valuing family. The highly infectious and positively rousing songs were composed by the same duo behind the songs from La La Land, Benj Pasek and Justin Paul, and are earworms you'll find yourself quietly humming or singing out loud alone in the car.
Black Panther
Directed by: Ryan Coogler
Release date: February 14
Millions of moviegoers left cinemas back in February yelling the now-unforgettable "Wakanda Forever!" catchphrase, and the legend of Black Panther (played by Chadwick Boseman) was born. The Marvel Cinematic Universe's first film to feature an African-American lead (plus a predominantly black cast) not only made history, it also made over a billion dollars at the box office, thanks in part to director Ryan Coogler's beautiful depiction of the fictional country of Wakanda, a pulse-pounding score and soundtrack, numerous powerful women (like Danai Gurira's Okoye), and a charismatic villain in Killmonger (Michael B. Jordan). Wakanda definitely reigned supreme in 2018.
Annihilation
Directed by: Alex Garland
Release date: March 12
Searching for strange sci-fi, horrific animal hybrids, and just straight-up weird happenings? Look no further than Alex Garland's Annihilation. Starring an all-star cast featuring Natalie Portman, Gina Rodriguez, Tessa Thompson, and Oscar Isaac, Annihilation is about a group of military scientists. They go into a mysterious place called "The Shimmer," where anyone who enters has never come out—except for one very sick individual. What lies beyond The Shimmer is beauty and horror rolled into one, and makes for a challenging yet engrossing experience.
Unsane
Directed by: Steven Soderbergh
Release date: March 31
Soderbergh wasn't on board for Oceans 8, instead directing his efforts into this psychological film about Sawyer (Claire Foy), a woman escaping a traumatic stalker experience. Shot entirely on an iPhone 7, Soderbergh takes advantage of the uneven B-movie feel to deliver a is-she or isn't-she crazy thriller that feels both creepy and experimental.
ADVERTISEMENT - CONTINUE READING BELOW
A Quiet Place
Directed by: John Krasinski
Release date: April 11
Horror once again had a successful year, but no film was more successful in the genre than John Krasinski's A Quiet Place, a film about a family trying to survive in a world where you can't make a sound or else you get killed by a monster who attacks any kind of noise. Krasinski built an intriguing world full of intricate details and frightening monsters. What made this film even better was the family drama within the horror, so effectively portrayed by real-life couple Krasinski and Emily Blunt, depicting just how far one would go to protect their family.
Avengers: Infinity War
Directed by: The Russo Brothers
Release date: April 25
It was the snap heard around the world, as the third Avengers film stands as the highest-grossing film of 2018 worldwide by a considerable margin with over two billion dollars in ticket sales. Infinity War saw the Marvel Cinematic Universe's heroes like Iron Man (Robert Downey Jr.), Captain America (Chris Evans), and Thor (Chris Hemsworth) come together once more to fight their most daunting foe yet in Thanos (Josh Brolin), an extremely powerful Titan warlord bent on erasing not just Earth's but half the universe's population. Thrilling battle scenes, cheer-worthy heroic moments, a shocking ending, and a Philippine landmark cameo cemented Avengers: Infinity War as the most talked-about film of 2018.
ADVERTISEMENT - CONTINUE READING BELOW
Love, Simon
Directed by: Greg Berlanti
Release date: May 9
A tender little tale on high school romance reminiscent of John Hughes classics, Love, Simon follows the story of closeted gay Simon Spier (Nick Robinson) as he tries to figure out the identity of his pen pal, the confessed gay boy only known as Blue. It's the romcom we never knew we needed. Love, Simon encapsulates 2018, perfectly normalizing gay relationships in a sweet and funny story adapted from a YA novel by Becky Albertalli.
Deadpool 2 
Directed by: David Leitch
Release date: May 16
Bigger, bolder, and a lot funnier, Deadpool 2 adds more people, more danger, and more laughs to the world of the wisecracking mercenary played by Ryan Reynolds. Having John Wick director David Leitch on board meant more dynamic action sequences, while Reynolds fully embraced the character and poked more fun at himself. Joining the cast this time is Josh Brolin as Cable, a time-traveling soldier who Deadpool must stop from changing the future. Deadpool 2 continues the first film's trademark R-rated humor and violence, but a PG-13 cut is to be released in the U.S., giving us a look at what Deadpool might be like under Disney.
ADVERTISEMENT - CONTINUE READING BELOW
Isle of Dogs
Directed by: Wes Anderson
Release date: May 30
It was inevitable that after the success of The Fantastic Mr. Fox, Wes Anderson would return to the world of stop-motion animation. Isle of Dogs centers on a Japan where dogs are banned from the country and are exiled to a mysterious island of trash. Searching for his lost dog, a boy crashes on the island and is rescued by a pack (including characters voiced by Anderson regulars Bill Murray and Edward Norton) who help him find his missing pet. Anderson's whimsy is perfect for this love letter to man's best friend.
Ocean's 8
Directed by: Gary Ross
Release date: June 13
Slickly directed by Gary Ross using all the tricks to make it feel like a Steven Soderbergh film, Oceans 8 is a sequel to the Ocean trilogy featuring an all-female cast headlines by Sandra Bullock and Cate Blanchett. It's a win for female empowerment but a sobering reminder that girls can just be as bad as boys in this super stylish heist movie where Debbie Ocean (Bullock) and friends are thieving mostly for the sake of thieving (with a serving of boyfriend revenge on the side). It runs in the family.
ADVERTISEMENT - CONTINUE READING BELOW
Incredibles 2
Directed by: Brad Bird
Release date: June 14
It took 14 years for a sequel to arrive, but the wait was absolutely worth it. Pixar's latest is the best sequel the animation studio has produced since the follow-ups to Toy Story, giving the audience a more fun, fast-paced, and action-packed look into the life of our favorite superhero family. In this long-awaited sequel (that starts seconds after the first), the Parr family fights new villains who use new technology to brainwash their victims. Holly Hunter's Elastigirl takes center stage showing the superheroine at her most powerful, while fan favorite Edna Mode and baby Jack-Jack deliver some of the biggest laughs of the film. We hope it doesn't take another 14 years for another sequel!
Hereditary
Directed by: Ari Aster
Release date: June 20
One of the creepiest films of the year, Hereditary didn't want to just scare you, it wanted to haunt you long after the film was over. Toni Collette gives an outstanding performance as a woman who, along with her family, experiences weird and terrifying events after the death of her mother. Her mother was a strange woman with a mysterious past, and it slowly unravels as the family tries to put things together after her death. Hereditary fills viewers up with dread and horror through creepy children, violent deaths, and a daring original story that will truly stay with you after the credits roll.
ADVERTISEMENT - CONTINUE READING BELOW
Mission: Impossible – Fallout
Directed by: Christopher McQuarrie
Release date: July 25
Tom Cruise is back to jump off buildings and going as far as injuring himself for your entertainment. In the latest action-packed installment of the Mission: Impossible franchise, Cruise returns as Ethan Hunt as he hunts down a terrorist organization set to destroy parts of the world using nuclear weapons. This time, he teams up with a CIA agent with a meme-worthy arm-reload moment (Henry Cavill). The Mission: Impossible (MI) action sequences have always been a thrill, but Fallout ups the ante with a mind-blowing Paris-set car chase and an insane helicopter battle, proving that MI and Cruise have a lot left to give.
BuyBust
Directed by: Erik Matti
Release date: August 1
Erik Matti wanted to make a zombie apocalypse movie, so he made a zombie apocalypse movie disguised as a statement against the Philippine drug war. Anne Curtis and MMA champion Brandon Vera headline the cast of PDEA agents who take to the field to disrupt a drug deal which turns out to be a trap. What ensues is an extremely violent, highly frenetic fight for survival against hordes of zombie-like squatters over the course of one night. Loaded with action and adrenaline, BuyBust is the zombie movie the Philippine drug war deserves.
ADVERTISEMENT - CONTINUE READING BELOW
Teen Titans Go! To the Movies
Directed by: Aaron Horvath and Peter Rida Michail
Release date: August 1
Utterly ridiculous and irreverent, this zany cartoon based on the comics is a riotous ride from start to finish. In a quest to be taken seriously, the Teen Titans seek out an arch nemesis worthy enough to proper them to the upper echelons of superheroes. What ensues is a lot of hilarity and shenanigans, not least of which includes a white Lisa Frank tiger voiced by Michael Bolton.
To All the Boys I've Loved Before
Directed by: Susan Johnson
Release date: August 17
Incredibly sweet and charming, the story of Lara Jean (Lana Condor), an Asian-American teen whose secret, private letters to her crushes were somehow sent to their recipients was a huge hit that sent sales of Yakult (featured in the film) booming all across America. We're also introduced to crushable cutie Noah Centineo, who plays good guy Peter Kavinsky, and the film delivers all the requisite feels a proper rom-com should. But the best thing about this film based on Jenny Han's YA romance novel is that it's sequel, P.S. I Love You, has been greenlit by Netflix.
ADVERTISEMENT - CONTINUE READING BELOW
Crazy Rich Asians
Directed by: Jon M. Chu
Release date: August 22
Hollywood films with Asian leads made major strides this year, with films such as Searching starring John Cho and Netflix's To All The Boys I've Loved Before becoming big hits, but no film made a bigger cultural impact than Crazy Rich Asians. As the first Hollywood studio movie in 25 years to feature an all-Asian cast, there was a lot of pressure in making the film, but Jon M. Chu's stylish direction and a charming cast led by Constance Wu made for an entertaining look at the rich and powerful, love, as well as the issues on Asian-American identity. With two sequels set to premiere in the next few years, Crazy Rich Asians has really raised the bar for rom-coms.
A Star is Born
Directed by: Bradley Cooper
Release date: October 10
Stars were truly born after the success of Bradley Cooper's directorial debut. Cooper showed that he is a very competent and effective director, and Lady Gaga launched her acting career to new heights. Both Gaga and Cooper are expected to earn well-deserved Oscar nominations for acting, directing, and songwriting in this fourth iteration of the classic film. A Star is Born is about a woman trying to break into the business (Gaga) and the love of her life who guides her (Cooper) until things take a turn for the worst. The movie's casting plus the songs (like hit "Shallow") could not be more perfect.
ADVERTISEMENT - CONTINUE READING BELOW
Liway
Directed by: Kip Oebanda
Release date: October 10
Independent film Liway tells the gut-wrenching story of a boy whose rebel commander mother (played by Glaiza de Castro) tries to shield him from the harsh realities of living under martial law during the waning years of Ferdinand Marcos. It's a deeply personal story drawing elements from writer and director Kip Oebanda's own childhood, hammering a powerful emotional message against martial law and the Marcoses (the film declares that a portion of their ill-gotten wealth was used in making it). Extremely resonant and relevant, Liway is required viewing in a world where the wealthy and corrupt are furiously trying to rewrite history.
First Man
Directed by: Damien Chazelle
Release date: October 17
Damien Chazelle's follow up to his musical La La Land could not be further away from the glitzy and colorful Los Angeles-set romance film. In First Man, Chazelle centers on the life of the first man on the moon, Neil Armstrong (Ryan Gosling) and NASA's fight to beat others in the Space Race. Chazelle delivers some truly out-of-this-world sequences as he puts viewers in the point-of-view of Armstrong as he makes history. Dizzying in all the best ways, the very rewarding First Man celebrates man's ingenuity and Armstrong's dedication.
ADVERTISEMENT - CONTINUE READING BELOW
Bohemian Rhapsody
Directed by: Bryan Singer (as credited); Dexter Fletcher
Release date: October 31
Played to award-worthy perfection by Rami Malek, Freddie Mercury takes audiences through a trip down memory lane with some of Queen's greatest hits, culminating in his Live Aid performance in 1985. It's a moving film that humanizes the legendary frontman, taking audiences through his highs and lows while doing away with his equally legendary excesses.
Ralph Breaks the Internet: Wreck-It Ralph 2
Directed by: Rich Moore & Phil Johnston
Release date: November 21
While Wreck-it Ralph brilliantly played around with the idea of heroes and villains, its tech-focused sequel Ralph Breaks the Internet: Wreck-It Ralph 2 focuses on friendship while also exploring the dangers of the Internet. This time around, Ralph (John C. Reilly) and Vanellope (Sarah Silverman) must go into the depths of the World Wide Web to save Vanellope's game from being disconnected. With a much sharper exploration and critique of the Internet than The Emoji Movie, funny product placements, a sweet message about friendship and support, and an awesome cameo from the Disney Princesses (as well as other Disney properties like the Stormtroopers and Marvel superheroes), Ralph Breaks the Internet is a joyful, funny, and worthy follow-up.
ADVERTISEMENT - CONTINUE READING BELOW
Widows
Directed by: Steve McQueen
Premiere date: December 5
If Oceans 8 was a flashy and slick, if ultimately empty, heist movie, Widows is a grittier take on women undertaking criminal activities. It's less a heist movie than it is a damning statement against terrible men and how they hold women's financial future and security hostage. Cheaters, deadbeats, and women beaters leave their partners high and dry and Widows explores the rise of these women with the odds stacked against them.
Spider-Man: Into the Spider-Verse
Release date: December 12
Directed by: Bob Persichetti, Peter Ramsey, and Rodney Rothman
There was a breadth of great animated films this year, but arguably the best and most original of the 2018 class was Sony's deep dive into the Spider-Verse. Spider-Man: Into the Spider-Verse brings comic-book favorite Miles Morales (voiced by Shameik Moore) front and center as he takes over the mantle of Spider-Man when Peter Parker dies, only to find out that there is a huge multi-verse out there including an older Peter Parker (Jake Johnson), Spider-Gwen (Hailee Steinfeld) and even a pig version of the webcrawler called Spider-Ham (John Mulaney). With its great script and unique comic book-inspired animation, Spider-Verse is a fresh, genuine, hilarious addition to the Spider-Man mythos.
ADVERTISEMENT - CONTINUE READING BELOW
Roma
Directed by: Alfonso Cuarón
Release date: December 14
Breathtaking and beautiful, Alfonso Cuarón's latest showcases the director at his most personal. Taking inspiration from Cuarón's own childhood, the 1970s-set Roma is about a nanny/maid named Cleo (based off of Cuarón's own childhood nanny) who lives with her employers, and who is navigating her personal life interweaving into her professional life. It's a simple story told with such love and empathy, and accompanied by gorgeous, sweeping visuals that the genius mind of Cuarón could have conjured up. Not only is this Netflix's best film yet, it's also one of the best films of the year.
Share this story with your friends!
---
Help us make Spot.ph better!
Take the short survey
More Videos You Can Watch
Load More Stories