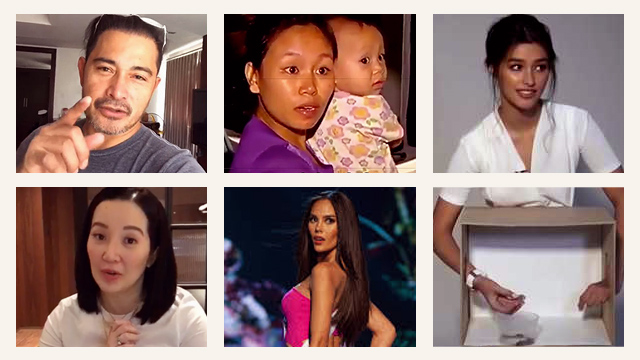 (SPOT.ph) Nowadays, you can't scroll through your social-media feed without coming across one or two hilarious viral videos. So instead of going through your timelines and saved posts, we round up the clips that made the rounds on the Internet and made made us all actually laugh out loud.
ADVERTISEMENT - CONTINUE READING BELOW
Zamboanga Bridge Collapse
When local officials of Zamboanga City dropped by a barangay to check on a housing project, this probably wasn't what they had in mind. The group, which included Zamboanga City mayor Beng Climaco, Zamboanga City Representative Celso Lobregat, and Negros Occidental Representative Albee Benitez, were in for quite a ride when the wooden bridge they were walking on suddenly collapsed. The good thing is, no one got injured—well, unless you count the burns from the memes made about it.
"Obvious ba?"
Often times, tuning into the news means talking about politics and natural disasters. Sometimes, you catch this clip of a woman (with her baby) who just refuses to get out of a van that they're sleeping in. When a reporter asks her if she's asleep, she quickly retorts, "Obvious ba?" And so, a thousand memes were born.
Marian Rivera's Performance of "Unfaithful"
This video technically isn't from 2018, but when Regine Velasquez moved from GMA to ABS-CBN, fans resurrected it to show that the former network still had a singer among their ranks—none other than Marian Rivera. She performs her own rendition of Rihanna's "Unfaithful" along with Glaiza de Castro. We have to warn you, though, you'll be singing "Story of my life" again and again in your head.
"Advance Ako Mag-Isip"
Do you think the guy who said this now-unforgettable line knew that he was going to become a meme? It was a call-center agent's response when he was asked by a news reporter why he was selling marijuana. According to the suspect, he was doing it because he could change the Philippines with the money he earned from selling. Yup, sounds about right.
Liza Soberano's Fear Box
ADVERTISEMENT - CONTINUE READING BELOW
Liza Soberano took away the Internet's right to be afraid of cockroaches because of this challenge. In a video for Technomarine, she was tasked to touch random things and animals placed in a box and take a guess at what they are. When live crickets were put in the box and one of them gets on her hand, she just calmly asks, "It's a crab? Alimango? What is it? A spider? Caterpillar?" Even when she guesses that it might be a cockroach, she still looks for the insect with her hands. Let's just hope that's how calm you'll be when you see a flying ipis coming at you.
Lhuvi and Bryan's Meta Wedding Video
ADVERTISEMENT - CONTINUE READING BELOW
We've all seen a lot of wedding videos, but this one takes it to another level. Zoomed-in shots of the bride and groom? Check. Voiceovers saying sweet messages? Check. Dramatic rain and smoke effect? Check. This couple adds their own twist and makes their save-the-date video hilarious by poking fun of all the usual concepts you've probably seen a hundred times by now.
Kris Aquino's Mocha Uson Challenge
ADVERTISEMENT - CONTINUE READING BELOW
When an issue came up about President Duterte kissing an Overseas Filipino Worker on a trip abroad, Mocha Uson defended him by comparing it with a Ninoy Aquino fan kissing Aquino on the cheek. Kris Aquino didn't take the comparison too kindly. She hosted a live video where she suggests that they reenact the scene in Four Sisters and a Wedding, where Uson's character is dragged by the hair by Angel Locsin's character.
Cesar Montano's Birthday Greeting
The whole point of using the front camera of your phone is so you can see what you're taking a photo or a video of. But Montano doesn't seem to have noticed that a naked woman was walking behind him while he was recording a birthday video greeting. The Internet took it upon themselves to make their own parodies of the video.
"Paano Mo Nasabi?"
ADVERTISEMENT - CONTINUE READING BELOW
In yet another viral news report, a suspect is asked by a reporter if he takes drugs. He quickly answers, "Paano mo nasabi?" He then argues that he's still going to get a drug test so it's still unconfirmed if he's really a drug user. The reporter then continues to ask the suspect questions, which he answers—or at least, tries to.
Catriona Gray's Lava Walk
It's hard to stand out when you're walking alongside some of the most beautiful women in the world, but that's an easy feat when you're the most beautiful woman in the universe. The Philippines' own and Miss Universe 2018 Catriona Gray wowed everyone with her walk down the runway (dubbed lava walk after her hometown of Albay) that includes a slow-motion, hair-flipping turn. Best believe everyone's been hilariously trying to copy her walk since then.
Share this story with your friends!
---
Help us make Spot.ph better!
Take the short survey
More Videos You Can Watch
Load More Stories