Top 10 Most Disturbing Black Mirror Episodes
How many of these have you seen?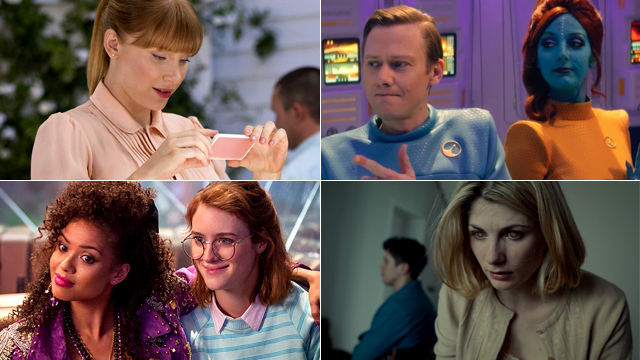 (SPOT.ph) One of the hottest new releases on Netflix today is the latest entry in Charlie Brooker's anthology sci-fi series Black Mirror—an interactive film called Bandersnatch. In case you haven't already watched it, Bandersnatch works like a choose-your-own-adventure film where viewers are given options on what the character should do. It's a thrilling experiment for a series already known for tackling several subjects and dipping into all kinds of genres.
Black Mirror, if you were unaware—and if you were, why?—is a series where each standalone episode deals with society dealing with technology in several, often dystopian ways, whether its cameras attached to your brain, devices that require your entire consciousness, or just a typical dating app.
Episodes are often twisted and dark. The first-ever episode of the series features a character being forced to have sex with a pig on national TV. ("The National Anthem" is the perfect introduction into the magnificent and unusual world of Black Mirror.) But the episodes are also intelligent, layered, and full of intriguing critique of society.
The best thing about Black Mirror is that there's something for everyone, and you can always find an episode to adore. Everyone's Top 10 lists are different, but just in case you haven't gotten into the series yet, we've ranked the 10 essential, must-watch episodes of the show.
Also read: The Sci-Fi Books to Read, If You Like Black Mirror
Here are the most disturbing Black Mirror episodes you can stream on Netflix:
10. "Black Museum "from Season 4
ADVERTISEMENT - CONTINUE READING BELOW
Season 4's "Black Museum" might not be the best to start within the sense that it references many episodes that have come before it in passing, but it's one of Black Mirror's most effective episodes in showing what this series is all about. In this episode a woman (Black Panther's Letitia Wright) stops at a nearby museum run by a man named Rolo Haynes. Rolo tells the woman about all the artifacts found in the museum—a collection of troubling technology, each with its own messed-up backstory. We get three tales of increasing woe: One about a man who has a device that allows him to experience others' pain, one about a mother's consciousness stuck in a stuffed animal, and one about a hologram that people can play with, but it's the final twist (and Black Mirror has many of them) that really keeps this episode deep in your head.
9. "White Bear" from Season 2
"White Bear" isn't subtle, and that's what makes it one of the more engaging and disturbing episodes of the series. The episode begins with a woman (Lenora Crichlow) waking up in a house, not remembering anything about her life or what she's doing there. As she makes her way out of the house, she notices just random, regular people filming her on their phones. As she flees, masked "hunters" start chasing the woman as well, causing havoc and panic. "White Bear" touches on the Internet's love of crucifying others and the media frenzy that comes with high-profile subjects, and its third-act reveal is one of the series' most shocking and unexpected, and really makes you wonder what kind of people create this show.
CONTINUE READING BELOW
Recommended Videos
8. "Playtest" from Season 3
Black Mirror episodes always verge on horrific but there are only few that can really fit in the horror genre. Directed by 10 Cloverfield Lane's Dan Trachtenberg, "Playtest" is about a man (Wyatt Russell) accepting a job at a video game company (much like Bandersnatch). Cooper is asked to try out technology that will be used in the company's new games, the main one being a device that augments reality—a more advanced version of what's available today. The man is trapped in a horror survival game full of jumpscares and terrifying creatures, bringing Black Mirror fully into horror film territory.
7. "Hang the DJ" from Season 4
It was obvious that Black Mirror needed to tackle online dating as the aforementioned technological invention just continues to bloom in today's society. In the show's version of dating apps, people using the feature are matched for seemingly random periods of time (two hours, one week, three years, et cetera) and a relationship must be built no matter how long or how short your time is together. A couple of users (Georgina Campbell and Joe Cole) are matched and end up falling for each other, yet due to the app's restrictions, are re-matched. The two try to find their way back to each other despite what technology says. The episode thrives because of the charm of its two leads, and unlike others, actually has more of a feel-good tone that really gives you rare warm feelings during a Black Mirror binge.
ADVERTISEMENT - CONTINUE READING BELOW
6. "Be Right Back" from Season 2
In one of Black Mirror's heaviest and most genuine dramas, we meet Martha and Ash (played beautifully by Hayley Atwell and Domhnall Gleeson, respectively), a young couple just starting their life together. Ash suddenly dies in an accident, and then days later Martha finds out she is pregnant with Ash's child. Dealing with the grief, Martha tries out some experimental systems that allow a simulation of Ash to live on her phone. Soon, a synthetic body that resembles Ash also arrives. It's lovely and terrifying all at the same time. "Be Right Back" blends genres of romance, drama, and sci-fi amazingly well with a simple yet effective execution.
Also read: 10 Stress-Inducing Netflix Series, Ranked by How Butthole-Clenching It Is
5. "White Christmas" (Christmas Special)
Usually a Christmas Special means something cheery and happy for the holidays, but of course this is Black Mirror—which means Christmas is not going to be a fun affair. "White Christmas" might actually be one of Black Mirror's darkest entries. In this special episode, Mad Men's Jon Hamm and film actor Rafe Spall are stuck in a cabin and start telling each other their life stories, and unsurprisingly, both are pretty messed up. Tales about "blocking" someone in real life and stealing people's consciousness for their own collection make the stories within this Christmas story. As each minute passes by, more and more layers are revealed, leading to a spine-chilling conclusion that shows just how close we are to this disturbing world.
ADVERTISEMENT - CONTINUE READING BELOW
4. "Nosedive" from Season 3
Forget rating restaurants or hotels online. In "Nosedive," the people in the world are rating each other. Your life and what you can do, use, and experience relies on your personal score that uses the usual five-star rating. Lacie (a terrific Bryce Dallas Howard) is hovering around a solid 4.2 but would love to just be a bit higher to get some discounts and a better standing in life. When an opportunity arises for her to raise her score significantly thanks to her childhood friend Naomi (Alice Eve), she drops everything and takes it, even if her obsession about ratings and scores could really harm her. This take on social media, written by The Office's Mike Schur and Rashida Jones, is hilarious, witty, uncharacteristically fun, and beautifully done (thanks to Atonement director Joe Wright) and is also one of the best because of just how close we are to this kind of world (like making sure to rate your Grab driver five stars!).
3. "USS Callister" from Season 4
What on the outside seemed like a silly Star Trek parody actually turned out to be an embrace of the genre while also acting as a takedown of toxic masculinity. It also completely throws shade at fanboys just for good measure. To talk about the plot more would really spoil what this episode is really going for, but it's a continuously surprising and enjoyable tale about a deluded man and a scrappy band of characters. The exceptional cast includes Jesse Plemons, Cristin Milioti, and Jimmi Simpson among many others who really give it their all to make "USS Callister" reach the top-level shelf of the series' episodes. It's Black Mirror at its most blockbuster-y, and while that isn't the show's usual M.O., it absolutely works here, and its many shocks and twists make for a fun, memorable viewing.
ADVERTISEMENT - CONTINUE READING BELOW
2. "San Junipero" from Season 3
"San Junipero" might be the series at its most hopeful, and when binging several dark and twisted episodes in a row, it's a welcome change of pace. But this isn't the only reason why "San Junipero" is way up on this list. Black Mirror is at its peak when it deals with technology on a more minimal level, yet still in a way that seems like it's in the near future. "San Junipero" also creates a wonderful new world that you're just dying to explore. Set in the '80s, a couple of women (played pitch-perfectly by Mackenzie Davis and Gugu Mbatha-Raw) meet in a bar and hit it off. It's all far too normal for a bit so you know something's off, and when the story reveals its true intentions, it completely upends the episode. Charming, sweet, but with just the right tinge of melancholy, "San Junipero" is one of Black Mirror's most heartfelt, and also one of its best.
1. "The Entire History of You" from Season 1
As mentioned before, Black Mirror is really at its finest when the technology feels reachable and not too far off, and a very human, very personal story is attached to it. "The Entire History of You" does just that. In this episode, a device has been created that records everything you see, as if a smartphone has been implanted in your head, and you can rewind any moment in your life, sometimes even to a monitor for others to see. This is the catalyst for a heart-rending story about Luke and Ffion, a married couple (a phenomenal Toby Kebbell of the Planet of the Apes series and an equally amazing Jodie Whittaker before she took over the mantle of Doctor Who) whose life gets challenged because of this technology.
ADVERTISEMENT - CONTINUE READING BELOW
When Luke gets a sense that his wife might be cheating on him, ugly words backed up by ugly videos come out. Imagine if you're in a relationship and your partner can just replay damning videos at will? Well, actually, that is something you can already do with phones and social media. At its core, "The Entire History of You" is what Black Mirror is all about—the way technology affects our life, our relationships, often for the worse. It's about how we use technology to hurt, and how technology is used to hurt us. It's haunting, tragic, and exactly why this episode is the most essential episode for any Black Mirror viewer.
Share this story with your friends!
---
Help us make Spot.ph better!
Take the short survey
Load More Stories