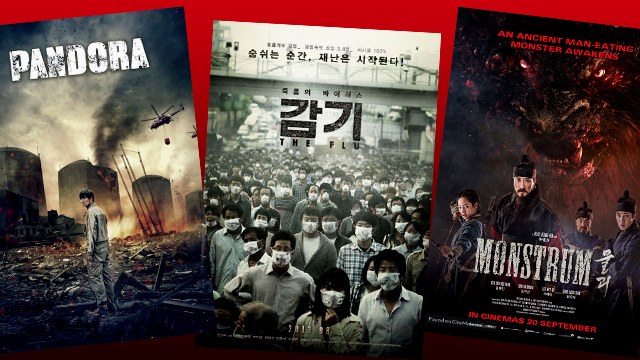 (SPOT.ph) If you're a horror aficionado or you just simply enjoy getting the jeepers creepers scared out of your skin, then you've most probably clicked your way into the darker, more horrific corners of Netflix and come upon a Korean original series called Kingdom. Long story short, there's a mysterious plague set in Korea's medieval Joseon period. It's a fun, frantic, and fear-filled six episodes that will have you coming for the period story but staying for the zombie bloodfests.
ADVERTISEMENT - CONTINUE READING BELOW
If you can't get enough of this show, we've got 10 more macabre gems for you to sink your teeth into.
Rampant (2018)
Directed by: Kim Sung-hoon
We can see how Rampant might look like the spiritual predecessor of Kingdom, but this 2018 film by Kim Sung-hoon is a little bit different. It follows the all-too-invincible hero, Lee Chung (Hyun Bin), an over-the-top martial artist who not only slays a ridiculous amount of zombies but also has to fight against corrupt members of the empire. It might seem like a mess, but it's still a pretty fun ride with all the action and even absurdity. 
Monstrum (2018)
Directed by: Heo Jong-ho
The Joseon Dynasty can't seem to get a break, as you'll notice in this period monster movie called Monstrum. There's a plague spreading in 1527, plus a pretty angry creature going around killing people. Though it's not a zombie- or infection-related flick, Monstrum still gives some good jump scares and a growing sense of tension and curiosity about the beast. If you prefer one big flesh-eating monster over a horde of humanoid flesh-eating ghouls, then this film might be your perfect match.
ADVERTISEMENT - CONTINUE READING BELOW
Recommended Videos
Train to Busan (2016)
Directed by: Yeon Sang-ho
The current big daddy of "let's all panic and run like hell" movies is Train to Busan. This zombie apocalypse thriller was such a hit and made an international impact on fans of the zombie genre. Just imagine: Train + zombie apocalypse + bad situations gone worse + unforgivable asshole + noble heroes, and you have a formula for one of the wildest and most action-packed movies in the past decade.
Chaw (2009)
Directed by: Shin Jung-won
If you're a fan of pork, you may want to avoid this mutant monster movie. Chaw is set in the town of Sammaeri near Mount Jiri, where mysterious deaths have been popping up, making the villagers nervous and terrified. Five brave souls set out on a hunt for a massive mutant wild boar: Chun Il-man (Jang Hang-sun), Detective Shin (Park Hyuk-kwon), police officer Kim Kang-soo (Uhm Tae-woong), biologist Byun Soo-ryun (Jung Yu-mi), and glory-seeking hunter Baek Man-bae (Yoon Je-moon)—and the unlikely group must climb the mountain and kill the giant beast.
ADVERTISEMENT - CONTINUE READING BELOW
The Host (2006)
Directed by: Bong Joon-ho
The Host's monster is not as big as the Cloverfield monster or even the kaiju in Pacific Rim—and yet it still has a very strong impact. Snack-bar owner Park Gang-du (Song Kang-ho), his father, Hee-bong (Byun Hee-bong), his sister Nam-joo (Bae Doona, who plays physician Seo-Bi in Kingdom), a national medalist archer; and his brother, Nam-il (Park Hae-il) must rescue Gang-du's daughter, Hyun-seo (Go Ah-sung) from the clutches of a bizarre creature that is also a carrier of a killer virus.
The Tunnel (2006)
Directed by: Kim Seong-hun
No monster, no zombies, but still filled with a ton of tension—The Tunnel is a survival drama film that revolves around Lee Jung-soo (Ha Jung-woo) who drives through a tunnel inside a mountain. As luck would have it, the tunnel collapses and he finds himself trapped inside his car. Above him are tons of concrete and debris. All he has to survive inside his vehicle are his cellular phone, bottles of water, and a birthday cake for his daughter. But he's not completely alone as a rescue team outside headed by Dae-kyung (Oh Dal-su) struggle to keep him alive.
ADVERTISEMENT - CONTINUE READING BELOW
Pandora (2016)
Directed by: Park Jung-woo
What could be worse than a tunnel collapsing on you? What about a nuclear meltdown? This disaster film follows the story of Kang Jae-hyeok (Kim Nam-gil), a simple guy who lives in a simple town, who happens to work at the local nuclear power plant. Pyeong-seok (Jung Jin-young), his co-worker, notices some rather distressing conditions at the power plant, but his protests fall on deaf ears. Soon, an earthquake strikes the small town and in a chain reaction, causes some damage to the plant. This results in explosions and an inevitable nuclear disaster. Kang Jae-hyeok and some others rush to the plant to try and avert the crisis.
Flu (2013)
Directed by: Kim Sung-su
Anti-vaxxers might want to sit this one flick out. Flu is a South Korean disaster film written and directed by Kim Sung-su. As the title implies, the movie centers on a deadly and powerful strain of H5N1 that can kill its victims within 36 hours. It has been released in the district of Bundang in Seongnam, throwing its population of nearly half a million people into utter chaos. Kang Ji-koo (Hyuk Jang) and Kim In-hae (Soo Ae) must battle against time, a city full of paranoid citizens, and trigger-happy military personnel to get a vaccine into the right hands. 
ADVERTISEMENT - CONTINUE READING BELOW
The Wailing (2016)
Directed by: Na Hong-jin
A mysterious illness befalls a small village, and the residents start to suspect a Japanese stranger who arrived before the outbreak began. A policeman named Jong-goo (Do-won Kwak) enlists the help of another police officer and a Japanese-speaking deacon. They discover pictures and other belongings of the infected and murdered residents as they investigate the stranger's house. A sad turn of events begins as they notice a shoe which belongs to Jong-goo's daughter, Hyo-jin. As she starts to succumb to the strange illness that has taken over the village, the trio must race to solve the mystery.
R-Point (2004)
Directed by: Kong Su-chang
An oldie but goodie, R-Point doesn't have such a massive scale of panic compared to the others. But the sheer terror and paranoia that the team of soldiers have to endure is a must-watch. This horror film is set during the Vietnam War in 1972, when a South Korean base receives a radio transmission from a missing squad, long thought to be dead. A platoon is dispatched to rescue the lost squad from the R-Point, or rescue point. As the platoon tries to solve the mystery of the missing squad, they are slowly plunged into the maw of madness.
ADVERTISEMENT - CONTINUE READING BELOW
Your guide to thriving in
this
strange new world.
Share this story with your friends!
---
Help us make Spot.ph better!
Take the short survey
Load More Stories