(SPOT.ph) Imagine one night out of the entire year when music rules the entire community with its spirit. People gather in the streets, musicians and dancers take over, and everyone is free to make music, enjoy it, or both. It may sound suspiciously like a Disney movie—too good to be true—but it's exactly what Maurice Fleuret, then Director of Music and Dance at the French Ministry of Culture, dreamed of when he and Jack Lang, then French Minister of Culture, held the first Fête de la Musique in the streets of Paris in 1982. What started as a singularly French celebration has since evolved into a global event, with around 120 countries and more than 700 cities turning the tradition into a festival for their own music and people.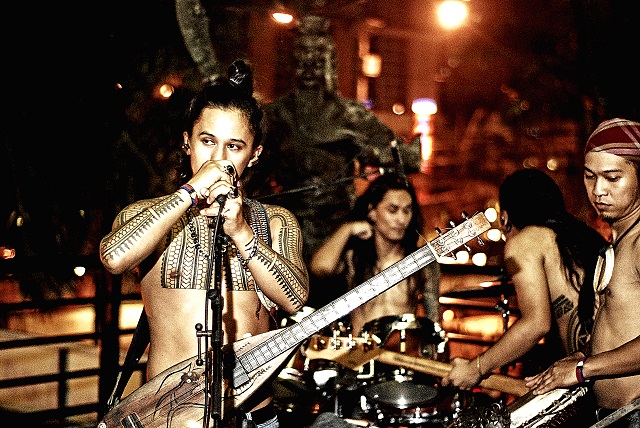 ADVERTISEMENT - CONTINUE READING BELOW
If we're talking about the Philippine run of the Fête though, it has certainly grown into its own. "Over the years, it has become a Filipino event with a strong French dimension," said Jean-Pierre Dumont, Executive Director of Alliance Française de Manille, during the press launch for this year's festival. Undeniably, the Fête de la Musique has given the Pinoy music scene more than its fair share of wild nights and music-filled memories.
Now on its 25th run, this year's festival is set to be the biggest Fête we've seen in the country yet. With three main stages, more than 52 pocket stages, and eight cities nationwide, Fête de la Musique is set to take over the music scene this month. We take a look back at how the multi-stage, multi-city, multi-night homage to music grew into the colossus it is now.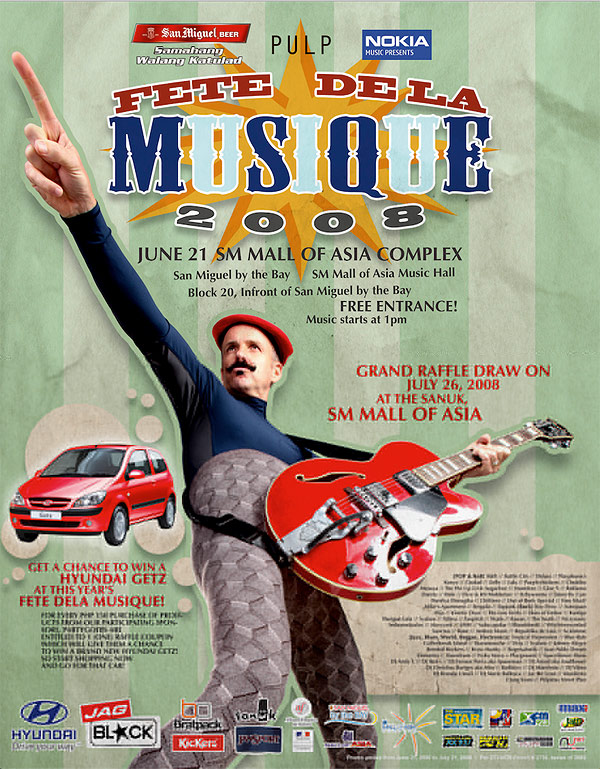 When it first came to the Philippines in the '90s, it was led by the French Embassy and the Alliance Française de Manille, with a focus mainly on jazz nights with a single stage. It is this jazz connection that brought in Len Francisco of Dovetail Solutions, who, with her husband Tata Francisco, was doing a pocket jazz event at the Alliance Française de Manille in 1999. It was at this event that she met then Deputy Director Philippe Bosquet. Fast forward a year later in May, Bosquet asked the couple to organize the 2000 run of the festival, set for the following month. It was to be the first of many editions that they organized, as they spearheaded the concert every year in June until 2006.
With just a few weeks to bring it all together, Francisco took her cue from the original Fête de la Musique in Paris, where musicians were said to line every street corner and everyone was in on the fun. "My idea was like a music feast. Let's serve up a lot, like a buffet," says Francisco in a phone interview with SPOT.ph. "You go there and you can choose to see or to listen to anything that the musicians here in Manila performed," she says. It was this dream that led to the first ever run of the Fête with multiple stages of musicians performing at the same time. 
ADVERTISEMENT - CONTINUE READING BELOW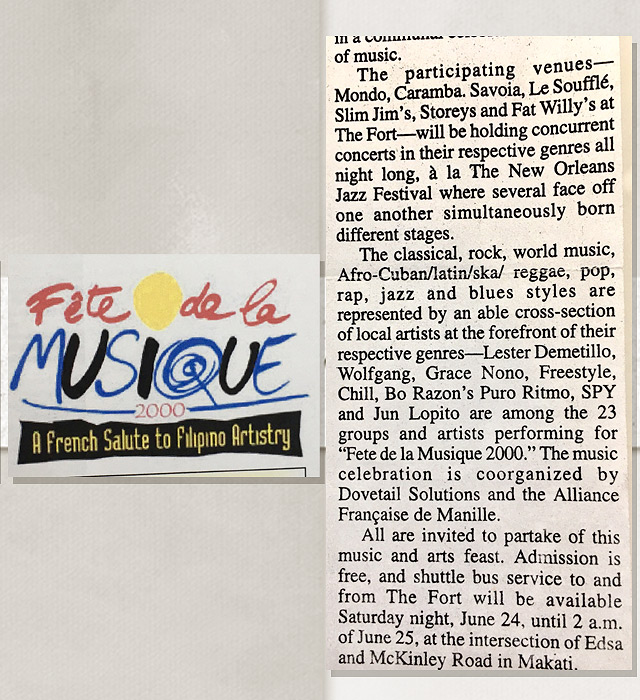 Francisco and the team, with the support of Bosquet and Alliance, brought together around 20 artists for a single night at The Fort in Taguig City—one of the few structures standing in what we now call Bonifacio Global City. There were many firsts for the festival that night, and needless to say, it was never the same again. They brought in big bands like Razorback, Wolfgang, and Slapshock, just to name a few. And more than just music, there were also film showings by Khavn de la Cruz and even art installations by Yason Banal to round out the experience. At this scale, in terms of venue and acts, the Fête brought in around 3,000 art and music enthusiasts together for a single night—a huge jump from the usual hundred or so who came to the previous runs, says Francisco.
ADVERTISEMENT - CONTINUE READING BELOW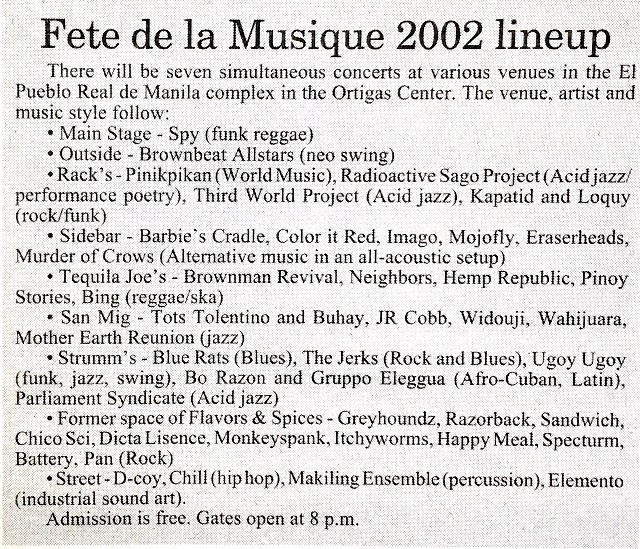 Kicking off from the multi-stage event of 2000, the festival grew and grew with each year. The organizers, led by the Alliance and Bosquet, and later Deputy Director Bruno Lebrault, brought the festival everywhere from Malate, to Taguig, to Eastwood City, and to Ortigas, where they found a home in El Pueblo Real de Manila. It was here that the festival really became big, says Francisco. It was a chance for bands and artists of any genre and popularity—like Up Dharma Down (now known as UDD), Itchyworms, and Radioactive Sago Project to name a few—to play not just for the sake of playing, but to bring the people together through their music.
ADVERTISEMENT - CONTINUE READING BELOW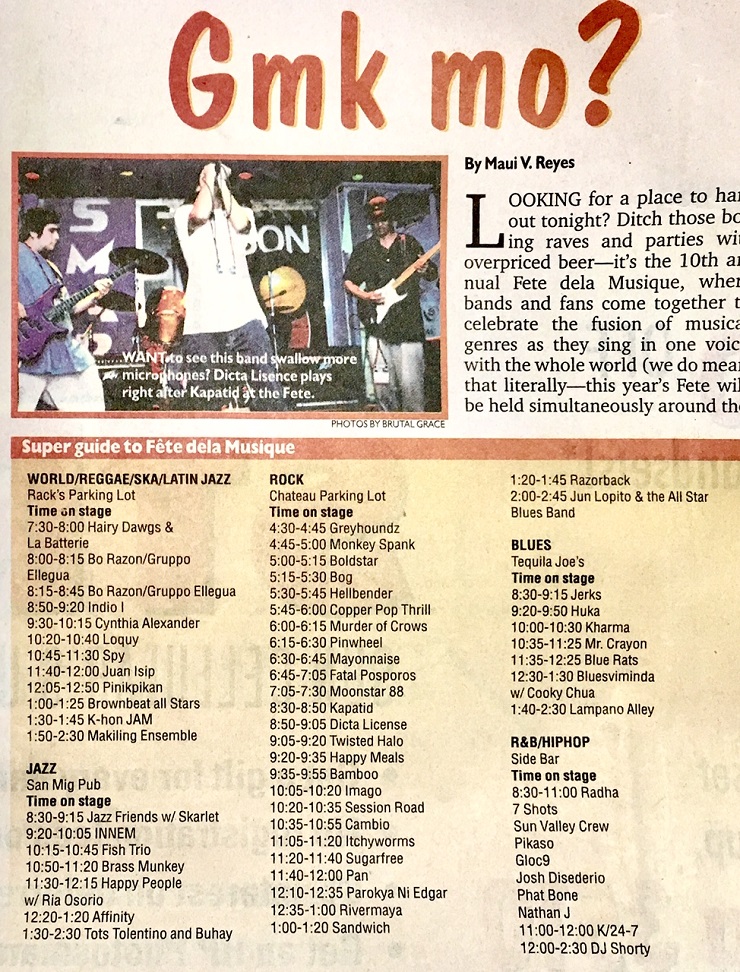 "[It] was the main goal to have that cultural exchange, but at the same time to use it to pay tribute to Pinoy artists, who are really great. And number two, to have an element of community among artists," says Francisco. For her, what really made the Fête de la Musique special was its ability to bring the people—be they artists, music lovers, whoever from wherever—together.
ADVERTISEMENT - CONTINUE READING BELOW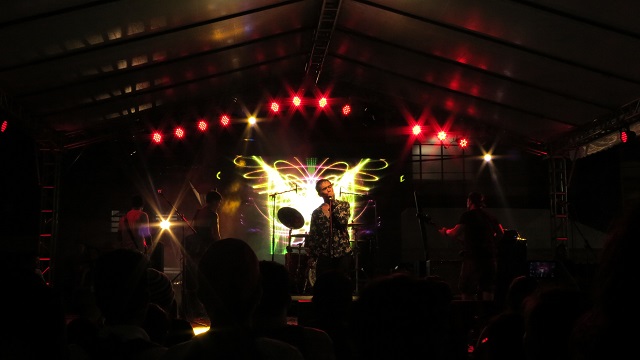 Stemming from this original work, recent years have continued to prove the power of music and community. Giselle Tomimbang, Managing Partner of B-Side Productions, has been part of the event since 2011. "I think the Philippines is a very unique example [of Fête]," says Tomimbang in an interview with SPOT.ph during the event kick-off. "Whoever is sitting as the director of Alliance Française, they'll always say this is the biggest Fête de la Musique celebration, at least in Asia."
ADVERTISEMENT - CONTINUE READING BELOW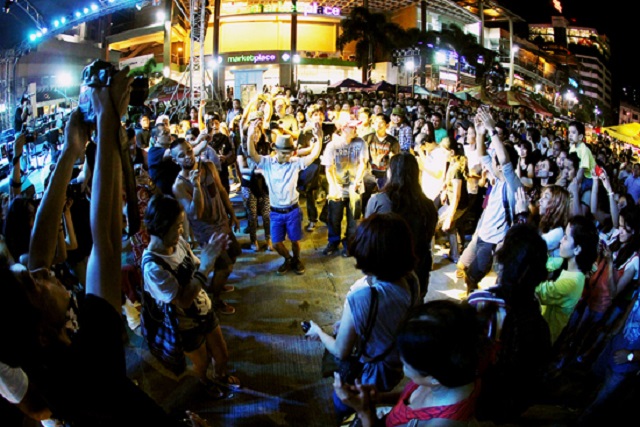 There is something about this French tradition that echoes deep in the Filipino soul. It's impossible to know whether Fleuret and Lang envisioned just how far the festival would reach, not just geographically, but also in terms of how deeply it connected with people from different nations. One thing's for sure though, Fête de la Musique may be a French tradition, but we have made it Pinoy through and through. 
ADVERTISEMENT - CONTINUE READING BELOW
Your guide to thriving in
this
strange new world.
Share this story with your friends!
---
Help us make Spot.ph better!
Take the short survey
More Videos You Can Watch
Load More Stories