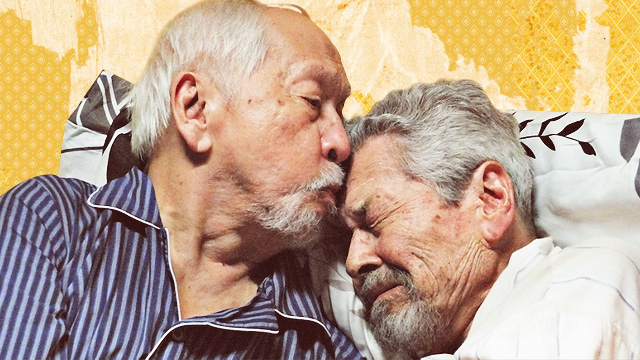 (SPOT.ph) While it's true that the Philippines has a long way to go when it comes to LGBTQ+ acceptance, there are courageous Filipino filmmakers who take it upon themselves to open people's eyes about gender equality. There are the likes of T-Bird at Ako that broke ground in lesbian portrayal in the '90s, Ang Sayaw ng Dalawang Kaliwang Paa (2011) that makes use of dance and poetry to evoke a love story between male students, and Ang Huling Cha-Cha ni Anita (2013) that explores sexuality through a coming-of-age story. The last couple of years saw great strides in positive portrayals of LGBTQ+s in film, from the eye-opening narrative of a transgender woman who becomes a mother to a feel-good story between two girls in love—reminding us that LGTBQ+s or not, we all love in the same way.
This list only considers films released from 2017 onwards.
Here are new Pinoy gay indie films worth catching in microcinemas and film festivals:
Billie and Emma (2018)
ADVERTISEMENT - CONTINUE READING BELOW
Directed by: Samantha Lee
A far cry from Samantha Lee's directorial debut Baka Bukas, QCinema 2018 film Billie and Emma—winner of Audience Awards for Best Narrative Feature at the Inside Out LGBT Film Festival in Toronto—has all the right ingredients to tell a good story. Billie (Zar Donato) finds herself exiled to an exclusive Catholic school in the province after her parents find out that she's dating a girl. Here, she meets Emma (Gabby Padilla), a star student dating a neighboring school's basketball player. They soon fall in love, but things take a very complicated turn when Emma finds out she's pregnant. More than a coming-of-age tale, it also tackles homophobia, gender policing, religious bigotry, and teen pregnancy stigmas.
Rainbow's Sunset (2018)
Directed by: Joel Lamangan
Rainbow's Sunset was director Joel Lamangan's entry to the 2018 Metro Manila Film Festival, where it won Best Picture and Best Screenplay, among others. It follows the story of 84-year-old Ramon Estrella (Eddie Garcia), a former senator who suddenly comes out to his family and leaves home to take care of the love of his life—Fredo (Tony Mabesa).
What I Would've Told My Daughter If I Knew What to Say Back Then (2017)
Directed by: Cha Roque
This short film by lesbian activist and filmmaker Cha Roque compiles over 13 years of home videos complemented with an imagined conversation with her daughter. It was first screened in Vietnam during the Hanoi International Queer Film Week in 2017, then shown locally during the first Cinemakulay Film Festival that same year.
Pang MMK (2018)
Directed by: John Lapus
Written and directed by John Lapus, this entry to Cinema One Originals 2018 is a fictional sequel to a popular Maalaala Mo Kaya episode aired in 1999, Origami, which was co-written by the comedian. Pang MMK follows the story of Janus Lopez (Neil Coleta) who is tasked to organize the wake and funeral arrangements of his father. Things take a dramatic "pang-MMK" turn when conflicts arise between his scandalous sister and his father's mistress—all peppered with comedic bits courtesy of the protagonist's sassy gay persona.
ADVERTISEMENT - CONTINUE READING BELOW
Never Tear Us Apart (2018)
Directed by: Whammy Alcazaren
Never Tear Us Apart, a Cinema One Originals entry that raised some eyebrows, is not your usual film. First, it was originally titled Fisting—yes, that sexual act. Second, it was shot entirely using an iPhone X. It looks into the life of an aging spy named Q (Ricky Davao), who is set on hunting down The Shadow—a serial killer with a grudge against promiscuous women. Q's wife, M (Meryll Soriano), is later impregnated by The Shadow, and he needs to solve the case before their gay son's graduation. There's BDSM, fisting, and two guys humping, but these scenes are all part of this film's intent to explore human sexuality.
Mamu; And a Mother Too (2018)
Directed by: Rod Singh
In Mamu; And a Mother Too, we witness how a mother's unconditional love unfolds. Mamu (Iyah Mina) is a middle-aged transwoman sex worker who is hoping to save enough money for breast implants. Her priorities change after she is forced to adopt her transgender niece named Bona (EJ Jallorina) after the untimely death of her sister. This dynamic tells us what it really means to be a mother. Mina, who won Best Actress in the 2018 Cinema One Originals, is the first transgender woman to be recognized for acting in Philippine cinema.
ADVERTISEMENT - CONTINUE READING BELOW
Pusit (2017)
Directed by: Arlyn De La Cruz
Created by writer-director Arlyn De La Cruz, independent film Pusit hopes to raise AIDS awareness by presenting true-to-life stories of Filipinos living with HIV. There's Samuel (Rolando Inocencio), an OFW who is forced to come home; Alfred (Kristofer King), who reconnects with an old flame; Sonia (Tere Gonzales), who has a drug problem; Mark (Mike Liwag), the gay son of an affluent lawyer; Victor (Lehner Mendoza), a breadwinner raised by a single mother; and Mama Josie (Jay Manalo), a transwoman who owns a beauty salon. Aside from the common thread of the disease, they also have to deal with prejudice on a daily basis.
Deadma Walking (2017)
Directed by: Julius Alfonso
Deadma Walking, which is based on a Palanca Award-winning screenplay by Eric Cabahug, is a comedy-drama about friendship. John (Joross Gamboa) finds out that he is dying of cancer—a "dead man walking." In true theatrical fashion, he fakes his death, arranges a week-long wake, and stages a funeral with the help of his best friend Mark (Edgar Allan Guzman). Though ridiculously funny, it explores how people deal with death—either their own or that of their loved ones.
ADVERTISEMENT - CONTINUE READING BELOW
Si Chedeng at Si Apple (2017)
Directed by: Fatrick Tabada and Rae Red
For 66-year-old Chedeng (Gloria Diaz), it's never too late to come out and chase after true love. So after her husband's death, she announces over a radio show that she's looking for her ex-lover, Lydia Cantillo. She's accompanied by her best friend, Apple (Elizabeth Oroposa), who happens to be on the run following a bloody "accident" with her abusive partner (Teroy Guzman). The two go off on the greatest adventure of their lives—with a Louis Vuitton bag in tow.
Changing Partners (2017)
Directed by: Dan Villegas
Changing Partners is the brainchild of award-winning playwright Vincent de Jesus. It was first presented as a stage reading at the 2016 Virgin Labfest, then produced in full as Changing Partners: A Torch Musical. A year later, it was adapted into a movie as part of the 2017 Cinema One Originals. With the same cast as the theatrical run, it follows the unique format of having the actors switch from one story (and partner) to another—thus the title. Anna Luna as Cris is with an older woman named Alex (Agot Isidro), then paired with an older man also named Alex (Jojit Lorenzo) in another reality. Sandino Martin, who also plays Cris, is also partnered with the two Alexes in different storylines.
ADVERTISEMENT - CONTINUE READING BELOW
Share this story with your friends!
---
Help us make Spot.ph better!
Take the short survey
More Videos You Can Watch
Load More Stories