(SPOT.ph) There's a certain charm to horror movies set in the past—take, for example, the '70s, with its rocking music and retro aesthetic still making the rounds to this day. Being devoid of the conveniences of modern technology certainly ups the ante by forcing one to use an analog approach to defeating demons. During the most crucial moments, light bulbs go out, batteries die, and landlines are cut off, leaving you home alone with the violent spirit.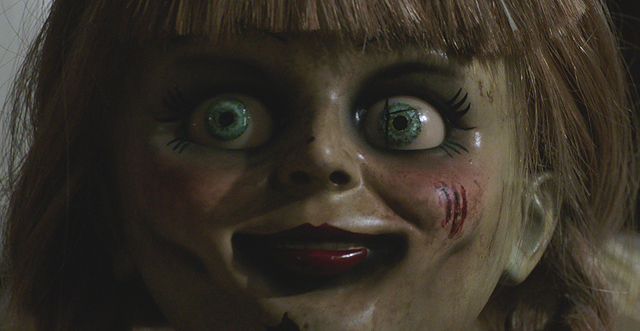 ADVERTISEMENT - CONTINUE READING BELOW
Annabelle Comes Home takes place between the first and second Conjuring films and revolves around the Warren residence. In previous films, we've seen glimpses of the Warrens' humble (and haunted) abode but were never given the grand tour. This time, we explore the house in all its kitschy '70s glory and get a closer look at the mysterious items found in the famous Artifact Room.
Screenwriter Gary Dauberman, who's responsible for writing the Annabelle movies, IT, IT: Chapter Two, and The Nun, took a stab at the director's chair. It does seem fitting as he's got the most experience working on the Annabelle series and can maintain continuity. The movie is also co-produced by Peter Safran and of course, James Wan, who directed the Conjuring films.
The movie opens with our favorite demonologist couple, Ed (Patrick Wilson) and Lorraine Warren (Vera Farmiga), taking Annabelle away from a couple of scared nurses and bringing the cursed doll home, hence the title. We see a brief cameo by Father Gordon (Steve Coulter), who pays a visit in order to bless the glass case and the tiny chair where Annabelle sits and waits for an opportunity to strike.
The demonic toy finally gets a chance to escape when Ed and Lorraine leave Judy Warren (McKenna Grace) home, as the couple work on another case. Babysitter Mary Ellen (Madison Iseman) is left in charge with gal pal Daniela Rios (Katie Sarife) insisting on tagging along and making herself at home. Due to one of the characters' curiosity, Annabelle is unleashed and serves as a beacon to the other sinister spirits trapped inside the residence. That's when the story truly kicks off.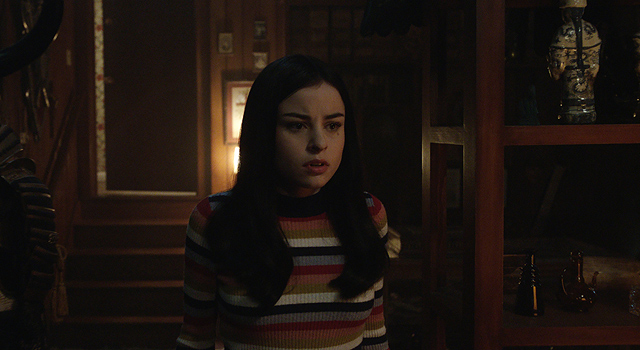 ADVERTISEMENT - CONTINUE READING BELOW
Major props go to Grace for her subtle and nuanced portrayal of Judy Warren, as she never went for the obvious route of over-the-top bloodcurdling screams and instead gave off the sort of quiet fear and trauma, which builds up over time. Judy's character arc has the youngest Warren dealing with the repercussions of negative press attacking her parents (heroes or hoax?) after the events of the first Conjuring movie. Judy's peers ostracize her for having demonologist parents and a supernatural home. With the burden weighing heavily on her back, Judy has to cope with the emotional turmoil while hiding it from her parents. Spirits taking over the house is just one more problem added to her childhood issues. And all during the night of her birthday.
Judy was trained well by her parents to fight off evil spirits as she quickly thinks on her feet during the heat of the chase. She doesn't wait for someone to save her. She's the glue that holds the main trio (her, Mary Ellen, and Daniela) together, far more mature than the slightly older teens, and does most of the babysitting during the latter part of the film. When fear does consume her, Judy still holds her ground though shaken and petrified throughout her paranormal encounters. It's interesting to note that she shares the same gift as her mom Lorraine, which makes her a valuable asset in containing the evil.
ADVERTISEMENT - CONTINUE READING BELOW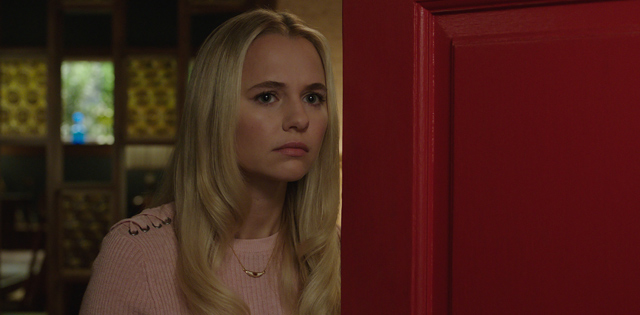 Mary Ellen is your typical teen movie babysitter—she's sweet, caring, and harmless, but there's not much else that keeps us engaged in her character. On the other hand, Daniela stands out for being that messy friend. You know, the one who drags you into all sorts of trouble and asks for your sage advice, then quickly does the complete opposite. Sure, Daniela reveals some personal baggage later on to excuse her behavior but it's not enough. She's one of the most frustrating characters that we've ever encountered in the Conjuring-verse. As a viewer, you will have more than your share of facepalm moments thanks to her antics.
ADVERTISEMENT - CONTINUE READING BELOW
Now, horror movies in general have a proud tradition of including very careless and incredibly obtuse characters to provide an added layer of frustration among viewers that result in outright screaming at the screen. "Don't do it," most viewers will end up shouting in unison before sighing and groaning at the outcome. Daniela may be an homage to that sort of love-to-hate archetype that's unintentionally amusing, but she has her sympathetic moments. 
There are also many visual cues and callbacks that will delight an avid follower of the franchise. You might recognize a cursed object or two from previous installments in the Conjuring-verse. And if you pay close attention to the television shows playing in the background throughout some scenes—maybe they weren't as concerned about electric bills in the '70s—you may come across an eerie easter egg that will make you gasp and point in recognition. But will that be enough to keep our attention and make this one notable among the previous installments? Has the infamous doll become dull with time?
ADVERTISEMENT - CONTINUE READING BELOW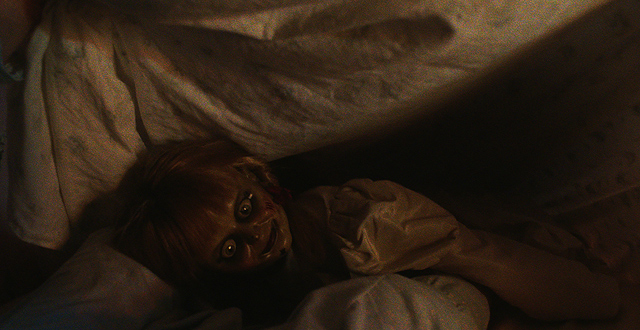 Whatever you end up feeling about this movie, you'll probably always remember one Bob Palmeri (Michael Cimino), arguably the breakout character of Annabelle Comes Home. The lovestruck teenager will keep you emotionally invested in his awkward attempts at wooing Mary Ellen amidst the haunting; the hilarious exchange with the equally amusing pizza delivery guy; the halting yet realistic delivery of his lines; and a certain epic moment that shall remain a mystery. (You'll just have to watch the movie to find out what happens!) He's the beloved comic relief sporting perfectly coiffed hair—a welcome distraction in between the tears and fears.
ADVERTISEMENT - CONTINUE READING BELOW
But if we're being honest, the actual lead of the movie is really Annabelle. Our girl is rolling bank because the doll even has a stand-in between takes during shooting. Regardless of how many times you see the doll onscreen, her malevolent presence will always freak you out. She's become such a beloved and creepy fixture in the horror fandom that we were low-key cheering her on to terrorize some of the more annoying characters. The other spirits that she controls have their own monster moments, but some of her minions are unintentionally comedic in their attempts to scare.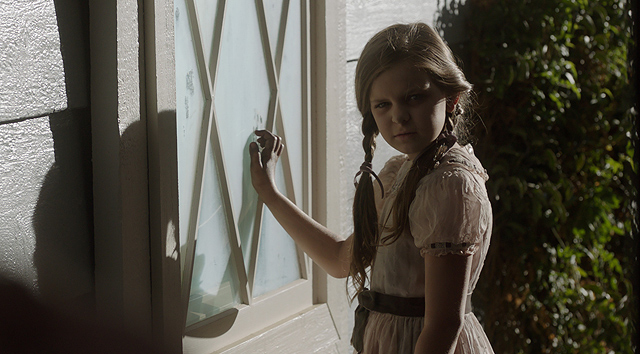 ADVERTISEMENT - CONTINUE READING BELOW
The storytelling has a tendency to feel forced, as if the characters are compelled to act for no other reason than to push the plot along. When there's no rhyme or reason in character motivation, it doesn't feel like an authentic payoff once you get to the climactic event.
At the very least, there's a reliable Conjuring template consisting of body-drags, scare chords, unpleasant surprise appearances, rush attacks, unsettling sound effects, and the ironic tinkling of a music box signaling doom. There's a particular scene featuring Annabelle, which may cause you to brown the seat of your pants. (Don't say we didn't warn you!)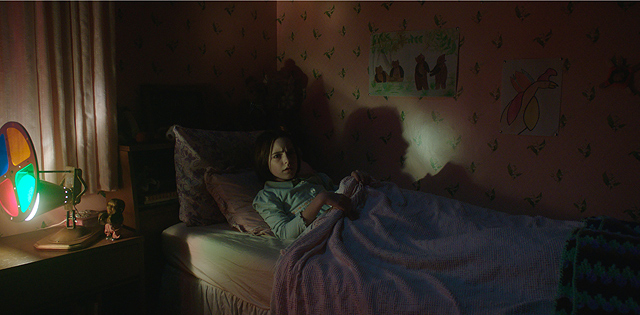 ADVERTISEMENT - CONTINUE READING BELOW
The obvious lack of Ed and Lorraine is almost a travesty, with their scenes reduced to slightly more than a cameo appearance. Their absence can really be felt throughout the action since the Warrens anchor the entire series. Since the franchise is loosely based on actual accounts and contains more fiction, they could have added more scenes featuring Ed and Lorraine, plus more interaction with their daughter Judy. It was a missed opportunity not to have the Warren family come together to defeat the malicious spirit attacking their home.
Annabelle Comes Home provides an adequate number of scares but questionable illogical actions made by its characters leave us feeling more frustrated than frightened with the overall storyline. But the well-placed laugh-out-loud teen comedy moments help salvage the contrived plot points. Judy Warren seems to be the standout star in the film as she carried the cast through it all, so we're hoping she gets a spin-off in the future. 
ADVERTISEMENT - CONTINUE READING BELOW
It's a popcorn horror flick that's best viewed with a group of friends during a late-night screening for maximum entertainment value. You can angrily mutter about the extreme foolishness of the characters, crack jokes under your breath about the silly situations, and elbow each other during the serious jump scares. It's an average thriller at best and not exactly a spectacular scarefest, but stays true to the overall theme of the Conjuring-verse. The film would still be enjoyable to hardcore fans who will appreaciate the continuity. Guess there's always room to spare for Annabelle.
Rating: 3 out of 5 Spots
Annabelle Comes Home is now out in theaters. Photos courtesy of Warner Bros. Pictures.
Share this story with your friends!
---
Help us make Spot.ph better!
Take the short survey
More Videos You Can Watch
Load More Stories