(SPOT.ph) There's a saying that goes "you are what you wear," and this rings especially true for your favorite characters on the small screen. Whether those fictional people you watch week after week wear superhero suits or hospital gowns, you feel as though they could be as real as the person sitting next to you on your couch. Such is the case when you decide to just binge-watch some shows on Netflix, and you discover these new worlds that come to life in a  span of an hour-long episode—and much more, once you're hooked.
The Politician sits alongside a slew of new releases on Netflix. Chances are you've probably seen a few episodes and noticed a particular style that the characters wear with confidence—and when it comes to politics and high school, you know there's plenty of that to go around. And for that, creators Ryan Murphy, Brad Falchuk, and Ian Brennan enlisted the expertise of costume designers Claire Parkinson and Lou Eyrich to produce a distinctive lineup of clothes that tell elaborate stories all on their own, while their wearers maneuver the ins and outs of 'rivals, scandals, backstabbing, and betrayal.'
ADVERTISEMENT - CONTINUE READING BELOW
In an e-mail interview with SPOT.ph, Parkinson and Eyrich shared their thoughts on how costumes contribute to the show's storyline, their inspirations, among other details on how they came up with the looks for the show.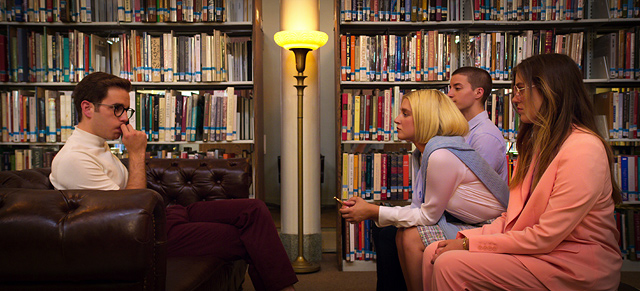 With just a peek at the first episodes, you come to realize that there's more to these characters than meets the eye. You're never sure who's entirely genuine in the political landscape of Saint Sebastian High School. Costumes contribute to this storyline, and there's a way in which we get to know these personalities better with how they appear on the screen. Parkinson explains, "We try to convey many messages through how a character dresses, but like a real person, many characters are layered and complex. We think about the life experiences and influence they have throughout the story…and try to bring that to life through the costume design." Eyrich mentions how they collaborate with the actors on this process: "We set out to help define each character through their costumes—color, style, tailoring, shoes…and work with each actor on how their costumes can help them find their character. For example, bold colors and good tailoring can say a lot about a character."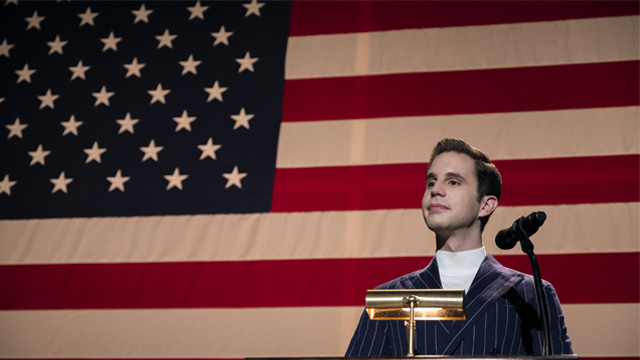 Payton (Ben Platt), for one, is a highly ambitious student whose life's purpose is to get to the White House. Alice (Julia Schlaephfer), Payton's future first lady, plays the part dutifully, with careful consideration for her words as well as her fashion. "[Payton] is deliberate and presidential with his style choices. Alice is very similar and her goal is to get Payton elected. She is also extremely conscious of how she is perceived so she is influenced by style icons like Jackie (Kennedy-Onassis), wearing clothing to reflect this, like beautiful sherbet colored sweater sets, always pearls, pussy bows, tweedy pastel skirts, and her cream patent Gucci loafers," says Parkinson.
ADVERTISEMENT - CONTINUE READING BELOW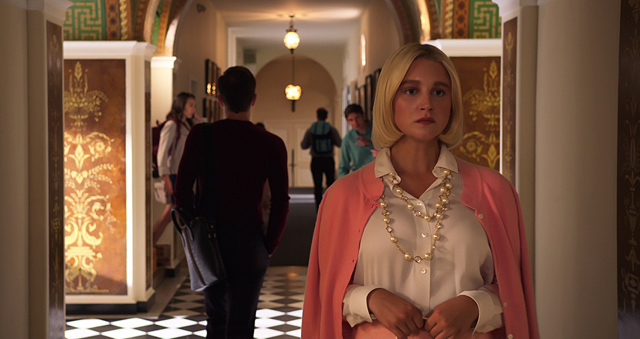 And because the show partly features a sunny life of privilege in Santa Barbara, California, then you've probably realized that these aren't the types of clothes you could easily pick out from your own closet. It's easy to imagine that the likes of Payton, Alice, and their close circle of friends might have wardrobes full of neatly stacked and always perfectly ironed clothes ready for picking. But Parkinson admits that Alice's look posed a challenge: "We [weren't able] to shop as easily for her looks. Because her style was Jackie O-inspired and classic, but with a specific sherbet color palette, we ended up having to make many pieces for her like tweedy pastel skirts, matching colored pussy bows and headbands to make her outfits a full head-to-toe look. We also sourced quite a lot of vintage pieces to really specify her look since her style isn't as trend driven, but still very iconic." You could even say that trends don't dictate the rest of the characters' looks;  it's their individual personalities and persuasions that define their appearances in the story.
ADVERTISEMENT - CONTINUE READING BELOW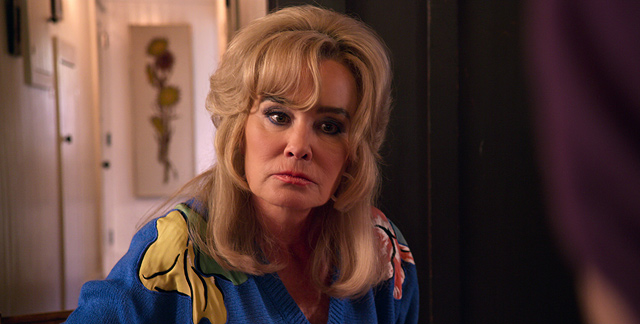 Eyrich worked on Dusty (Jessica Lange), who is an example of a character who, while not high-society, makes a strong impact by way of dialogue as well as her manner. "With the wig, makeup, and nails being strong and defining of character, we had to keep toning down the clothing choices to prevent too campy of a look. It was actually the most difficult character for me to refine. I've worked with [Lange] for years now, and this is the most difficult character for [the] both of us," Eyrich shares.
ADVERTISEMENT - CONTINUE READING BELOW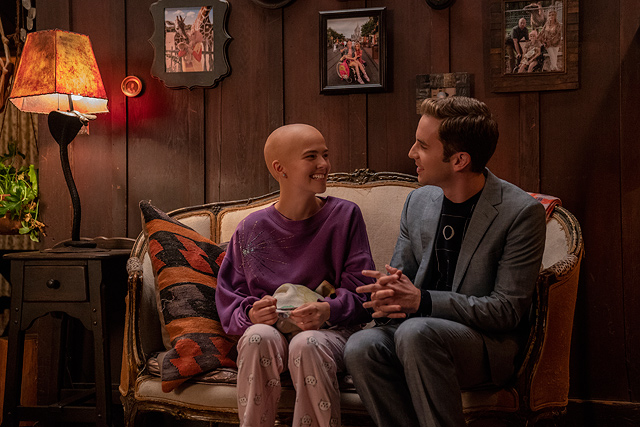 There are several worlds at work in the series, with the glamorous environment in which Payton thrives, as opposed to the kitschy conditions of Dusty and Infinity (Zoey Deutch). "Payton definitely comes from a luxurious world of wealth and prestige compared to the world Infinity was brought up in with her grandmother, Dusty," says Parkinson. "Payton dresses in expensive polished suits and luxurious fabrics like cashmere (while) Infinity comes from a completely different background. Her grandmother wants attention and dresses her in a doll-like way for attention and opportunity."
ADVERTISEMENT - CONTINUE READING BELOW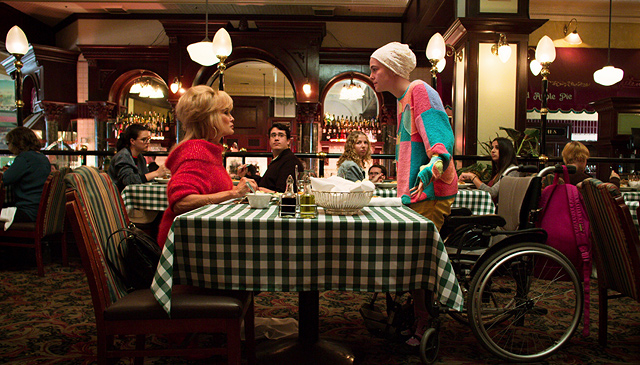 There is definitely a child-like quality to Infinity, which is reflected onto the way she's dressed and how her story develops throughout the show. Parkinson notes, "[Murphy] said he wanted her style to be a child meets Minnie Mouse. For her, we searched thrift and used clothing stores for very specific pieces that would fit her character who is always wanting to wear rainbows and butterflies, tutus, and sweatshirts with kitties. We used purples, pinks, [and] pale blues for her character and would add puffy paint or stick on flowers and more to make it seem as though she did an art project to make her clothing." It's worth noting that Deutch as Infinity counts as one of the more unglamorous yet instantly memorable transformations on the show (just wait until you see her by the end of the season).
ADVERTISEMENT - CONTINUE READING BELOW
The series takes inspiration not only from political figures such as John F. Kennedy, but also personalities from film, high society, as well as photography. Parkinson shares, "For Payton, we used a young JFK for inspiration, as well as Robert Redford's character in the film, The Candidate…One huge inspiration for the overall tone of the show was Slim Aarons' photography. Murphy also mentioned socialite icons like C.Z. Guest and Talitha Getty for the character of Georgina (played by Gwyneth Paltrow).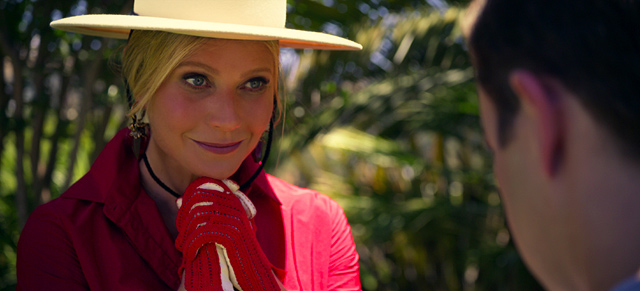 ADVERTISEMENT - CONTINUE READING BELOW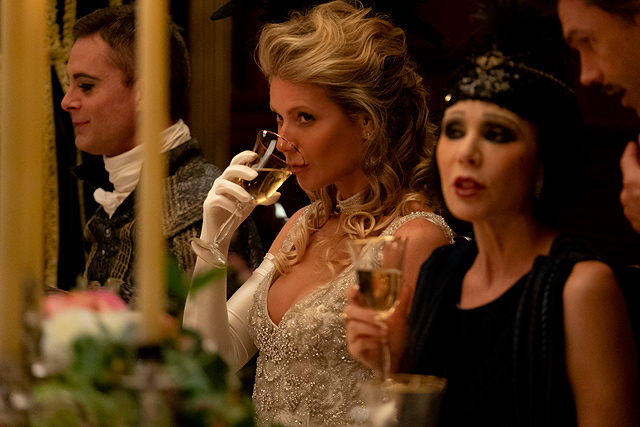 Eyrich adds, "Specifically for Gwyneth, we used vintage Ralph Lauren as a strong reference. We loved how he could pair a sequined ball skirt with a crisp white blouse and [a] big turquoise necklace with ease! We referenced Diana Vreeland, Gucci, Carolina Herrera, the Gettys." Fashion fans would easily marvel at Georgina's flowy gowns which she wears with the grace of a star on the red carpet—except she's dressed to the nines while trimming flowers in her massive garden.
ADVERTISEMENT - CONTINUE READING BELOW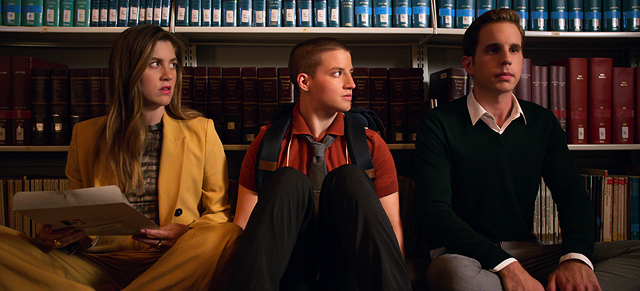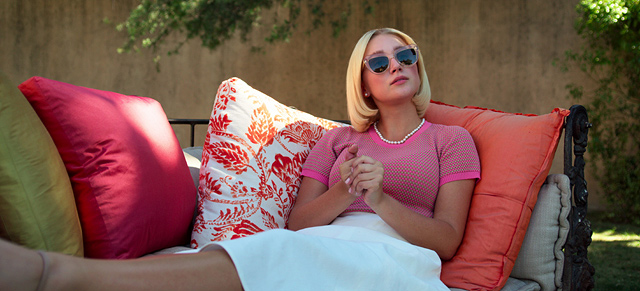 ADVERTISEMENT - CONTINUE READING BELOW
Apart from the general fashion and style, the utilization of bright hues and pops of color are meant to leave a lasting impression on the viewer. "Each character had a specific color palette that was reflected by how they dress," says Parkinson. "For Payton, we used a lot of vibrant Americana colors like red and blue. We also used rich burgundies, rusts, emerald greens. For Alice, she wore poppy pastels and [Murphy] wanted her to be all in sherbet colors. We used many pinks, yellows, purples, blues, and greens for her—or in the pastel family. For McAfee's (played by Laura Dreyfuss) suits, we wanted to use strong, vibrant colors."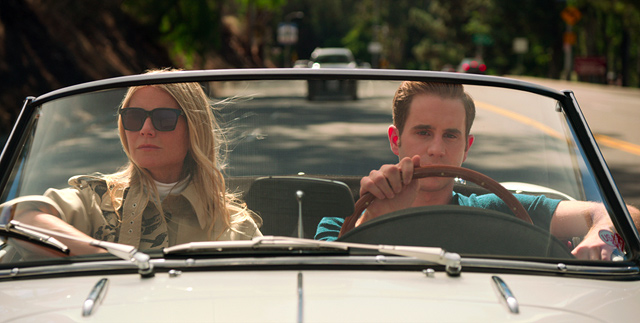 ADVERTISEMENT - CONTINUE READING BELOW
Overall, beyond the clothes on the show, there's a clear boldness and self-possession that reigns in each episode—an attitude that Parkinson hopes will leave viewers with something more as they gradually get to know this colorful cast of characters. "[They] aren't afraid to take risks and wear things that their peers might not be wearing. We love the history of fashion and style and I hope the viewers see that most trends repeat throughout history and that it is best to dress in a way that makes you feel the most comfortable with your body and how you express yourself to the outside world. And have fun with color!"
At a time when we can proclaim that love is love and wave the flag of equality, this is a thought we'd gladly fill our wardrobes–and minds–with.
The Politician is now streaming on Netflix. The show is produced by Fox 21 Television Studios. Photos courtesy of Netflix.
ADVERTISEMENT - CONTINUE READING BELOW
Your guide to thriving in
this
strange new world.
Share this story with your friends!
---
Help us make Spot.ph better!
Take the short survey
More Videos You Can Watch
Load More Stories