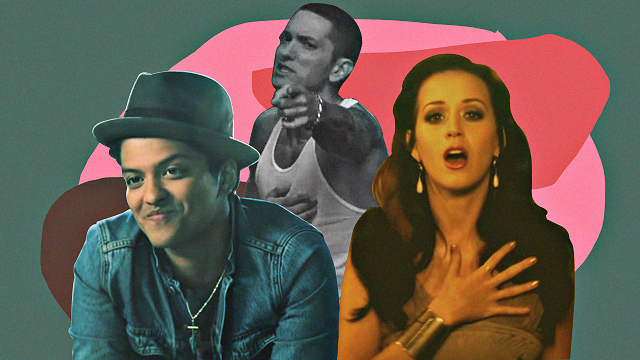 (SPOT.ph) Several things throw you back to simpler times or remarkable moments in your life—it can be your favorite home-cooked dish, a familiar scent, a vintage video game, or a song you once had on heavy rotation. And since we're on the topic of songs, did you know that some of your fave tracks are turning 10 years old in 2020? Now, you might say it's a jab at how old you are at present, but we'd like to think a look-back is always a comforting dose of nostalgia. As the decade comes to a close, we list down 10 fun tunes we can still jam along to—10 years later.
ADVERTISEMENT - CONTINUE READING BELOW
Also read:
10 Songs That Are Turning 20 in 2019
Here are 10 songs turning 10 in 2020:
"Just the Way You Are" by Bruno Mars
The year is 2010 and romance is basically synonymous to having someone serenade you with this song—because who wouldn't want to be told they were amazing just the way they are? Following his collaboration with B.o.B for "Nothing On You," Bruno Mars released "Just the Way You Are" and hit the top of the charts. The catchy melody and heart-warming lyrics are easy to pick up, resulting in this bop getting stuck in your head for weeks, and maybe even years! 
"Firework" by Katy Perry
Some days do feel like you're a plastic bag drifting through the wind with no idea what else to do with your life. And yes, there are some days when you don't believe in yourself, but you know who's there to believe in you? Katy Perry. When she says you're a firework and tells you to let your colors burst, you just do and in that moment, you feel as if you can do or be anything. 
"Like a G6" by Far East Movement feat. The Cataracs and deV
From the dizzying party visuals and references to alcohol to a beat that makes you get up on your feet, this song screams what it means to have a good time at a lit, invite-only party. You probably imagined your younger self growing up to go out every Friday night and listening to this Far East Movement track with your friends while spending hard-earned cash on expensive drinks. But hey, if you're more inclined to stay in 10 years after this song was released, that still sounds like a good time.
"Love the Way You Lie" by Eminem feat. Rihanna
When this explosive collaboration from rapper Eminem and R&B singer Rihanna came out, everyone played it on loop because of its powerful lyrics, moody piano riffs, and really, it was a way to memorize the rap and show off to friends that yes, you can rap like Eminem himself. 
ADVERTISEMENT - CONTINUE READING BELOW
"All I Do Is Win" by DJ Khaled feat. T-Pain, Rick Ross, Ludacris, and Snoop Dogg
Everybody, all together now: "D. J. KHALED." You just know it's going down when this song plays and frankly, nothing announces victory quite like this badass bop. Working out? Conquer it. Exam? Ace it. A non-competitive board game with friends? Still win it. Regardless of what you're doing, this song's an added boost of energy to help you get things done. What can we say, cool background music is a universal and timeless thing everyone can ride on.
"Baby" by Justin Bieber feat. Ludacris
While we don't know how old you were a decade ago, the idea of bowling with friends at a disco-themed bowling alley still sounds pretty fun. You might have disliked hearing this song for some time, but there's no denying that it's catchy, apart from maybe reminding you of the more carefree times of your youth. Extra points if you memorized Ludacris's rap. Fun fact: Justin Bieber said the word "baby" 56 times in a span of three minutes and 36 seconds—yes, we counted!
ADVERTISEMENT - CONTINUE READING BELOW
"Rolling in the Deep" by Adele
Relationships start sweet but some may end up sour, or worse, bitter. Nothing quite like showing your ex how much better you're doing without them. Adele is all too familiar with this feeling—we got a good number of emotional ballads from the songstress in the past decade, after all, but this track is arguably one of her best songs. From her roaring vocals to the heavy drums, every bit of this song says, "Honey, look at all the good things you're missing out on."
"The Only Exception" by Paramore
No matter what it was you were going through in 2010 while you were listening to this song all alone in the darkness of your bedroom, we're here for you, and we hope you're okay. Or...maybe it had nothing to do with personal experience, but this song is pretty effective at making you feel like you were in that relationship. Fast forward a decade and you might cringe at yourself for being so emo back then, but hey, you can chalk it up to adolescent hormones.
ADVERTISEMENT - CONTINUE READING BELOW
"Moves Like Jagger" by Maroon 5 feat. Christina Aguilera
We're not joking, this song is actually almost a decade old, event though Maroon 5 frontman Adam Levine looks like he hasn't aged a day. The funky ditty starts off with an unmistakable guitar riff and a smooth whistle, with Levine's and Christina Aguilera's vocals injecting the song with energy. The bop is an homage to The Rolling Stones legend Mick Jagger and though he doesn't have the same moves now, the young Jagger was oozing with swagger. Who wouldn't want to dance like him?
"Mine" by Taylor Swift
Taylor Swift is not the artist of the decade for nothing—the country-darling-turned-pop-superstar released several multi-platinum singles in the 2010s and her biggest one at the start of the decade is "Mine" from her Speak Now album. Swift has always been good at capturing the many different emotions you feel throughout your life, and this one about taking the next big steps with a significant other is no exception.
ADVERTISEMENT - CONTINUE READING BELOW
Share this story with your friends!
---
Help us make Spot.ph better!
Take the short survey
More Videos You Can Watch
Load More Stories