(SPOT.ph) In 2013, in a move shocked the world, Pope Benedict XVI or former Cardinal Joseph Ratzinger resigned from being the pope or the leader of the Catholic Church. A pope is supposed to serve until his death—no pope had resigned since the 1400s, so this was unheard of.
Pope Francis I or Cardinal Jorge Bergoglio would take his place, and it was historic as it was a time when the Catholic Church essentially had two popes still alive—a truly uncommon thing. This is the basis of Fernando Meirelles' latest feature film. On paper, it sounds like a very dramatic and shocking time full of intrigue, surprises, and politics, but what The Two Popes does is situate the story in film that plays like a buddy comedy. This Netflix film comes off funnier, lighter, and more delightful than one would expect from a film about two old men talking religion, and it's carried immensely by two veteran actors putting in some truly holy work.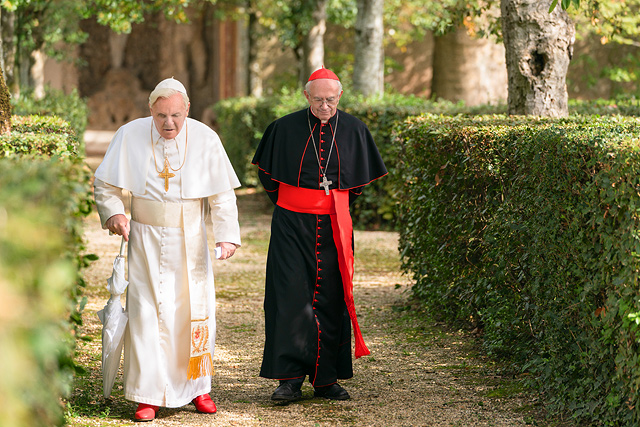 ADVERTISEMENT - CONTINUE READING BELOW
The Two Popes begins in 2005, soon after the death of Pope John Paul II. The world's cardinals are gathering in the Vatican to vote for the next pope. This is called a papal conclave, and in 2005, several Cardinals are looked at as possible successors to John Paul II, including the charismatic Cardinal Ratzinger (Anthony Hopkins) who is really campaigning for the position, and the quiet and humble Cardinal Bergoglio (Jonathan Pryce), who is actively campaigning against getting votes. As the votes pour in, Ratzinger is voted as the next pope, and Bergoglio returns to his home country of Argentina.
Ratzinger, now Pope Benedict XVI, runs into some trouble while head of the Church thanks to leaked documents exposing corruption within the Vatican and cases of sexual abuse by priests. Around the same time, Bergoglio is ready to hang his cloak as he prepares to resign from his position as archbishop, sending Pope Benedict XVI his resignation letter, waiting for approval. Pope Benedict XVI then invites Cardinal Bergoglio to the Vatican to talk. Bergoglio believes it's about his resignation, but the pope has other plans. This leads to several days of deep and personal conversations between two very different people.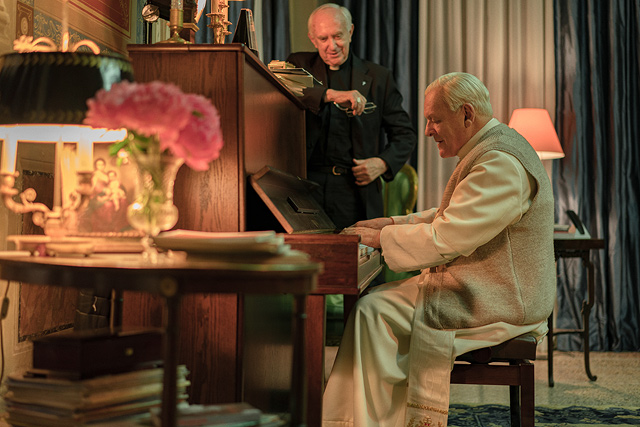 Director Meirelles, best known for co-directing the Brazilian crime movie City of God, returns to feature filmmaking after eight years and does so in a simple yet splashy way. Simple because this film is basically a two-hander and is just a set of conversations, one after another. It is based on a play by Anthony McCarten after all, so the set-up is very much like a play. Meirelles transports what is just two people on a stage to the gloriousness of Rome and the Vatican marvelously. The opening sequence of the 2005 papal conclave, filled with red flowing outfits and gorgeous Vatican scenery including the insides of the church—all recreated because they were obviously not allowed to film at the real place—is a masterwork of directing, editing, and production design.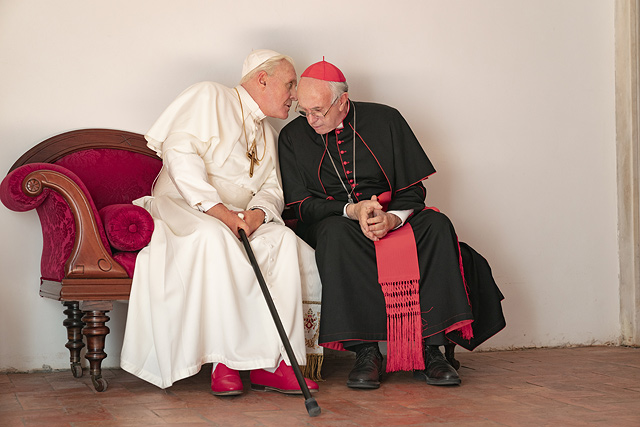 The visual feast of the Vatican, from St. Peter's Basilica to the inside of the Sistine Chapel, would be the surprise star of this film if it wasn't for its two main actors. There is just so much detail and care put into the art direction, the costume, the look of this film something you would not expect in a movie about two popes. This is a recurring theme here. This film has such an unappetizing title that the surprises within really make it all the more special.
ADVERTISEMENT - CONTINUE READING BELOW
The best thing as mentioned before, however, are the two leads in Hopkins and Pryce. Pryce takes most of the screentime as the story mostly revolves around Bergoglio and his journey to becoming the pope. Pryce seems like the easy choice as he already looks so much like Pope Francis; he also played a religious leader during his tenure on Game of Thrones, so this seemed like the perfect choice. Even knowing this, it's still a wonder to watch him work, evoking Bergoglio's humility as well as the personal demons he struggles with regarding his past. Hopkins, as the pricklier and more confrontational of the two popes, is given space to be a bit sassier and has the material to offer a wider range of emotions. The buddy-comedy style of having one grouch and another who plays it straight works as Pryce and Hopkins bounce off each other perfectly.
The conversations that take up much of the film's runtime are fascinating, witty, and again, funnier and lighter than one would think. McCarten is a master of the biopic at this point, having written the likes of The Theory of Everything about Stephen Hawking, Darkest Hour about Winston Churchill, and Bohemian Rhapsody about Freddie Mercury and the band Queen. Coincidentally (or not), all three of those films had their lead actor win Best Actor at the Oscars. His words are spoken eloquently and engagingly by Pryce and Hopkins, and even if sometimes the dialogue feels too stiff and too written to be natural, the actors still bless the material with their work.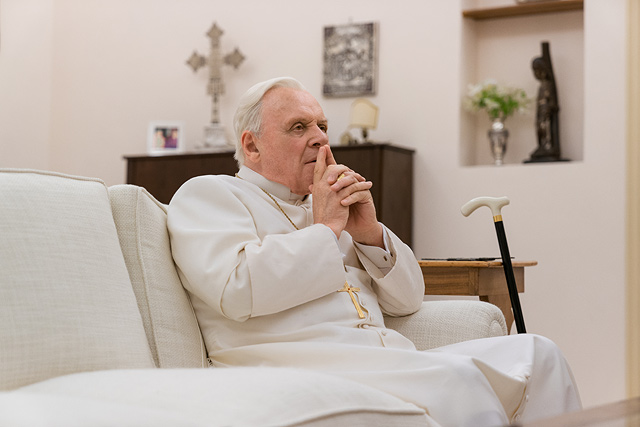 Though like a sermon that goes on a little too long (the film clocks in at over two hours), it stretches at the end to the point that you wonder when this film will end. The film tries to go deeper into Bergoglio's past through flashbacks to his youth and years as a priest (played solidly by Argentinian actor Juan Minujín). The structure doesn't quite fit into what came before, and makes for a muddled third act. The film, as fun and entertaining as it is, doesn't tackle the issues that the two popes raise about the Church, from the corruption to the scandals, and it feels like a missed opportunity to break through the surface of this topic. It tries with Bergoglio's flashbacks, but because that is such a specific time in history tied to a specific person, it doesn't carry as much weight for most.
ADVERTISEMENT - CONTINUE READING BELOW
However, The Two Popes is still a delightful surprise. Visually magnificent, funny, and carried by a pair of two terrific actors, there is much to like. It's entertaining for the most part, and if one doesn't think about truly going deep into the Church's issues—specifically the scandals that rocked Benedict XVI's term—it's actually a really interesting and wonderful look at two men trying to figure out their place in the world, while also staying true to their beliefs.
Rating: 3.5 out of 5 Spots
The Two Popes is now streaming on Netflix. Photos courtesy of Netflix.
Your guide to thriving in
this
strange new world.
Share this story with your friends!
---
Help us make Spot.ph better!
Take the short survey
More Videos You Can Watch
Load More Stories