(SPOT.ph) Director Taika Waititi is best known for his comedy-drama films Boy, released in 2010, and Hunt for the Wilderpeople, released in 2016, which both did well commercially in hometown New Zealand. He's also responsible for Thor: Ragnarok, and he took the opportunity to inject a welcome punch of laughs and humor to the Marvel film. His most recent exploit is black comedy film Jojo Rabbit, which takes a jab at the war and Nazis. Comedy and a serious matter like war don't seem to fit together, but satire is a thing, and Waititi shows that knows a thing or two about that.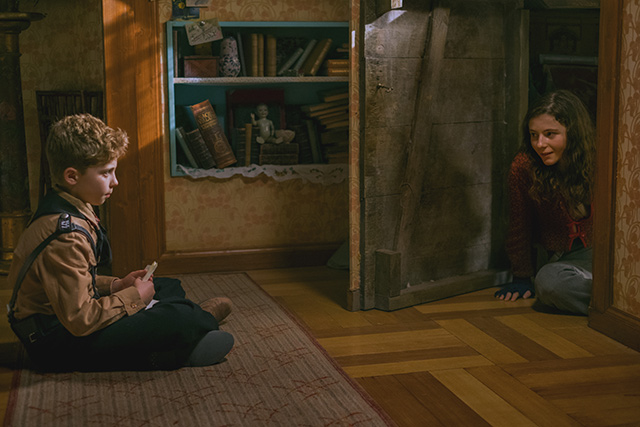 ADVERTISEMENT - CONTINUE READING BELOW
Ten-year-old Johannes "Jojo" Betzler, played by the talented Roman Griffin Davis, lives in Nazi Germany with his mother, Rosie (Scarlett Johansson). He has the makings of great Nazi—unwavering loyalty to Germany, a desire to belong to a hive mind, and a pronounced dislike for Jews. Nothing is more exciting than attending the Hitler Youth camp, and he tells his best friend Yorki (Archie Yates) that it will be the greatest weekend ever. Sure, he's a little nervous, but it's a good thing he's got encouragement from his beloved imaginary friend, the Führer himself Adolf Hitler, played by director Waititi, with a lighthearted, and childish approach.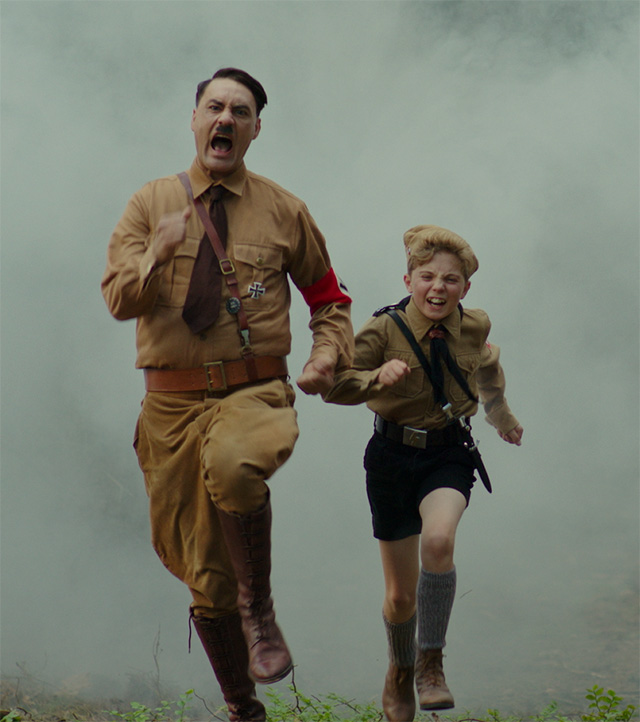 After getting a boost to say "Heil Hitler!" countless times, Jojo is ecstatic to be under the tutelage of Captain Klenzendorf, played by a rugged Sam Rockwell, and under the guidance of second-in-command Finkel (Game of Thrones' Alfie Allen) and Fräulein Rahm, played by—get this—comedian Rebel Wilson. It's already a ride to list all those names and actors, but then you hear them speak with a butchered German accent and the whole thing is just a trip. But before you think the whole movie is just one big joke, it reminds you how painfully real the struggles of war are through the character of Elsa (Thomasin McKenzie), a young Jewish girl being hidden in Jojo's house.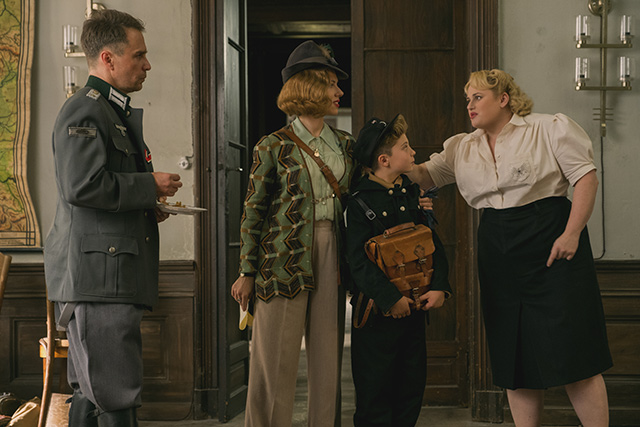 ADVERTISEMENT - CONTINUE READING BELOW
Jojo Rabbit is a visually stunning film, with a somber undertone to every frame, and yet vibrant and colored at the same time. Satire is at the very core of the film, and it tries to marry the contradiction of laughs and politics even in the costumes and characters and the light through which we see Jojo's world light up, and eventually darken. War films are as far as you can get to the present time, at least in terms of look and physical appearance, and the attention to detail is impeccable. The uniforms, the everyday wear, and even Jojo's Swastika-filled room is gorgeous and effective. The bombs,guns, and grenades deserve their own sentence, because really, it aims to destroy, but still shows the humor amidst destruction.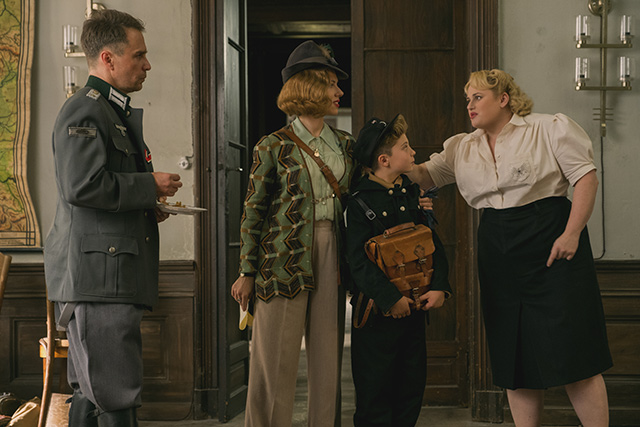 ADVERTISEMENT - CONTINUE READING BELOW
It would easy to brush it off as just a visually beautiful film and an ambitious production design project. Yes, it doesn't fall short in pulling up uniforms with the most meticulous details or getting bombs to go off at the right time, but to reduce to just its look would be a great insult to the other aspects of the film that got it nominated for Best Picture at the Oscars. One of which is the acting, especially that of Davis. Hollywood does this thing where they hire someone much older to play a younger character in hopes that it would be absolutely believable to the audience. Davis, at 12, might be two years older than Jojo's intended age, but he is neither too mature or too naive to play a child growing up too fast. It's hard to believe that this is his first feature film, as he carried most of Jojo Rabbit on his shoulders with relative ease. Not to mention, he holds his own alongside veteran actors with no trace of nervousness.
ADVERTISEMENT - CONTINUE READING BELOW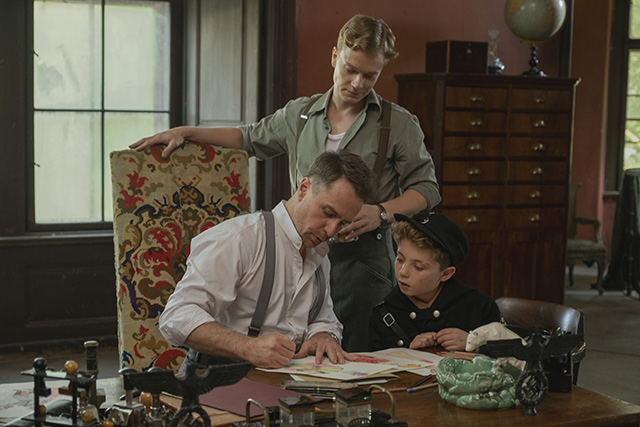 Speaking of acting, Waititi, without a doubt, deserves a paragraph as well. The film is largely a product of his mind, but his delivery of a comical and simplistic Adolf Hitler is the right kind of jarring and and comical that locks everything in place. There is no Adolf without Jojo, and for majority of the film, there is no Jojo without Adolf. It seems absolutely out of this world to be the best of friends with a supportive yet manipulative tyrant, but the chemistry between Waititi and Davis makes you believe in it anyway, and their banter will have you laughing, no matter how inappropriate.
ADVERTISEMENT - CONTINUE READING BELOW
And laughing you will be, if you can let go of the fact that the movie is not at all a historically accurate depiction of World War II. Satire thrives in the film, with the adults' blatant disregard for the safety of children, the brazen jabs on women, and the out of place comments and dialogue that will have you shaking your head at how inappropriate it is. You will laugh, and you will know it's wrong even without being told. But that's exactly what satire is, and you will chuckle when you shouldn't and you will know exactly why.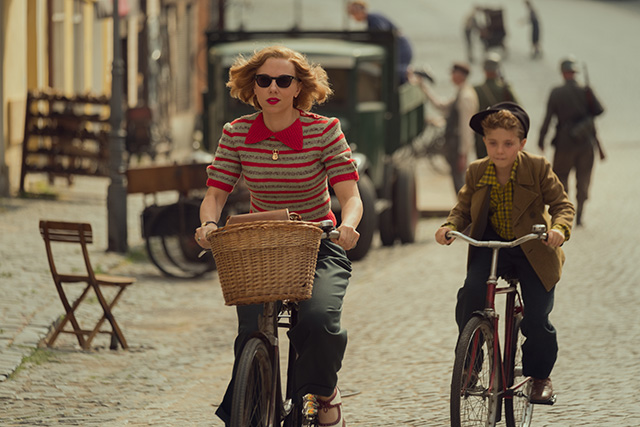 ADVERTISEMENT - CONTINUE READING BELOW
Jojo is taught to be heartless and ruthless in his pursuit of victory for Nazi Germany. It means throwing grenades, demonizing Jews with the most absurd and baseless assumptions, and learning how to kill with no hesitation. He eventually makes contact with the mysterious Jew in his house, and this part of the film is where it gets serious. You can make all the jokes you want, drop all the gags up your sleeve, and deliver all the punchlines you have, but the war is still the war, and its consequences, effects, and trauma are all too real. McKenzie's Elsa plays between bitter and welcoming and this push and pull with Davis' Jojo shows exactly why the ideology that runs the war is one grounded in blinded belief and elitism. You'll also see a little mercy from Captain Klenzendorf courtesy of Rockwell, and the character development shows how powerful small choices are when you see the big picture.
ADVERTISEMENT - CONTINUE READING BELOW
The film is no easy watch. Sure, your eyes will take in everything at once, but you don't sit down, eat your popcorn, and call it a day. It requires processing and a lot of thinking, and it may well follow you as you walk out the cinema. The film runs the risk of being divisive, with some clutching at their stomachs from laughing, and the rest completely scandalized and offended. Jojo Rabbit doesn't claim to be an accurate historical film, and perhaps folks watching need to remember that in order to fully enjoy what it's all about.
Rating: 4 out of 5 Spots
Jojo Rabbit is now showing in Ayala Cinemas. Photos courtesy of Fox Searchlight Pictures.
Share this story with your friends!
---
Help us make Spot.ph better!
Take the short survey
More Videos You Can Watch
Load More Stories