10 Shows to Watch If You Liked History 101
Ready your brain cells for these explainer-type series!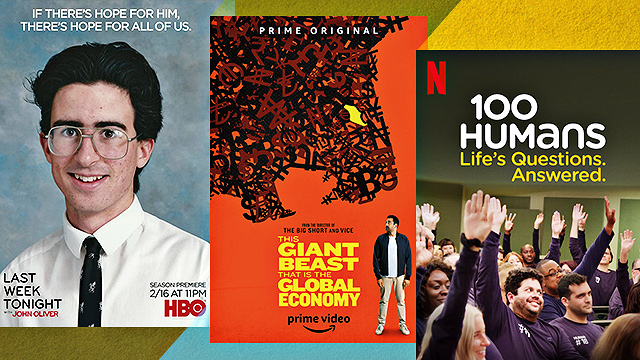 (SPOT.ph) Learning is so much better when you aren't being graded. Just take History 101, for example. There's something about the bite-sized, visually entertaining dives into random and niche corners of history that makes the show so dang interesting. The series covers topics like the global takeover of fast-food, the politics and drives behind the Space Race, the very messy—to put it lightly—history of the Middle East in relation to oil, and pretty much anything and everything under the sun. The show has become a consistent contender on the Netflix Top 10 since History 101's release on May 22.
Explainer-type videos have gotten incredibly popular in the past few years. All it takes is a couple minutes to (hopefully) add to your brain cells—who would say no to that? If you enjoyed History 101, we round up more educational and entertaining series to watch. From shows that cover a wide range of subjects to some that focus on a single, but broad, topic you could find your next binge watch-worthy show here.
Also read:
10 Movies and Shows to Watch If You Liked Never Have I Ever
10 TV Shows and Movies to Watch if You Liked You
Can't get enough of History 101? Check out these similar shows:
Last Week Tonight with John Oliver
Where to watch: HBO GO, Hulu, YouTube
Arguably one of the first "explainer" talk shows that tackled current events in this format, Last Week Tonight with John Oliver takes the biggest headlines and turns them into more palatable (read: still depressing, but somehow funny) commentary. John Oliver's wit and snark is hard to beat. Whether he's talking about something scary or not-as-scary, this show helps you absorb the latest news without completely spiraling. 
ADVERTISEMENT - CONTINUE READING BELOW
Patriot Act
Where to watch: Netflix, YouTube
Hassan Minaj's take on social commentary could be called the millennial version of John Oliver's show. Complete with a crazy-interactive stage and Minaj's always on-trend outfits (don't forget the sneaks!), Patriot Act lays down all the facts on today's most controversial topics in a way that lets you see the side oft-hidden. The best part is that Minaj and his team aren't afraid to call out the biggest players in their stories, and oddly enough, the results—from super awkward interviews to parody merch—are always hilarious.
CONTINUE READING BELOW
Recommended Videos
Vox Explained
Where to watch: Netflix, YouTube
This is one of the first series that took on the explainer genre without anchoring on a host. Produced and created by Vox, a U.S.-based media outlet, this series is in line with their goal of reporting that breaks from the mainstream culture of fast-paced news. They tackle a wide range of topics, from astronomy to the human mind to dreams, and dive deep into each concept. The resulting 20-minute-or-so video episode almost always proves to be compelling and fascinating.
Abstract: The Art of Design
Where to watch: Netflix
How do humans create things that just look "good?" That is the question at the core of this series. Each episode of Abstract focuses on different artists who are considered masters in their fields of design—from footwear to architecture to costume. It does not matter what your idea of "good" design is; what's cool about this show is you get to see all the ideas and processes that go into creating something.
ADVERTISEMENT - CONTINUE READING BELOW
Adam Ruins Everything
Where to watch: Amazon Prime
From creating something beautiful, we move on to a show that rips apart all the pretty illusions you have about life and society. In Adam Ruins Everything, Adam acts as your typical host—except that he uses his "magical TV show host powers" to bring the "guest" (usually just an ordinary person doing ordinary things, like voting or tipping) to different scenarios that shed light on the not-so-good side of these everyday occurrences. It is kind of like getting schooled, but less harsh.
100 Humans
Where to watch: Netflix
Is there a particular way humans use the toilet? Do good dancing skills (a.k.a. "swagger") equate to higher sperm count? Does time really fly when you're having fun? These are the questions that 100 Humans aim to answer. This dubiously science-based show revolves around 100 volunteers—willing ones, we hope—undergoing a series of tests aimed at answering questions about humanity you probably never even thought to ask.
This Giant Beast That Is The Global Economy
Where to watch: Amazon Prime
Money, money, money;  it's what makes the world go round. How, you ask? You can find out through this docuseries, directed by Adam McKay (a.k.a. the guy behind The Big Short film). Follow Kal Penn as he winds his way through the globe to learn just how the economy works. Each episode takes a look into topics such as money laundering, bitcoin, counterfeiting and even death, and artificial intelligence. The series is, at heart, here to amuse, so don't expect to suddenly understand how the stock market works after.
ADVERTISEMENT - CONTINUE READING BELOW
Rotten
Where to watch: Netflix
Rotten is here to make sure you know exactly how food gets on your table. Spoiler alert: It ain't pretty. This hard-hitting six-part docuseries dives into the dirty realities of the food industry. Enjoying a meal together is one of the most wholesome moments family and friends can enjoy, an idea that makes all the greed, corruption, and fraud that goes on in the global food industry even more shocking.
Dark Tourist
Where to watch: Netflix
They say you feel most alive when you're closest to death. We're not about to commend the YOLO-attitude of the 2010s but we are going to talk about the phenomenon of "dark tourism." In this travel series, New Zealand filmmaker David Farrier goes around the globe in search of the most macabre offerings countries have. This series has a more show-and-tell feel than the other options on this list—seeing as it is a travel documentary. Still, from Farrier's talk with Pablo Escobar's former hitman to his experiences in a pretend warzone, you're sure to pick up something.
Slutever
Where to watch: Amazon Prime, YouTube
Karley Sciortino subverts all ideals about what a pretty blonde woman should be, or really, what any woman should be. In her Slutever series, which is under Viceland, she takes on everything sex with as little tension and moral hindrances possible. Prepare to go balls-deep into bondage, toys, masturbation, porn, preferences, customs, traditions, differences and anything else about sex that you could think of. This show has absolutely no time for shame. Instead, it offers a refreshing, informative, and always-interesting view on sex. 
ADVERTISEMENT - CONTINUE READING BELOW
Your guide to thriving in
this
strange new world.
Share this story with your friends!
---
Help us make Spot.ph better!
Take the short survey
Load More Stories