10 Classic Anime Series You Can Still Watch Online
Dive back into the worlds of Ghost Fighter, Naruto, Bleach, and more!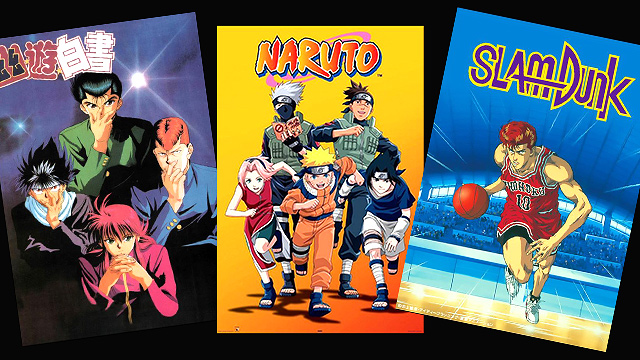 (SPOT.ph) These streaming options are not the "Tagalized" versions you used to watch back in the chill days of your childhood—still, they're no less magical. For this list, we round up anime series that ruled the airwaves before streaming was even a thing. Yup, there was a time kids had to patiently wait for the next episode. And if you somehow missed the finale—either due to a scheduling mishap or even the government (ask your parents about Voltes V if you're under 30 years old)—then we know you carried that lack in your heart for a long time. Well, the time to be dramatic about it is over: Check out this list of old-school anime you can stream!
Also read:
10 Anime Classics to Stream on Netflix If You're a Newbie
10 Things to Watch on Netflix If You Love Anime
Relive your childhood days by streaming these old-school anime series:
Yu Yu Hakusho or Ghost Fighter (1992)
ADVERTISEMENT - CONTINUE READING BELOW
Where to watch: Netflix
Get your rei gun out! Delinquent Yusuke Urameshi (Pinoy kids know him as Eugene) is a teenager who has left the afterworld surprised after dying while saving a child's life; the sudden altruistic act has left his fate in either heaven or hell at a stalemate and so he is given a second chance at life. Eugene then becomes a spirit detective hunting down demons back on Earth.
Hunter x Hunter (2011)
Where to watch: Netflix
There exists a 1999 version of the OG series, but how about you give this 2011 reboot a chance, too? Both are based on a manga of the same name that has been in production since 1988. The adventure series follows Gon Freecss, a kid who finds out his father—whom he was told was dead—isn't only alive and well, he's also a "Hunter." In their fictional world, "Hunters" are members of an elite class of humanity that have proved themselves by passing through a rigorous examination; Gon then decides to follow his father's footsteps and prove himself a Hunter as well.
CONTINUE READING BELOW
Recommended Videos
Naruto (2002)
Where to watch: Netflix
The wide, wild world of Naruto—everyone's favorite ironically loud ninja—has had many TV series but we know that won't stop you from spending a good time on your couch re-watching the first series to come out of the manga written and illustrated by Masashi Kishimoto. Naruto Uzumaki is a young ninja with a secret power gifted to him by his father. Follow Naruto as he trains hard to become a Hokage, or the respected leader of his village.
ADVERTISEMENT - CONTINUE READING BELOW
Bleach (2004)
Where to watch: Netflix
What's not to love about a group of kids with supernatural abilities taking on the spirit world? Fifteen-year-old Ichigo Kurosaki becomes a shinigami, a.k.a. Soul Reaper, after Rukia Kuchiki gifts him the powers. Together with his friends—who he learns also possesses spiritual powers—they defend humanity from evil spirits and guide souls to the afterlife.
Inuyasha (1996)
Where to watch: Netflix
Don't lie: The half-dog demon Inuyasha was definitely at the top of your list of crushes. Fifteen-year-old Tokyo City girl Kagome Higurashi is transported to feudal era Japan after falling into a well at her family's shrine. There she meets Inuyasha, and together they hunt for the pieces of the magical Shikon Jewel—which was embedded in Kagome—before the half-spider demon lord Naraku does.
Avatar: The Last Airbender (2005)
Where to watch: Netflix
There is much debate on whether this U.S. Nickelodeon series counts as "anime" but what is definite is that this series has aged exceptionally well. Mark Hamill, who voiced Fire Lord Ozai, once said that the show was too smart for its time—and with its recent resurgence of popularity thanks its availability on Netflix and its undyingly relevant themes, we can't help but agree. Set in a fictional world where four nations once lived in harmony (until the Fire Nation attacked), it follows a ragtag group of kids as they try to restore peace with the help of "bending," a way to control the four elements based on different martial arts.
ADVERTISEMENT - CONTINUE READING BELOW
Fullmetal Alchemist (2003)
Where to watch: Netflix
Are you ready to dive back into the steampunk world of Fullmetal Alchemist? Brothers Edward and Alphonse Elric are alchemists ready to do everything to bring their mother, Trisha, back to life—horribly mutating themselves during one of their attempts. They continue to study alchemy and spend years searching for the Philosopher's Stone; Their journey takes them on a wild ride into their country of Amestris where they find much stronger forces at play.
Flame of Recca (1997)
Where to watch: Amazon Prime
This was arguably one of the popular Tagalized anime series that made your old afternoons extra magical. Flame of Recca follows teenage boy Recca Hanabishi, an avid fan of ninjas in modern-age Japan—only it turns out he is an actual one. Recca is a Hokage descendant, a clan of ninjas that was wiped out in the 16th century, and is gifted with the ability to control and manipulate flames.
Slam Dunk (1993)
Where to watch: Amazon Prime
This anime series was a guaranteed hit for Pinoy kids everywhere when the Tagalized version hit our screens. Slam Dunk follows "bad boy" Hanamichi Sakuragi as he makes his way through high school. Initially very unpopular with girls, he joins the basketball team to impress his crush, Haruko Akagi and eventually develops a deep love for the sport. Sakuragi then aims for the national championship together with his team of lovable misfits.
Cardcaptor Sakura (1998)
Where to watch: Amazon Prime
Did anybody else want a closetful of clothes—and cool gadgets—like the ones Tomoyo Daidouji gave her best friend Sakura Kinomoto? We're pretty sure this had one of the best "power-up" scenes ever. Follow the Card Captor as she goes on an adventure defeating and collecting a set of magical Clow Cards she accidentally released. She is guided by the cards' guardian, Cerberus, as well as her friend Tomoyo. Plus, who can forget Syaoran Li, her rival turned friend, and her older brother Toya Kinomoto and his best friend, Yukito Tsukishiro.
ADVERTISEMENT - CONTINUE READING BELOW
Your guide to thriving in
this
strange new world.
Share this story with your friends!
---
Help us make Spot.ph better!
Take the short survey
Load More Stories