10 Anime Classics to Stream on Netflix If You're a Newbie
Thinking about getting into anime? Here's where to start.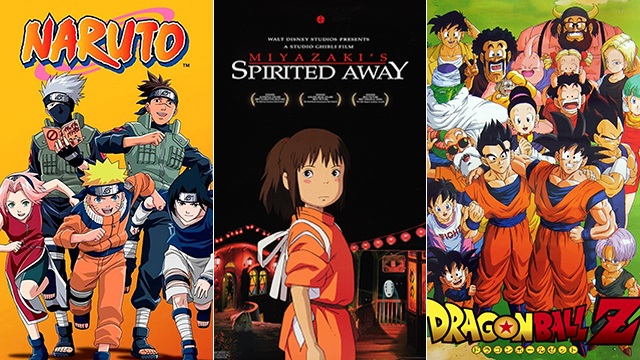 If you've exhausted all the K-Dramas, documentaries, and true crime series on Netflix, why not give anime a try? The subscription-based streaming site has made fans of the genre extremely happy by adding well-loved movies and TV series to the streaming site as well as some lesser-known titles for those who have seen all the OG's. There's plenty of anime content to choose from, so you can take your pick from action, adventure, fantasy, and more. If you're dying to understand those inside jokes and fandom references your friends (or the Internet) love alluding to, we've got you covered.
Here are 10 anime classics you can watch on Netflix to kickstart your entry into the genre:
Naruto
Possibly one of the most popular anime of all time, Naruto is part of the so-called "big three," along with Bleach (also on our list!) and One Piece (still not on Netflix, unfortunately). Guided by the nine-tailed biju (spirit demon) within him, Naruto's adventures follow the young ninja as he harnesses his combat skills. If you're looking for a lengthy plot to binge-watch (the original series has 220 episodes, while the extended Naruto Shippuden has 500) and a storyline centered around the power of friendship, this anime favorite would hook you right away. You'll find yourself believing in "The Will of Fire" in no time!
ADVERTISEMENT - CONTINUE READING BELOW
Dragon Ball Z
Another shounen anime (meaning aimed at the teenage male market), Dragon Ball Z is the sequel to the original Dragon Ball. It follows the adventures of a now-adult Goku, his son Gohan, and their friends, who defend the Earth against villains of all types: aliens, androids, and other creatures. The popular show had anime fans all over the world yelling out the familiar catchphrase, "kamehameha!" while cupping their hands in front of their bodies.
Fullmetal Alchemist
Harry Potter fans, you'll love this anime! The series centers around brothers Edward and Alphonse Elric, who are searching for the famed Philosopher's Stone in order to regain the bodies they lost after failing to bring their mother back to life using alchemy. Quick tip to tell the two apart: Edward is the shorter blond, and his younger brother Alphonse is actually the suit of armor. Edward lost his left leg during the attempt to resurrect their mother, and sacrificed his right arm in order to attach Alphonse's soul to the armor.
CONTINUE READING BELOW
Recommended Videos
Fairy Tail
Natsu Dragneel is a member of the popular wizard guild Fairy Tail. On his search for the dragon Igneel, his adoptive father, Natsu befriends several others who help him on his quest: celestial celestial wizard Lucy Heartfilia, ice wizard Gray Fullbuster, magical knight Erza Scarlet, and fellow dragon slayer Wendy Marvell.
Inuyasha
After falling into a well located in her family's shrine, 15-year-old Kagome who lives in modern-day Tokyo suddenly finds herself transported back in time to feudal Japan. She teams up with a half-dog-demon named Inuyasha to collect scattered shards of the sacred Shikon Jewel. This anime combines history, the supernatural, and romance all in one sitting!
ADVERTISEMENT - CONTINUE READING BELOW
Bleach
Normal teenager Ichigo Kurosaki becomes a substitute soul reaper after being given powers by soul reaper Rukia Kuchiki. The soul reapers are also known as shinigami (literally translated as "death god"), posessing powers similar to grim reapers. Whether he likes it or not, it is now Ichigo's duty to protect humans from evil spirits and guide newly departed souls to the afterlife. With 366 episodes in this supernatural series, you can watch an episode per day for an entire year!
Fruits Basket
Released in 2001, this lighthearted shoujo anime (meaning aimed at the teenage female market) is perfect for astrology fans. Female protagonist Tohru Honda becomes a member of the Sohma household after her family dies. She eventually discovers their secret: The clan has been under a zodiac curse for centuries and are cursed to turn into their animal forms when they are weak, stressed, or embraced by anyone of the opposite sex that is not possessed by a zodiacal spirit. A reboot project aiming to adapt the entire manga began in 2019, with the second season premiering in April 2020.
Spirited Away
This anime starter pack couldn't complete without a Studio Ghibli project. A modern classic, 2001 animated film Spirited Away does not hold back from frightening but immersive imagery depicting spirits, witches, mosters, and more—you'll be hooked by the visuals alone. The movie tells the story of 10-year-old Chihiro's adventure in the spirit world. On the way to their new home, Chihiro's father takes the wrong turn and the family stumbles upon what looks like an abandoned amusement park. After her parents are turned into pigs, Chihiro realizes she is trapped inside the spirit world, and must find her own way out.
ADVERTISEMENT - CONTINUE READING BELOW
Howl's Moving Castle
In one of the most visually stunning works by Ghibli's Hayao Miyazaki, themes of female empowerment and anti-violence take centerstage. If you're in the mood for a romantic story with a powerful message, Howl's Moving Castle is all about Sophie and her journey after being cursed by a witch to appear as an old woman. Sophie works as a housekeeper for Howl, a half-man, half-bird wizard, becoming a part of his resistance in a war waging between two kingdoms. 
Princess Mononoke
More than a fantasy-adventure film, Princess Mononoke's stance on the climate crisis is perhaps more relevant today than when it was first released in 1997. Visually stunning and with a complex message (how can humankind peacefully coexist with the forces of nature?), you'll be on the edge of your seat as Prince Ashitaka, cursed by an angry boar spirit and forced to travel to Irontown, reluctantly works together with ferocious wolf princess Mononoke to prevent the destruction of the forest and its spirit god.
Your guide to thriving in
this
strange new world.
---
Help us make Spot.ph better!
Take the short survey
Load More Stories