10 of the Most Touching Pixar Shorts and Their Backstories
A look at the most memorable ones, from Geri's Game to Bao.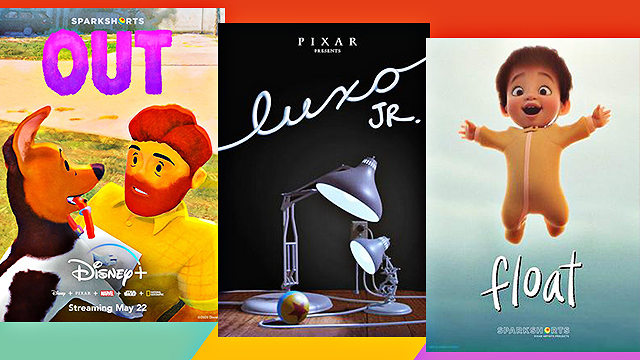 (SPOT.ph) Short films are a bit of a challenge. There is less time to get the story across and so creators do their best to pack a lot into the span of a few minutes—and Pixar's animated short films are a great example of that. The magic of watching your first Pixar short, whether it was Geri's Game, Tin Toy, or For the Birds is hard to forget. For this list, we round up some of the most moving short films throughout Pixar's history and lay down the tale behind their stories.
ADVERTISEMENT - CONTINUE READING BELOW
Also read:
10 Pinoy Childhood Classics You Can Stream
10 Tagalized Cartoons That Will Make You Miss Your Childhood
What makes a Pixar short so great? Here are the stories behind some of the most moving ones:
Luxo Jr. (1986)
Arguably the short that started it all. At just two minutes long, this adorable film about a parent-and-child lamp duo marks the start of Pixar, and a new era for animation. It was directed by Pixar's John Lasseter who premiered it at the computer graphics conference SIGGRAPH in 1986 to much applause and amazement for its groundbreaking animation at the time.
CONTINUE READING BELOW
Recommended Videos
Geri's Game (1997)
This short was a game-changer for Pixar Studios because it was the first time that they had successfully animated a human being. As the short's director Jan Pinakava reflected 20 years after the Oscar-winning short was made, their main goal was to animate a human being that didn't look real, but felt real to audiences. The short was one of the challenges the studio had to overcome in terms of technology and technique to be able to advance and at that time, it just so happened to be human animation. What we audiences got, in turn, was the wildly alive character of Geri and a single, hilariously thought-provoking game between him, and his perhaps lonely, old self.
ADVERTISEMENT - CONTINUE READING BELOW
Day & Night (2010)
This more experimental animation is an outlier for the usual narrative-driven shorts of Pixar. Instead, the studio chose to make a statement about the different, ultimately baseless prejudices that people tend to hold on to through the two characters of Day and Night, while mixing together 2D and 3D animation seamlessly. The voice you hear in the recording belongs to the late Dr. Wayne Dyer, an American author and motivational speaker. Director Teddy Newton used the specific recording due to the fact that he remembers his mother playing Dr. Dyer's talks when he was younger.
The Blue Umbrella (2013)
Another short that took Pixar's animation to new levels of realism was The Blue Umbrella. This time though, the story revolves around two umbrellas falling in love on a rainy San Francisco night, with the colorful characters popping up in an otherwise photorealistic setting. Director Saschka Unseld was inspired after he found a broken umbrella abandoned on a San Francisco street. His team decided to set the romantic story of two umbrellas in a photorealistic city—with the unexpected contrast making it even more magical. 
ADVERTISEMENT - CONTINUE READING BELOW
Piper (2016)
Pixar reached new levels of animated realism with the Oscar-winning short, Piper. Director Alan Barillaro was inspired after watching real Sandpiper birds running from waves on the beach. It then took Pixar three years to create the six-minute short, along with the new technology needed to make the animals and the scenery as lifelike as possible, without injecting the usual anthropomorphic characteristics the studio is known for.
Bao (2016)
You might remember the polarizing effect this short had on audiences across the globe—particularly in the Western context—after the mother swallows her bao-slash-son hybrid when he tries to leave the nest. But it was precisely this shocking moment that really allowed for people to understand and maybe even see for the first time a culture that was not their own. Bao was the first Pixar film ever to have a female director, Domee Shi, who based the short on her own relationship with her mother. 
ADVERTISEMENT - CONTINUE READING BELOW
Float (2019)
This fantastical tale is about a dad who finds out his son can literally float in air—and it's the first Pixar short to feature Filipino characters! It was directed by Filipino-American Bobby Rubio and is based on his own relationship with his son. "In the story, the father is dealing with a son that floats, which makes him different from other children," Rubio told ABC7. The tale tackles whether the father will choose to accept his son for who he is or have him hide what makes him different—a universal dilemma that just hits home, especially for Pinoys.
Out (2019)
The first ever Pixar short film to feature an LGBTQ+ character, the tale takes a more comedic but still very honest look at a gay man struggling to come out to his parents—with the help of his dog! Plus, this short is inspired by writer-director Steven Clay Hunter's own experiences. "It's somewhat based on my coming-out story and yet it's nothing like my coming-out story," Hunter told Entertainment Weekly. "I was trying to make a film for my 17-year-old queer self, the guy who needed to see something of himself in a film."
ADVERTISEMENT - CONTINUE READING BELOW
Purl (2019)
The toxic bro culture gets rehashed in this fantastical short film about a ball of pink yarn coming to work for "B.R.O. Capital". Just be warned: This short is a little more mature than most of Pixar's works. Aside from the fact that this short is straight commentary on workplace sexism (and casual sexism in general), it features drinking and surprisingly, foul language. "It's based on my experience being in animation," said Director Kristen Lester. She was the "only woman in the room" at her first job, leading her to erase parts of herself in order to fit in.
Kitbull (2019)
Kitbull tells the story of an unlikely friendship between a hardened stray kitten and a lonely pitbull. And funnily enough, the story started thanks to director Rosana Sullivan's love for cat videos and her own struggle to open up to people growing up. "I loved watching cat videos in times of stress," she told IndieWire. "At first, I just wanted to draw something that made me feel good and was fun, but it evolved into something more personal to me eventually," adding that she related most to the tough little kitten.
ADVERTISEMENT - CONTINUE READING BELOW
Share this story with your friends!
---
Help us make Spot.ph better!
Take the short survey
Load More Stories