10 '80s-Inspired Bops of Today to Get You Out of Your Tired Funk
Oh yes, give us more of that sax.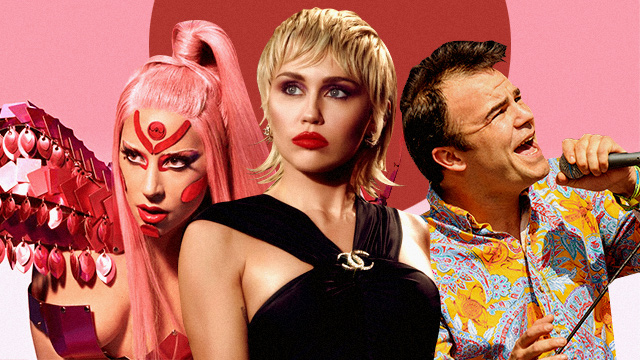 (SPOT.ph) The era of disco, shoulder pads, and way too much hairspray will always hold a dear spot in our hearts—never mind that some of us weren't even alive during the time (or were, at most, barely conscious of our surroundings). The music of that time in particular is coming back in a big way: the epic synth, disco funk, good old electro, are just bits of the '80s new wave that have resurrected in today's sounds. For this list, we round up some of the best feel-good tracks that are either unabashedly or a bit more subtly pumping you up with much-needed nostalgia. So if you're in a bit of a funk, hit play, relax, and just pray they don't bring back the hairspray.
Also read:
10 Rock Anthems to Listen To If You Liked the Captain Marvel Soundtrack
10 New Songs for Your Road-Trip Playlist
ADVERTISEMENT - CONTINUE READING BELOW
Celebrate the synthesizer with these awesome '80s-Inspired Bops from today's artists.
"Let's Get Physical" by Dua Lipa
Dua Lipa went full-on '80s for this fun workout video they released in tandem with the actual music video (which is also great fun, but this aerobics class video gets plus points for legitimately making us want to get moving). The British artist served up an extreme throwback with her Future Nostalgia album and "Physical" just takes the cake. We recommend listening to it right after the OG "Physical" by Olivia Newton-John for the ultimate flashback—which BTW, probably influenced Lipa's track with Miley Cyrus called "Prisoner."
CONTINUE READING BELOW
Recommended Videos
"Night Crawling" by Miley Cyrus featuring Billy Joel
Speaking of Miley Cyrus, her latest album Plastic Hearts is chock-full of nostalgic sounds mixed with her signature current touch—but we have to give it to her fiery collab with '80s punk rock legend Billy Idol. The British musician shaped the music of the '70s and '80s and his rock track with Cyrus more than proves that he still has it. We've got to give a shoutout to her Joan Jett collab, too: "Bad Karma" is a track dripping with the heavy beats and cool mojo that is the Cherry Bomb's signature. Plus, an official remix of Stevie Nicks's "Edge of Seventeen" and Cyrus's "Midnight Sky" exists—and yup, it's one of those times when having too much of a good thing goes really well.
"Blinding Lights" by The Weeknd
We don't know if The Weeknd and Dua Lipa planned this, but they're definitely leading the '80s synth-wave reawakening. After Hours was an absolute gem, officially released just months before Future Nostalgia. The album had synth, electro pop, and yup, epic saxophone solos—we highly recommend "In Your Eyes" for that last bit—but "Blinding Lights" undoubtedly came crashing front and center in all its old-school new wave-esque glory. There's no way you haven't heard the track, especially since TikTok became obsessed with it at some point, but there's no risk of getting sick of this banger anytime soon.
ADVERTISEMENT - CONTINUE READING BELOW
"Now I'm In It" by HAIM
The HAIM sisters never disappoint. They've been creating old-school vibes since forever now—who can forget "Forever"—and this track just takes the '80s electro-pop vibe to a whole new level. The low-key and beat-heavy dance track is oddly addicting. Is it just us, or does this sound like The Breakfast Club could have danced to this while in detention, too?
"Need Your Love" by Tennis
Husband-and-wife duo Alaina Moore and Patrick Riley have spent most of the 2010s creating music that wouldn't sound out of place in the '60s all throughout the '80s. Moore's distinct voice mixed with their overall sounds and aesthetic are a definite throwback. Their latest album, Swimmer, plays up their '70s-slash-'80s vibe and TBH, we just can't get enough of that tempo change (or Moore's epic hair).
"Stupid Love" by Lady Gaga
Not to be confused with the Andrew E. and Salbakuta classic with the stylized title, Lady Gaga brought out extreme retro Mad Max vibes with music video for "Stupid Love"—a perfect match for the song's refreshing sounds. The awesome disco beat is exactly the type of picker-upper we needed in 2020. The best part is that the song is perfect for just about any occasion: on your weekly grocery trip, working from home, or just partying in your room.
"International Woman of Leisure" by La Roux
La Roux was already known for their epic synth-pop sounds, and they went the unabashedly full-on '80s route for their Supervision album. Out of all the cool tracks, "International Woman of Leisure" hits that perfect mix between nostalgic and current. Add Elly Jackson's distinct vocals and you've got a definite banger.
ADVERTISEMENT - CONTINUE READING BELOW
"Casio" by Jungle
We're throwing it back to the stripped-back R&B sounds peppered with major disco feels courtesy of "Casio." It's hard not to bob along to this track—and a cool dance sequence like in the music video isn't hard to imagine. And just as the song pays tribute to the old-school Casio gadgets we used back when we were shifting from analog to digital, it also gets the nostalgia of that time just right.
"For Sure" by Future Islands
Future Islands hit everyone with major synth vibes via their 2014 hit "Seasons (Waiting On You)." Now, they're back with their oddly raw and somehow personal nostalgic sounds. "For Sure" is exactly the kind of love song that hits hard, from the synth notes guiding you into the track and Samuel T. Herring's deep voice singing a poignant tale of letting your loved ones grow—with or without you.
"Move Like This" by Ric Wilson & Terrace Martin
Bring out the disco funk with this chill track! Rap meets disco meets hip-hop in "Move Like This" courtesy of collaborators Ric Wilson, responsible for dropping the verses, and producer-slash-musician Terrace Martin. Try your best not to get lost in the smooth synth accompaniment and chill drum beat of this track—a perfect example of building on all the good stuff the '80s brought us and making it all your own.
Share this story with your friends!
---
Help us make Spot.ph better!
Take the short survey
Load More Stories