10 Inspiring Travel Shows You Can Binge-Watch While Staying Home
From travel documentaries to memoirs.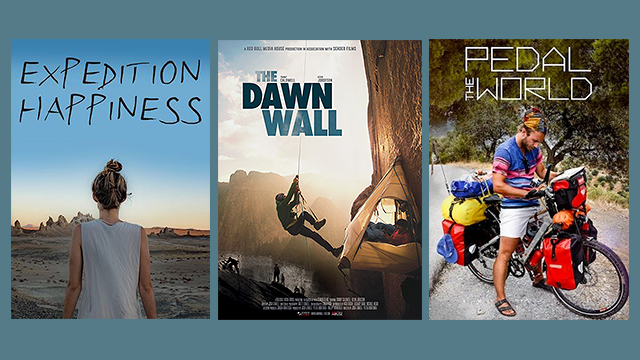 (SPOT.ph) After months of border restrictions, traveling in the middle of a pandemic is finally possible. But, of course, it comes with a lot of caveats. You can't easily drive from one region to another unless you have the necessary passes and requirements. Traveling via plane, even just for domestic destinations, requires a lot of papers. And you can't really check in at any hotel, even those just within the Metro, if you haven't had your COVID-19 test. With all these, it's still easier (and safer!) to stay home and binge-watch travel shows from the comforts of your couch. 
Also read:
The Serious List: Your Guide to What to Watch Now
Check out these inspiring travel shows, reality shows, and movies on Netflix:
Tales by Light (2015)
Originally aired on National Geographic, Australian documentary series Tales by Light features the snapshots and behind-the-scenes of professional photographers as they travel around the world. Check out the most amazing stories of the humpback whales in Tonga, the colorful Festival of Holi in the Himalayas, and freedivers in Vanuatu as told by the camera. The show premiered in 2015 and now has a total of 12 episodes spread out in three seasons. 
Expedition Happiness (2017)
Singer-songwriter Selima Taibi (a.k.a. Mogli) and filmmaker Felix Starck had everything they wished for: a beautiful loft in Berlin, successful careers, and money. But, according to them, they weren't happy. So they refurbished a used schoolbus and geared up for an epic road trip with their dog Rudi across Canada and the United States. The travelogue, which was filmed by Starck and soundtracked by Taibi, became the one-hour-and-a-half documentary Expedition Happiness. 
ADVERTISEMENT - CONTINUE READING BELOW
Pedal the World (2015)
Prior to Expedition Happiness, German filmmaker Felix Starck had already been traveling the world with his camera in tow. He pedaled his way on a bike across 22 countries, covering 18,000 kilometers worth of footage for the travel documentary Pedal the World. His goal then was to "meet people and get to know different cultures in this world," according to an interview by National Geographic. 
Twogether (2020)
Travel reality show Twogether follows South Korean actor-singer Lee Seung Gi and Taiwanese actor Jasper Liu as they make their way through six Asian cities (Yogyakarta and Bali in Indonesia, Bangkok and Chiang Mai in Thailand, Pokhara and Kathmandu in Nepal) to meet their fans. The Netflix original is a lot like the Amazing Race that's filled with challenges, plus the fact that the two don't speak each other's language. 
CONTINUE READING BELOW
Recommended Videos
The Dawn Wall (2017)
Enjoy the view of some of the United States' mountain parks from the eyes of American rock climber Tommy Caldwell. The documentary The Dawn Wall follows his attempt to complete the first ever free climb of El Capitan, a vertical rock formation in Yosemite National Park. The ascent, which lasted for 19 days, took six years of planning and preparation. 
Jack Whitehall: Travels with My Father (2017)
What's a road trip without some hearty laughter? English comedian Jack Whitehall takes his father Michael Whitehall along and travels across the globe for some good ol' father-and-son adventures with a funny twist. The Netflix series has a total of four seasons: Series 1 covers travels through Thailand, Vietnam, and Cambodia; Series 2 was filmed in Eastern Europe; Series 3 features the American west; and Series 4 was filmed in Australia. 
ADVERTISEMENT - CONTINUE READING BELOW
Breakfast, Lunch & Dinner (2019)
In Breakfast, Lunch & Dinner, American restaurateur and TV personality David Chang tries out the most famous dishes in big cities like Vancouver, Los Angeles, Marrakesh, and Phnom Penh. In each episode, he is accompanied by celebrities who have their own take and insights on exploring the world through food. 
Eat Pray Love (2010)
A popular romantic drama film on traveling the world, Eat Pray Love follows the story of Elizabeth Gilbert (Julia Roberts) who drops everything and embarks on a quest towards self-discovery. She finds herself eating her way through Italy, experiencing the power of prayer in India, and learning about love in Indonesia. The movie is based on Gilbert's 2006 memoir of the same name. 
Street Food Asia (2019)
Food tells a lot about a country's culture, people, and economy; and most of the time, there's no better way to level up your travels than sinking your teeth into a city's food hub. Documentary series Street Food not only showcases the best street food that a city has to offer, but also how these dishes speak of their story. There are two volumes currently on Netflix: Street Food Asia, which dropped on April 26, 2019 and included an episode about Cebu's food scene; and Street Food Latin America, which was released on July 21, 2020. 
Our Planet (2019)
Our Planet is an eight-part documentary series that tells the story of—well, our planet. It's more of a nature show, than a travel one; but we all know that the greatest adventures out there happen in the natural world. It features wide shots of herds of gazelles galloping on expansive lands in Tanzania, bisons in the Great Plains of North America, and bald eagles amid the dense forest of the Amazon—all told through David Attenborough's calm and engaging voice. 
ADVERTISEMENT - CONTINUE READING BELOW
Your guide to thriving in
this
strange new world.
Share this story with your friends!
---
Help us make Spot.ph better!
Take the short survey
Load More Stories