10 Ironically Pinoy Things As Seen on Trese
It's not just the tiyanak that we'll have to talk about.
(SPOT.ph) Trese has dropped on the global streaming platform Netflix—and it looks like we may have a lot of explaining to do. The animated adaptation is arguably the biggest title centering around Filipino folklore that practically everyone across the globe has access to. We're thinking of it as a quick showcase to the intricate world of aswangs, tiyanaks, nunos, anting-antings, gods, goddesses, and much more.
As Budjette Tan, co-creator of the OG novel says in a roundtable with SPOT.ph, says "It's so easy to say 'An aswang is like a vampire, tikbalang is like a centaur, like a minotaur,'" when, spoiler alert, they're totally different. This series will hopefully help people see the epic world of Filipino myth. Tan adds, "I just hope that when [foreign audiences] see it, they go 'Oh, I've never seen that before.'"
Aside from our myths being front and center, we do bet that Trese will introduce much more. We're talking Metro Manila—itself much more than just a setting in the series—and the way we Pinoys live. "I knew that Manila had to be special because that's what really sets Trese apart," says showrunner Jay Oliva in the roundtable. Sure, you could take the comic's storyline and perhaps apply it to a standard global city—but then it would lose much of its magic. "What the draw is, for me, it was about capturing the authenticity of a place."
I think this is the first time in any media that I've seen anyone do the Filipino point-with-your-lips thing. Truly, the reason why representation matters. #Trese #TreseOnNetflix pic.twitter.com/ZuRsBXqEss

— Gabe ???????????? (@DaemonCorps) June 10, 2021
All that means is that Trese is faithful to Manila—the good, the bad, and the ugly. And for this list, we're focusing on mainly the little things in Trese that will bring Manila to mind. So whether you're an actual foreigner who's doing some Trese research and happened to stumble upon this humble article or you're a certified Pinoy in need of some validation, we got you.
ADVERTISEMENT - CONTINUE READING BELOW
Trese and Manila are inseparable; just take a look at these 10 ironically Pinoy things in the show:
ChocNut is a great currency for bribes.
CONTINUE READING BELOW
Recommended Videos
Fun fact: Nuno is one of Liza Soberano's favorite characters. Yup, the voice behind the Filipino-language version of Alexandra Trese! "[Nuno] is so funny to me. It's like you have to bribe him to get something out of him all the time; you have to give him chocolate just so that you can get information from him," she tells SPOT.ph in a roundtable. "I don't want to say that it's a very Filipino thing, but sometimes it kind of is," she adds cheekily. Now we don't know whether she was talking about the bribery bit there but we are definitely sure those chocolates are truly Pinoy.
It was never explicitly stated but all it takes is a visit to your local sari-sari store to know what kind of chocolate Nuno loves: ChocNut. For those not in the know (oh, poor souls), it is a crumbly combination of cocoa and milk made 100% better by an addictive nutty kick. We totally get why Nuno would risk being a snitch for ChocNut.
ADVERTISEMENT - CONTINUE READING BELOW
Mythical creatures in our malls? Sounds familiar.
Yes, parking lots at night sure are scary—especially when they are located in a mall where for some reason despicable creatures tend to lurk (of the folkloric kind). And it's not just in the Metro Manila of Trese where that happens. In the real world, we thankfully haven't had a full-blown tiyanak attack anyone in a mall, as far as we know, but that episode definitely had us thinking of a certain half-human, half-snake creature capable of laying golden eggs supposedly hidden at a mall somewhere. We're sure you've heard this urban myth before. Just ask '90s "It" girl Alice Dixson.
Our trains do break down occasionally, but it's not because of mythical creatures.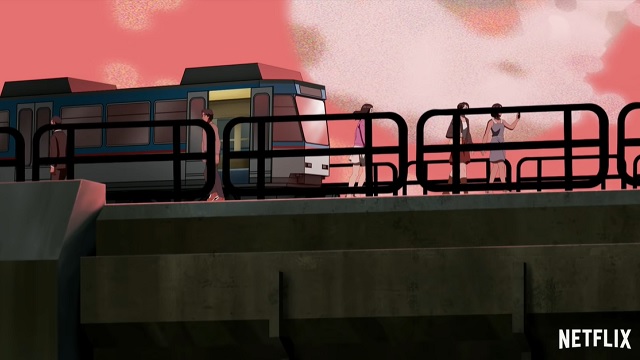 It is mostly because of the creatures in charge, in a manner of speaking. We think it is painfully apt that the first thing foreign audiences will see in Trese is a train breaking down—and that's not just any train. That train is the Metro Rail Transit Line 3, which just so happens to be the line traversing EDSA, Metro Manila's main artery. And yes, this train breaking down mid-travel and passengers having to walk the tracks—dubbed "unloading"—used to happen pretty often, pre-pandemic. Thankfully, there are no flesh-eating aswangs being behind any unloading incident, thus far.
ADVERTISEMENT - CONTINUE READING BELOW
No, the MRT-3 isn't a literal train to hell.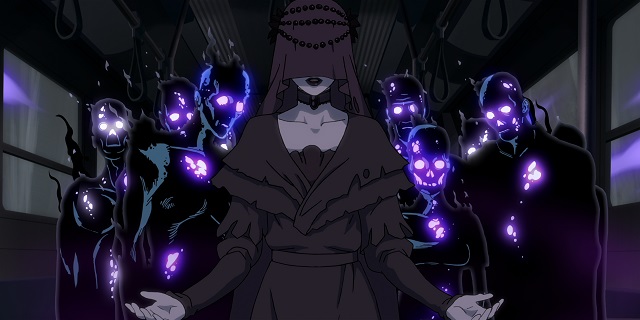 Metaphorically though, we can't say it isn't. The first episode amped up the train storyline with Trese realizing that it was being used as a vessel for souls to reach the domain of Ibu, the Philippine goddess of the underworld. In the real world, this pretty much feels like fact, as anyone who has ever ridden the MRT during rush hour will tell you. Trust us, the train ride being commandeered by Ibu's emissary actually looked more peaceful than it usually was in the B.C. times (Read: Before COVID).
Crime scenes do mean photo ops—but you already knew that.
Remember when Mayor Sanchez Santamaria took the incident at the MRT-3 as a chance to do some campaigning via press time? Well, we know this isn't something that happens only in the Philippines. The thing is, our local politicians like to take that concept up a notch and plaster their names and faces everywhere they can in whatever way possible. Take those fans with the mayor's face front and center being distributed by the lady. Oh yes, politicians give out their "merch" for free.
ADVERTISEMENT - CONTINUE READING BELOW
Mayor Sanchez Santamaria? As the kids would say, "We don't know her."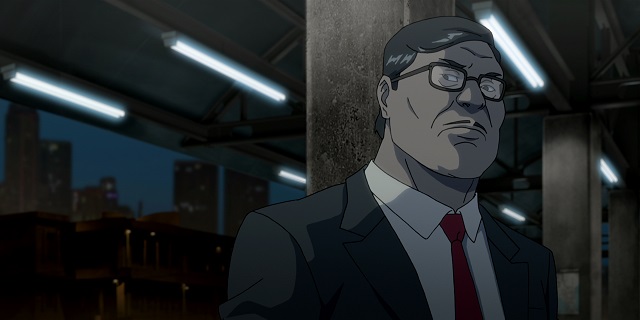 Or do we? Shady politicians are definitely nothing new in the Philippines, or anywhere else for that matter. Still, there is something about Santamaria and his slogan of change—sic itur ad astra—that sure hits home, in a bad way.
Yes, we do trust strangers with our money on the jeepney.
Captain Guerrero took us on the typical morning commute all Metro Manila folks had pre-panorama in the fourth episode. A stop at the corner-store panaderia, a jeepney ride in the heat—and what's that? Are you shocked that the passengers are handing each other their fare to give to the driver? Don't be. The jeepney's unique configuration leaves you no choice but to have faith in the people around you. And most especially with the driver who is currently counting change with one hand, changing the gearshift with the other, and moving the steering wheel with another. Wait, that's three hands. Well, Trese did tell you the Philippines is full of strange creatures.
ADVERTISEMENT - CONTINUE READING BELOW
And, yes, we sometimes commute in full get-up.
And speaking of commuting, the twins and their bossing are forced to take the long route after their sleek car is absolutely wrecked during one of their battles. Cue the epic imagery of the three pale, dark-clothed figures actually waiting till the light turns green to cross a busy road. Full disclosure: The green light is really treated more as a suggestion but it is very true that we will sometimes espouse style over comfort, even when commuting in Metro Manila heat. It mostly depends on how good we look in the 'fit—and yes, the trio's looks are totally worth it.
Who the heck is "bossing"?
Okay, this is the part where we flex being bilingual. The norm is that Pinoys usually speak two languages: English and Filipino (which Pinoy language it is usually depends on where in the country we grew up) so part of the joy of watching Trese is switching between the two versions and seeing how well the translations hold up—or how bad. In case you're wondering, "bossing," which is how the gang refers to Alexandra, is really just a Tagalized version of the term "boss" and not a misplaced verb. Kind of like how we've taken "security" and turned it into "sikyo," when calling, say, a guard at the mall. If you squint a bit, it's really a term of endearment. Okay, squint a lot for that one.
ADVERTISEMENT - CONTINUE READING BELOW
Rosaries on the rearview mirror are a must.
Want to know if a vehicle's owner is Filipino? Check to see if the rearview mirror has a rosary dangling from it—as in Hank's classic ride, "Baby." Look, we know it seems counter-intuitive to have someone who literally works and lives with mythic creatures to also be Catholic, but that's just how we Pinoys roll. Think Gabriel Garcia Marquez levels of magical realism. And unlike what Basilio may show, we promise the technique of rolling down a car window is not a lost art in the Philippines.
ADVERTISEMENT - CONTINUE READING BELOW
Hey, Spotters! Check us out on Viber to join our Community and subscribe to our Chatbot.
We are now on Quento! Download the app and enjoy more articles and videos from SPOT.ph and other Summit Media websites.
We are now on Quento! Download the app and enjoy more articles and videos from SPOT.ph and other Summit Media websites.
Your guide to thriving in
this
strange new world.
Share this story with your friends!
---
Help us make Spot.ph better!
Take the short survey
Load More Stories