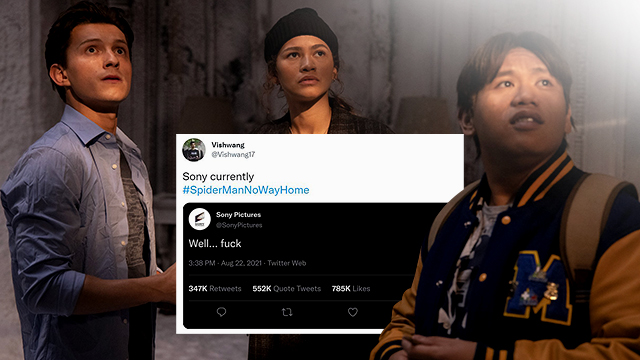 (SPOT.ph) We've been waiting for the third Tom Holland Spider-Man movie for what feels like centuries (2020 counts as 100 years, definitely)—and it looks like someone just couldn't wait any longer. Sony is doing its absolute best to wipe any trace of what seems to be a leaked trailer for Spider-Man: No Way Home from the Internet. The supposed leaked clip went around early morning on Monday, August 23, Philippine time. Meanwile, Twitter responded the best way possible: with a mess of memes.
Spider-Man: No Way Home follows the 2019 Far From Home movie and is the third installment of the Tom Holland-as-Spider-Man universe. And it is also, by far, the most secret! Especially given that the theatrical release date in the U.S. is on December 17, 2021, fans barely know anything about it. It is months away and we don't even have a trailer yet—or at least, an official one.
ADVERTISEMENT - CONTINUE READING BELOW
Holland, along with co-stars Zendaya and Jacob Batalon, did troll fans when they dropped a few possible titles alongside official movie stills in February. And now the alleged leaked clip—which we can't talk about but Hollywood Reporter said looked legit—has everyone even more hyped.
The supposed Spider-Man: No Way Home Trailer Leak Has Fans in a Meme-Able Mood
Look, Holland has a history of spoiling stuff. And while none of his, erm, blunders, have been this big, fans were quick to make fun of the relief the actor must be feeling knowing it's not on him this time. Or at least, we really, really hope he isn't in any way connected to this alleged leak!
#SpiderManNoWayHome
Tom Holland Tom seeing he
realizing that the wasn't the one
nwh trailer got leaked to leak it pic.twitter.com/o1E5SA2uJi

— soph ?'s nikki ? fame era x3? (@TSTARKSDAUGHTER) August 22, 2021
#SpiderManNoWayHome
Tom Holland seeing Him after
that the No Way Home realizing that
trailer leaked: he didn't do it pic.twitter.com/9TZWBgVNpV

— Anna ?? | waiting for NWH (@tomspeterx) August 22, 2021
Meanwhile, others were quick to connect this incident with another, this one involving the Black Widow Scarlett Johannsen and that legal feud she's currently in with Disney. We doubt Nat could do such a thing, but the memes sure are funny.
scarlett johansson leaking the no way home trailer as part of the lawsuit #SpiderManNoWayHome pic.twitter.com/3dH2a8pGOA

— Spider-Man: No Way Home Updates (@spideyupdated) August 23, 2021
It's quite obvious who is leaking all this #SpiderManNoWayHome stuff right now pic.twitter.com/DOIkrNEFwL

— ????????Nicholas???????? (@NicholasJLevi) August 23, 2021
Scarlett Johansson in the Sony-Disney server room figuring out how to leak the SpiderMan trailer #SpiderManNoWayHome pic.twitter.com/8gmwvmhqLo

— Bazinga (@BBingBBoom7) August 23, 2021
Marvel Studios President Kevin Feige also made an appearance in the memes doing some hardcore damage control. Feige recently spoke up on how he doesn't feel like there's any added secrecy to the third Spider-Man installment's treatment. "It has not necessarily occurred to me that it is any more or less secret than any of our other projects. I think all of our projects… we want to preserve surprises. That's all the secrecy is for," he was quoted by Cinema Blend. Sure, Feige.
kevin feige pulling up the kid's house who leaked the Spider Man trailer: #SpiderManNoWayHome

pic.twitter.com/1cdSOq1GYc

— ????.???? (@AWV23) August 22, 2021
Kevin Feige arriving at the home of the person who leaked the #SpiderManNoWayHome trailer pic.twitter.com/Hkr6vupN6N

— Jake Metz (@jake_metz) August 22, 2021
Sony Headquarters doing damage control rn #SpiderManNoWayHome pic.twitter.com/sDZs7nzFnm

— What If…Vet? ???????? (@IronLoki97) August 22, 2021
For others, though, they were just happy to have seen the action. Even if it was pixelated, or so we hear.
the leaker walking out of sony headquarters after being fired#SpiderManNoWayHome pic.twitter.com/I3A2UMOGkX

— Axe | Living the Thriller (@DeJected_Axe) August 23, 2021
Marvel: *doesn't release #SpiderManNoWayHome trailer*

Random TikToker: pic.twitter.com/Vo814vqvI9

— THE sebanatic5000 (@sebanatic5000) August 22, 2021
Me trying to see if andrew garfield and tobey maguire is in the trailer from 144p screen #SpiderManNoWayHome pic.twitter.com/Nj2hFDIj5b

— ?? (@phoenardo) August 22, 2021
@ everyone who managed to watch the trailer before it got taken down......we made it folks #SpiderManNoWayHome pic.twitter.com/AqLrmQhtRi

— naomi | WHAT IF ?????? (@asgardianbucky) August 23, 2021
Sony currently#SpiderManNoWayHome pic.twitter.com/U41eTAuDeA

— Vishwang (@Vishwang17) August 22, 2021
Hey, Spotters! Check us out on Viber to join our Community and subscribe to our Chatbot.
Share this story with your friends!
---
Help us make Spot.ph better!
Take the short survey
More Videos You Can Watch
Load More Stories