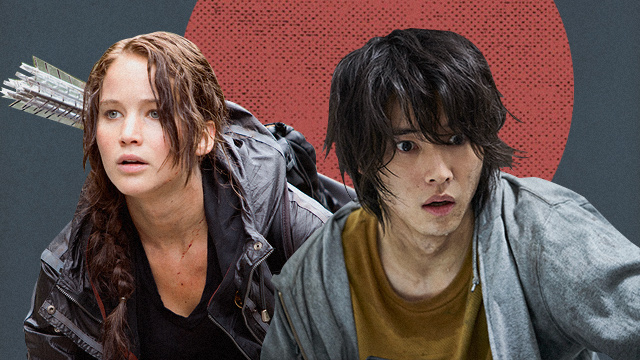 (SPOT.ph) Have you binge-watched Korean series Squid Game yet? This nine-episode Netflix show revolves around 456 people with crippling debts who join a contest that has them playing children's games for big money. It sounds innocent at first, but survival of the fittest comes into play as the contestants realize losing a game means death. There's a bit of action, drama, and thrill in every episode, but if the nine episodes left you wanting more adventure, check out these similar titles.
Also read:
This Cool Pop-Up Lets You Step Into the World of Netflix's Squid Game
If you're in the mood for thrilling titles like Squid Game, here are 10 survival game movies and shows to add to your must-watch list:
Alice in Borderland (2020)
Adapted from the Japanese manga series of the same name, this sci-fi-slash-suspense drama revolves around Arisu (Yamazaki Kento) and his two friends who, after hiding from cops one night, emerge from Shibuya station to see Tokyo eerily abandoned. Whoever's left is forced to participate in a series of deadly games at a designated game arena. Winning games is instrumental to survival because the more they win, the longer they get to extend their visas. When a visa expires, a laser will shoot the participant dead. It's a literal race against time as the friends fight to stay alive.
ADVERTISEMENT - CONTINUE READING BELOW
Battle Royale (2000)
This critically acclaimed film caused a lot of controversy when it first got released because of its graphic violent content. Adapted from Koushun Takami's novel of the same name, it tells the story of a class of junior high school students who get kidnapped and stranded on an island. They are the year's Battle Royale participants, an annual affair employed by the government to curb juvenile delinquency. They must fight each other to the death with only one student remaining at the end of three days. Failure to comply with the rules will result in instant death. The students are forced to form factions and figure out killing strategies to survive. The film made such a big impression that "battle royale" became its own fictional narrative genre, and even evolved into a video-game genre.
Gantz (2004)
This psychological thriller anime revolves around high school students Kei and Kato who end up dying after trying to save a homeless man who fell onto the subway train tracks. They suddenly find themselves in a room with a mysterious black sphere called Gantz, along with other people who've also died. Gantz informs them that their lives now belong to him, and after giving them weapons and protective suits, he instructs them to kill aliens. Each successful mission gives them points, and if they reach 100 points, they can use them to end their contract with Gantz and lead normal lives. But the missions are deadly, and telling anyone else about Gantz results in participants' heads exploding. Kei and Kato must find a way to end the game—or else.
The Hunger Games (2012)
Based on Suzanne Collins' best-selling novel of the same name, this film is set in the dystopian world of Panem, where every year, the Capitol chooses 24 tributes, two each from its 12 districts, to participate in the annual Hunger Games. While their every move gets aired across Panem, the tributes use whatever means possible to fight for their lives because at the end of the Games, there will only be one survivor. When Katniss Everdeen (Jennifer Lawrence) volunteers to take her sister's place at the Games, she becomes an unexpected symbol of hope for Panem's citizens. The film is part of a trilogy (technically quartet since the last film was divided into two parts), and according to Deadline, a prequel will start production in 2022.
Future Diary (2011)
Fourteen-year-old Amano Yuki is an introvert who loves noting down events on his phone. One day, Deus Ex Machina, the god of space and time, turns his phone into a Future Diary, an item that can predict the future, and makes him one of 12 participants in a deadly survival game. All participants have Future Diaries of their own, and Yuki must think wisely if he wants to save his life. The last person standing will become Deus Ex Machina's heir.
The Purge: Anarchy (2014)
The sequel to the thriller movie The Purge, The Purge: Anarchy is set in a dystopian version of the U.S. where a totalitarian government called the New Founding Fathers rules. They've legalized an annual event called the Purge that basically turns everyone's lives into a game: For 12 hours, all crimes are allowed without punishment. This gives people the license to steal and kill within a limited period. The move is said to have reduced the overall crime rate in the country. Five people from different backgrounds reluctantly band together to survive when they find themselves in the middle of the Purge in L.A.  
ADVERTISEMENT - CONTINUE READING BELOW
3% (2016 to 2020)
When a poor Inland citizen turns 20, they earn the right to participate in The Process, a rigorous series of challenges from mind games to escape rooms. Those who survive win an amazing prize: They can spend the rest of their lives as part of the rich Offshore society, who live in their own version of island paradise. But The Process is so difficult that many people fail—some even die—with only 3% of candidates managing to succeed. Participants employ every trick in the book to make it to the end, but is the prize really worth it? As The Process takes place, a rebellion grows in their midst. 
Escape Room (2019)
This psychological horror film is like a gamified version of Final Destination. In it, six people who are able to solve a puzzle cube get invited to join an escape room game with a prize of U.S. $10,000. But what the participants don't know is that they're entering hell on earth. Making their escape from each room can lead to any of their deaths as they're confronted with fatal challenges like poisonous gas and floors disappearing from under their feet. The Gamemaster is toying with them, and as the film continues, horrifying secrets come to light.
Darwin's Game (2020)
When high school student Sudo Kaname accepts a friend's invite to download the app Darwin's Game, he gets bitten by a "snake" and becomes a part of a real-life game where participants must kill each other to win. Each player gets a Sigil, a special superpower to aid them on their quest. Kaname becomes surprisingly adept at the game, but he tries his best to avoid killing others. As he meets more players and forms a makeshift clan, he wonders if he can change the way the game works.
As the Gods Will (2014)
Takahata Shun (Fukushi Sota) is an ordinary high school student who finds his life boring. Imagine his surprise when, one day, he's suddenly forced to play a deadly version of Daruma-san go koronda (Red Light, Green Light) with his classmates in school. If you fail, you die, and by the end of it, Shun becomes his classroom's sole survivor. But the first game is just the beginning, and Shun and students from all over Japan find themselves playing all sorts of children's games with a death penalty hanging over their heads. Shun gives his all in the games, becoming invested in saving his friends' lives.
Some viewers have called out Squid Game for allegedly plagiarizing As the Gods Will. In the show's press conference, Squid Game director Hwang Dong Hyuk acknowledges that the first game is similar to that of As the Gods Will, but that the similarities stop there. He also mentions having worked on Squid Game as far back as 2008. The As the Gods Will manga written by Muneyuki Kaneshiro and illustrated by Akeji Fujimura came out in 2011 and 2012, with the first part made into this Takashi Miike film, released in 2014.
ADVERTISEMENT - CONTINUE READING BELOW
Hey, Spotters! Check us out on Viber to join our Community and subscribe to our Chatbot.
Share this story with your friends!
---
Help us make Spot.ph better!
Take the short survey
More Videos You Can Watch
Load More Stories