10 Space Movies on Netflix for When You Want to Get Out of This World
They got alien invasions, time travel, and cool technology.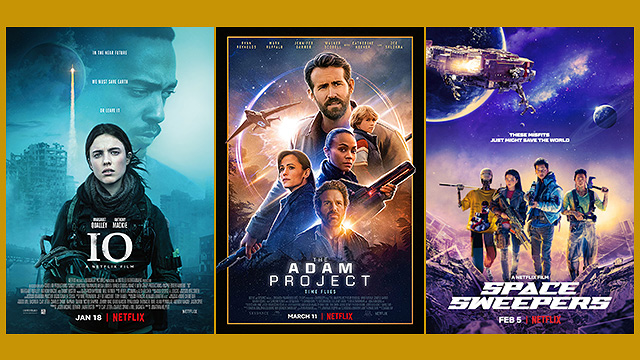 (SPOT.ph) There's nothing like an adventure in outer space when you want to escape real-world woes. Alien invasions, time travel, hyper-speed jumps, advanced technology—there's never a dull moment in these space films. Many of them are set in dystopian futures where the Earth has become too polluted to support human life. The remaining survivors struggle to find hope in adversity and unlikely heroes emerge, from lonely wanderers and hardened soldiers to eccentric scientists and empathetic androids. And even in the midst of some epic space battle, the best movies always make room for human relationships to bloom whether about families reconciling across galaxies or star-crossed lovers reuniting after decades.
ADVERTISEMENT - CONTINUE READING BELOW
Flashy as these films may be, they also tackle some pretty deep social and philosophical themes but in ways that are way more entertaining and thought-provoking than classroom discussions. We all need a little pick-me-up these days and what can be better than watching humanity triumph against all odds? In space. With rocket ships.
Also read:
10 Disaster Movies on Netflix In Case Tragedy IRL Is Not Enough
10 Mind-Boggling Paranormal Shows on discovery+
Stream these space movies on Netflix if you feel like exploring the universe without leaving the comfort of your home:
The Adam Project (2022)
The Adam Project is a time-travel, sci-fi action-adventure narrative centered on the mission of fighter pilot Adam Reed (Ryan Reynolds) as he inadvertently encounters a younger version of himself (Walker Scobell) during a botched mission to save his wife, Laura (Zoe Saldaña). Older Adam comes from 2050, where the dystopian world's leader is hell-bent on stopping him from changing the course of the future. Both Adams realize that the fate of the world lies in the hands of their father, Louis (Mark Ruffalo). They try to convince him not to push through with his discoveries on time travel technology. The Adam Project deftly combines thrilling sci-fi action, time travel shenanigans, and heartwarming family drama making for an entertaining streaming experience.
ADVERTISEMENT - CONTINUE READING BELOW
Space Sweepers (2021)
Space Sweepers is a South Korean space movie about a group of misfits who find a mysterious child who might hold the key to humanity's future. The film is set in 2092 and Earth is almost uninhabitable, leading the rich and powerful to live in a space habitat controlled by the UTS Foundation while the rest of the population suffers on the polluted Earth. Many of these non-UTS citizens eke out a living by becoming space sweepers, collecting and selling debris from space. The film follows the crew of the spaceship Victory, who inadvertently finds a young girl with a weapon of mass destruction inside of her. The space sweepers are forced to decide whether to collect the heavy ransom for the child or to find a way for her to save the world. With gripping action sequences, engaging performances, impressive visuals, and a familiar but compelling story about finding hope in times of darkness, Space Sweepers delivers a truly entertaining experience.
ADVERTISEMENT - CONTINUE READING BELOW
Shanghai Fortress (2019)
Based on the 2009 novel of the same name by Jiang Nan, Shanghai Fortress focuses on an elite team of soldiers fighting to protect planet Earth from invading aliens. The year is 2042 and the aliens are in search of Earth's hidden energy sources. Our heroes make their last stand in the city of Shanghai, bravely facing off against the enemies and making sacrifices so that the rest of the world will survive. It's an action-packed adventure that also has elements of romance and friendship, the human relationships making it more than a series of elaborate, sci-fi battle sequences. This was also actor Godfrey Gao's final film.
Valerian and the City of a Thousand Planets (2017)
Based on the French sci-fi comic series, Valérian and Laureline, Valerian and the City of a Thousand Planets stars Dane DeHaan and Cara Delevingne as agents from the United Human Federation tasked to maintain peace and order in the galaxy. This epic adventure is a visual feast, filled with elaborate and colorful settings, fascinating alien species, sophisticated technology, and even some intergalactic politics and intrigue. There's a lot of action, some surprisingly complex drama, and even a bit of romance between this dynamic duo. The Valérian comics actually influenced a lot of writer and director Luc Besson's earlier project, The Fifth Element, and fans of that film will not be disappointed.
ADVERTISEMENT - CONTINUE READING BELOW
The Midnight Sky (2020)
The Midnight Sky is an equal parts sci-fi adventure, mystery, and family drama, a compelling combination of familiar elements. We follow the struggles of reclusive academic, Augustine Lofthouse (George Clooney), who lives alone in an Arctic base after an unnamed catastrophe has wiped out most of the Earth's population and left the surface contaminated with radiation in the year 2049. As the film progresses, we also get glimpses of Lofthouse's deteriorating mental state and his many regrets, chief among these is how he never formed a relationship with his daughter. Lofthouse is trying to send an urgent message to warn the crew of the Aether, who are returning from a mission to Jupiter completely ignorant of the danger that has befallen the Earth. They are advised to start a new life on Jupiter so that humanity can thrive.
Ad Astra (2019)
Ad Astra is a family drama that plays out in space. And that's what makes the film so compelling. There's enough to entertain in terms of futuristic technology, tense battles on the moon, and rocket journeys to different planets. But at the heart of the film is the struggle of Roy McBride (Brad Pitt) to reconnect with his estranged father, Clifford (Tommy Lee Jones), who has literally distanced himself from his family by staying in a space station on Neptune. Roy is sent on a mission to find out what has been causing fatal energy surges on Earth and how it is connected to his father. Along the way, he learns to appreciate human connection as opposed to the isolation in the vast emptiness of space.
ADVERTISEMENT - CONTINUE READING BELOW
Elysium (2013)
Elysium is set in the 22nd century where the majority of the population is sunk in poverty and living on a heavily-polluted planet, while the super-rich and powerful live in safety and comfort in a space station in Earth's orbit aptly named after paradise in Greek mythology. It's pretty much a heightened version of this world's inequality. But from all this darkness a reluctant hero emerges in Max Da Costa (Matt Damon), a man who finds he only has five days left to live. With the help of smuggler friends, he finds a way to infiltrate Elysium to try and access one of the Med Bays that heal all ills. But his journey exposes the corruption of the system while also creating a chance for the poor people on Earth to survive. The film tackles themes of illegal immigration, discrimination, injustice, and others. Pretty thought-provoking for a sci-fi action flick.
ADVERTISEMENT - CONTINUE READING BELOW
Oblivion (2013)
Oblivion is set in 2077, where Earth has been devastated by a war with aliens, forcing everyone to relocate to the planet Titan. It's got everything you need from a sci-fi action-adventure: drones, clones, aliens, scavengers, people in stasis chambers, missing memories, and Tom Cruise as the badass lead character. There's even a bit of romance thrown in there if that's your thing. Technician Jack Harper (Cruise) is just trying to go about his day repairing drones but he discovers that there are more humans left on Earth than he had been told and there are deeper conspiracies about the war with the extraterrestrials than had been revealed. So he goes on a quest to discover the truth about the war and about the mysterious woman he keeps dreaming about.
Orbiter 9 (2017)
Orbiter 9 is a Spanish sci-fi romance film focusing on the love story between Helena (Clara Lago), a woman who has lived her entire life in the Orbiter 9 spaceship, and Alex (Álex González), the maintenance engineer who arrives to repair the ship's systems. Helena has lived all alone in the spaceship, cared for only by the onboard artificial intelligence named Rebecca. Since the Earth's oceans are poisoned and will endanger future generations, missions are being prepared for humans to be sent to Celeste, a habitable planet in Alpha Centauri. There is a major twist in the film that will spoil it so suffice to say that the sci-fi elements remain fascinating and the central love story demonstrates how, in our quest for survival, we should never lose sight of our humanity.
ADVERTISEMENT - CONTINUE READING BELOW
IO (2019)
IO is set in a post-apocalyptic Earth where the toxic environment has driven most of the surviving population to live in a space station near Io, a moon of the planet Jupiter. A few brave souls have chosen to remain on the planet, in high altitudes away from the toxic air, including Sam Walden (Margaret Qualley). While her boyfriend in the space station urges her to join him, she is determined to stay on Earth to find a way to cleanse the atmosphere. A big part of that plan is raising bees to pollinate oxygen-producing plants. (Yes, bees.) Sam meets a man named Micah (Anthony Mackie) and as they grow closer, they also try to find a way to make the planet habitable again so that those in space can return home.
CONTINUE READING BELOW
Recommended Videos
We are now on Quento! Download the app and enjoy more articles and videos from SPOT.ph and other Summit Media websites.
Your guide to thriving in
this
strange new world.
Share this story with your friends!
---
Help us make Spot.ph better!
Take the short survey
Load More Stories