Ria Limjap on sisterhood in Pinoy cinema: Sisters Under the Skin
Ria Limjap examines sisterhood in Cinemalaya's <em>Limbunan</em> and the box-office hit <em>Hating Kapatid</em>.
I've always wanted an ate, alas, I am the older sister. While having a younger brother is pretty cool, the bond between sisters is something unique and very special, especially in our culture where family relationships are so highly valued. At home, we play out our neurotic need for dramatic confrontation scenes--surely every Filipino family has its own version of Drama Hour complete with iyakan, sigawan, "Ate, I'm sorry," (sabay hug). The interpersonal dynamic between an older sister and a younger sister is the stuff of three-hanky melodramas.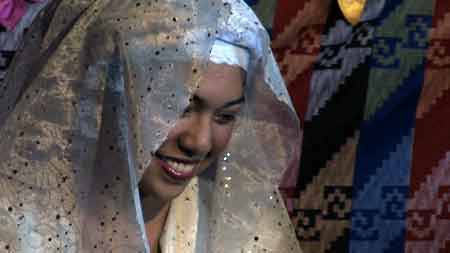 I recently saw two very different movies about sisters: one a beautifully understated film about a young Muslim girl's engagement to a stranger; the other one a full blown mainstream comedy about an overprotective sister who learns to let go.

I think Gutierrez Mangansakan II's entry for this year's Cinemalaya, Limbunan, is the most underrated film of the festival. Quiet and almost Japanese in its restraint, Limbunan is the story of 16-year-old Ayesah (Jea Lyca Cinco), who is betrothed to an unknown but eminently suitable Muslim man named Hussein. One month before the wedding ceremony, she is sent to live in seclusion in the limbunan, which is sort of a bridal waiting room. As Ayesah gazes out of the windows of the little room, her little sister Saripa (Mayka B. Lintongan) runs wild around the lush North Cotabato countryside. Their aunt Farida (played with such stern and regal bearing by the wonderful Tetchie Agbayani) alternately scolds the younger sister as she tends to the wedding preparations of the older one. Ayesah, in her pristine seclusion, is subjected to traditional beauty routines by the light of the full moon--her skin is rubbed with rolled oats and her hair is rinsed with coconut milk--while Farida counsels her about honoring family duty over personal happiness.
ADVERTISEMENT - CONTINUE READING BELOW
While Ayesah waits for the wedding day, she falls secretly in love with Maguid (Joem Bascon), the rebel kinsman who joined the fight in Mindanao. (I mean, who wouldn't fall in love with Joem Bascon as the sensitive rebel/Math tutor?) But there's no happy ending here--at least not in the conventional Hollywood fairytale sense, where Ayesah and Maguid end up together happily ever after. I rather like that it doesn't end with the lovers riding off into the sunset; I'm also a bit relieved that this film is not a screaming political statement about the conflict in Mindanao. I think Limbunan is exactly the kind of picture we all need to see because it depicts the culture and the landscape of Mindanao with depth and understanding. It portrays the very private struggle of a young woman with her fate--which could be either fortunate or tragic--without judgment or prejudice. And while Ayesah bows down to duty and tradition, Saripa embodies the potential for freedom and personal fulfillment.
CONTINUE READING BELOW
Recommended Videos
ADVERTISEMENT - CONTINUE READING BELOW


This theme is echoed--albeit in a very different manner--in the new Wenn Deramas "dramedy" from Viva Films, Hating Kapatid, starring Judy Ann Santos as the ate and Sarah Geronimo as the younger sister. Rica (Santos) is left in charge of her sister Cecil (Geronimo) when their parents leave to work abroad. When a ludicrous firecracker accident injures Cecil, Rica swears she will leave her boyfriend and devote her life to raising her sister. Cue montage to show the passing of twenty years: Rica is now almost an old maid and Cecil has bloomed into a young woman. Cecil meets a cute guy at work (imagine Luis Manzano working as a promo guy at the mall and Sarah as the Magic Sing salesgirl), she has to keep it from her overprotective ate. One day the absentee parents (Cherry Pie Picache and Tonton Gutierrez) come home and the whole family is reunited, Rica feels more and more distant from Cecil. While this movie is distinctly unfunny (that's according to me, by the way, and not to the audience who laughed at every lame joke), crammed with annoying product placements for all of Sarah's endorsements (Belo, Jollibee, Magic Sing, and the list goes on) and, finally, technically disastrous (I hate it when the shot is not in focus or when the light suddenly changes)--the story is kind of heartwarming.
ADVERTISEMENT - CONTINUE READING BELOW
In the end, when Rica realizes she has to let go of her sister, her own happiness begins. There are a few laughable moments, mostly from the house gay played by Vice Ganda. Thankfully, Sarah Geronimo's comedic timing has improved somewhat. I'm not surprised that this overdone comedy is doing well at the box office, after all Santos and Geronimo are two of the most bankable stars in Philippine showbiz--and yes, P10.5 million on opening day is nothing to sneeze at. I just wish they emphasized issues like the effect of the OFW experience on the Filipino family or the relationship between the sisters and their grandmother (Gina Pareno, always fabulous) or the loneliness of the older sister who chooses family obligation over her own happiness.

Limbunan and Hating Kapatid couldn't be more disparate in style and content, but the themes are essentially the same. The bonds of sisterhood prepare us for the eventual roles women are expected to assume: wives, mothers, grandmothers. But a woman's story is certainly more than that--the struggle is about balancing family duty with personal happiness, and finding the freedom to live one's life with dignity and fulfillment as we nurture and care for the ones we love.


ADVERTISEMENT - CONTINUE READING BELOW
***

Brilliante Mendoza's film Lola won Best Film at the 8th Asian Film Festival held in Rome. Bravo!
Photographs from Cinemalaya (Limbunan) and hatingkapatidthemovie.com.
Share this story with your friends!
---
Help us make Spot.ph better!
Take the short survey
Load More Stories