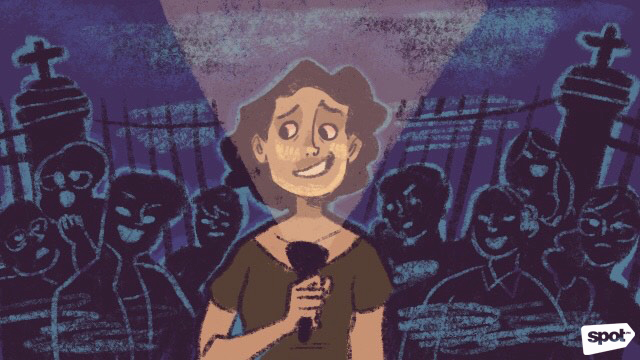 (SPOT.ph) Filipinos are really, really, good at celebrating holidays. Whatever the occasion, we always go all out—and Undas is no exception. Technically speaking, Undas is celebrated on All Saints' Day and All Souls Day on November 1 and 2, but for Pinoys, Undas can last all week long (Halloween included).
ADVERTISEMENT - CONTINUE READING BELOW
This is a time for families to remember their dearly departed in some uniquely Filipino ways: with a trek back home, a whole lot of food, and a night spent at the cemetery with all your crazy (we're not excluding you here) relatives—dead or alive. Cue the spooky stories, unlimited goodies (lechon in the cemetery is not such an odd sight), and a bunch of cheesy, unforgettable memories to cherish until the next Halloween break. After all, there's nothing like Undas to remind you of how crazy—and lovable—your family is.
Also read:
10 Halloween Things Only Filipinos Would Understand
10 Things Pinoys Do During Undas
Here are 10 types of family members you meet at every Undas reunion:
The Tita With All the Questions
"Hija/hijo, how are you na?" are usually the first words you hear from this tita—if you're lucky. Other times, she might begin the conversation with a) "Where are you working? Ay! Graduate ka na ba?" or b) "Bakit tumaba ka?" or c) "O, nasaan boyfriend/girlfriend mo?" or d) a super combo of all the above questions. Subtle but hard-hitting inquiries are her specialty, and you can only beg for mercy when she spots you in the huge family crowd.
The Lipstick Tita
We've all ended up walking around completely unaware of the huge red smudge on our cheeks after having been this aunt's latest victim. This tita might not even realize what she's done, but she is always happy to share her kisses especially among the pamangkins and apos she hasn't seen in a while. We suggest bringing a couple wet wipes to get rid of the smudge; if you're caught empty-handed, then maybe try and go in for a nice, warm bear hug instead—nobody can say no to that.
ADVERTISEMENT - CONTINUE READING BELOW
The Tito Who Always Has a Bottle in Hand
It doesn't have to be any particular bottle, but it does have to be alcoholic. This tito can usually be found sitting de kwatro style on a plastic chair (cigarette optional) where he'll be for the entire night. We're not sure how his body is able to take it, but it's always fun to join him for a bottle or two. He's always up for a good round of storytelling—be it horror, family secrets, the good old days, or more often than not, politics.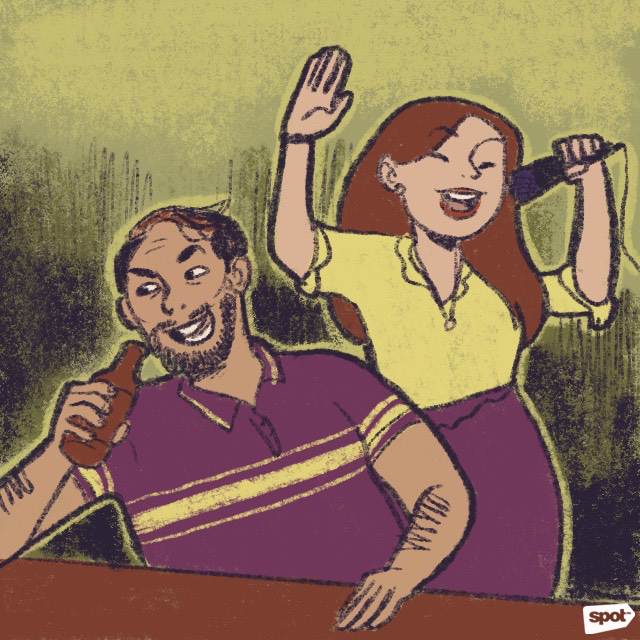 ADVERTISEMENT - CONTINUE READING BELOW
The Karaoke King/Queen
If you can't figure out who this one is in the family, then maybe it's time to let somebody else use the mic for a change. This one may or may not be a talented singer, but whatever they lack in skill they definitely make up for with, um, passion and tenacity. From Britney Spears' "Womanizer" to the mandatory Sinatra classic "My Way," this karaoke master will sing it all—doesn't matter if we care to listen. Also, who thought it would be a good idea to bring karaoke to a cemetery?
The Tita Who Force-Feeds Everyone
Probably our favorite one on this list. This tita will make sure everyone gets more than their fair share, and will sometimes head on over to neighboring lots and check up on the cemetery personnel to make sure everyone gets a bite. Before you've even stepped into the place and paid respects to your deceased relatives, this aunt has probably already placed a plate into your hands for you to fill with pancit, barbecue, adobo, or whatever is laid out on the table. If only our stomachs were as big as her heart.
ADVERTISEMENT - CONTINUE READING BELOW
The Kid Stuck to Their Gadget
This type of person can sometimes come as an individual or as an entire drove of people huddling around a single table silently tapping away on their gadgets—except for the usual trash talk and sudden expletives. It's hard to get a word in when they're in their virtual world, until it's time to eat, of course.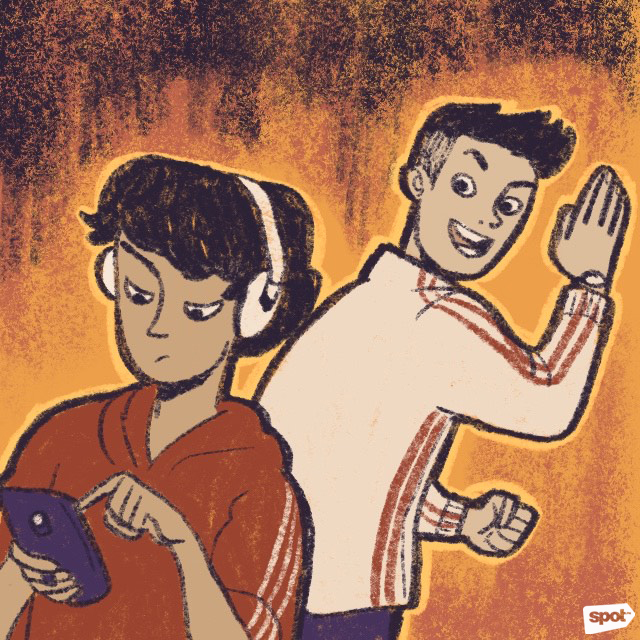 ADVERTISEMENT - CONTINUE READING BELOW
The Cousin Who Can't Stay Put
We've all that one cousin, or maybe your entire gang of relatives, that can't seem to bear the thought of you guys just chilling in the cemetery all night long. They've got all the possible excuses to drag you out of there: it could be a cool new hangout spot, or maybe you've got to go do a grocery run to get some stuff, or even a crazy new theme park that stayed open just for the incoming Undas crowd. Whatever the case, this guy's a certified lakwatsero.
The Logistics Master
Organizing an event isn't easy, and Undas family reunions are on a whole different level. It's up to The Logistics Master, usually the eldest sibling, to decide all the whens, wheres, hows, whos, and even the whys, while also making sure everybody's treated fairly. And because it's no secret that keeping everyone in an extended family happy is extra-difficult (just think of all the telenovela-level drama some families go through), we'd like to give a shout-out to every family's organizer: thank you!
ADVERTISEMENT - CONTINUE READING BELOW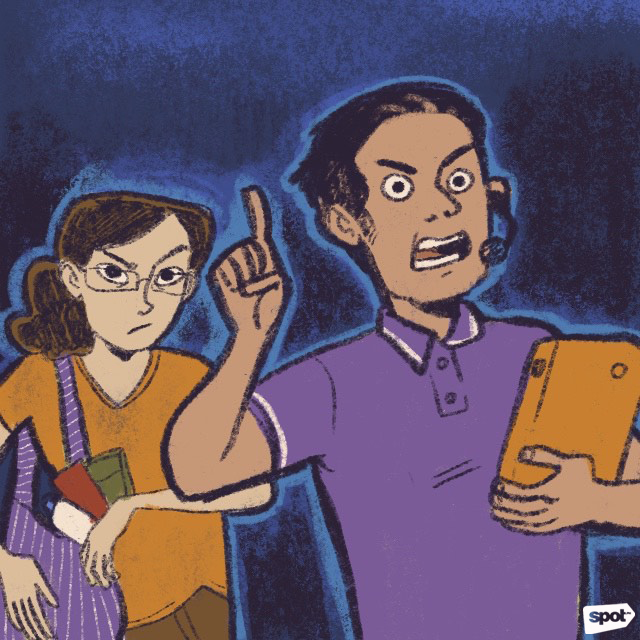 The Girl/Boy Scout
Who do you go to when you suddenly need a nail clipper in the middle of the night at a cemetery? To that one tito or tita who somehow always has everything you need on them, of course! Whether it's medicine, a utility knife, a fan, a can opener, heck, maybe even holy water, they've got it in their handy dandy Mary Poppins purse. Now if only they can fish out a life's purpose for you in their bag, that would be great.
ADVERTISEMENT - CONTINUE READING BELOW
The Very Very Very Distant Relative
You've never seen this "relative" before and you probably never will again, but, because your mom said so, you give a beso and a polite greeting anyway. "Ito 'yong pinsan ng lolo mo na kapatid ng officemate ng kapitbahay ng pamangkin ni Tita Baby!" explain the elders. Try as hard as you can, you still don't get the connection but hey, at least it's one more person to talk to (or avoid) while the reunion drags on.
Share this story with your friends!
---
Help us make Spot.ph better!
Take the short survey
More Videos You Can Watch
Load More Stories