(SPOT.ph) It's impossible not to know about Zsazsa Zaturnnah. For some, the image of the flame-haired heroine occupies more of a background space in their minds, but for others, Zaturnnah brings to life everything they've ever fought for—or against. Soft-mannered Ada and her alter ego, the spunky, loud and foul-mouthed, but always gorgeous Zaturnnah have gone through so many reimaginings since she first came out nearly two decades ago in 2002, arguably helping to bring into mainstream the idea of a bakla as her own character—not just comic relief, not just a sidekick.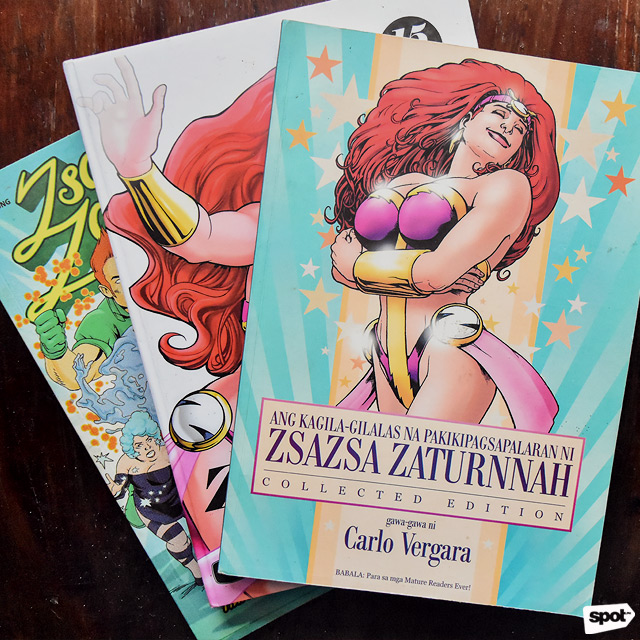 The Existence of Many Zaturnnahs
From her original comic form in Ang Kagila-gilalas na Pakikipagsapalaran ni Zsazsa Zaturnnah, Carlo Vergara's brainchild took on many other iterations. Zaturnnah's story was retold on stage in the form of Zsa Zsa Zaturnnah Ze Muzikal by Tanghalang Pilipino. The musical was staged a total of seven times from 2006 to 2011. ZsaZsa Zaturnnah, ze Moveeh also came out in 2006, helmed by award-winning director Joel Lamangan. Rustom Padilla played Ada while Zsa Zsa Padilla played Zaturnnah. In 2016, Zaturnnah was the first ever comic book character to land on the cover of Esquire magazine. She also inspired a line of furniture, and an ice cream flavor—which we suppose tasted fabulously out of this world. 
ADVERTISEMENT - CONTINUE READING BELOW
Now nearing her 20th birthday, it looks like people still can't get enough of Zsazsa Zaturnnah. Rocketsheep Studio, an independent group of "artists who specialize in illustration, 2D animation & friendsheep" (as written on their Facebook page), has now taken it upon themselves to tell her story once again—this time through animation. The fresh take, which features vibrant colors and an updated look, was very much welcomed by fans and Vergara himself. "[The trailer] alone, it's really exciting to look at," says the artist in a conversation with SPOT.ph. "It's very 'now.' People have said that the trailer looks like [the hit Cartoon Network show] Steven Universe, but that's still not half of what Rocketsheep can do," says Vergara.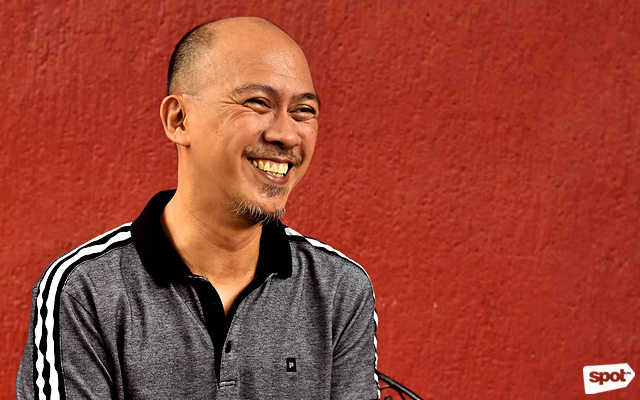 Zsazsa Zaturnnah, Ze Cartoon!
Vergara says this animated adaptation began with Avid Liongoren—the same guy behind the live-action and animation hybrid Saving Sally—badgering him to do another full-length feature for Zaturnnah. Back when they were working on the screenplay for the film adaptation of Vergara's play, Kung Paano Ako Naging Leading Lady in 2017, Liongoren started asking if maybe another Zaturnnah film was a possibility. Vergara was hesitant: "I didn't want to do another movie," he says. "I wanted to do something different. I was hoping for a TV series," explains Vergara, saying that he was eyeing a possible fantasy teleserye (think Mulawin but with less feathers and more comedy).
Vergara eventually came around, saying "My thinking suddenly became 'Okay, so when this is ever going to happen again: someone actually offering—approaching—you.' That doesn't happen very often." Vergara and the director were originally thinking of keeping the new adaptation a live-action one, but thanks to Liongorien's work with Rocketsheep (and, well, budget constraints), they decided to go with animation. Now, with Liongoren and Rocketsheep Studios at its helm, Vergara's colorful Zaturnnah is set to be reinvented again for today's audience—and her story is still just as relevant.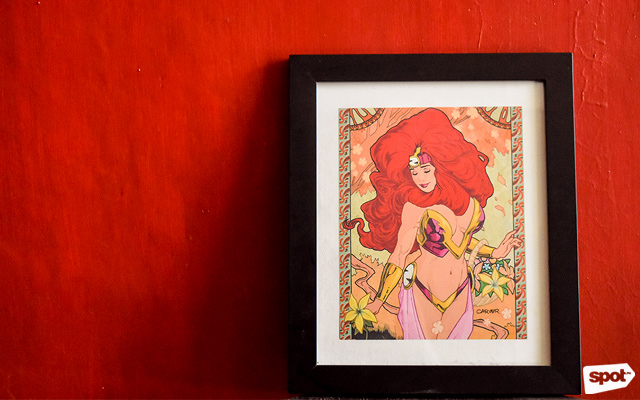 ADVERTISEMENT - CONTINUE READING BELOW
Why We Will Always Need More Zaturnnah
"I want this to happen," says Vergara. "[I'm] trying to add another example of where the independent local creation can go," he adds. As of now, explains the artist, so few komiks have been adapted into more mainstream shows for a bigger audience: his Zsazsa Zaturnnah, Budjette Tan and Kajo Baldisimo's Trese, and Mervin Malonzo's Tabi Po. "It's just a matter of trying to build that brand—although, I don't want to call it a brand—but she is a brand in a sense. [It's] her story," adds Vergara.
Not that Vergara had expected Zaturnnah to blow up the way she did. The graphic novel was actually a product of a pretty low point in his life, he says. When it first came out in the early 2000s—the first versions were self-published—he couldn't understand why people took so much to his somewhat irreverent take on classic Pinoy tropes. "It was a source of huge anxiety. It would have been different if I was a real expert," he explains. But Vergara has grown since then. The multi-hyphenate has done his homework, having gained experience not just in comics but also with his works in theater, among others. "Now when I make new stories, I'm coming from a different standpoint. I know how it's done, and I can explain how it's done, compared to before," he says.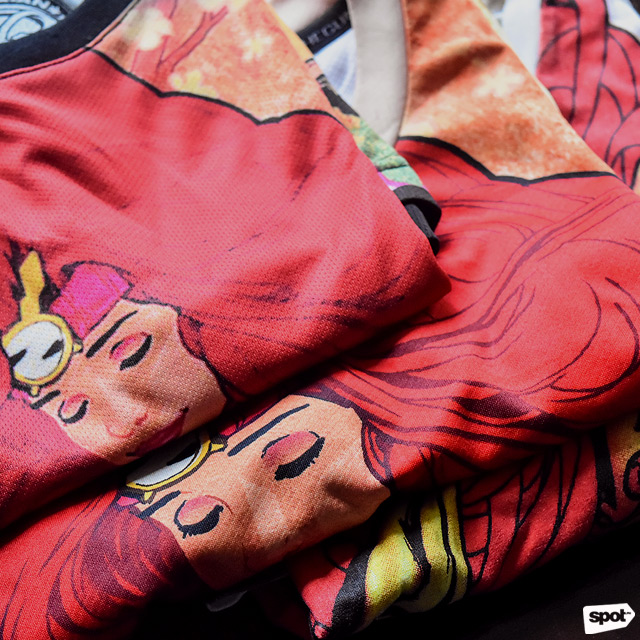 For the animated feature, Vergara was able to approach the screenplay with more confidence. "Well, by that time, I knew the story by heart; it was now [about] having to rework the script to make it for a movie," he says. "And now you have an animated feature, which is a totally different creature, visually. I was now thinking of it as a cartoon when I when I wrote it," he says. Vergara's biggest challenge was, of course, to make the story "fresh." He wanted to make it different from all the other versions that's been done before—his original included—so for the sake of the story he didn't expound. But he did tell us one thing: "If there's anything I can say, [it's that] people have been requesting for the foul-mouthed version of the characters. And yes, it's there. So we get more dirty mouths."
ADVERTISEMENT - CONTINUE READING BELOW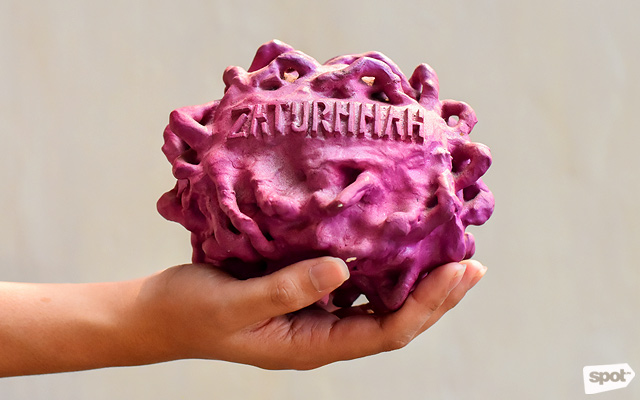 As of now, Rocketsheep Studios and Vergara have been able to create a pretty solid base for their retelling of Zaturnnah. They've already come out with a teaser and a few visuals, but perhaps what is most exciting is how people have continued to ask for more of Zsazsa Zaturnnah. "It's really not in the creator's hands. [The audience] decides what this character means," says Vergara. And it's clear that the story of Zaturnnah, the transgender hero from space, gives people a certain level of relatability and reality—yes, in giant frogs and skimpily-dressed super villains—that we're just not about to let go.
UPDATE (July 29, 2019): The article has been updated to state that Zsa Zsa Padilla portrayed Zsazsa Zaturnnah in the 2006 movie. A previous version mistakenly attributed the role to Pops Fernandez, who played Queen Femina. 
Share this story with your friends!
---
Help us make Spot.ph better!
Take the short survey
More Videos You Can Watch
Load More Stories