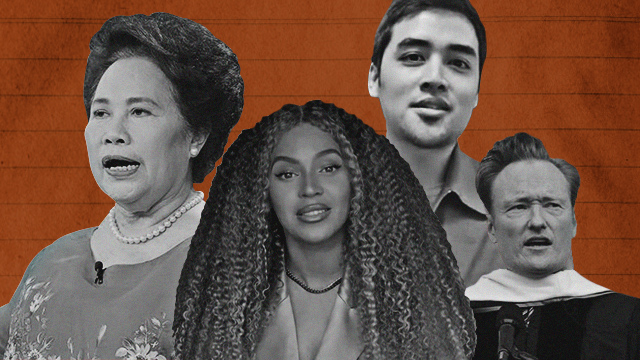 (SPOT.ph) Welcome to adulthood, former kids! It is a strange time to graduate, to say the least. The class of 2020 is entering the next chapter of their lives right when the world is full of uncertainty—and they didn't even get to wear their togas and march on stage. In the grand scheme of things, this certainly isn't the worst thing that could have happened; Still, we believe your latest achievement should be celebrated somehow. We round up a few of the most inspiring commencement speeches from politicians, celebrities, personalities, and more. Even if you graduated forever ago, you can still listen to these motivational words for some inspiration.
ADVERTISEMENT - CONTINUE READING BELOW
Also read:
Banding Together: Words to Inspire, From the Front Lines
Grocery-Shopping in a Pandemic: What It's Like to Be a Quarantine Tribute
Get motivated to live your life with these inspiring graduation speeches:
Vico Sotto
Words to live by: "It's clear that our world needs big changes, and fast. But I have faith that as we see what's wrong with the world we live in, that as young people, as the next generation of leaders in the Philippines and in the world, that you will be the catalyst of positive change that we so badly need."
ADVERTISEMENT - CONTINUE READING BELOW
Recommended Videos
The Pasig City mayor addressed the 2020 batch of graduating students from Brent International School—where he graduated from secondary education—in this video. In the speech, Sotto speaks about the way the current crisis exposed several gaps and breaks in our system, and lays down his belief that the younger generation can and will create change—yes, that means you guys. 
Beyoncé
Words to live by: "To the young women, our future leaders, know that you're about to make the world turn. I see you. You are everything the world needs. Make those power moves. Be excellent. And to the young kings, lean into your vulnerability and redefine masculinity. Lead with heart."
The Queen B decided to grace us all with this speech through YouTube's "Dear Class of 2020" online celebration. Though she admits she is not a college graduate herself, Beyoncé has proven that all you need to make it are your own two hands. As is often said, you have the same hours in a day as Beyoncé, so make them count.
ADVERTISEMENT - CONTINUE READING BELOW
Former President Barack Obama
Words to live by: "We cannot be ignorant of history. We can't meet the world with a sense of entitlement. We can't walk by a homeless man without asking why a society as wealthy as ours allows that state of affairs to occur. We can't just lock up a low-level dealer without asking why this boy, barely out of childhood, felt he had no other options. We have cousins and uncles and brothers and sisters who we remember were just as smart and just as talented as we were, but somehow got ground down by structures that are unfair and unjust."
The former American president delivered this commencement address during the rites at Howard University in 2016. With his usual wit and charm, Obama traces the history—especially the Black history—of his country, and how much it all has changed for the better. But that the fight is far from over, whether in the U.S. or all over the world.
ADVERTISEMENT - CONTINUE READING BELOW
BTS
Words to live by: "If any of you feels lost in the face of doubt or uncertainty, or the pressure of starting anew, don't rush. Take a deep breath. You may find that any moment can be turned into an opportunity." - Jin
BTS members also came to save the graduating class of 2020 from a whole lot of anxiety with comforting messages of their own. They're probably not much older than this year's set of graduates—the oldest member, Jin, was born in 1992—and so they offer advice based on their own experiences. Plus, they performed a couple of their songs during the YouTube streaming of "Dear Class of 2020!" 
Steve Jobs
Words to live by: "Your time is limited, so don't waste it living someone else's life. Don't be trapped by dogma—which is living with the results of other people's thinking."
ADVERTISEMENT - CONTINUE READING BELOW
In 2005, barely a year after he was diagnosed with pancreatic cancer, Steve Jobs delivered one of his most memorable speeches ever—outside the usual sleek and shiny stage of an Apple product launch. Jobs, who passed away in 2011, told three simple stories about his own life, outlining his birth, his loves, and yes, his eventual death. It was an uncharacteristically personal speech from the famous college dropout that still inspires nearly a decade after his death.
Mindy Kaling
Words to live by: "Don't let anyone tell you that you can't do something, but especially not yourself. Go conquer the world. Just remember this: Why not you? You made it this far."
Mindy Kaling returned to her alma mater in 2018 to deliver a powerful and painfully funny speech. The writer and celebrity—and third Indian woman allowed on U.S. TV, according to her—spoke about her own experiences after graduating. She offers some sage life advice, such as using delusion as a weapon to amp up self-confidence, and also some insight into very real moments of her own uncertainties.
ADVERTISEMENT - CONTINUE READING BELOW
Senator Miriam Defensor-Santiago
Words to live by: "Now that the proud professors have done their best, you must start the adventure of learning from life itself."
The late senator delivered this speech with her usual snark and wit during the commencement ceremony of the University of the Philippines College of Medicine graduates in 2012. Her strong belief in her alma mater—and the students shaped it—shines through with her words, but we know her belief in Filipino youth is not bound by whichever school you graduated from.
Lisa Macuja-Elizalde
Words to live by: "Sometimes, being stubborn has its rewards."
If you've ever wondered what it was like to study ballet in Soviet Russia, let Lisa Macuja spell it out for you. The Philippines' prima ballerina delivered this commencement address for the Ateneo de Manila University in 2015. Macuja-Elizalde worked for a lot of firsts during her career: She was the first ever foreigner to be part of Russia's Kirov Ballet, for one. 
ADVERTISEMENT - CONTINUE READING BELOW
Conan O'Brien
Words to live by: "There is no greater cliché in a commencement address than 'follow your dream.' Well I am here to tell you that whatever you think your dream is now, it will probably change. And that's okay."
We know you expect a Conan O'Brien speech to be peppered with jokes—well, this one is quite heavily seasoned. Aside from making everyone laugh, O'Brien hits up some very real moments about what it means to be an adult: insecure, uncertain, but with a dream.  He also offers some very uncomfortable truths to parents and students alike, such as, "You will spend more money framing your child's diploma than they will earn in the next six months. It's tough out there, so be patient."
Solita Monsod
Words to live by: "The Philippines needs you more than you would ever think. And if it is not you, who else will do it?"
ADVERTISEMENT - CONTINUE READING BELOW
Technically speaking, this is not a formal commencement address; this was one of Solita Monsod's last lectures as an Economics professor at the University of the Philippines. Monsod speaks about service to the country, and not just because you are a student of the foremost state university, but because you are a child of the Philippines—and yes, this applies to everyone. This 2010 speech still rings true today.
Share this story with your friends!
---
Help us make Spot.ph better!
Take the short survey
Load More Stories