(SPOT.ph) Life isn't easy. Sometimes, it's nice to take a step back and laugh at our own foolishness, which is exactly what webcomics-turned-book series Hunghang Flashbacks does. Each strip just hits a certain note of relatability that could either make you laugh, cry, or both. The second book, Hunghang Flashbacks: Wow! Nice! Libro Ulit!—which you can now get copies of at the Manila International Book Fair—has more exciting pakulo and kahunghangans. We got to chat with the comic artist, D. Borja, and he shared with us his favorite comic strips from Book 2! 
Here are 10 of Borja's favorite kahunghangans in Hunghang Flashbacks 2:
Filter 1 (p.30)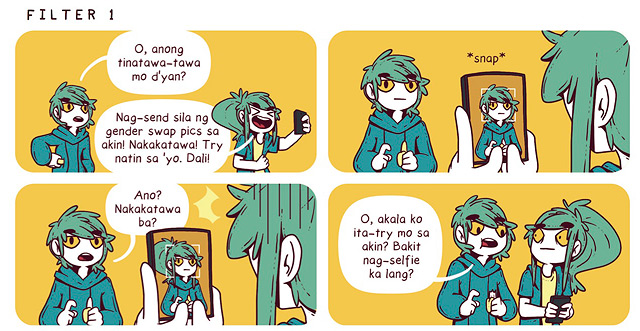 ADVERTISEMENT - CONTINUE READING BELOW
Remember that crazy trend that had everybody "switching genders" using a camera app? Borja gives it a twist in this strip. "When I tried it myself, I looked 90% like my female friend," the creator tells SPOT.ph in an online exchange. "It was horrifying," he adds.
Typo (p.40)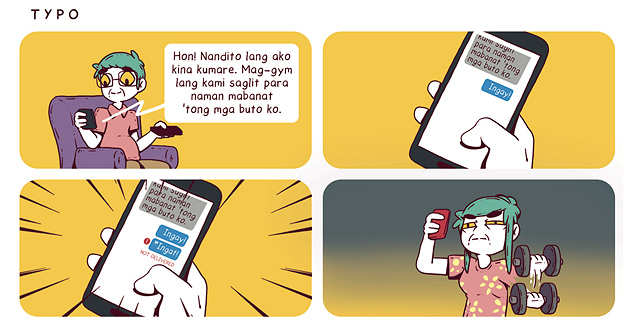 Typos can sometimes be funny; other times, they can downright destroy relationships. "[The character] was sending just one word and still managed to screw up," says Borja. Apparently, the artist himself has made this mistake enough times that he completely avoids typing it down now. "It's a little unsafe," he jokes.
Mother's Day (p.44)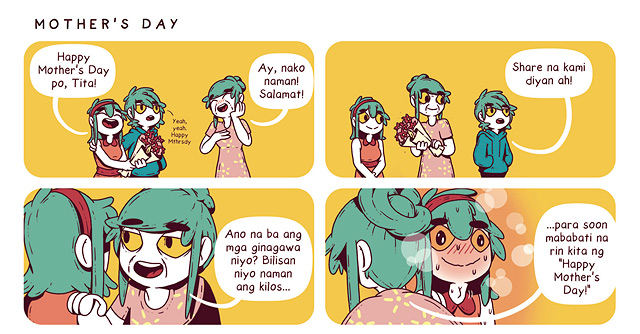 ADVERTISEMENT - CONTINUE READING BELOW
This one's a little too relatable for people with pushy parents (a.k.a. everyone). Borja knows this awkward situation well: "Both my family and my girlfriend's family do this," he says. He still enjoyed making this strip though, saying "I had fun drawing Girlfriend flustered because it's something her character would rarely do."
Door (p.60)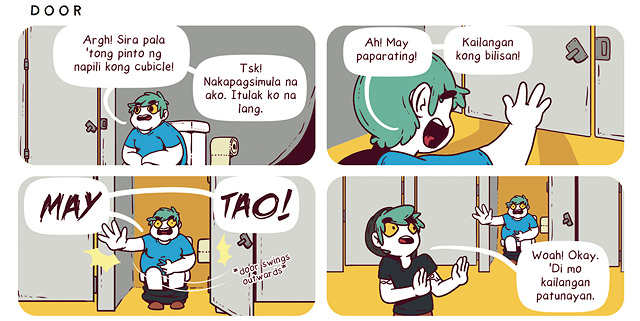 ADVERTISEMENT - CONTINUE READING BELOW
In this strip, Chubs outdoes himself with some "classic toilet humor," says Borja. "It's just so stupid; me and my editor still laugh about it," he adds. Interestingly enough, this strip is also based on something Borja did. Yup, the exact same exhibition almost happened to him. "Good thing no one else was there," he says.
Heart 1 (p.80)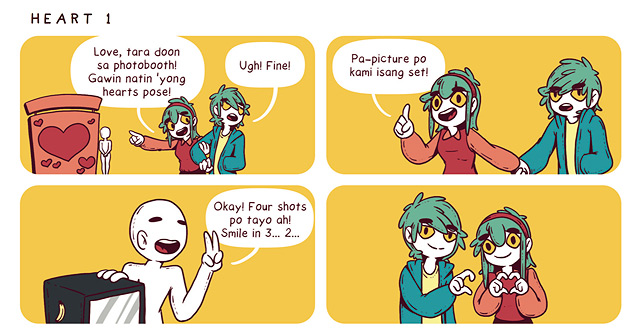 ADVERTISEMENT - CONTINUE READING BELOW
This strip is actually part of a series where XY and Girlfriend go "out on a date but all they are trying to do is outprank each other," says Borja, adding that each kahunghangan is worse than the last. Borja shares that he also tried to do the big heart arc with his girlfriend in real life—except that he faced the wrong way. Whoops!
Ayos Slang 1 (p.88)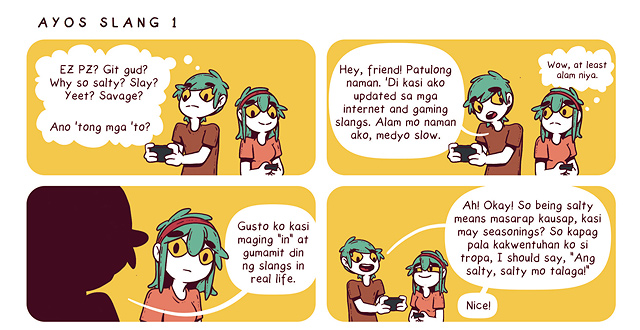 ADVERTISEMENT - CONTINUE READING BELOW
You'd be lying if you say you've never done this one before. This strip is the start to a series where Crush tries—and continuously fails—to use his fresh (mis)education. "I'm just proud of the tactical misuse of slang I did in this series," says Borja. Also, plus points if you spot the pun!
Ikaw (p.97)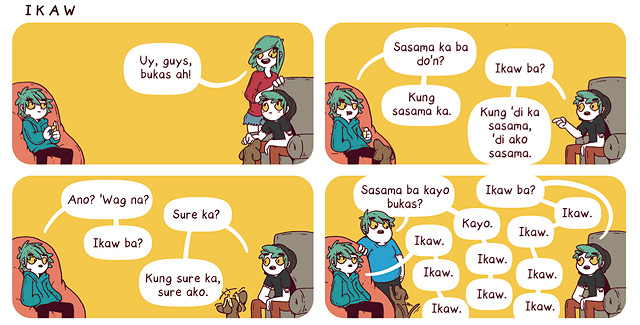 ADVERTISEMENT - CONTINUE READING BELOW
This one goes out to all the sketches and drawings you've made with your friends. "It's an all-too-familiar conversation my friends and I always have," says Borja. "I love this strip because a lot of people can relate to it," he says, adding "I also just loved typing 'ikaw' over and over again."
The Real M.V.P. (p.101)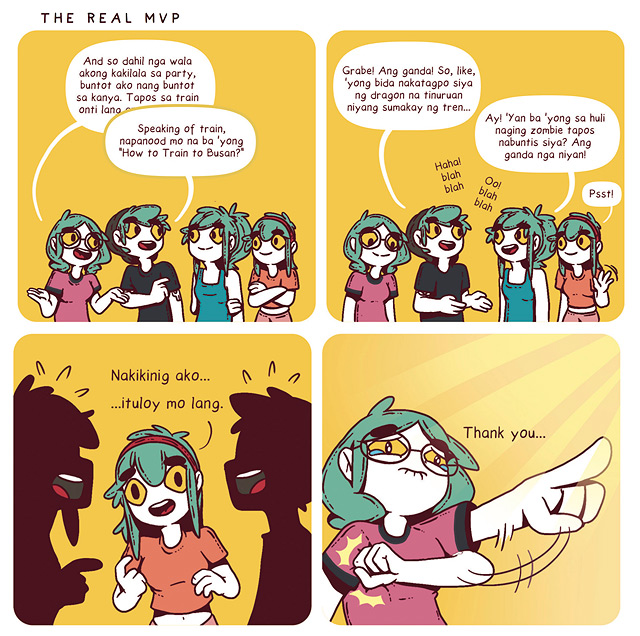 ADVERTISEMENT - CONTINUE READING BELOW
Behind the "How to Train to Busan" joke, this strip has a sweet, hidden, thank-you message. "One of my friends does this for me, so I guess it's one way to appreciate his gesture," says Borja. So to all the people out there who's always willing to lend an ear, hear this: you the real M.V.P.
Kupidon't (p.110)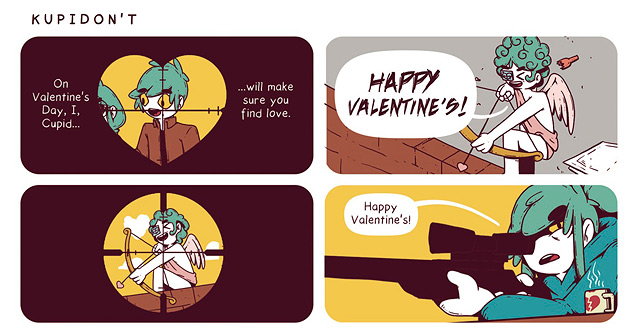 ADVERTISEMENT - CONTINUE READING BELOW
XX would do anything to prevent her Crush from falling for anyone else—even if that means shooting Cupid (we know you wouldn't hesitate either). Borja's extra proud of this one, saying, "She simply can't get any more bitter than this." But it looks like she's not the only one: "Back in high school, I shot Cupid twice. Then in college, I stabbed him," confesses Borja. 
Doon Sa... (p.111)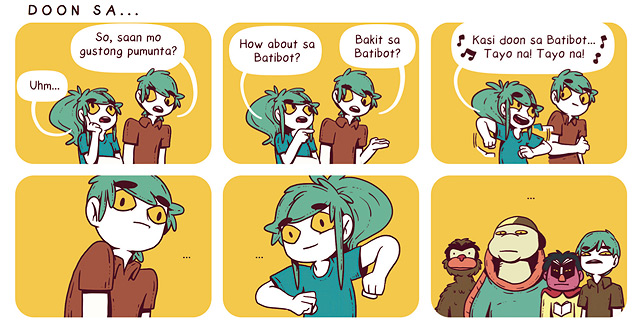 ADVERTISEMENT - CONTINUE READING BELOW
You could hear the awkward silence in this strip. Borja admits that this was just one example of "XX's poor attempts at tricking Crush into being her boyfriend," but who doesn't love a pun? "Puns are good," says Borja, and we're sure even our friends from Batibot agree.
Hunghang Flashbacks: Wow! Nice! Libro Ulit! (Summit Books, 2019) is now available at the 2019 Manila International Book Fair, happening from September 11 to 15, at the SMX Convention Center, Mall of Asia Complex, Pasay City. It will be available in major bookstores, supermarkets, convenience stores, and newsstands nationwide for P350.
Share this story with your friends!
---
Help us make Spot.ph better!
Take the short survey
More Videos You Can Watch
Load More Stories