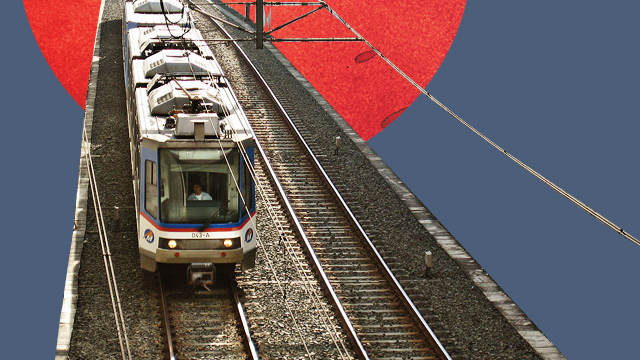 (SPOT.ph) Love it or hate it, you can't get away from EDSA. If you think of Metro Manila as a single living organism, EDSA would be its main artery—albeit a severely unhealthy and clogged one. And the single train line that traverses it doesn't get any health points either: The Metro Rail Transit Line 3 is both the bane and the shining light of our urban existence: it's (slightly) faster than taking a bus through EDSA but also borderline traumatizing. Long lines, cramped carriages, and slow-moving trains are nothing new to the daily commuter—but with a renewed effort towards rehabilitation, could we be looking towards a brighter, faster, and more comfortable future for the Metro Rail Transit Line 3 (MRT-3)? We round up the plans and actions leading to a revamped MRT-3 by July 2021.
ADVERTISEMENT - CONTINUE READING BELOW
Also read:
A Day in the Life of a Metro Manila Commuter
Ang MRT parang pag-ibig...
Here's Everything That Went Down With Our Train Lines the Past Two Days
Concrete Goals for the Project
A Sufficient Number of Trains to Serve Peak Hours
A 43-month (that's three years and seven months) rehabilitation and maintenance program was agreed upon by the Department of Transportation and the Japanese group of Sumitomo Corporation and Mitsubishi Heavy Industries in December of 2018. It is funded through an P18 billion loan from the Japan International Corporation Agency. The main goal of this program is to get the MRT-3 to a level where at least 18 train sets are able to operate during peak hours—which, compared to the current average of 15 train sets, doesn't sound like such a faraway goal.
From 15 to 20 Trains at Double the Speed
Other than that qualifier, the agencies are looking at some real achievements by the end of the first 26 months of the total rehabilitation period. This includes increasing the number of operating trains from 15 to 20 and doubling the current average train speed of 30 kilometers per hour to 60 kilometers per hour; these improvements will ideally cut the waiting time between trains from the current 10 minutes to just three-and-a-half minutes and are scheduled to be completed by July 2021.
Replacement of Rail Tracks
Rail replacements were delivered by the Nippon Steel Corporation in August 2019, amounting to a total of 4,053 pieces that will have to be welded together. These new rails will replace the old and degraded tracks of the MRT-3, and once laid out, "Maiiwasan na ang pagkakatagtag ng mga bagon sa biyahe na isa sa mga pangunahing sanhi ng mga problema o aberya sa operasyon," said the Department of Transportation (DOTr) in a post on the MRT-3 Facebook page. As of September 20, the tracks were at the Tracks Laydown Yard in Parañaque City. Rail replacement work will begin in November and will be gradually completed until February 2021.
Get the Dalian Trains Moving
While there are no plans of buying more trains for the MRT-3, Sumitomo Corporation is looking into whether we can finally use the 48 China-made Dalian trains that were bought in 2016 (yes, those trains). These trains, which were deemed too heavy for the tracks, have had a coming-and-going stint on the MRT-3 since late 2018 but haven't been able to maintain a regular presence. Three Dalian trains were once again scheduled to take regular runs starting September 2019 after discussions between Sumitomo and DOTr regarding the safety risks—but no sightings just yet. Once officially deployed, these Dalian trains could carry at most 20,000 passengers daily, according to a report by Inquirer.net.
ADVERTISEMENT - CONTINUE READING BELOW
The MRT-3 We Live With Now
First Steps Towards Rehabilitation
So far, minor improvements have also been felt. Around 90 brand-new air-conditioning units were installed in the train carts for a chill ride (literally speaking) in September. Plus, station elevators and the long-missed escalators are being repaired: all elevators are now working; while as of September 24, 30 out of the MRT-3's 46 escalators are operational. Other upgrades include replacing copper wires used for the MRT-3's signaling system with fiber optic cables, which is set to be completed before the end of 2019.
Current Glitches and Numbers
The last time the MRT-3 broke down on an epic scale was on September 6 when a cable in the "Overhead Catenary System" at Guadalupe Station (Northbound) was cut—causing operations to completely shut down for at least three hours. Normal operations resumed at 5 p.m. on the same day, but if anything, the resulting chaos proved just how badly the rehabilitation for the nearly two-decade old train line was needed.
ADVERTISEMENT - CONTINUE READING BELOW
Ridership also went down by nearly 40 million people in 2018: from around 140 million in 2017 to around 104 million. This low number was mainly attributed to a decrease in available trains, with around only 13 operating daily—far below the supposed standard of 20 trains during peak hours. On the other hand, unloading incidents are also at a new all-time low. Only 18 incidents were recorded from March to September 12, 2019, as compared to 480 incidents recorded in the same period in 2016, according to DOTr. Except of course, these statistics don't include the latest unloading incident that happened on October 2, where around 500 passengers had to walk the tracks after power issues were reported somewhere between the Ayala and Taft stations.
The MRT 3 first began operating in 1999 and was the second train line constructed in the Metro. The 17-kilometer long MRT-3 is now undergoing a major overhaul spearheaded by the same company that first operated it. The project will include replacing all its mainline tracks, a rehabilitation of power facilities, communications, safety features, and more—all towards making it capable of serving up to 650,000 people daily by July 2021. Currently, around 300,000 people on average depend on the MRT-3 to bring them where they need to go and as the Metro's biggest artery, we can only hope it gets the love it deserves.
ADVERTISEMENT - CONTINUE READING BELOW
Your guide to thriving in
this
strange new world.
Share this story with your friends!
---
Help us make Spot.ph better!
Take the short survey
More Videos You Can Watch
Load More Stories