(SPOT.ph) It was the stuff of nightmares for every Metro Manila commuter: a freak rainstorm had turned the city into even more of a dreaded traffic hellhole than it usually is. Carlo Maala, in his late 20s in 2017, was making his way home to Sta. Rosa, Laguna, from Makati City when the rain started to pour. It died off just as quickly but it was enough to make the roads even crazier than usual, prompting him to wait around till 9:30 p.m. before heading to the terminal in Park Square to let the inevitable rush die down a bit—a futile hope, as it always is with commuting in Metro Manila.
"When I got there, parang evacuation center 'yong Park Square," Maala tells SPOT.ph. People were huddled inside the building waiting for the chance to get on a commuter van. He waited for an hour in line before finally accepting that there was no way he was getting on one and walked to the bus stop along EDSA, near the Ayala train station. "People were on EDSA, just waiting for a bus," he says. Maala decided to walk even further. It was somewhere near the Magallanes train station, amid a mess of people trying to get on a bus and the buses refusing to accept any more passengers, that things truly got wild. "Alam ng buses na dudumugin sila if they open their doors," he says.
ADVERTISEMENT - CONTINUE READING BELOW
In the end, Maala ended up rapping on the door of a bus heading to San Pedro for a few minutes. "Hindi ako doon papunta pero gusto ko lang talaga makasakay na," he says. He recalls pointing to the still-empty steps leading up to the seats of the bus. The driver finally let him in and allowed him to occupy the space on the steps—really the only space left. And as they went up the flyover leading to the South Luzon Expressway, Maala saw a sign from a distance saying the ground-level lanes were completely blocked. "You usually see it with warnings like 'light or heavy traffic,'" he explains. "It was the first time na nakita ko 'yong sign, nakalagay doon, "Not Passable.'"
The bus took the Skyway to San Pedro instead, where Maala stayed in a fast-food resto until his father woke up and he could get an S.O.S. He finally got home at around 5 a.m.—around eight hours after he started his journey home. The distance he covered? A mere 30 kilometers or so.
ADVERTISEMENT - CONTINUE READING BELOW
Recommended Videos
At this point, the exact events are fuzzy in Maala's head, but the frustration and anxiety he felt remains very clear. Commuting in Metro Manila is not dignified. The hours spent on the road, battling it out with hundreds of other commuters while being assaulted by dreary sights and strange smells (sometimes from other passengers), are more than enough to make you feel a little less human. Repeat the experience on a daily basis and it's enough to numb you, but certainly not make it any more comfortable—much less enjoyable. If we could, we'd give everyone jet packs that run on clean fuel so we could all zoom around guiltless in the air, but since we can't, we list down our ultimate hopes and dreams for Metro Manila mass transport.
We're keeping our fingers crossed that these wishes for Metro Manila public transportation come true:
A single, streamlined contactless-payment system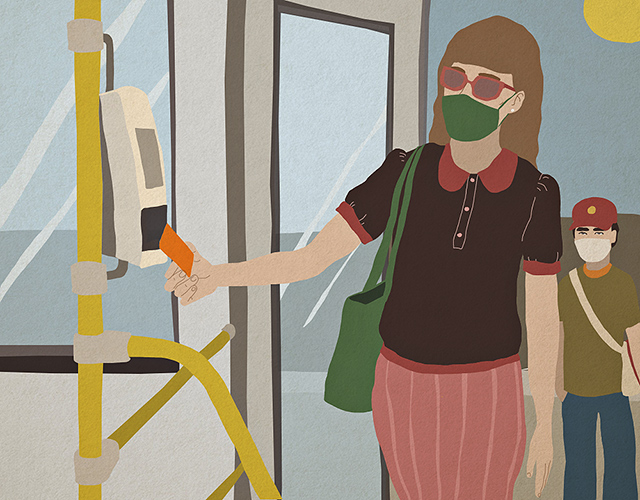 ADVERTISEMENT - CONTINUE READING BELOW
Can you imagine having one card that you could use on trains, buses, jeep—heck, even taxis? With a magical card or mobile app or whatever medium we all can use—from the taho vendor to the business executive—paying for transportation would be less of a hassle. Not to mention the hygiene factor; Cash won't even have to change hands! The only downside to this is that "Bayad po, pasuyo," would become a thing of the past.
Commuter terminals as inter-connected hubs
Terminals have always served multiple purposes as cultural centers and major hubs in other countries (read: New York's Grand Central Terminal, Madrid's Atocha Station), so why not here as well? The Metropolitan Theater stands abandoned a few meters away from the Lawton transport hub in the City of Manila, just pointing that out. We also have a blatant lack of large terminals that connect different transportation methods—a train connected to any of our airports can't be too much to ask for—although we've got our fingers crossed the Common Station connecting the Metro Rail Transit Line 3 (MRT-3) and the Light Rail Transit Line 1 and eventually, the MRT-7, will start a new trend of connecting hubs.
ADVERTISEMENT - CONTINUE READING BELOW
Proper wayfinding signs and digital signboards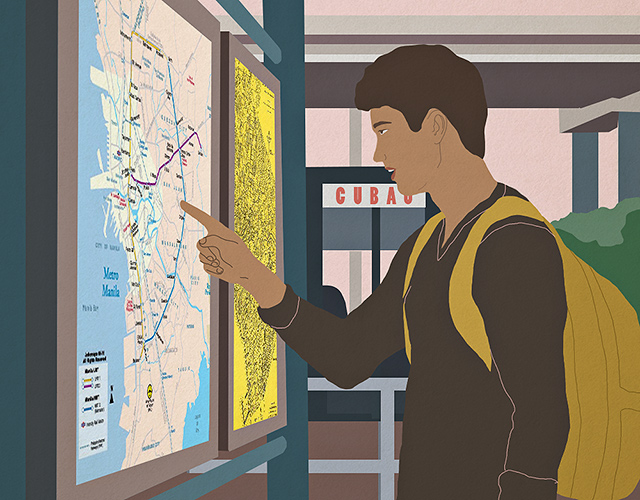 Mapping out the routes of jeeps or buses in terminals in your brain requires next-level spatial intelligence—or reliable mobile data. It would be so much better and far more efficient if we had signboards, digital or not, that clearly showed the routes of passenger vehicles in a terminal, nearby landmarks at each stop, and even basic signs telling you which counter is for what. Plus, digital signboards with basic info such as when the next bus or train is coming would be great. And since we're dreaming, why not add in info on how many seats are still available in a public utility vehicle?
ADVERTISEMENT - CONTINUE READING BELOW
Cooperation between all public transport groups
We're not looking for someone to monopolize the public transport industry; we just wish they'd talk (or create a group chat) once in a while. Just like in any relationship, communication is key, sharing is caring, and whatever other clichés fit. If the different transport groups cooperated and shared what they know (i.e. number of commuters, passenger hotspots), they could plan a more streamlined transport system for the cities without redundant routes. Plus, they could ensure all members are given proper benefits, a regular salary, and a livable wage.
Better access for people with disabilities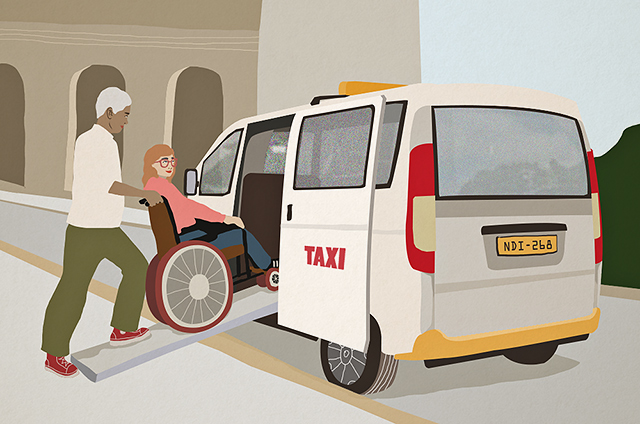 ADVERTISEMENT - CONTINUE READING BELOW
Mobility is a right, not a privilege. Whoever you are and whatever differences you have, you should be able to move from point A to point B in the Metro with as much ease and dignity as the next person. Wheelchair access would be made available in all public utility vehicles, including taxis, and trains and buses would always have enough space to accommodate them, even during rush hour. Also, braille tiles for people who are blind would be available not just in terminals, but in sidewalks everywhere.
Higher quantity and quality of public transport vehicles
All we want is to be able to sit in a bus and not feel like we're smelling the passengers who sat there before us, or be squished like sardines in an extra-small can. Since we're dreaming anyways, we might as well aim high: Everyone will be able to sit (yes, on the seats) in the Metro Rail Transit Line 3 because there will be enough trains to service the droves of people that depend on this line daily. Plus, buses, jeepneys, and other public utility vehicles (PUVs) operators will have enough data to work on to figure out exactly how many units are needed at the given time, meaning that only the necessary number will be out on our roads.
ADVERTISEMENT - CONTINUE READING BELOW
Priority for bike and pedestrian lanes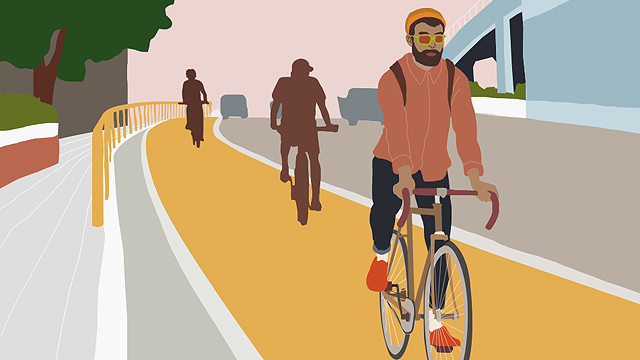 A walkable EDSA has been in everybody's hopes and dreams since forever. There have been steps towards creating a green pathway along Metro Manila's infamous "parking lot" but why not take it a step further and turn entire capital into a walkable one? The Ortigas Business District is proof that it can be done. Bike lanes have also been pushed during the quarantine, with cities such as San Juan and Pasig creating pop-up lanes. All signs point to biking and pedestrian lanes finally becoming a permanent feature of life in the city.
ADVERTISEMENT - CONTINUE READING BELOW
More train lines with better reach
Several train lines in and around Metro Manila are in the works: one going to Cavite, another to Bulacan, and even an actual subway. But, really, we can never have enough train lines. Can you imagine if the South Luzon Expressway had a train line? North kids would finally be willing to go to the south. At the moment, the Metro has only four lines. Maybe someday we can invite our grandchildren to a bullet train ride to La Union; in the meantime, we'll keep hoping. Bonus points of the train stops are at places that actually make sense rather than prioritizing mall access.
The Pasig River as a major transport channel
If we can't have train lines, maybe we can at least have a reliable ferry system. The Pasig River is literally right there. A commuter ferry system is already up and running, with a mishmash of boats local governments and the Metropolitan Manila Development Authority have gathered over the years. The river runs through several cities and several major hotspots, from Manila to Pasig City. We feel like a major opportunity has been overlooked here.
ADVERTISEMENT - CONTINUE READING BELOW
A maximum wait of 10 minutes for your next ride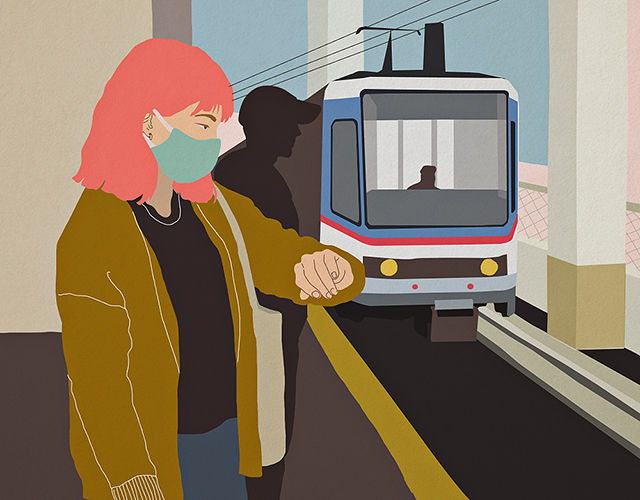 All of the deepest, darkest desires we've laid bare here will ultimately accomplish this, our biggest and frankly, most ridiculous fantasy for Metro Manila: A guarantee that in 10 minutes or less, you will get the ride you need. Doesn't matter what kind, the only things that matters is that you won't have to waste another minute of your life waiting for something you're not even sure is coming (we're talking transport here, don't feel attacked). Of course, this will only work assuming all the other kinks have been ironed out (read: traffic) but hey, we're all allowed to dream.
ADVERTISEMENT - CONTINUE READING BELOW
Your guide to thriving in
this
strange new world.
Share this story with your friends!
---
Help us make Spot.ph better!
Take the short survey
Load More Stories