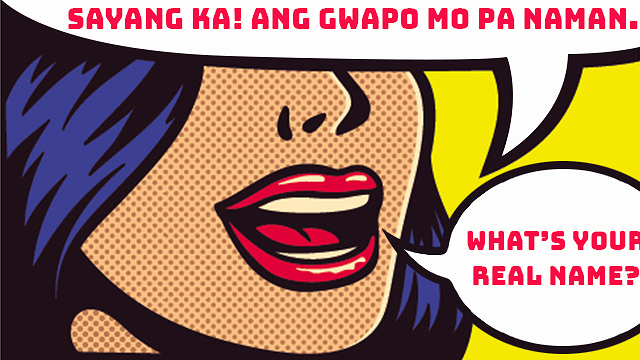 (SPOT.ph) The Philippines is considered a "gay-friendly country," where lesbian, gay, bisexual, transgender, and queer people are generally tolerated. However, the state has yet to come up with legal protection against discrimination and hate crimes often committed against the LGBTQ+ community. And much like how misogyny stems from "boys will be boys" and "locker room" talk, homophobia, biphobia, and transphobia also persist because of ignorant statements that disregard a person's right to identity. Intentional or not, there are simple utterances that can be invalidating and harmful to LGBTQ+ people, especially those that imply that cisgenderism and heterosexuality are the only "normal."
Also read:
10 Common Misconceptions About the SOGIE Equality Bill
10 LGBT Documentaries That Keep the Pride Flag Flying on Netflix
We round up 10 things that you should never say to LGBTQ+ people (or, at least, be careful about):
"Who's the guy in your relationship?"
Because most of us were raised in a heteronormative world where every relationship is composed of a male and a female, it's easy to assume that homesexual couples also have a "male" and a "female" counterpart. Wrong. It's called a same-sex relationship for a reason. Plus, the question also promotes stereotyping of traditional gender roles, like how a man should always foot the bill or how a woman should only look after the children.
ADVERTISEMENT - CONTINUE READING BELOW
"Tomboy ka? Hindi halata."
If you think "You just don't strike me as gay" is a compliment, then you might want to consider: What if it were the other way around? It's implying that a person is intentionally hiding behind "conformist" clothes. What does "hindi halata" even mean? Is it because a gay guy should only wear pink, sequined clothes; while a lesbian should only have a mohawk for a hairstyle? A person's gender expression (like clothes, hair, body language, et cetera) is always distinct from their sexual orientation or gender identity. And it's not up to anyone to convince you of their sexuality.
"Passing" (e.g. "I would have never known you were transgender." or "You can pass as a cisgender.") is also a sensitive topic for transgender people. While it typically comes from good intentions, the utterance tends to erase someone's gender identity as a transgender person. It's also baseless to assume that all trans men strive to fit within the dominant ideas of masculinity, and trans women to femininity.
ADVERTISEMENT - CONTINUE READING BELOW
Recommended Videos
"What's your real name?" (To a transgender person)
It's always important to respect the name and pronoun that a transgender person is currently using. Referring to their birth name as their real name is implying that their gender identity and current name are not real. It also perpetuates the inappropriate mindset that trans people are trying to be deceptive and "pass" as cisgender. For some transgender people, their birth name is part of their past that they just want to leave behind; and should, therefore, remain private unless they provide explicit consent to reveal it.
"Maybe you just haven't experienced being with the opposite sex."
It's even worse when you're drinking with men and they outrightly say "baka di ka pa lang nakatikim ng lalaki." Let our response be: "Try mo rin kaya." But seriously, saying this implies that queerness needs to be "cured" by hooking up with someone from the opposite sex.
ADVERTISEMENT - CONTINUE READING BELOW
"But you just haven't decided if you're gay or straight, right?" (To a bisexual person)
Bisexual people can be attracted to a person of the same gender or of the opposite gender. One of the common misconceptions about them is that they just can't choose or are still on the fence about whether they're homosexual (lesbian or gay) or heterosexual, resulting in a lot of bi-erasure. It's also disrepectful when you say a bisexual person is lesbian or gay when they're in a same-sex relationship, and "straight" when they're in an opposite-sex relationship.
"Sayang ka! Ang gwapo mo pa naman."
Being queer doesn't diminish LGBTQ+ people's fabulousness. "Sayang" implies that they've thrown their life away and put to waste their good looks. This is often seen when a celebrity comes out as queer in the news and people would be disappointed, as if being LGBTQ+ is the worst thing ever.
ADVERTISEMENT - CONTINUE READING BELOW
"Phase lang 'yan."
People sometimes think that being queer is just a phase, especially if you came from an all-girls school (so you must be a lesbian) or if you came from an all-boys' school (so you must be gay). Then, three decades later, and it's still a phase? Coming to terms with one's own sexual orientation and gender identity is never easy. So saying that it's just a "phase" completely disregards all the pain and joy that came with that journey towards self-acceptance.
"Hindi ako homophobic. May kaibigan nga akong bakla e."
These two sentences are often used by homophobes to defend themselves. Knowing someone who's gay doesn't always mean that you're not against limiting their rights. Tolerating LGBTQ+s doesn't always mean that you're accepting them as your equal.
"At least you became a doctor/lawyer/[other professional title]."
For a society that sees queerness as a downfall, achievements are seen as means to compensate. Other common statements are: "Mabait naman 'yong anak ko e, bakla lang" or "Buti na lang naging doktor siya kahit bakla."
ADVERTISEMENT - CONTINUE READING BELOW
Referring to his/her/their partner or spouse as "friend."
Because of a heteronormative culture, people always assume that two persons of the same gender are friends, roommates, or BFFs. This is despite them introducing their company as a girlfriend, boyfriend, wife, husband, partner, or spouse. Some inclusive companies or organizations have normalized referring to a wife/husband as a spouse, since it doesn't assume heterosexuality as the norm.
Hey, Spotters! Check us out on Viber to join our Community and subscribe to our Chatbot.
We are now on Quento! Download the app and enjoy more articles and videos from SPOT.ph and other Summit Media websites.
Share this story with your friends!
---
Help us make Spot.ph better!
Take the short survey
Load More Stories