(SPOT.ph) If the Philippines' Sexual Orientation, Gender Identity, and Expression Equality Bill (and early versions of it, such as the Anti-Discrimination Bill) was a person, it would have been a 19-year-old adult by now. It has become one of the slowest-moving bills in Philippine history, always caught in what LGBTQ+ (lesbian, gay, bisexual, transgender, and queer) rights advocate Jonas Bagas calls "the institutional weakness of Congress." This "makes it susceptible to the influence of the main opponents of this bill—the faith-based organizations," he explained in a primer about the bill in 2006.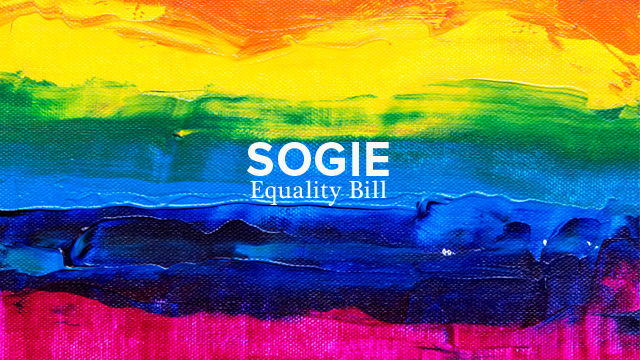 ADVERTISEMENT - CONTINUE READING BELOW
This observation cannot be denied given the amount of time that it has been languishing in the hands of our lawmakers. The Anti-Discrimination Bill was first filed in 2000 by then Akbayan Representative Loretta Rosales and the late Senator Miriam Defensor Santiago under the 11th Congress. The bill itself came from a policy proposal by the Lesbian and Gay Legislative Advocacy Network, which hoped to eliminate discrimination on the basis of people's sexual orientation or gender identity.
Similar bills were refiled in the 14th, 15th, and 16th Congresses, but would end up getting stuck at the committee level. It went through three whole years of Senate interpellations in the 17th Congress, only to return to square one in the opening of the 18th Congress.
Senator Risa Hontiveros, on the first regular session of the lawmaking body, introduced Senate Bill 159 or "An Act Prohibiting Discrimination on the Basis of Sexual Orientation and Gender Identity or Expression (SOGIE) and Providing Penalties Therefor." Bataan Representative Geraldine Roman (House Bill 134), Quezon City Representative Jose Christopher Belmonte (House Bill or H.B. 160), Representative Loren Legarda (H.B. 640), Bukidnon Representative Maria Lourdes Acosta-Alba (H.B. 95), and Bayan Muna party-list representatives (H.B. 258) also filled SOGIE-specific versions.
Aside from the snail's pace of the legislative process, bits of "fake news" about the SOGIE Equality Bill are rampant in social media, and irrational arguments have been thrown around during public hearings in the Senate.
Here are 10 misconceptions about the SOGIE Equality Bill that we often see and hear:
The SOGIE Equality Bill gives special rights to LGBTQ+ people.
SOGIE is short for sexual orientation, gender identity, and gender expression. It recognizes the diversity of human sexuality, which includes even non-LGTBQ+ people. In simpler terms, a cisgender woman—"cis" meaning she was assigned a woman at birth for having female organs and also identifies as a woman (gender identity)—who happens to like men (making her a heterosexual, sexual orientation)—and likes to wear pants (gender expression)—has her own SOGIE (as cited). This means that if you're a "straight" woman who was scolded at work for not wearing a dress (a.k.a. discrimination on the basis of your SOGIE, particularly gender expression), you have the SOGIE Equality Bill to back you up. So no, Senator Tito Sotto, the SOGIE bill is not a bill "against women's rights."
ADVERTISEMENT - CONTINUE READING BELOW
As Sister Mary John Mananzan, a Catholic nun running an all-girls school in Manila, said at a Senate hearing on September 4: "I don't see that this bill is giving any special right to this group. They are just saying that the rights of everybody should also be applied to them."
The SOGIE Equality Bill violates the rights of other people.
In the early 1900s, Filipino women sought the right to vote, which Filipino men already had. Filemon Sotto (older brother of Vicente Sotto, grandfather of Tito Sotto, and great-grandfather of Vico Sotto) advocated this and co-sponsored a bill to allow women the right of suffrage. It wasn't until 1937 that this bill was passed. Did the men lose their right to vote? No, women were just given the same rights, being fellow Filipino citizens.
The SOGIE Equality Bill proposes equal access for members of the LGBTQ+ community to basic rights and services that everyone also has. Some of the discriminatory acts it prohibits include: using SOGIE as criteria for hiring, demotion, or dismissal of workers; denying access to health services, public establishments, and public facilities; and using a person's SOGIE to deny admission or push expulsion in an educational institution and deny application to government licenses, permits, and similar documents.
ADVERTISEMENT - CONTINUE READING BELOW
What would other people lose if SOGIE-based discrimination gets penalized? Just their "right" to discriminate.
The SOGIE Equality Bill is not necessary because discrimination against members of the LGBTQ+ community does not exist in the Philippines.
A survey titled "The Global Divide on Homosexuality" by the U.S.-based Pew Research Center in 2013 claimed that 73% of Filipinos agreed with the statement that "homosexuality should be accepted by society."
Here are the facts: LGBTQ+ secondary school students in Luzon and Visayas have described incidents of bullying in school, according to a 2017 report by Human Rights Watch; 30% of Filipino workers reported being harassed, bullied, and discriminated against by others while at work because of their SOGIE, according to a 2018 study by the United Nations; and, in August, a transgender woman was detained at the Quezon City Police District Station 7 for using the women's restroom. 
The provisions of the SOGIE Equality Bill
 

are redundant given other Philippine laws.

While the Safe Spaces Act (2019), Anti-Bullying Act (2013), and Anti-Sexual Harassment Act (1995) have always been in place in Philippine legislation, there are instances that people have been harassed, bullied, and discriminated against for dressing differently, being in a relationship that's outside the man-and-woman norm, and identifying as their true selves.

ADVERTISEMENT - CONTINUE READING BELOW

It is also argued that the SOGIE Equality Bill should be enclosed in a more general Anti-Discrimination Bill. Senator Nancy Binay, for example, said that she has been discriminated against based on her color and called for a more "universal" bill. But former Commission on Human Rights rights chief Loretta Ann Rosales argued that both measures should not be pitted against each other and that "both can be passed."
The SOGIE Equality Bill focuses on marriage equality.
The eight-page S.B. 159 by Hontiveros and other similar bills don't make any mention of legalizing marriage equality (a.k.a. same-sex marriage)—except for Imee Marcos' proposal, which explicitly says that "denying an application for or revoking a professional or other similar kind of license, clearance, certification on, or any other similar document, except marriage license, issued by the government" is discriminatory and unlawful. If anything, the late dictator's daughter is making sure that LGBTQ+ couples will never enjoy the rights of fellow Filipino citizens.
ADVERTISEMENT - CONTINUE READING BELOW
Besides, the Supreme Court already junked a petition by lawyer Jesus Nicardo Falcis III to allow marriage equality in the Philippines. The court, however, noted that "from its plain text, the Constitution does not define, or restrict, marriage on the basis of sex, gender, sexual orientation, or gender identity or expression."
The SOGIE Equality Bill is an attack on religious freedom.
Bulacan representative Eddie Villanueva, who also happens to be the founder of the Jesus Is Lord Church, said on August 28 that the SOGIE Equality Bill "imperils freedoms of speech and religion." He added: "What happens to a Christian like me and to the majority of people in this august chamber if we are to be threatened with punishment every time we share our Bible-based beliefs on matters of transgenders and homosexuals?"
While the use (or misuse) of the Bible to condemn sexuality is another discussion, Roman's version of the proposed bill clearly makes an exception: "Engaging in public speech, except religious speech (remarks and comments made in the context of a religious service, ceremony, and activity), meant to shame, insult, vilify, or which tends to incite or normalize the comission of discriminatory practices against LGBTQs, and which acts or practices in turn, intimidate them or result in the loss of their self-esteem."
ADVERTISEMENT - CONTINUE READING BELOW
While you can use "Jesus' words" to hate on LGBTQ+s inside the church, you just can't do that outside. On the flip side, the Philippine constitution says that: "No law shall be made respecting an establishment of religion, or prohibiting the free exercise thereof."
The SOGIE Equality Bill allows a change of gender-markers in the birth certificate.
Another "fake news" that's making its rounds online is from the unofficial Facebook page "Bongbong Marcos-Sara Duterte 2022," which made a false claim in a post on August 30: "Di mo pwedeng ilagay sa birth certificate ng kapapanganak ng bata ang sex nito until he/she [reaches] the age of 12." This has been shared more than 17,000 times. Maybe it's time to actually read the SOGIE Equality Bill and find out if there's any reference to gender-markers in the birth certificate. (Hint: There is none.)
Unlike sexual orientation, gender identity, and gender expression, the sex—classification of a person as male or female—of an infant is assigned at birth based on the appearance of their external anatomy. This is the one found in our birth certificates—and never mentioned in any revision of the proposed SOGIE Equality Bill.
ADVERTISEMENT - CONTINUE READING BELOW
The SOGIE Equality Bill gives LGBTQ+ people a free pass to bully "straight" people.
In case it wasn't clear the first time: Everyone has SOGIE.
The SOGIE Equality Bill is not a national issue that needs to be prioritized.
The 18th Congress of the Philippines has 24 senators in the Upper House and 297 represenatives in the Lower House. They are divided into committees, including Agrarian Reform, Economic Affairs, Finance, Foreign Relations, Local Government, Tourism, and Public Order and Dangerous Drugs. And yes, we do have a Senate Committee and a House of Representatives Committee on Women and Gender Equality. It's safe to say that there are more than enough resources to tackle a bill that's about basic rights and equality. 
The SOGIE Equality Bill would make more people gay.
Giving them equal rights doesn't make them lesbians, gays, bisexuals, transgender people, non-binaries, or queers. Unless they already are.
Share this story with your friends!
---
Help us make Spot.ph better!
Take the short survey
More Videos You Can Watch
Load More Stories