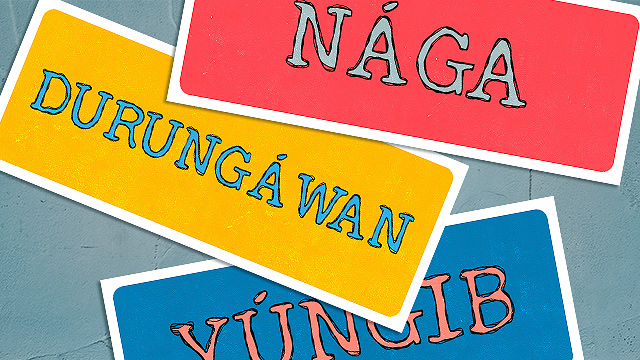 (SPOT.ph) The Filipino language has developed an interesting vocabulary with words derived from our colonizers' languages (Spanish, American, and Japanese), adopted from our Southeast Asian neighbors, or evolved from our Malay lineage. But foreign influence has had such an effect on us that we know more about our loanwords than local terms, which are actually much more poetic. 
ADVERTISEMENT - CONTINUE READING BELOW
Also read:
10 Filipino Words That Just Can't Be Translated Properly
10 Filipino Words That Don't Always Mean What You Think They Mean
15 Filipino Words for Different Emotions
Keep these beautiful Filipino words handy for your next convos: 

Durungáwan 
What you probably use: Bintanà 
"Bintanà" is a Filipino word from the Spanish "ventana," but you can also use the more poetic "durungáwan" that seems like something from the days of kundiman and harana. An archaic Tagalog term, durungáwan comes from the root word "dúngaw" (noun) with the affixes "du-" and "-an." A Filipino synonym is "dungawán." 
Payyó 
What you probably use: Hagdan-hagdang palayan 
Officially cited as the Rice Terraces of the Philippine Cordilleras on the list of UNESCO's World Heritage Sites, the stair-like rice fields carved into the mountainside are commonly called "hagdan-hagdang palayan," especially in elementary history books. The agricultural wonder, however, has a Filipino name called "payyó" (or "payáw," "páyew"), which has origins from the Ifugao language—spoken by the people of the Cordilleras—and it doesn't get more authentic than that. 

ADVERTISEMENT - CONTINUE READING BELOW
Yúngib
What you probably use: Kuwéba
"Yúngib" brings an old-school radio-drama vibe, but this Filipino word for cave is as local as it gets, so much so that it's tagged as Sinaunang Tagalog in the Filipino dictionary. "Kuwéba," on the other hand, is a derivative of the Spanish word "cueva." 
Hapág 
What you probably use: Lamésa 
"Lamésa" or "mésa" are words we often use for "table." Like many Filipino words, "mésa" has Spanish roots. But you can also use the Tagalog word "hapág," which has two syllables anyway. There's the more specific "hapágkainan" to refer to your dining table; or "dúlang," which has Bikol, Ilokao, Ivatan, Kapampangan, Pangasinan, Tagalog, and Tausug origins, to refer to a lowered table. 

ADVERTISEMENT - CONTINUE READING BELOW
Gadyâ 
What you probably use: Elepánte 
When referring to the huge mammal with a snout, we use the local word "elepánte"—"elefánte" in Spanish and "elephant" in English. But there's also the Filipino term "gadyâ," which is used by the Ilokano, Kapampangan, and Tagalog. 
Malmág 
What you probably use: Tarsier 
What is the Filipino word for "tarsier"? You probably use "tarsier," too, not realizing that we have a local word for it. (Don't worry, we didn't know either until we wrote this article.) The small, nocturnal primates with big eyes are called "malmág."

ADVERTISEMENT - CONTINUE READING BELOW
Bánoy 
What you probably use: Ágila
"Ágilá," a Filipino word for "eagle," comes from the Spanish word "águila." But if you want to use a more local term, there's "bánoy." which is an archaic Tagalog word for the majestic birds from the genus Haliaeetus.
Dalúyong 
What you probably use: Storm surge 
When Typhoon Yolanda hit the Philippines in 2013, it didn't only bring strong winds and heavy rainfall. Storm surges in the Visayas region claimed more than 6,000 lives and wiped out towns and provinces in Leyte and Samar. We heard it in the news as "storm surge", and not as the local term "dalúyong," more specifically "dalúyong bagyó." The Filipino dictionary defines "dalúyong" as big waves caused by strong winds, earthquakes, or other forces of nature. 

ADVERTISEMENT - CONTINUE READING BELOW
Nága 
What you probably use: Narra 
The narra is known for its height that can reach up to 100 feet, thick foliage, and thick trunks. It's widely distributed in Borneo, Myanmar, New Guinea, and the Malay Peninsula. And while it's regarded as the Philippines' national tree, "narra" as it turns out is a borrowed word from the Spanish language. The Filipino word for it is "nága," which comes from the Bikol, Sebwano, and Tagalog languages. 
Buláwan 
What you probably use: Gintô 
We've been saying, reading, and hearing the word "gintô" these past few days especially after Hidilyn Diaz's big win at the Tokyo Summer Olympics. "Gintô'' has Chinese origins, owing to our trade practices with other Asian countries from centuries ago. A more beautiful-sounding Filipino word for "gold" is "buláwan," which comes from a number of Philippine languages like Bikol, Hiligaynon, Sebwano, and Tagalog. Interestingly, the root word of "buláwan" is "búlaw," which refers to yellow—a color close to gold. 
ADVERTISEMENT - CONTINUE READING BELOW
Hey, Spotters! Check us out on Viber to join our Community and subscribe to our Chatbot.
Share this story with your friends!
---
Help us make Spot.ph better!
Take the short survey
More Videos You Can Watch
Load More Stories