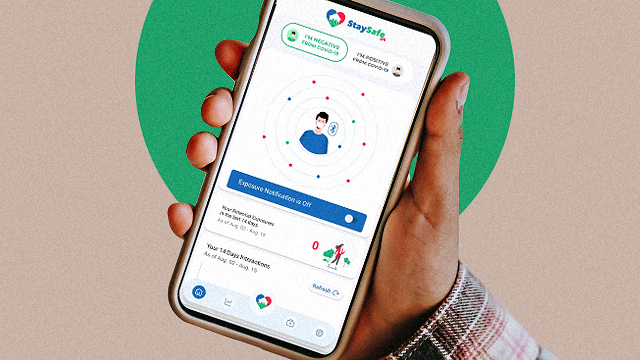 (SPOT.ph) One of the measures to finally end the pandemic once and for all is through effective contact-tracing measures. Some establishments use the good ol' paper-and-pen and ask customers to manually sign up their names before they enter. Other local government units have their own contact-tracing apps that residents need to download on their phones. There are other cities that distribute QR codes through keychains to help those without the capacity to download their own. At this point, you probably have at least three QR codes in your gallery—one for your city of residence, one for your place of work, and another for another city that you frequent.
ADVERTISEMENT - CONTINUE READING BELOW
Also read:
Everything You Need to Know About S-PaSS
Everything You Need to Know About SafePass
StaySafe app is ideally the contact-tracing program that would eliminate the redundancy of having too many contact-tracing apps on your phone—at least, until its use is strictly and fully implemented nationwide.
StaySafe App Versus Other Contract-Tracing Apps
StaySafe.ph was developed by Multisys Technologies Corporation together with the Department of Information and Communications Technology. It was first rolled out on April 22, 2020 as the country's "official social-distancing, health-condition reporting, and contract-tracing system that will assist in the government's response to COVID-19," according to Inter-Agency Task Force Resolution No. 27. "We want all the Filipinos to use it, so we will have a uniform application," said Presidential Spokesperson Harry Roque during the app's official launch on September 3, 2020.
It was officially turned over to the Department of the Interior and Local Government on March 29 in an effort to boost the country's contact-tracing program. "Instead of using other apps, it is imperative for local government units (LGUs) to use the StaySafe app for a unified system that will allow seamless, fast, and efficient contact tracing efforts," Department of the Interior and Local Government (DILG) Officer-In-Charge Bernardo Florece Jr. said during the signing of the Memorandum of Agreement. DILG Secretary Eduardo M. Año on April 23 described it as "a work in progress, but seriously, we are now focusing our attention on it and we will make this work."
More than a year since the app was released, Quezon City is still using their KyusiPass; while Taguig City has their TRACE (Taguig Registry for Access and Citizen Engagement). Other LGUs, like Pasig City (PasigPass), Valenzuela City (ValTrace), Antipolo City (Antipolo Bantay COVID-19), Mandaluyong City (MandaTrack), and Taytay (Taytay Rizal), entered into a Contact Tracing Network Consortium Agreement that integrates their QR codes and local database. Residents from Pasig City, for example, can flash their PasigPass QR code for scanning when entering a mall in Mandaluyong City. Other provinces require the use of SafePass for incoming travelers. Airports, on the other hand, are using Traze.
A memorandum released by the DILG on July 6 requires all cities and municipalities "without any existing contact-tracing applications to adopt and use the StaySafe.ph application." Those with their own contact-tracing application, on the other hand, are "directed to integrate their existing system" with the Centralized COVID-19 Contact Tracing Application Services to ensure interoperability.
ADVERTISEMENT - CONTINUE READING BELOW
"If the LGU has already procured its own system and it's being used widely, they can continue with it provided they integrate it with the Stay Safe application which is required under IATF Regulations," DILG Undersecretary and Spokesperson Jonathan Malaya said on March 19. They are asking LGUS to stop developing their own systems, and use the StaySafe app instead.
If you still don't have your StaySafe.ph registration, here's where to get started.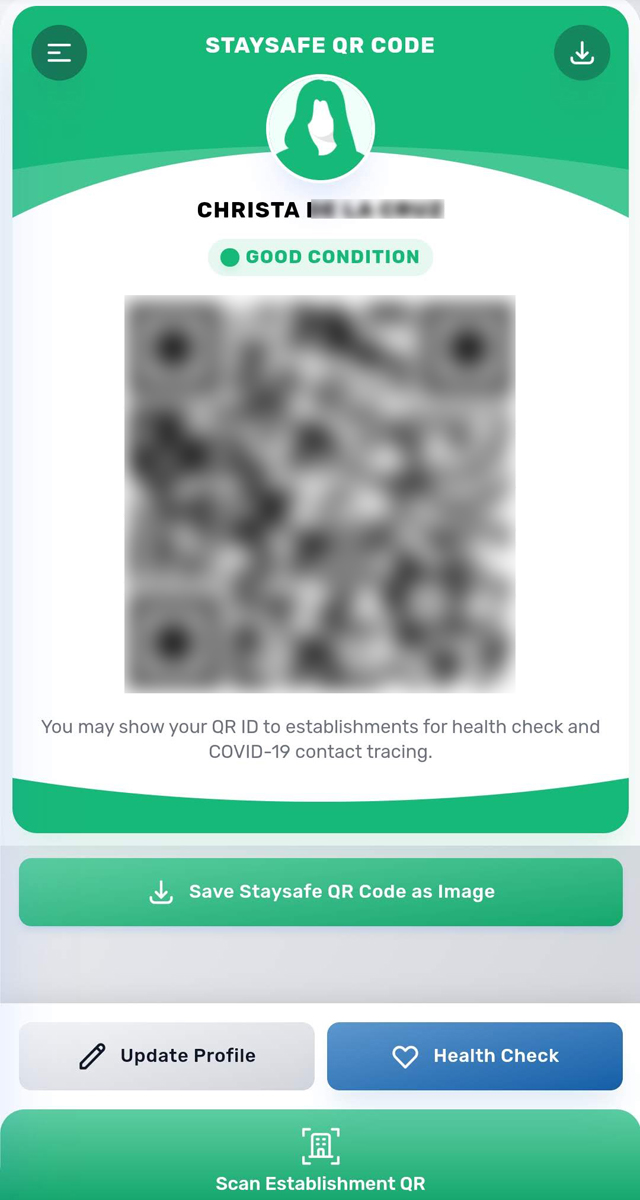 ADVERTISEMENT - CONTINUE READING BELOW
How to Register With StaySafe App
StaySafe.ph is available on Google Play and App Store. You can also register your profile and download your personal QR code through any Internet browser on your laptop or your phone.
To register, key in your mobile number and wait for the one-time pin (OTP) through SMS. This will be entered on the app for verification purposes.
You can then type in your chosen password and a code name.
Your profile page requires the following information: first name, last name, birth date, and gender. Other data, like e-mail address, address, company name, and photo, are optional.
Once you have an entry created in their "Digital Logbook," you need to fill out a Health Checklist.
After registration, you'll get your personal StaySafe QR code, which you'll need to scan in establishments that use the StaySafe app.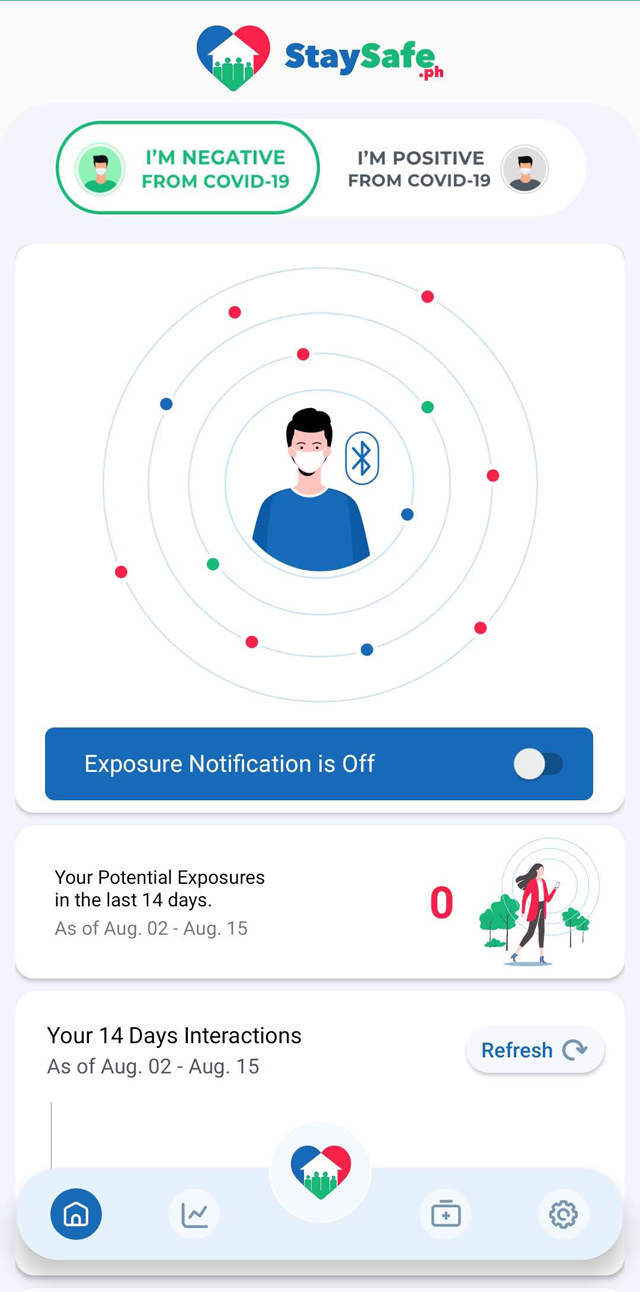 ADVERTISEMENT - CONTINUE READING BELOW
How to Use the StaySafe App
The StaySafe app on your phone uses the Google/Apple Exposure Notification system, which facilitates digital contact tracing. It was introduced by Apple Inc. and Google in April 2020 in all Android and iOS smartphones, and was integrated in the StaySafe app in April this year.
With this technology, your phone can detect through Bluetooth and alert you if there are users near you who are COVID-19 positive. This, of course, works with the assumption that those who tested positive with COVID-19 actually tap on the "I'm Positive from COVID-19" button to mark their status, turn on their phone's Bluetooth, and enable the Exposure Notification feature. Individuals who turn out to be positive are also encouraged to enter their case number and update their Health Check page for monitoring purposes
As for privacy, Apple Inc. and Google guarantee that no personally identifiable information can be obtained through the Google/Apple Exposure Notification (GAEN) system. The system also changes your phone's ID every 10 to 20 minutes to prevent any breach in privacy protocol. Aside from the interactive GAEN feature, the app's landing also shows the number of potential exposures in the last two weeks and details which day you may have been exposed to a COVID-19 patient.
ADVERTISEMENT - CONTINUE READING BELOW
The second tab on the StaySafe app indicates COVID-19 updates and statistics, such as total number of confirmed cases, recovered cases, and deaths; while the third tab shows easy-to-understand reminders in preventing COVID-19: avoid close contact, wash your hands often, and wear a face mask. There's also a list of symptoms to watch for.
The main icon, which is the StaySafe.ph logo, automatically opens your phone's Internet browser and shows you your StaySafe QR code. You can download this as an image in case you don't have mobile data or WiFi when heading out. It also has a built-in scanner for when you need to scan an establishment's QR code, but this works only when you're online.
Where to Use the StaySafe App
In an effort to boost contact tracing through the centralized StaySafe app, the Department of Trade and Industry, Department of Tourism, Department of Labor and Employment, Department of Health, and the DILG signed a Joint Memorandum Circular on the Safety Seal Certification Program on April 23. This voluntary certification scheme ensures that establishments, including but not limited to government offices, hotels, resorts, restaurants, supermarkets, convenience stores, banks, and malls, are in compliance with the minimum public health standards. It also guarantees that the establishment bearing the Safety Seal uses the StaySafe app.
ADVERTISEMENT - CONTINUE READING BELOW
Intramuros, for example, use the StaySafe app when they reopened to the public in February. Likewise, the National Museum of the Philippines, National Library of the Philippines, and Manila Cathedral are also all implementing the use of the app. 
On June 17, the Land Transportation Franchising and Regulatory Board issued a memorandum that requires the mandatory use of the StaySafe app in all public utility vehicles, effective June 21. They're required to create their own QR code, which would be "conspicuously displayed" at the entrance door and inside the vehicle. The circular also requires all passengers to scan the QR code when boarding.
According to Malaya in March, the DILG aims to reach at least 50 million users and connect all 1,634 city and municipal LGUs across the country. It's currently being used by some 15 million individual users and 700 LGUs.
Hey, Spotters! Check us out on Viber to join our Community and subscribe to our Chatbot.
ADVERTISEMENT - CONTINUE READING BELOW
Share this story with your friends!
---
Help us make Spot.ph better!
Take the short survey
More Videos You Can Watch
Load More Stories