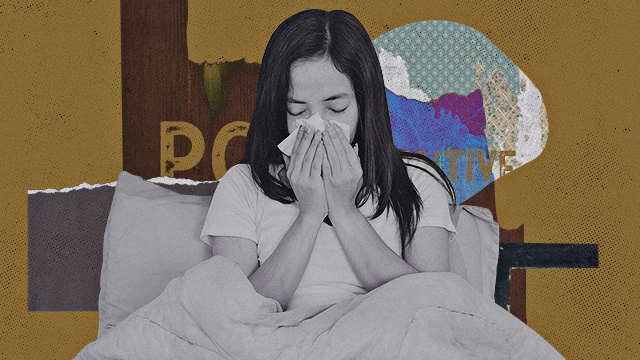 (SPOT.ph) Raise your hand if you left your office desks in March 2020, thinking that everything will back to normal after two weeks—a month, at most. Well, we're almost two years into the COVID-19 pandemic and the number of daily cases is higher than ever. The Philippines logged a record-breaking 37,207 new cases on January 14. This may even be way less than the actual numbers of COVID-19 cases as the Department of Health pointed out on January 10.
ADVERTISEMENT - CONTINUE READING BELOW
The daily tally doesn't include rapid antigen tests either, as clarified by the health agency in September 2021. It isn't unheard of for symptomatic individuals to simply assume they're infected if another household member tests positive. COVID-19 tests can be expensive, after all. Octa research also reported on January 13 that the National Capital Region's positivity rate climbed to 56%, which is way above the World Health Organization's threshold of 5%.
It's highly likely that out of two people you talked to within a day in the last week, one is COVID-positive. It's also highly likely that as you are reading this, you or someone close to you is COVID-positive. And if like us, you weren't able to escape the wrath of SARS-CoV-2 post-holidays, then you may relate to this. 
Also read:
What It's Really Like to Stay in an LGU Quarantine Facility
What It's Like to Spend 14 Days in Quarantine for COVID-19
Is it flu or is it COVID-19?
It's easy to be in denial when the first symptoms of COVID-19 appear. Got an itchy throat? That may just be because you ate half a container of sweet cake and washed it down with a bottle of cold soda. Runny nose? It may just be your allergies acting up. Maybe or maybe not.
COVID-19 symptoms, especially if you're fully vaccinated, are a lot like your usual cough and cold—the kind that you just brush off and wait to disappear by themselves. And sure, you may be fine after just a couple of days but what if you had SARS-CoV-2 and you're unwittingly spreading the virus?
The Department of Health (DOH) reiterated the need for self-isolation as soon as you have COVID-19 symptoms. "Basta may sintomas, isolate na tayo. Kahit hindi pa natin hawak ang resulta ng test, isipin natin pwedeng COVID-19 'yan," Undersecretary Rosette Vergeire said on January 9.
ADVERTISEMENT - CONTINUE READING BELOW
Also read: Nose Swabs, PCRs + What Exactly Happens During a COVID-19 Test
I have symptoms, should I get tested?
It's optional, at least according to DOH.
Based on the health agency's testing protocol as of January 14, testing is optional if you're either asymptomatic or experiencing only mild symptoms. So it looks like we'll be seeing a significant drop in daily tally of COVID-19 cases next week. Based on their media briefing on January 12, DOH's rationale is that during "wide-scale community transmission, contact tracing is not a priority intervention," so testing won't be of much help. Testing is supposedly only required among health care workers, senior citizens, and persons with comorbidity.
But for peace of mind, it helps to get tested so you may also do your own contact tracing among your possibly positive but asymptomatic close contacts.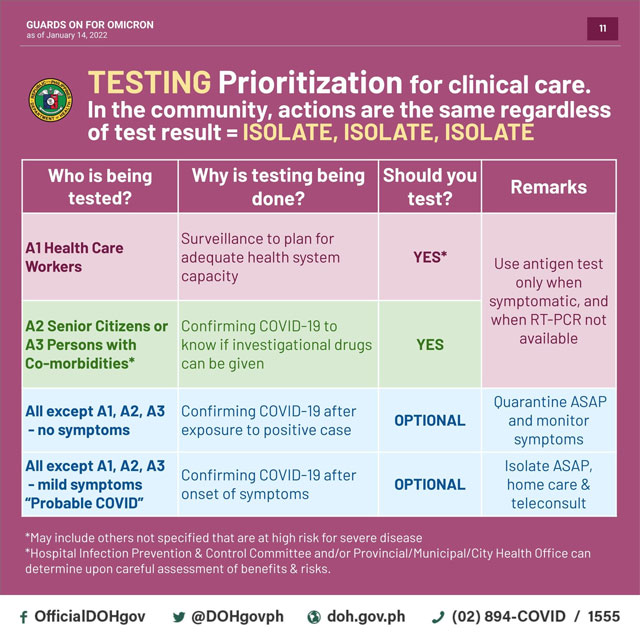 ADVERTISEMENT - CONTINUE READING BELOW
This announcement is a lot different from the same agency's protocols declared on January 7, in which they said that both symptomatic patients and close contcts of confirmed cases should undergone testing. Antigen tests, they added, "work best on symptomatic patients." If you test positive, then you're likely positive and should isolate immediately. If you test negative, but you have one or two symptoms, it's best to take an RT-PCR test for confirmation. If you've been exposed to a COVID-19 patient and you test negative, you still need to go on quarantine and get tested using an RT-PCR on the fifth day. 
The DOH has also emphasized time and again that RT-PCR testing remains to be the gold standard for confirming the presence of SARS-CoV-2. For those with mild symptoms, an RT-PCR test shall be done immediately. For close contacts of confirmed COVID-19 cases, testing shall be done five to seven days from exposure. 
ADVERTISEMENT - CONTINUE READING BELOW
You may try your luck with free testing provided by your local government unit or barangay (through Barangay Health Emergency Response Teams). Some local health centers even provide free home service for symptomatic individuals and close contacts of confirmed cases. But given the recent surge in cases, lines may be long and the turnaround of results may vary. 
Where to get a free COVID test:
Manila - Book a slot at the Manila Grandstand through 0960-822-9384, 0977-729-7572, 0915-065-6335, 0961-628-1414, 0961-062-7013, 0995-496-6176, and 0968-438-9304.
Pasig - Call the Pasig City Emergency Hotline at (02) 8643-0000.
Marikina - Book an appointment at the Marikina Hotel through 161, 0965-536-9954, and 0925-686-6466.
Muntinlupa - Call 0977-240-5218.
Quezon City - Contact 8703-2759, 8703-4389, 0916-122-8628, 0908-639-8086, and 0931-095-7737.
Taguig - Register through TRACE.
Vice President Leni Robredo's Swab Cab - Follow the OVP Facebook page for updates.
Chinese General Hospital - Log on to portal.cghmc.com.ph.
Research Institute for Tropical Medicine - Register through apps.ritm.gov.ph/appointment .
ADVERTISEMENT - CONTINUE READING BELOW
Where to get a COVID test for less than P3,000:
Philippine Red Cross branch nearest you through Dashlabs - P2,800 for RT-PCR (swab), P1,500 for RT-PCR (saliva)
Philippine General Hospital through opswab.uppgh@up.edu.ph - P2,000
Philippine Children's Medical Center - P1,600 
Also read:
Here's Where You Can Get Free or Affordable RT-PCR Tests in Metro Manila
10 Home-Service COVID-19 Tests You Can Get in Metro Manila 
I tested positive, what should I do?
Inform your "close contacts." We may have a lot of QR codes and contact-tracing apps, but contact tracing in the country still needs improvement. DOH Secretary Francisco Duque III even admitted in August 2021 that the StaySafe App has had "almost no impact" on the Philippines' contact-tracing efforts. So it's really up to you to let your families and friends know. 
According to Harvard Health, the time from exposure to symptom onset (a.k.a incubation period) was initially from two to 14 days. But recent variants, such as Delta and Omicron, appear to have a shorter incubation period—from three to four days. People are most infectious early  on, which can be one or two days before the onset of symptoms and two to three days after. This means that you have to notify people you've been with one or two days before your symptoms showed up. 
ADVERTISEMENT - CONTINUE READING BELOW
Based on DOH's definitions, close contacts are those that a COVID-positive person interacted with within one meter for more than 15 minutes, had direct physical interaction with a probable or confirmed COVID-19 case, and had interaction with a person with COVID-19 without wearing protective equipment. 
Notify your Barangay Health Emergency Response Team (BHERT), if you haven't yet. The local health center assesses if you need to go to a quarantine facility or if you can stay home. They also give you your certificate of completion after your quarantine, which is often needed for companies that require a "fit to work" clearance.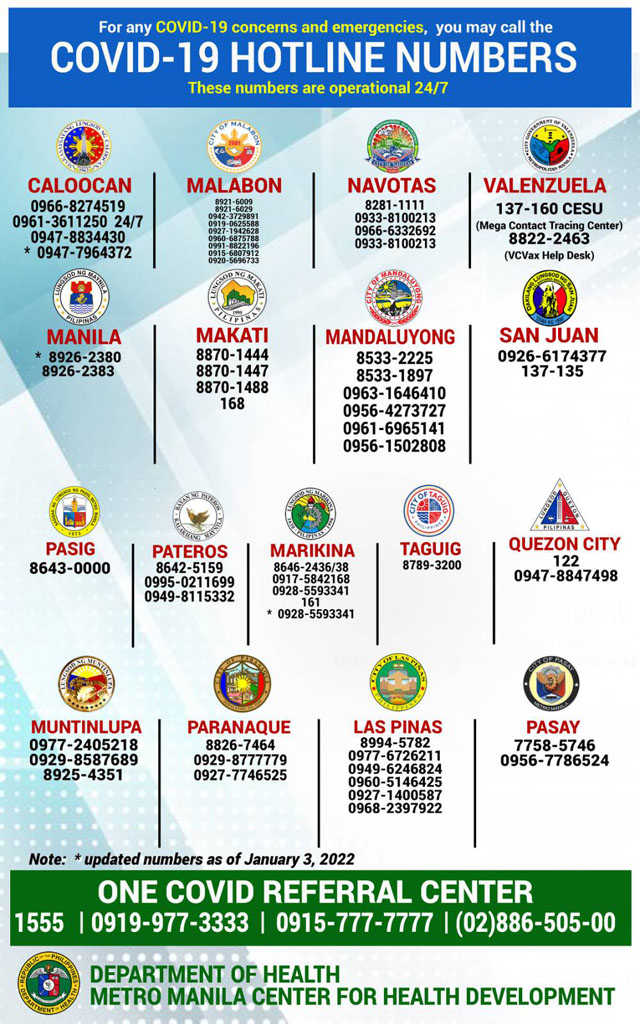 ADVERTISEMENT - CONTINUE READING BELOW
How long should I stay in isolation or in quarantine?
DOH has different definitions for isolation and quarantine. Isolation is "for people who have been infected and tested positive for COVID-19, with symptoms or none, both fully vaccinated and unvaccinated." Quarantine, on the other hand, refers to those "who have been exposed and can possibly develop an infection." People who become close contacts with confirmed cases of COVID-19 should also quarantine.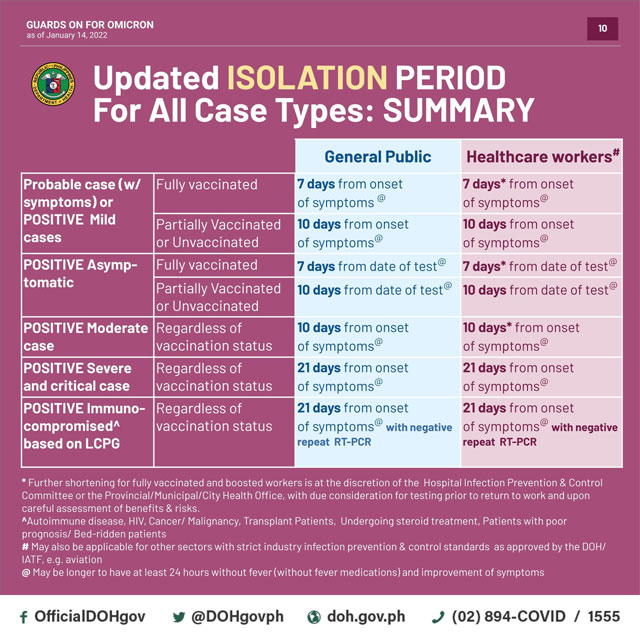 ADVERTISEMENT - CONTINUE READING BELOW
According to DOH protocols as of January 14, fully vaccinated patients with no symptoms or mild symptoms should stay in isolation for seven days. For symptomatic patients, count starts on the day you first experienced symptoms like sore throat, fever. etc. For asymptomatic cases, the count starts on the date of test. Partially or unvaccinated patients, on the other hand, have longer isolation period of 10 days.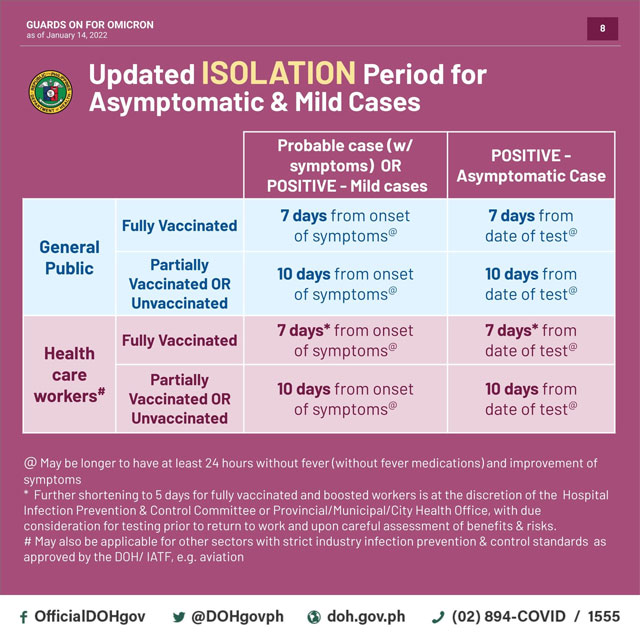 ADVERTISEMENT - CONTINUE READING BELOW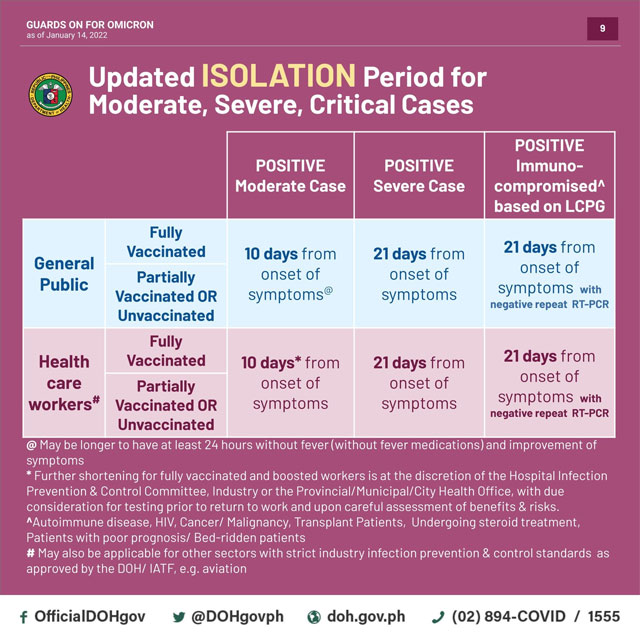 Those with severe and critical symptoms as well as immunocompromised should stay in isolation for 21 days. Close contacts who are fully vaccinated should stay in quarantine for five  days since exposure; while unvaccinated close contacts should stay in quarantine for 14 days. 
ADVERTISEMENT - CONTINUE READING BELOW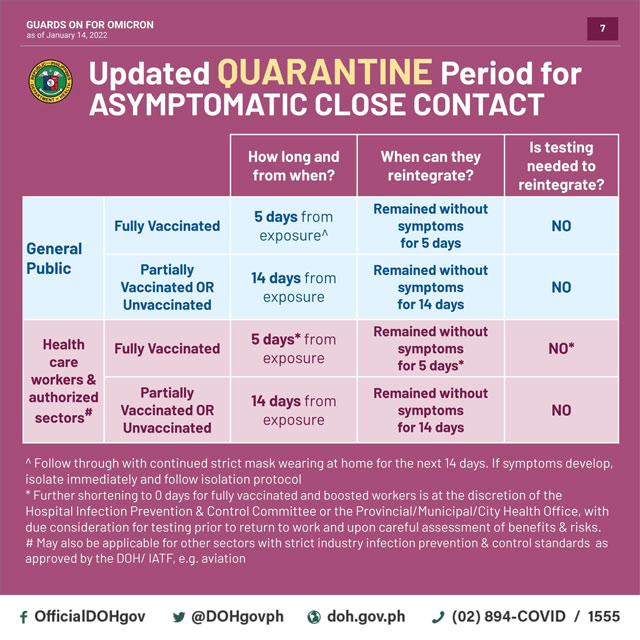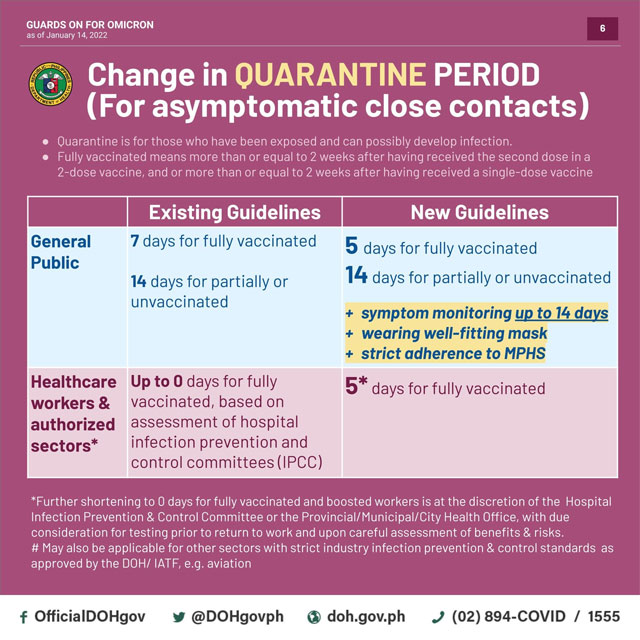 ADVERTISEMENT - CONTINUE READING BELOW
Taken from this writer's own experience, our BHERT in Barangay Plainview, Mandaluyong initially said we only need seven days in isolation with Day One as the day we were swabbed. This was of course a few days before DOH changed the protocols on January 7, which was again changed on January 12 (and again on January 14. The local health center later extended our isolation to 14 days as we were still experiencing mild symptoms on the seventh day and 10th day. On the other hand, our company doctor right from the start advised us to stay in isolation for 14 days, counting Day Zero as the first day we experienced symptoms.
According to Johns Hopkins Medicine, it is generally safe to resume contact with other people after you have had one day without fever, it has been at least 10 days since you first experienced symptoms, and your symptoms are improving. Since protocols always change, it may be best to stay home for at least two weeks just to be sure.
ADVERTISEMENT - CONTINUE READING BELOW
The health agency also released a department circular on January 6 outlining the guidelines for home quarantine and isolation. Only COVID-19 cases with zero, mild, or moderate symptoms can stay home to finish their isolation period. Minimum infrastructure requirements should also be met; otherwise, the individual needs to be brought to a quarantine facility. 
DOH's conditions for home isolation:
You have a well-ventilated room, preferably separate from other members of the household.
You should have an accessible bathroom in the residence. If multiple bathrooms are available, one bathroom is designated for use by the patient.
There's a line for communication with family and health workers
You have utilities such as electricity, potable water, cooking source, etc.
Solid waste and sewage disposal are present.
There are no vulnerable persons (e.g. immunocompromised, elderly) in the household.
There's a fully vaccinated and non-immunocompromised primary caregiver in the residence.
You have a digital thermometer, pulse oximeter, medicines to manage symptoms, hygiene products (face masks, tissue, etc.), and other cleaning products at home. 
ADVERTISEMENT - CONTINUE READING BELOW
What should I do in isolation? 
Set a teleconsultation appointment, if you haven't yet. Most HMOs have accredited health care providers that you may call or contact through messaging services like Facebook or Viber. If you're privately employed, you may get in touch with your company nurse or human resources department to assist you in booking an appointment. 
Where to avail of teleconsultation services for mild COVID cases:
Bayanihan E-Konsulta - Free, Facebook Messenger
KonsultaMD - P499 (annual subscription), KonsultaMD mobile app
AIDE - Rates vary, AIDE mobile app
Also read: 10 Online Medical-Consultation Services You Can Use From Home
PhilHealth also announced in August 2021 that COVID-19 patients are covered by the COVID-19 Home Isolation Package, which has a corresponding reimbursement rate of P5,917.00 per claim. According to the PhilHealth circular, it is the BHERT's responsibility to assess if you pass the "social and clinical criteria" to avail of the COVID-19 Home Isolation Package (CHIBP) and assist you in getting in touch with PhilHealth's accredited package providers. This package includes a minimum of 10-day consultations with a physician (both physical and virtual) and 24/7 daily monitoring of clinical and supportive care by a nurse through teleconsultation. It also provides a home isolation kit, which contains alcohol, face masks, thermometer, oximeter, medicine, and vitamins. 
ADVERTISEMENT - CONTINUE READING BELOW
Monitor your symptoms. You can make your own monitoring spreadsheet where you can log your temperature, SpO2 levels, and symptoms (cough, chills, fatigue, body pain, headache, loss of taste or smell, sore throat, congestion or runny nose, diarrhea, and nausea or vomiting). BHERTs sometimes require that you send a copy to their office, too.
If you're able to set an appointment through Bayanihan E-Konsulta, the Office of the Vice President also sends out a COVID Care Package Kit, which includes a printout of the monitoring sheet, thermometer, oximeter, basic medicine, face mask, and other things you need during your self-isolation. 
Drink your medicine. You can follow your doctor's prescription or take note of the list of medicines for symptomatic relief according to the DOH. 
Medicine for COVID-19 symptoms according to the DOH:
Fever or chills - Antipyretic (e.g. Paracetamol)
Muscle or body aches, headache - Analgesics or pain reliever (e.g. Paracetamol or Ibuprofen)
Dry cough - Antitussive or cough suppressants (e.g. Dextromethorphan, Butamirate citrate, Levodropropizine)
Productive cough - Expectorant (e.g. Guaifenesin, Lagundi) or mucolytic (e.g. N-acetylcysteine, Carbocisteine)
Nasal itching, sneezing, and itchy throat - Antihistamines (e.g. first-generation antihistamines such as Chlorpheniramine maleate; second-generation antihistamines such as Cetirizine, Loratadine)
Congested or runny nose - Saline nasal spray or decongestants (e.g. Drugs containing Phenylephrine, Phenylpropanolamine)
Sore throat - Throat lozenges or gargle and mouthwash (e.g. Hexetidine, Povidone-Iodine gargle)
Nausea or vomiting - Antiemetics (e.g. Bismuth subsalicylate, Metoclopramide)
Diarrhea - Oral rehydration salts or anti-diarrheals (e.g. Loperamide)
ADVERTISEMENT - CONTINUE READING BELOW
Boost your immune system. Doctors prescribe taking Vitamin C with Zinc for a whole month. Plus points if you're already doing this pre-COVID. Hydrate, hydrate, hydrate. Drink lots of water and eat your fruits and vegetables.
Since COVID-19 mostly affects the respiratory system, John Hopkins Medicines recommend breathing exercises to restore diaphragm function and increase lung capacity. It also helps lessen feelings of anxiety and stress, much like when you're doing yoga or meditation. 
Rest well. Most COVID-19 patients have complained of fatigue, even just by going up or down a flight of stairs. (Take it from us.) So use your sick leaves if you can and get some much-needed rest. Other companies have special two-week leaves in place for employees with COVID-19. 
Do I need to get tested again after seven or 10 or 14 days?
According to our BHERT (as is also the DOH protocol), there's no need to get tested at the end of your isolation period. 
ADVERTISEMENT - CONTINUE READING BELOW
Data suggest that patients with mild and moderate COVID-19 are infectious only within 10 days after onset of symptoms, according to the U.S. Centers for Disease Control and Prevention. Patients with severe and critical cases likely remain infectious no longer than 20 days after first experiencing symptoms.
Still, stay home if you can. But if you really need to go out after your quarantine, follow minimum health protocols like wearing your masks and maintaining physical distance while we're in the middle of yet another COVID wave.
UPDATE (January 14, 11:30 a.m.): This article has been edited to include the latest testing, isolation, and quarantine protocols by the Department of Health.
Share this story with your friends!
---
Help us make Spot.ph better!
Take the short survey
More Videos You Can Watch
Load More Stories