(SPOT.ph) Six in 10 Filipinos believe that SIM card registration can help curb text scams and other mobile phone-aided crimes in the country, a Social Weather Stations survey showed as phishing messages continue to flood subscribers' inboxes.
Some 66% of 1,500 Filipino adults surveyed from September 29 to October 2 said that registration of SIM cards would help fight crimes done through cellphones—an opinion that is "very strong" across all areas in the country and across all educational backgrounds, according to SWS.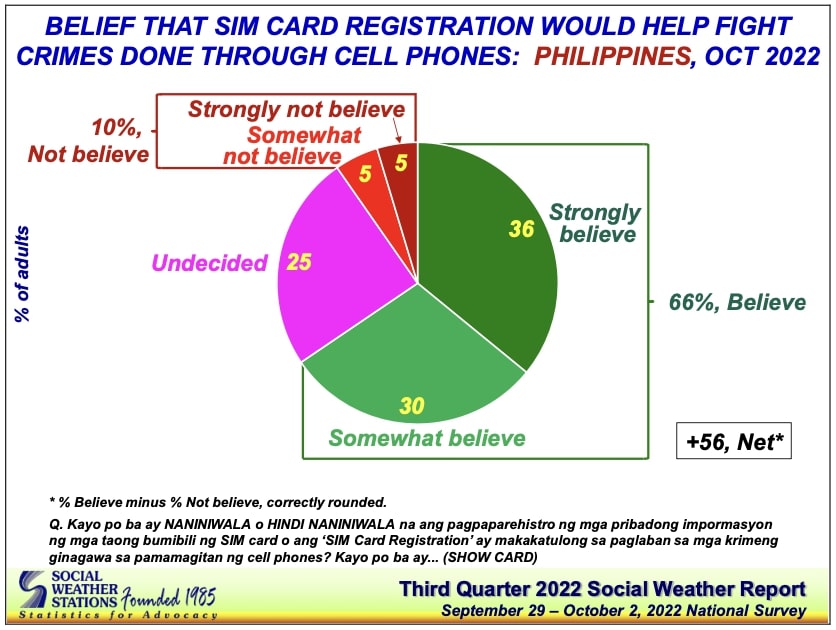 ADVERTISEMENT - CONTINUE READING BELOW
The survey period came before SIM card registration was signed into law on October 10. Even before its enactment, some 60% of the respondents had said they were in favor of the law, the SWS added.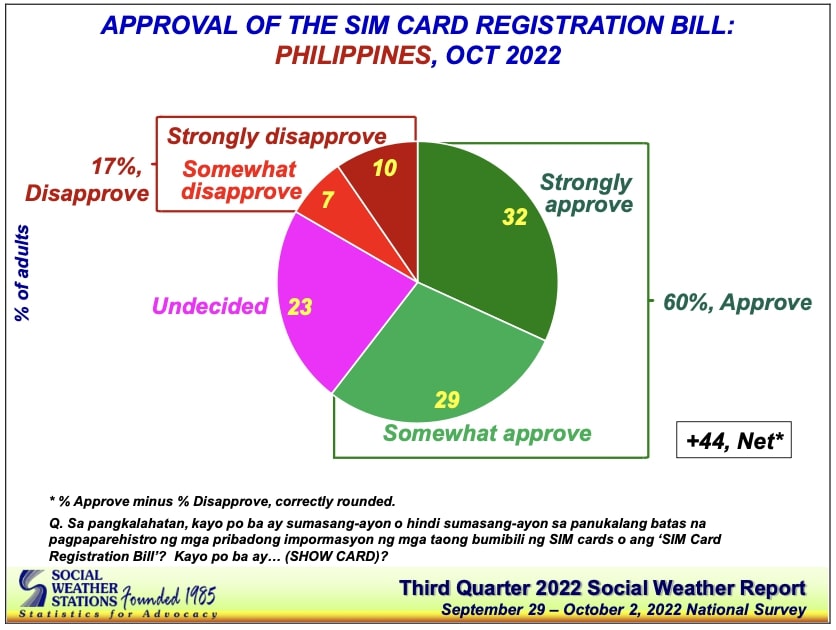 Also read:
Globe Starts Blocking Text Messages With Clickable Links
Keep Getting Sketchy Job Offers Through Text? Here's What the NTC Says to Do
Here's How to Deal With Those Annoying Spam Texts You've Been Receiving
ADVERTISEMENT - CONTINUE READING BELOW
Recommended Videos
Under the new law, all new SIM card holders are required to register with their respective telcos as a prerequisite for activation.
Existing subscribers are also required to register their SIM cards within 180 days from the effectivity of the law. Failure to do so will authorize the telco to automatically deactivate or retire the SIM number and registration.
In terms of data privacy, 48% of the respondents said that they trust SIM card sellers, including small shops and stalls, to protect the private information of the buyers.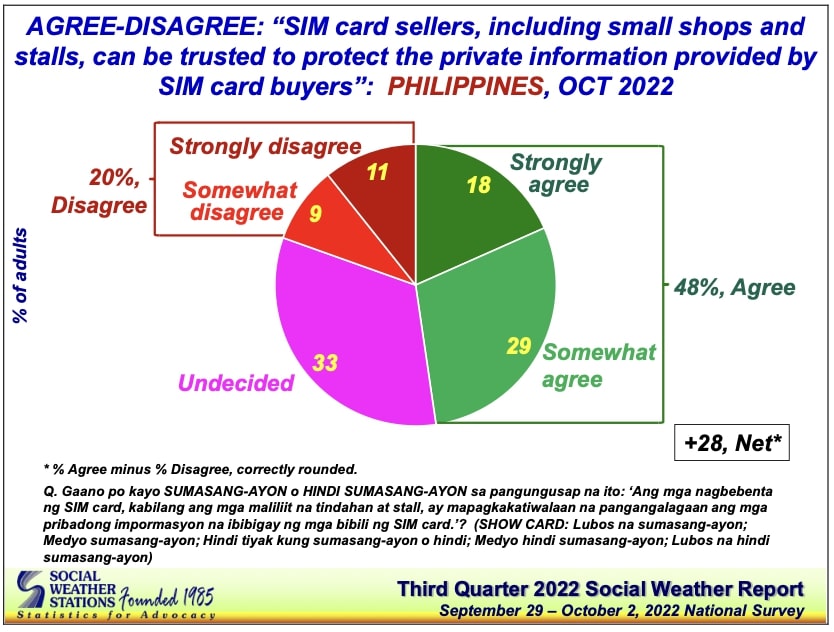 ADVERTISEMENT - CONTINUE READING BELOW
The law mandates telcos and other public telecommunications entities to secure and protect SIM card user information in their respective databases.
SIM card user information will also be kept with absolute confidentiality, and can only be disclosed upon issuance of a subpoena by a competent authority in relation to an investigation based on a complaint that the SIM card number was used to commit a crime.
Smart and Globe, the two largest telcos in the country, said they have begun their preparations for the rollout of the SIM Card Registration Law which entails getting millions of their subscribers to register their phone numbers within six months.
"It is the paramount interest of Smart to ensure that the implementation of the SIM Registration Law will be easy and convenient for subscribers and will not deprive subscribers of their right to connectivity," said Francis Flores, SVP and Head of Consumer Business Group - Individual at Smart in a statement.
ADVERTISEMENT - CONTINUE READING BELOW
"We intend for our SIM registration process to be as seamless and painless to our customers as possible. Our goal is to stay true to the spirit of the law in carrying out its provisions, while ensuring that the conduct of SIM registration will be secure, inclusive and convenient for our customers," Globe Group President and CEO Ernest Cu also said.
Share this story with your friends!
---
Help us make Spot.ph better!
Take the short survey
Load More Stories