10 Useful Makeup Tutorials for a Polished Everyday Look
Get handy tips and practical application techniques from these helpful videos.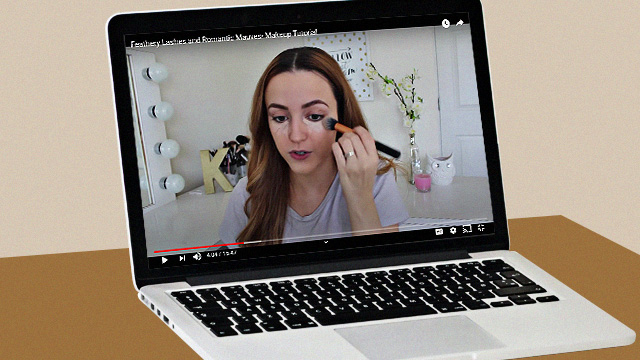 (SPOT.ph) There's no shortage of ways you can entertain yourself while you're stuck at home— from making your own cool coffee concoctions to playing online games with friends and even cutting your own bangs. Looking for another fun activity to try? Maybe it's time to brush up on your makeup skills. Don't worry if you don't have a particularly huge collection of beauty products—improving your makeup know-how is all about making the most of what you have, figuring out what looks best on your skin, and mastering some basic skills that anyone can do. Thanks to online makeup tutorials, learning how to enhance your natural features is easier than ever. Just grab your brushes and start practicing!
Brush up on your makeup skills by learning from these 10 helpful tutorials:
1, 5, 10 Minute Makeup Tutorial | Quick Everyday Looks by Aja Dang
ADVERTISEMENT - CONTINUE READING BELOW
This three-part makeup tutorial by Aja Dang is perfect for those who don't have a lot of time when getting ready in the morning. She shows three variations of a simple, wearable makeup look that you can do in either one minute, five minutes, or 10 minutes, depending on how much prep time you have left. These looks are great for low-maintenance makeup lovers who just want to look clean and simple, but still elegant and put-together in a flash.
The NEW 'Instagram Model' Makeup: Specific Technique, Little Effort! by Mariah Leonard
Get that effortless IG model look with this tutorial from Mariah Leonard. She describes the aesthetic as glossy, structured, and very blended, but still natural with elements like sharp, shiny lips and a seamless blush-bronzer-and-highlighter application. She notes that "effortless" makeup looks like this one tend to require the most precision, so watch closely as she describes each step in detail.
CONTINUE READING BELOW
Recommended Videos
Light and Fresh Makeup Look by Kristine Gaarder
Obsessed with K-Beauty's glass skin look? Try this routine from YouTuber Kristine Gaarder, which shows you how to prep your skin and do your makeup so your face looks fresh, dewy, and flawless. Plus, the easy-breezy look can be done even when you're in a rush and would flatter pretty much any skin tone!
Full Foundation and Contour Routine by Tati Westbrook
If you really want to take your glam, full face of makeup to the next level, check out this tutorial by Tati Westbrook. Watch as she takes you through each step of her routine from applying foundation to sculpting the face and highlighting its most flattering features. She gives helpful tips every step of the way to make sure you know exactly how to ace your base!
ADVERTISEMENT - CONTINUE READING BELOW
Feathery Lashes and Romantic Mauves - Makeup Tutorial by KathleenLights
Got a big date coming up? Whether you're having an intimate dinner with bae or meeting over a video call, this simple and elegant look by KathleenLights is a no-fail go-to look that's flattering and effortlessly enchanting. Learn how to achieve rosy tones, fluttery lashes, and soft skin for a look that will complement your features both under the sun or by glowing candlelight.
Trying to Do My Makeup Like the Movies... So You Can't See It by RawBeautyKristi
Ever notice how actresses always seem to look flawless and yet never appear as though they have tons of products on their faces? This experimental makeup technique by RawBeautyKristi shows the vlogger trying to imitate the way makeup looks in films. Watch as she tries to recreate that same effect by taking you on an in-depth, step-by-step guide to making your skin look its best with very minimal products. It's a perfect technique for those who prefer no-makeup makeup, especially in photos and videos!
My Everyday Natural Makeup | No Foundation by Chelsea Trevor
If you're the type who prefers to avoid wearing foundation on the daily, check out Chelsea Trevor's foundation-free everyday makeup routine. The YouTuber shows how to target and cover up specific imperfections on the face without having to cake on too many base products, so you can look on-point while wearing the bare minimum. The lightweight application is perfect for when it gets super hot in the summertime!
ADVERTISEMENT - CONTINUE READING BELOW
Flawless and Natural Glowy Skin Tutorial by Samantha Ravndahl
Just because you have problem skin, doesn't mean you can't rock a dewy look. You'll see in the beginning of this tutorial by Samantha Ravndahl that the vlogger has a visible amount of redness and texture on the skin. However, she shows that with the right technique, you can cover it up and still look fresh-faced and glowing without wearing 10 layers of foundation and concealer. She gives helpful tips the whole way through to help you make the most of your products and blend each one out effectively.
Three Looks, One Palette by Bella Fiori
You don't need to own hoards and hoards of beauty products to create a variety of makeup looks. This video by Bella Fiori shows the YouTuber doing three very distinct eyeshadow looks with just one palette. It may just inspire you to figure out how to make the most of a single palette and use what products you have on hand to create unique looks.
How to Apply Eyeshadow - Hacks, Tips, and Tricks by Brianna Fox
For eyeshadow newbies, or those who can't quite perfect their lids, this back-to-basics, step-by-step tutorial by Brianna Fox could be just what you need. Watch as she goes through each step of doing your eye makeup from primer to eyeshadow to mascara. With enough practice, her tips and tricks will help you perfect your eye look in no time. She also has a handy video on applying liquid eyeliner if you struggle with that, too!
ADVERTISEMENT - CONTINUE READING BELOW
Share this story with your friends!
---
Help us make Spot.ph better!
Take the short survey
Load More Stories