Products recommended on our websites are independently selected by our editors. If you buy something through our links, Summit Media may earn an affiliate commission at no extra cost to you.
(SPOT.ph) Viajecito's story is in its name. You've probably seen it during your weekend trips to the mall, on your sunny strolls at the beach, or most likely, while scrolling through your Instagram feed—that boxy, silicone bag with thick nylon straps in a bright, pastel hue or a muted off-white.
"We were in Spain. We were all in a car going to the beach. And my mother-in-law came in with a coral tote with a rope handle," Viajecito co-founder Pia Ugarte Garcia-Morera shares in an interview with SPOT.ph. "At that time, the trend was really rattan, natural materials. And then I saw this bag and I really liked it because it's sturdy, it's made of rubber, and [it's] colorful."
ADVERTISEMENT - CONTINUE READING BELOW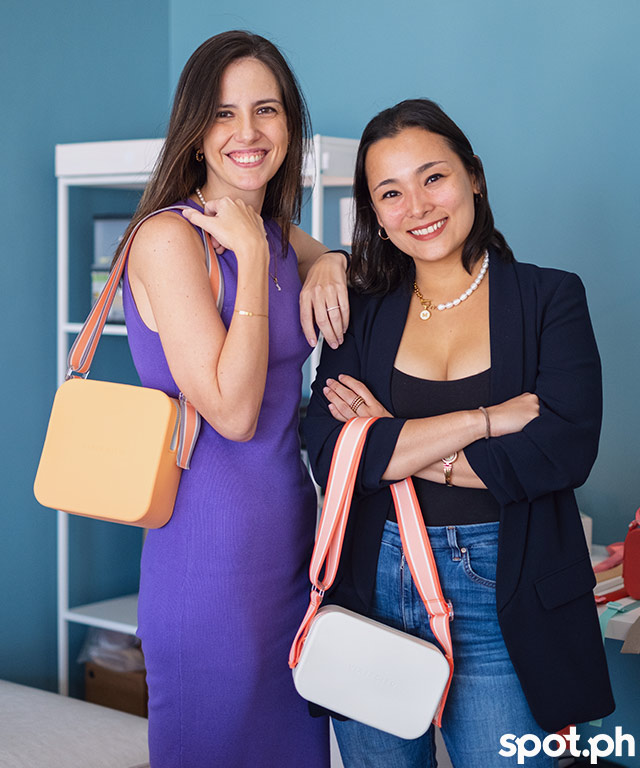 A marketing director for another company at the time, Pia saw an opportunity even if she was never really into bags in the first place. "I said, 'This needs to be in Manila. This needs to be in the Philippines. Because it's either summer or raining. It's perfect.'"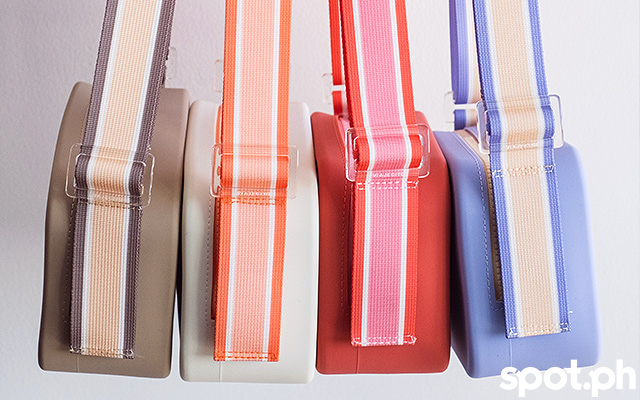 It was then that Pia asked her sister-in-law—and eventually, Viajecito co-founder and CFO—Marta Garcia-Morera to look for where the bag came from. They brought a batch back home to Manila with the help of co-founder and Head of Legal, Marla Aquino.
ADVERTISEMENT - CONTINUE READING BELOW
With their first product on hand, they started selling at bazaars in 2016. Pia then enlisted the help of her co-worker, Mika Lopez, who is now Customer Experience Executive.
Also read: Tried and Tested: 10 Fashion Finds From Shopee and Lazada That Didn't Hurt Us in the End
Designing the Viajecito Splashkit
When similar beach totes started popping up in the market, the Viajecito team knew they had to come up with something different. "In order to progress and evolve, we need to start making something that's our own. Maybe something smaller, still in the rubber silicone department because we won't use straw or ribbon," Pia shares.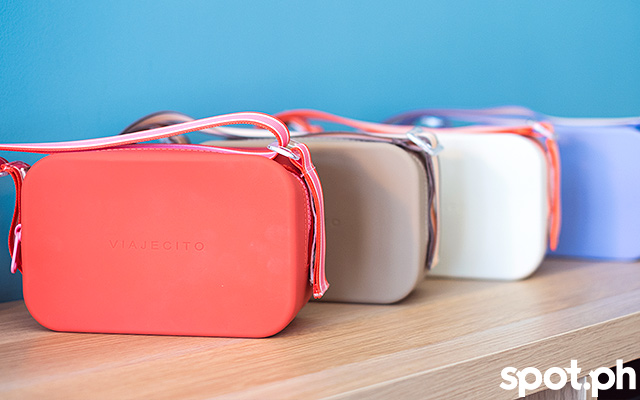 ADVERTISEMENT - CONTINUE READING BELOW
What they came up with was essentially a silicone square. It was originally meant to be a cosmetic kit but after adding buttons to the side for detachable straps (and after photoshoots poolside and under the shower), it eventually became Viajecito's hero product: the Splashkit.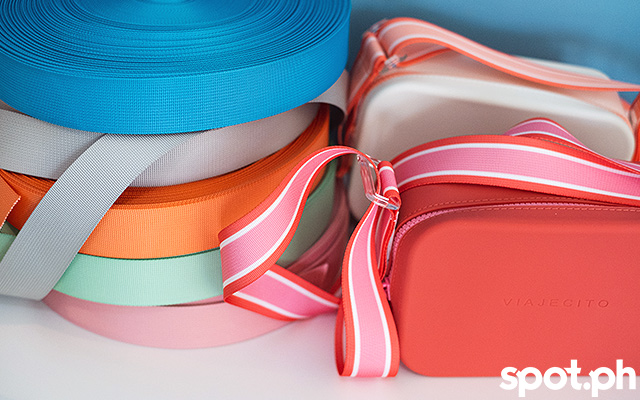 ADVERTISEMENT - CONTINUE READING BELOW
They were sewing on the buttons themselves, sourcing nylon from Divisoria, and cutting up garter to put it all together. It sold—mostly to titas they had to text directly—but they eventually refined their design to be the bestseller that it is today.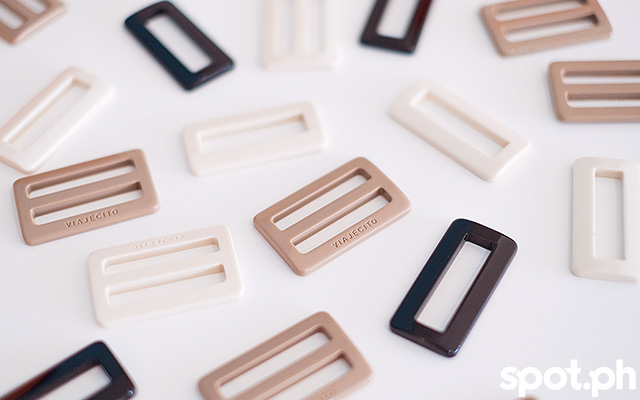 ADVERTISEMENT - CONTINUE READING BELOW
The Splashkit is now available in its classic, rectangular size and in a bigger, box-shaped XL. You can buy the bag complete with the strap in funky-named colors like Popcorn, Coconut, Terracota, and Clementine for P3,350.  You can also opt to buy the body (P2,560) and the strap (P790) separately so you can mix and match the colors as you choose. Pro tip: They also have sample sales, where they offer items with small defects at a discount.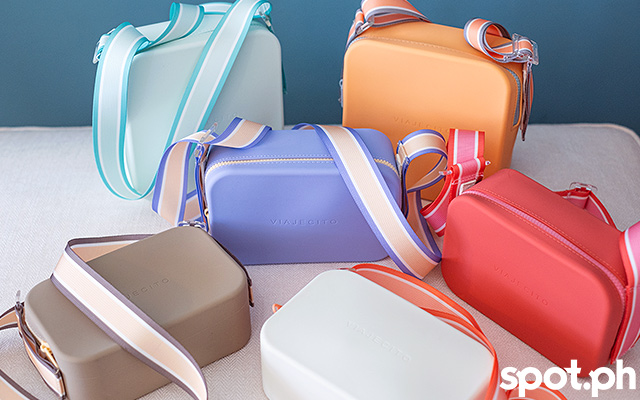 ADVERTISEMENT - CONTINUE READING BELOW
How the Viajecito brand navigated the pandemic
Viajecito started out with bazaars, text blasts, and "DM to order" calls to action on Instagram. After gaining some ground, customers were mostly buying their bags at brick-and-mortar stores like Rustan's and Commonthread.
Then, the pandemic happened.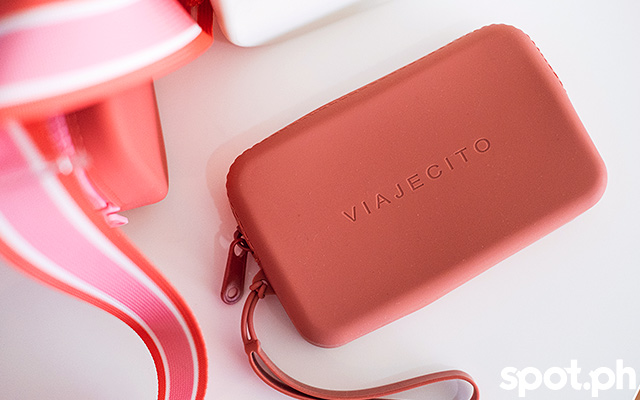 ADVERTISEMENT - CONTINUE READING BELOW
"Lazada wrote [to] us. And we were like, 'Totally!'" Pia recalls. They considered the new market they were reaching with an official flagship store on the ecommerce platform. "We thought of something under P1,000. And so, the MINI came." The handy pouch was made to fit cash, cards, keys, and any other essentials you'd need to run errands. They also offer a slightly larger Splashkit Clutch and a round coin purse called the Splashkit Smile.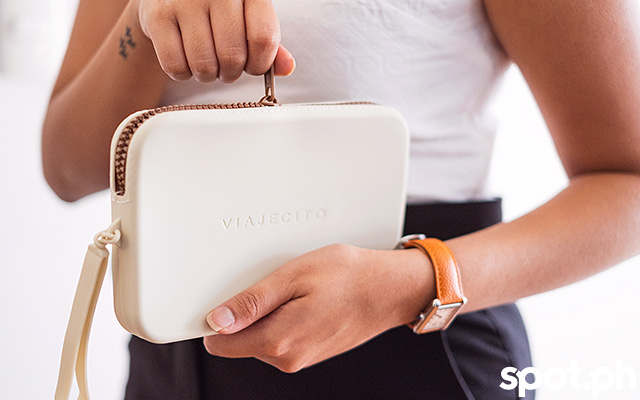 ADVERTISEMENT - CONTINUE READING BELOW
Aside from the simple functionality of their designs, their material of choice also proved to have added features even more necessary during the pandemic—something their customers realized organically.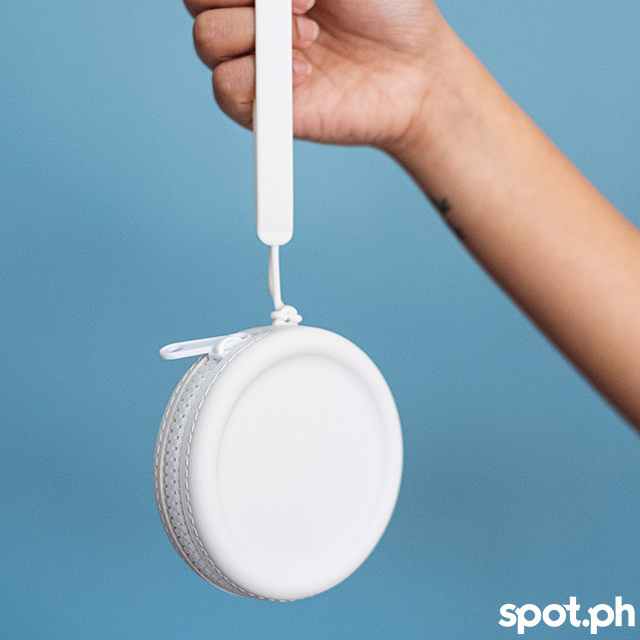 ADVERTISEMENT - CONTINUE READING BELOW
"People needed something that was practical and everyone was so scared of touching anything. Things had to be clean. Our items are made of silicone rubber. They're the perfect bag to use during this pandemic," says Lopez.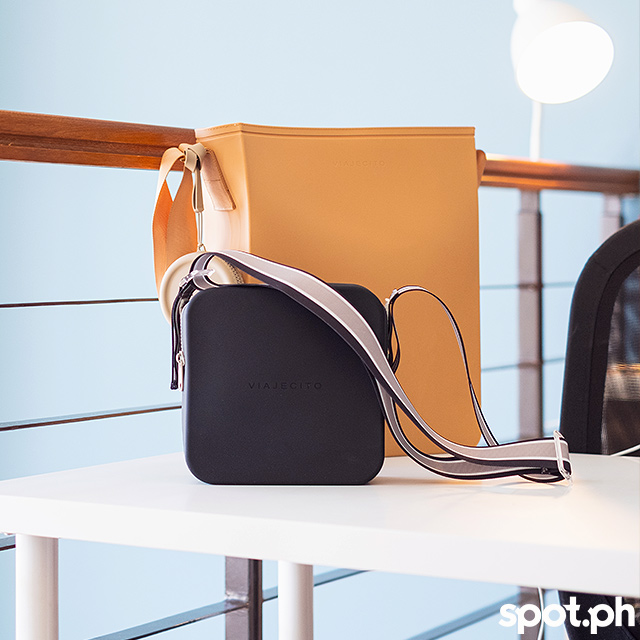 ADVERTISEMENT - CONTINUE READING BELOW
When people started going back to the office, they then came out with the work-friendly MNL Tote which has separate compartments. Pia shares, "It was like a back-to-work-after-COVID situation. Let's make people excited to go back to the office. Let's give them their tote."
Also read:
The Impulsive Online Shopper's Guide to Better Spending Habits
From "Fast Shipping" to "Well Packaged": 10 Reviews You'll See on Every Shopee and Lazada Product
Keeping it personal
Much like how they've conceptualized their designs themselves, the Viajecito team has also kept their personal touch when it comes to interacting with customers online—whether it's through Instagram or reviews they get on Lazada or Shopee.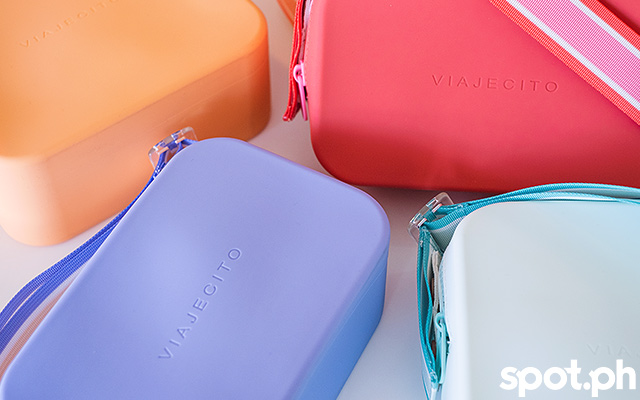 ADVERTISEMENT - CONTINUE READING BELOW
Lopez says, "I really try to build a personal relationship with our clients. We want to make our customers feel like they can come to us with any concerns that they have with the product. If somebody isn't too happy with something, we'll always make a way to make them happy."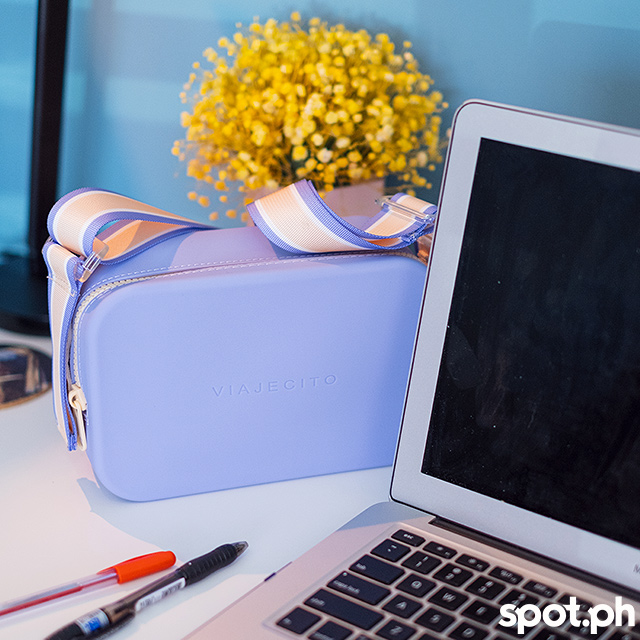 ADVERTISEMENT - CONTINUE READING BELOW
She continues, "Even though we've gotten a little bigger throughout the years, we really make it a point to try our best to respond to every single person that does reach out to us on all platforms."
"I think that will always be an ethos of ours no matter how big we get," Pia agrees.
Where to next?
"A store. A flagship store," Pia answers when asked what they want to happen for Viajecito down the line. Until then, new and loyal customers can look forward to the drop of their summer collection.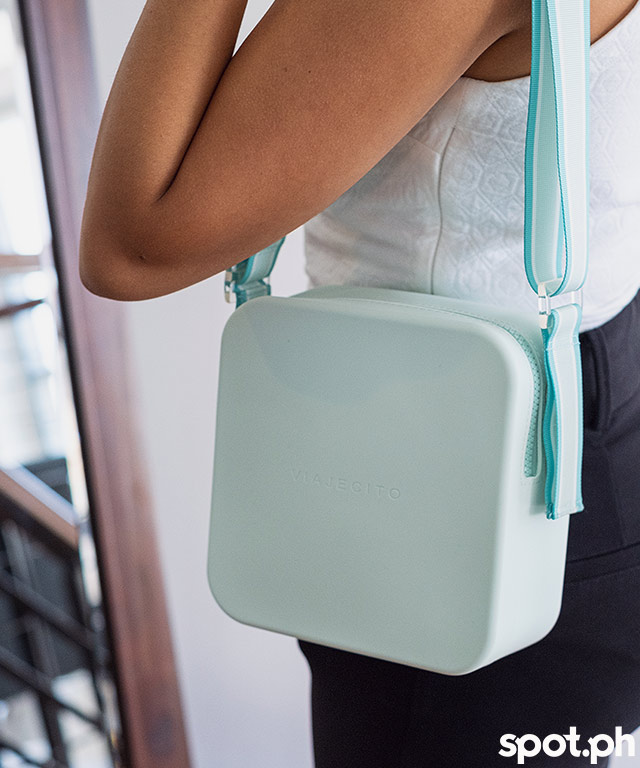 ADVERTISEMENT - CONTINUE READING BELOW
With their full-time team of around 10—including those in charge of quality and fulfillment at their warehouse—they're also setting their sights on building an international presence. "We want to really represent Philippine- and women-owned businesses."
It's more than fitting that they're looking to expand their reach globally considering the idea for the brand started during an international trip. Pia says, "Pinoys like to travel and they like experiencing different cultures. We're a mix of so many cultures. And it's just in our nature to be so diverse, different, and curious. I think our products embody that."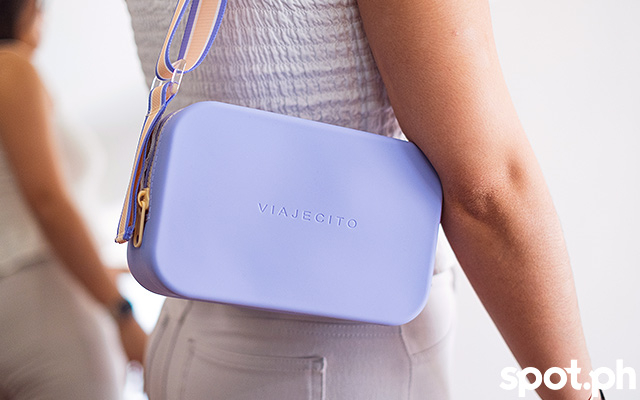 ADVERTISEMENT - CONTINUE READING BELOW
"The user of the Splashkit will travel, stay home, go to the beach, drive somewhere, fly somewhere, go to work," Pia continues. Viajecito's story might be in its name, but its users live it out. "It's made to fit the lifestyle of a global and cultural person, like the modern Filipina and Filipino."
Viajecito is available online on Viajecito's website, Lazada, Shopee, Rustan's, and Frankie & Friends. They're also available at Commonthread branches in Power Plant Mall and Greenbelt 5, Frankie & Friends General Store in SM Aura, Rustan's branches in Makati, Alabang, and Shangri-La Plaza, Bravo Shop Siargao, and Inara Siargao.
Links are updated regularly and as much as possible but note that products can run out of stock, discounts can expire and listed prices can change without prior notice.
Share this story with your friends!
---
Help us make Spot.ph better!
Take the short survey
More Videos You Can Watch
Load More Stories