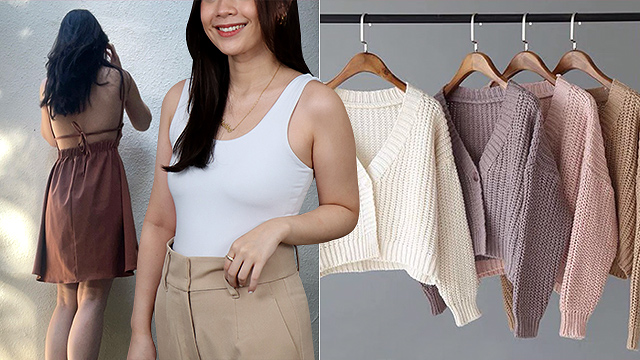 Products recommended on our websites are independently selected by our editors. If you buy something through our links, Summit Media may earn an affiliate commission at no extra cost to you.
(SPOT.ph) Those of us painfully obsessed with online shopping (particularly purchasing new clothes) all know the struggle: You're scrolling through your go-to e-commerce app, you find something that fits your style, and lo and behold, it's reasonably priced—sometimes even dirt cheap. At this point, you must (with all the tech savvy you have in your perpetually online brain) figure out whether the item is actually a great deal or a worthless buy that doesn't even remotely resemble the photos in its listing. Typically, the best way to do so is to read the reviews and the best reviews are those with not only long and detailed descriptions, but clear, real-life photos of a person wearing the item—even better if that person is about your size.
ADVERTISEMENT - CONTINUE READING BELOW
 Also read:
The Impulsive Online Shopper's Guide to Better Spending Habits
From "Fast Shipping" to "Well Packaged": 10 Reviews You'll See on Every Shopee and Lazada Product
Now, not all online listings contain extensive reviews or helpful photos from buyers and that's usually when you know you're taking a risk by adding to cart. So, to help you make your next online purchase a successful one, we've taken it upon ourselves—through months and months of shopping, we mean, researching—to find great clothes available on popular e-commerce sites Shopee and Lazada. After buying, wearing, and washing these finds, we've come to the conclusion that they're totally worth the coins. And yes, these were all purchased with our own money.
To give you a better idea of each clothing item's quality, we've made sure to include here photos of the pieces when worn. Each item was worn by the same person—this writer—who, for transparency, is about a U.S. size 6 and five feet and five inches in height.
These fashion finds we bought on Shopee and Lazada are totally worth the money:
Seamless Adjustable Tank Top in Black (P249.75) from Bench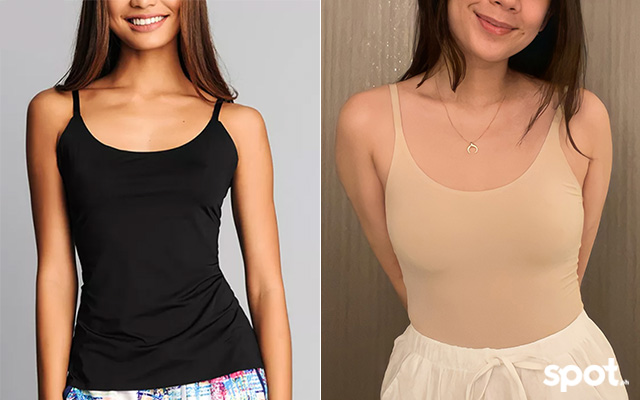 Perhaps this writer's most worn item on this list, this Bench tank top is one we'd consider a holy grail for those who love seamless, tight-fitting clothes—and it's only about P250. We've already waxed poetic about this tank, but the short version is this: It's made from a stretchy, body-hugging material that is lightweight but not see-through. It has adjustable straps and is long enough to be tucked into any bottoms (high-waisted or otherwise). Plus, you can get it in two colors, namely black and beige, though the former is our favorite. This writer loves it so much that she owns three of the same shade. For reference, she gets a size small.
ADVERTISEMENT - CONTINUE READING BELOW
Available on >Shopee and >Lazada.
Seamless Body Hugging Classic Bodysuit (starts at P250) from Maria and Mary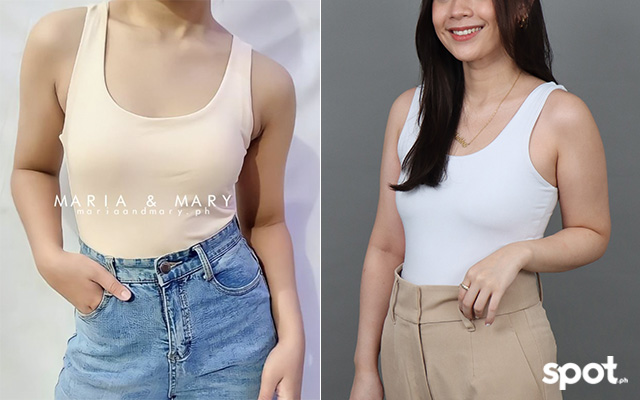 If you hate awkward folds and bulges on your tucked-in tops, this bodysuit from Maria and Mary is for you. Available in a variety of shades (including black, white, rose, beige, olive, and brown) and sizes (ranging from XS to 2XL), this nylon-blend top gives you a great way to stock up on basics without overspending. It features a round neckline, thick straps, and a button enclosure on the crotch area for fuss-free bathroom breaks. This writer owns it in several shades in the size small, which provides both a form-flattering and stretchy fit as well as a comfy feel that's soft against the skin and a double-lined construction that won't let your bra peek through. Take note: this top gets sold out pretty often, so you'll want to keep checking back for restocks!
ADVERTISEMENT - CONTINUE READING BELOW
Available on >Shopee.
Yoga Top (P573) from Air Active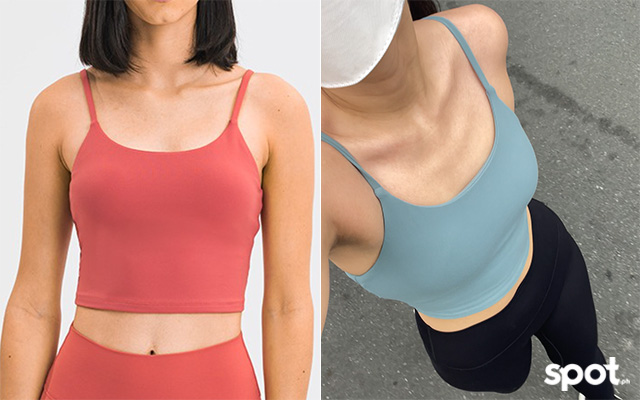 Oftentimes, the biggest risk when purchasing clothes on platforms like Shopee is the quality of the fabric—it's easy enough to get the silhouette and color down, but truly good material is harder to find. That's why this padded crop top from Air Active will surprise you. Stylish, stretchy, and buttery smooth, this piece makes a great plain tank as well as a decent sports bra thanks to the semi-supportive fit and inner padding. No one will be able to tell it only cost you a few hundreds!
ADVERTISEMENT - CONTINUE READING BELOW
Available on >Shopee.
Penelope Backless Dress (P345) from Linen Café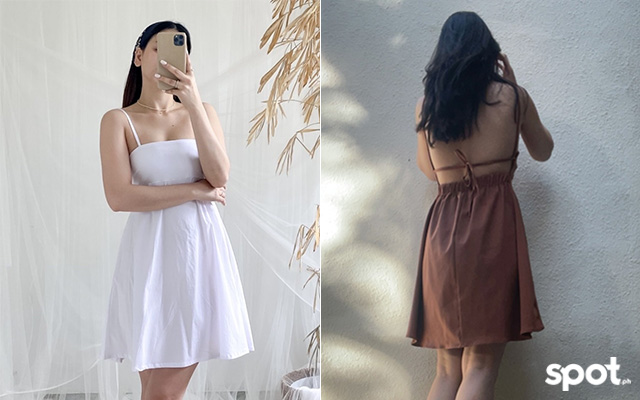 Let's get it out of the way right now that this dress from Linen Cafe probably isn't, well, linen. But if you don't mind the material—which looks a bit like the real thing, but is likely a polyester blend—then we'd say give this piece a try if you're all about that dainty, Sunday brunch kind of look. With a ruched waist, adjustable tie, and oh-so chic backless cut, it's perfect for showing off some skin on a hot day. You can get it in several colors including black, white, and gray. The drawback here is that the piece only comes in one "free" size, so it may not be ideal for ultra-petite or curvier figures.
ADVERTISEMENT - CONTINUE READING BELOW
Available on >Shopee.
Cotton Linen Pants (P1,199) from Mantou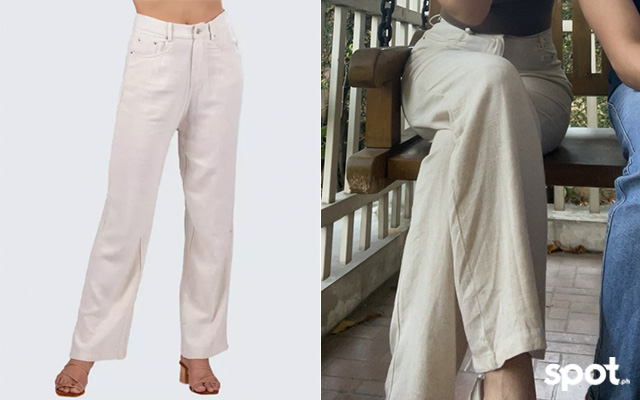 Though priced fairly higher than what you'd usually expect from e-commerce sites, we'd say these Mantou trousers are worth the splurge. ICYDK, Mantou is a pretty popular local brand best known for their jeans. If you're looking to invest in one of their pairs, this is the one we'd recommend. Made from a mix of cotton and linen, these lightweight bottoms are perfect for laid-back dressers who want to look put-together without having to wear anything high maintenance. They sport a high-waist, cigarette cut, and in the case of this writer, a length that falls just around the ankle. Keep in mind that Mantou has a pretty limited size range (from small to large) and we've found that their sizes are not always consistent across all styles. This writer wears a medium, which was slightly loose on her waist, but fit perfectly otherwise. In case linen's not your thing, you may also want to check out their bestselling >Paige jeans.
ADVERTISEMENT - CONTINUE READING BELOW
Available on >Shopee and >Lazada.
Korean-Style Loose Cardigan (starts at P469) from Xiaoran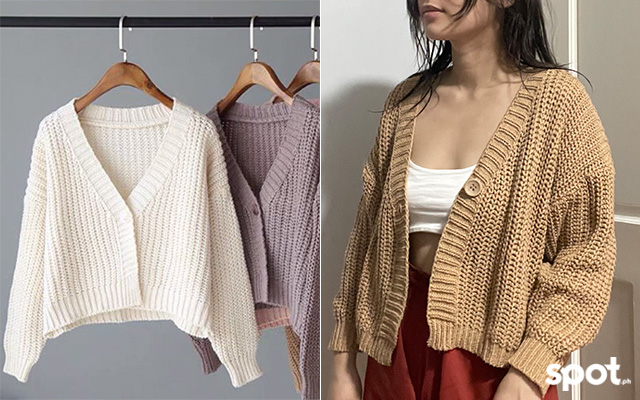 Rock the light academia aesthetic or dainty, Korean-inspired 'fits with this cropped cardigan from Xiaoran. We'll say right off the bat that it's not the softest knit piece out there—those of you sensitive to scratchier fabrics may want to stay away. However, if looks are your main priority, it's not a bad pick—especially considering how much sweaters like this normally cost in the mall. It features a cozy, slouchy fit that you can use over any plain top and pair with any bottoms. It's pretty thick, too, so you can count on it for cold office days or movie-house dates.
ADVERTISEMENT - CONTINUE READING BELOW
Available on >Shopee.
Ada Heels (P478) from Geulia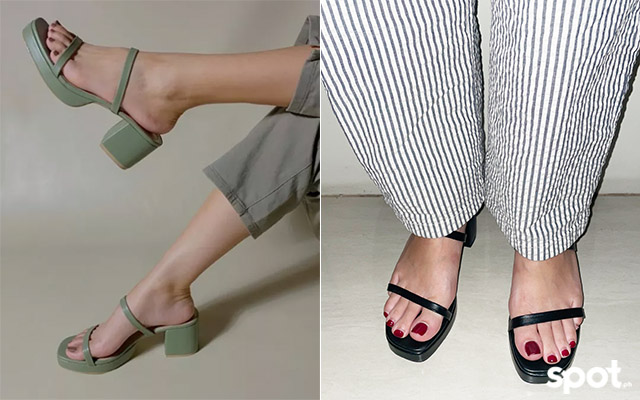 For less than P500, these block heels from Geulia aren't too shabby. While this likely isn't the kind of pair that you could pass down to your children, they're a decent quality that's versatile enough to pair with any outfit—perfect for the office—and would last a long time when well taken care of. They're made from a faux leather material that you can dress up or down depending on the occasion. Plus, you can get these heels in several colors including tan, black, olive green, nude, and more. This writer owns the shoes in black and nude, but fair warning: they may not be ideal for those with wide feet.
ADVERTISEMENT - CONTINUE READING BELOW
Available on >Lazada.
High Waist Slim Fitness Yoga Pants (P709) from Yoga Sport Wear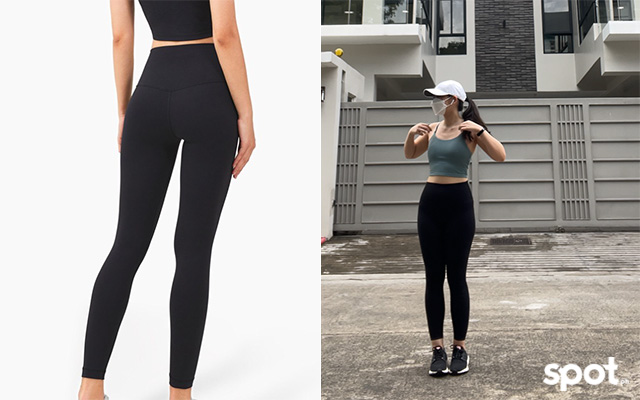 Something many people complain about when it comes to leggings is the waist—those pesky pairs that tend to slip below the belly button despite claiming to be high-waisted are just not ideal for those of us trying to keep our stomachs tucked in. So, if you're looking for a pair that will keep your belly tucked away, check out these leggings from Yoga Sport Wear. Not only do they comfortably stay above the belly button—you won't have to worry about them slipping down, trust us—but they also have a stretchy, comfortable fit that moves with your body whether you're exercising or just having a busy day.
ADVERTISEMENT - CONTINUE READING BELOW
Available on >Shopee.
Coco Coordinates (P399) from Taytay Collection PH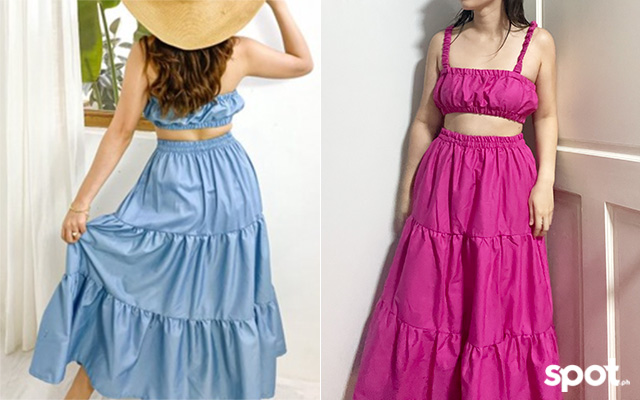 With a price tag of just P399, this crop-top-and-maxi-skirt set from Taytay Collection will blow you away. You get a maxi skirt—that falls around the ankle for this writer—and a tiny top in a matching color. Both pieces sport a breezy fit and a ruched construction that flatters the form and keeps you feeling cool even on hot days. You can get the set in a wide range of colors, but we couldn't resist this striking pink shade. Take note: the stretchy pieces would work great for medium to large frames, but the skirt in particular may be a bit too big for petite folks—unfortunately, they only offer one size.
ADVERTISEMENT - CONTINUE READING BELOW
Available on >Shopee.
Personalized Birth Year Necklace (P69) from Maii Jewelry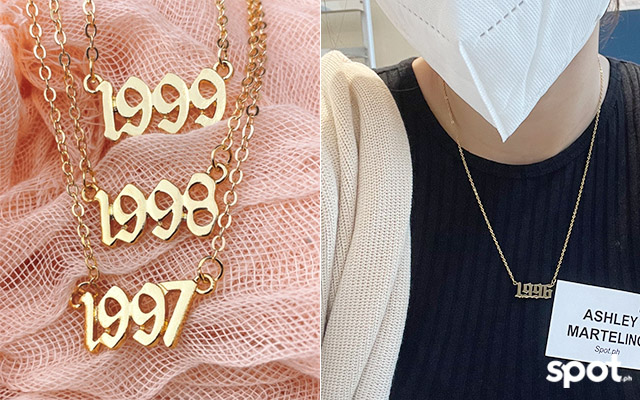 This necklace from Maii Jewelry was originally purchased because a friend of a friend had told this writer that despite the less than P100 price tag, the accessory had yet to tarnish or rust after months of (mostly careless) use. Now, we'd almost always recommend investing in high-quality jewelry, but if you're looking for something a little trendy just to spice up your look, but don't want to spend on an accessory that may eventually go out of style, then you'll get lots of use out of this necklace. You can get the pendant customized to read your birth year or any year from 1991 to 2010 that's special to you. We've used it quite literally over 50 times at this point in the span of a year and it's still looking good as new—even if it fell apart right now, the cost per wear would equal about less than P1.50.
ADVERTISEMENT - CONTINUE READING BELOW
Available on >Shopee.
Share this story with your friends!
---
Help us make Spot.ph better!
Take the short survey
More Videos You Can Watch
Load More Stories