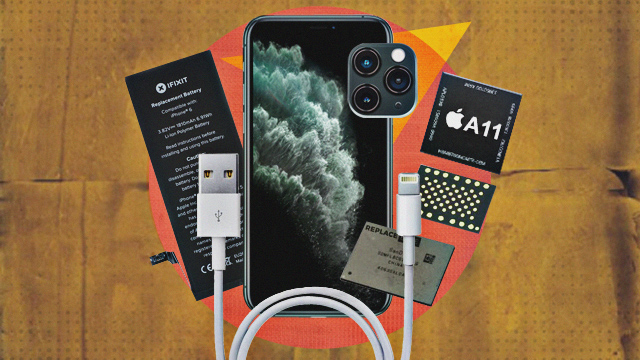 (SPOT.ph) Shopping for a new phone can be a daunting task. You may have the cash, but with all the brands and models out there, are you sure you're getting the right one? We've made a handy guide to sussing out the most important phone features you need to look for while demystifying the confusing tech jargon and product-marketing speak.
ADVERTISEMENT - CONTINUE READING BELOW
Also read:
Can You Really Overcharge Your Phone? Here's What You Should Know
Here's what you should look for when buying a new phone:
Camera
Phones have surpassed dedicated cameras as the primary shooter for taking photos and videos. Most phones have at least two cameras at the back but even midrange to premium models now have up to three to four, or maybe even more. 
Phone cameras are typically rated in megapixels or the maximum amount of pixels that a phone's camera can capture. You'll often see specs like "48 megapixel main + 8 megapixel wide angle + 2 megapixel portrait." Front selfie cameras may also have similar specs. For each camera lens, aperture is also mentioned and expressed in a number such as "1.8" or "2.0." The lower the number means the better it is at capturing photos in low-light conditions. Meanwhile, the higher the number lets less light in.
It's important to remember that megapixels aren't everything since the image quality is also dependent on the type of sensor used by the phone as well as the phone's image processing capability. So a phone may have a higher megapixel count but lower sensor quality and processing or inversely, a lower megapixel count yet a better sensor and image processing. Higher megapixels may also just mean that you will be able to print a larger photo without losing detail. Having a higher megapixel camera doesn't have much of a benefit if photos are for social media uploads and not for large-format printing. 
Chipset Platform and CPU
We were told in school—the CPU is the brain of the computer. Well, it's the same for phones.  Phone companies often mention the chipset platform and CPUs used in their phones and there are companies who manufacture these chips, called SOC or system on a chip for other phonemakers. 
ADVERTISEMENT - CONTINUE READING BELOW
You'll often hear names such as Snapdragon, Exynos, Kirin, Helio, and Apple A-series. Within each brand are low, mid, and high-end versions. Qualcomm's Snapdragon series, for example, has the 400 to 600 series for entry-level to mid-level phones to the 700 to 800 series for the high mid-end to premium phones. If you will use the phone for basic tasks such as listening to music or messaging using chat apps and social media, a phone with an entry-level to mid-range SOC can be already up to the task. 
Those into more CPU-heavy tasks such as gaming would want a faster SOC in the high mid-end to premium categories such as a 730 or 855 Snapdragon. For iPhones, the newer models have a higher number chip such as the A13 for the iPhone 11. Often mentioned alongside the SOC name is the nanometer (nm) fabrication size. Recent model chips typically have a lower number because of more advanced chip manufacturing techniques. A lower number such as seven nanometer means the chipset is more energy efficient or faster compared to the last generation's 10-nanometer chip. This means that having a high-power SOC will let you play your favorite mobile games at full speed.
ADVERTISEMENT - CONTINUE READING BELOW
Graphics
Although not often mentioned by phone manufacturers, a phone graphics processing unit or GPU is also important for those who want to use their phones for more intensive tasks such as gaming. GPUs also handle rendering tasks such as HD video. Phones with low to mid-range GPUs won't typically be optimized for high settings in graphically demanding 3D games, like Mobile Legends, Fortnite, Call of Duty, and other MMORPGs (or Massive Multiplayer Online Role Playing Games). For casual games with lower graphical requirements, the entry-level chips are fine. A phone GPU is usually linked to the SOC, so it is important to remember that faster SOCs usually have faster phone GPUs. For example, a Snapdragon 855+ SOC has an attached Adreno 640 which is faster than the Adreno 612 in a Snapdragon 675.  
Screen Size
Screen size is measured in inches diagonally across the phone's screen. On the average, current generation phones go from 5.8 to 6.5 inches and above. While bigger might be better in some cases, those looking for a more pocketable phone might prefer a smaller size. 
ADVERTISEMENT - CONTINUE READING BELOW
Another important spec to consider is the screen-to-body ratio. The higher the number, the larger the screen compared to the bezel or surrounding frame. A screen-to-body ratio of 84% to 90% means there's a little to no visible chin or front camera notch on the phone display. Often mentioned with the screen size is screen resolution, which is the maximum pixels in a phone screen.
Most phones support HD resolution (1920 x 1080) and premium models can go up to 4K Ultra HD. PPI or pixels per inch refer to how densely those pixels are spaced together so the higher the PPI, the better. Generally, anything above 300 PPI should do fine, but screens with 400 to 500 PPI should be ideal. 
Battery
As a general rule, phones with bigger battery capacity should be on the top of your shopping list. It's fairly normal to find phones with 3000mAh (milliampere hour) to 4000mAh battery capacity. The more efficient the SOC and the overall design of the phone, the longer the battery will last too. Bigger batteries are also found on phones with larger screens to offset the larger power requirements of large screens. Because of the current technical limitations, larger battery capacity would also mean a larger battery. This explains why some phones don't go beyond 5000 mAh since this will affect the overall weight and size of the phone.
ADVERTISEMENT - CONTINUE READING BELOW
Charging Standard 
Depending on the brand, there are phones that support various fast-charging technologies. Fast-charging standards and their variants such as Quick Charge, VOOC, and SuperCharge enable phones to be charged in a shorter amount of time compared to standard charging. If no particular quick-charging tech is mentioned, the usual term used is 18-watt charging, although fast chargers with higher wattage have also been released. Keep in mind that some brands have their own proprietary versions of fast charging with quick-charging technology that may not optimally work with other brands. Make sure to check if you want to use a different kind of fast charger with another brand or model.
Design and Build
Almost all smartphones come in the slate form factor. These all-screen phones are differentiated from their designs with variations on the placement of the side buttons, fingerprint scanner, front camera, and rear camera arrays as well as the various charging and headphone ports. Build usually refers to the material used for the phone's chassis. Entry-level to mid-range phones are usually made of polycarbonate plastic. Premium phones are made either purely out of aluminum or a combination of an aluminum frame that's sandwiched between chemically strengthened glass such as Gorilla Glass. Well-built phones are solid to the touch without any hint of creaking or flex. Fingerprint scanners are usually located at the back, sides or incorporated under the touch screen in more premium devices. Screens are made out of either a type of Gorilla Glass or Dragontrail glass. 
ADVERTISEMENT - CONTINUE READING BELOW
Storage and Memory 
RAM and storage are often mentioned together in the phone specs. For 2019 phones, RAM usually starts at 4GB and can go up to 12GB or more. Having more RAM means your phone can run more apps and switch between them smoothly. For internal storage, 64GB is common but having 128GB and above is better. Most phones also support expandable memory for additional storage. Having more storage memory means you can install more apps and games or store more files such as photos and videos. 
Ed Geronia Jr. is a gaming, technology, and screen writer. He worked previously as a magazine editor and as a co-founder of a mobile technology startup.  He is currently involved in creating immersive virtual reality experiences. Follow him on Twitter @edgeronia.
Share this story with your friends!
---
Help us make Spot.ph better!
Take the short survey
More Videos You Can Watch
Load More Stories