(SPOT.ph) Some people say that shopping in Divisoria during the "-ber" months is like hell on Earth, and they are probably right. But the crowds, the heat, and the labyrinthine streets shouldn't deter you, if you are absolutely gung-ho about going to the most affordable shopping district in Metro Manila. So, put on your walking shoes and get ready to haggle—here's a Divi survival guide for you. 
Don't know what to buy in Divisoria? Here are expert tips when shopping:
Commuting is still the best option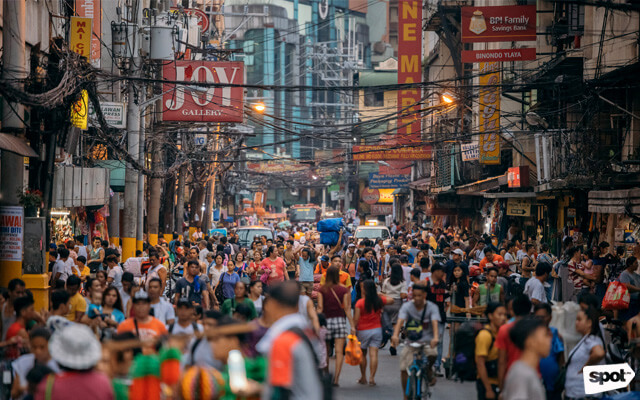 ADVERTISEMENT - CONTINUE READING BELOW
The Binondo district, with its narrow, congested streets, is notoriously hard to navigate in a car. Your best bet is to commute. If coming from the South, take the LRT-1 Line from Baclaran and disembark at the Doroteo Jose Station. And if you're coming from the North, ride the LRT 2 Line from Cubao and get down at the Recto Station.
There are Google travel guides saying that you can walk to Tutuban Center Mall from Doroteo Jose—and that is not entirely true. Tutuban is almost two kilometers away from that station, and 20 minutes on foot. Do this instead: After disembarking at Doroteo Jose, walk about 100 meters to Recto Avenue, and ride a jeep with a Divisoria signboard. 
Dress down, bring totes
The streets are relatively clearer, thanks to Yorme Isko Moreno's recent cleanup drive, but the crowds still get thick by 9 a.m. Dress comfortably and simply, with no jewelry (some vendors price their wares based on how well-off you look), and wear sneakers. Leave your wallet with credit cards at home and bring a coin purse—or better yet, wear a belt bag. Bring at least two tote bags as Divi vendors will throw your purchases into a flimsy plastic bag. Otherwise, there is a manang at every corner peddling large, sturdy zippered bayong-type bags.
Map your route beforehand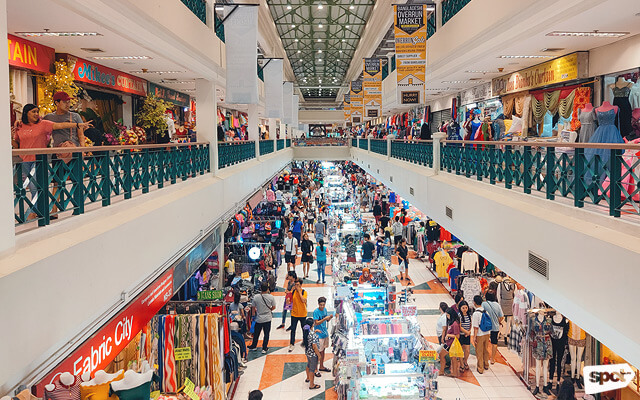 ADVERTISEMENT - CONTINUE READING BELOW
Divisoria can get disorienting, so it's best to make a battle plan before heading out. You can start at either Tutuban Center Mall or 999 Mall on opposite sides of Recto and work your way down to its streets. As you will discover later, the streets of Divi cater to certain products, such as Ilaya for fabric, Tabora and Sta. Elena for toys, and so forth, so if you're looking for specific items, head straight for these areas. 
Drop by Tutuban Center for a bit of history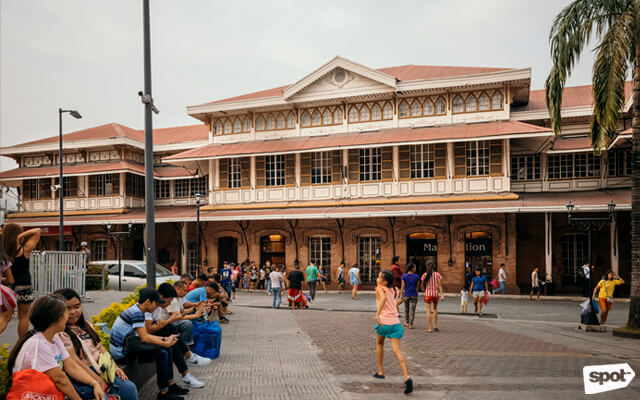 ADVERTISEMENT - CONTINUE READING BELOW
Tutuban Center Mall is not only Ground Zero for Divisoria, it is also a landmark of sorts as a heritage building dating from 1892 that served as the main station of the Philippine National Railways. It is a mall that is practically 128 years old! The main building is a graceful structure with a gabled roof, original arched doorways, and a beautiful brick lobby. No trains ply this "station" anymore, but it is full of tiangges selling everything from appliances to underwear. 
Hit Juan Luna for home essentials and clothes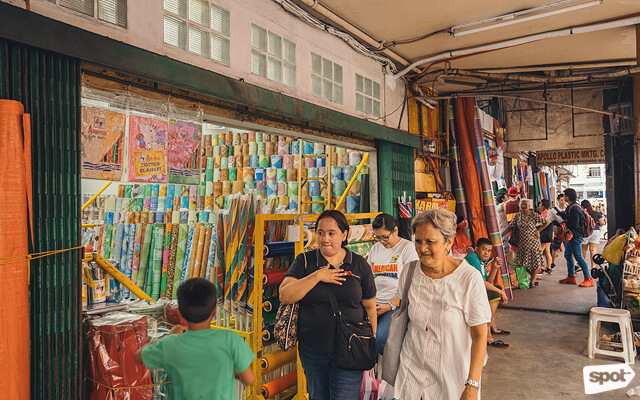 ADVERTISEMENT - CONTINUE READING BELOW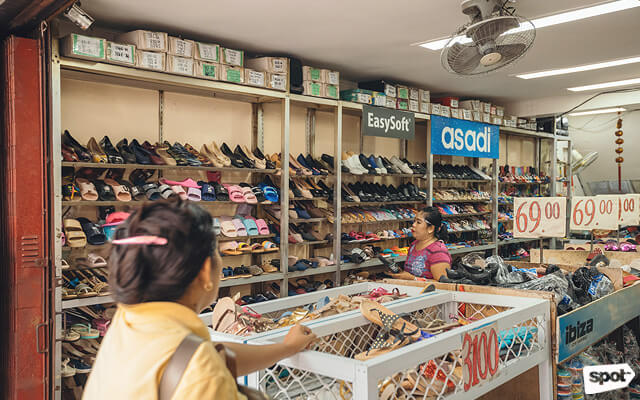 A few steps from Tutuban Mall is Juan Luna Street, one of the main arteries of Divisoria. At the Juan Luna section on the Tutuban side, you can find children's uniforms for as low as P75 each. Cross Recto to get to the opposite side of Juan Luna, where you'll find stores that sell linoleum, foam, and tablecloths at rock-bottom prices. Lining both sides of the street are slipper stores that sell all types of rubber and plastic flip-flops, starting as low as P25 for slippers and P69 for sandals.
ADVERTISEMENT - CONTINUE READING BELOW
D8 Mall is a haven for formalwear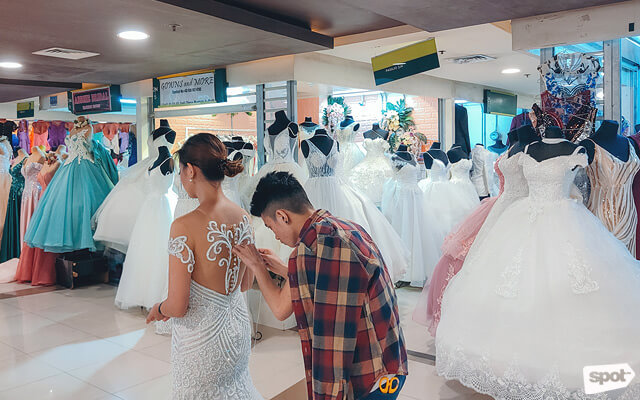 ADVERTISEMENT - CONTINUE READING BELOW
Are you attending a lot of weddings and formal parties this December? Then head to the second floor of D8 Mall along Juan Luna. Fully beaded gowns go for P2,500, and Filipiniana terno gowns are P3,500. If the gown doesn't fit you, seamstresses can alter it on the spot. Pretty neoprene and jersey cocktail dresses are priced as low as P1,000 here.
Ilaya is where you can shop all types of fabric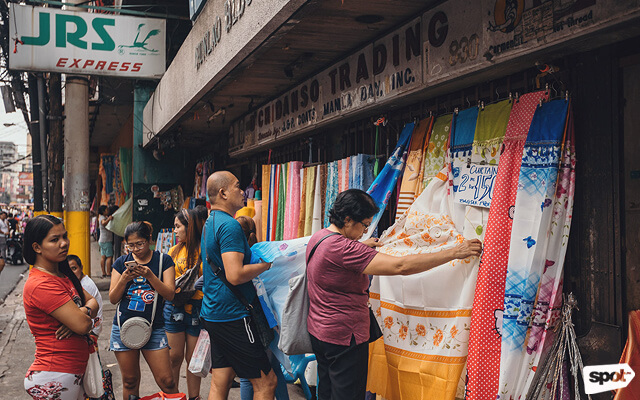 ADVERTISEMENT - CONTINUE READING BELOW
Every upholsterer, curtain maker, or dressmaker worth his or her salt has gone to Ilaya to buy their fabric and sewing supplies at least once—and rightfully so—because it's fabric central. The prices are fantastic—tulle goes for P20 a yard and up, cotton for P50, and upholstery fabric for P100. There are also a lot of ready-made fabric items lining the streets, such as marked-down pillowcases, bed sheets, and curtains.
Tabora is your Christmas street
ADVERTISEMENT - CONTINUE READING BELOW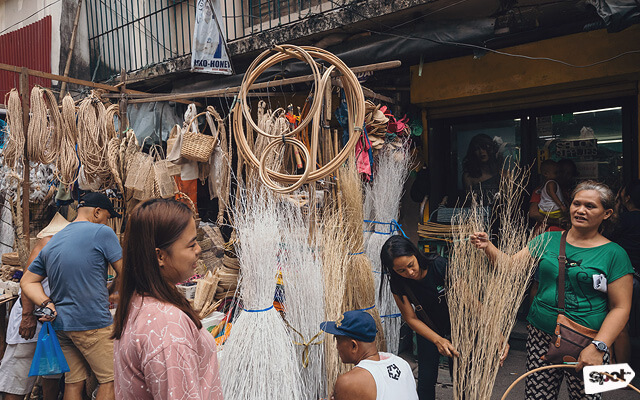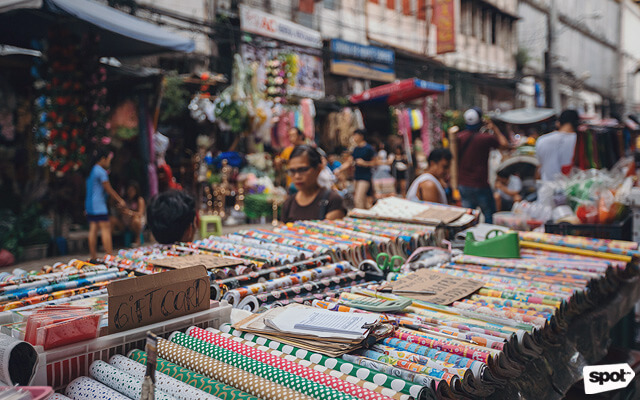 ADVERTISEMENT - CONTINUE READING BELOW
Are you the crafty type who insists on making your own gifts or decking your halls for Christmas? Then the stalls of Tabora will be heaven for you. Here, you can find artificial Christmas trees of all sizes, abaca tree décor at seven pieces for P100, elegant sinamay or abaca gift bags for only P60 for five pieces, and gift-wrapping paper at P20 for five sheets.
Don't miss Sta. Elena for the toys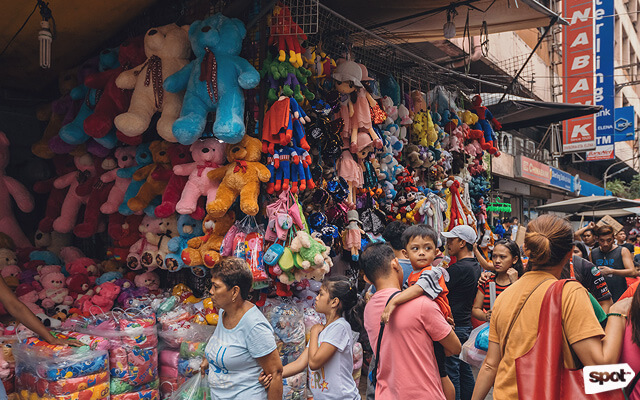 ADVERTISEMENT - CONTINUE READING BELOW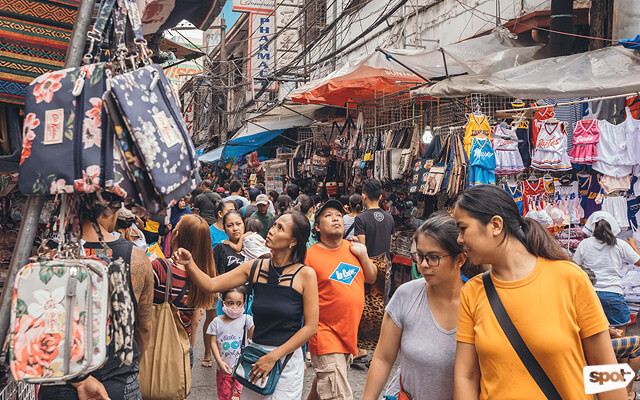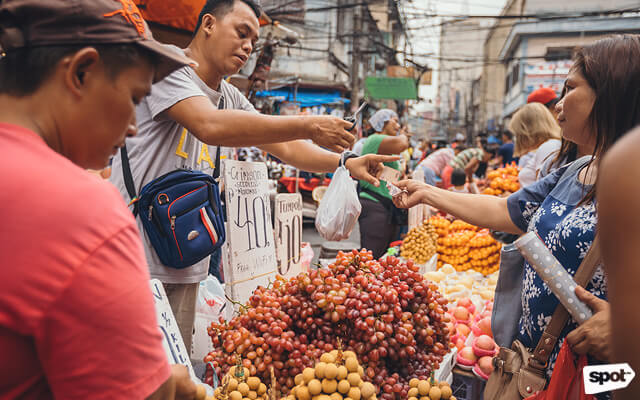 ADVERTISEMENT - CONTINUE READING BELOW
Sta. Elena is a narrow, perpetually crowded street that is practically bursting at the seams with toys. Large plastic robots go for P100 each, brick toys at P50 a box, children's clothes and underwear at three for P100, and stalls that sell all toys for P20 each. If you've still got some more room in your tote, there are also stalls selling fancy fruits for Media Noche like persimmons for P100 for four pieces, and passion fruit for P10 each. 
When all else fails, there are the 168 and 999 Malls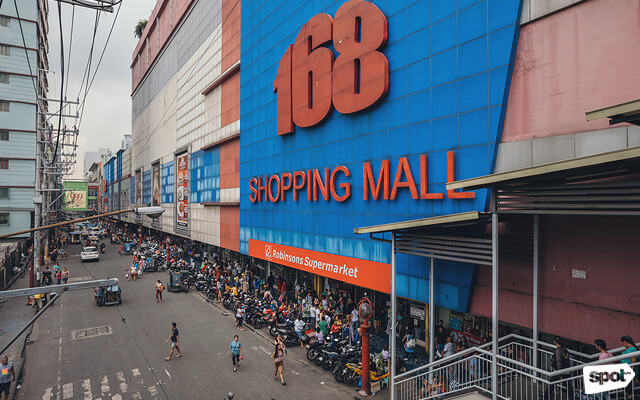 ADVERTISEMENT - CONTINUE READING BELOW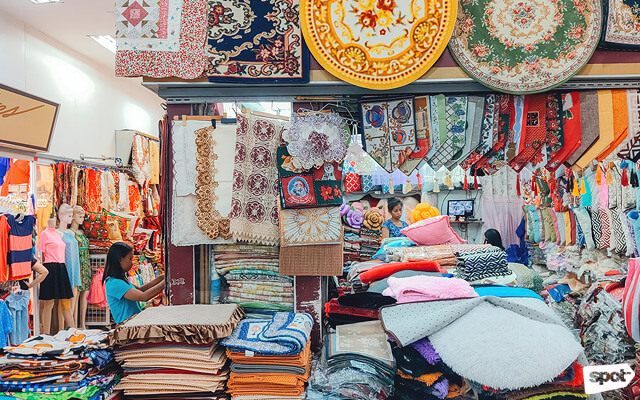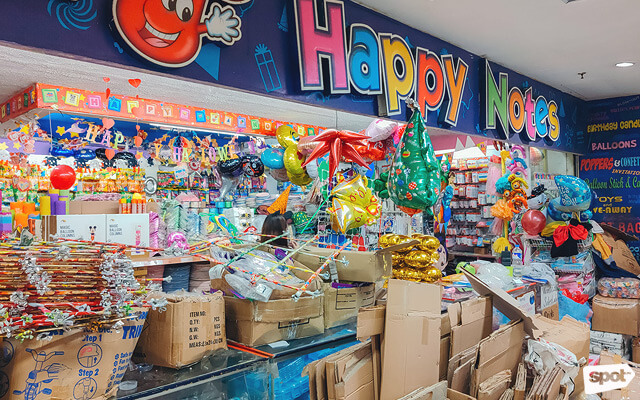 ADVERTISEMENT - CONTINUE READING BELOW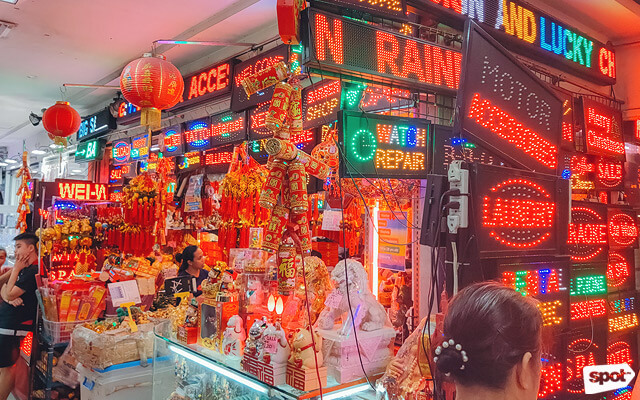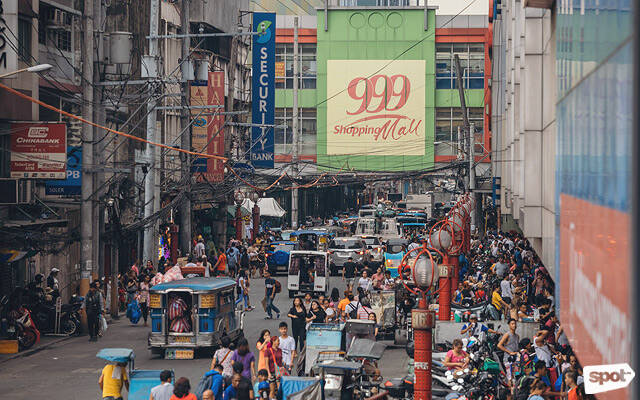 ADVERTISEMENT - CONTINUE READING BELOW
Though crowded, the popular 168 and 999 Malls along Soler Street and Recto Avenue offer an air-conditioned respite from the outdoor stalls (and an opportunity to go to the restroom). This is where you can buy everything under one roof, if you have limited time. Hit the second floor of 999 mall for mobile phone accessories and small toys. On the other hand, 168 Mall is a great place to buy household items, knickknacks of all sorts, and party accessories.
Share this story with your friends!
---
Help us make Spot.ph better!
Take the short survey
More Videos You Can Watch
Load More Stories