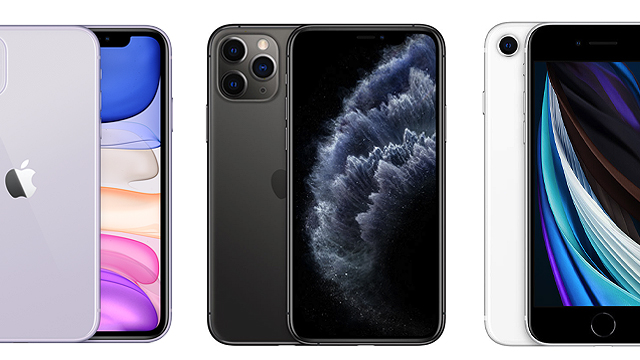 (SPOT.ph) With Apple coming out with the iPhone SE (2020), a.k.a. their budget-friendly smartphone, and all the talk about the highly anticipated iPhone 12 circulating online, it's interesting to see just how much iPhones actually cost in other countries—y'know, just in case you have plans of getting your hands on a new phone and want to get the most bang for your buck...for future reference, of course, considering that we're still under enhanced community quarantine because of the pandemic.
ADVERTISEMENT - CONTINUE READING BELOW
The Mac Index is a website that lists Apple products and their respective prices in countries all over the world, both in Philippine peso and the country's currency. For this list, we chose the top 15 countries and their prices for each iPhone model in Philippine peso, arranged from the cheapest to most expensive (tax not included). We also placed the Philippine price next to the phone model for comparison. 
Check out how much iPhones cost around the world:
iPhone SE (2020) (64 GB) - Philippines (P26,490)
U.S.: P20,213 (U.S. $399)
Japan: P21,121 (44,800 yen)
Canada: P21,469 (C $599)
Hong Kong: P22,217 (HKD 3,399)
South Korea: P22,621 (550,000 won)
Mexico: P22,786 (MEX $10,999)
Singapore: P23,101 (SGD 23,101)
Malaysia: P23,227 (RM 1,999)
Thailand: P23,355 (14,900 baht)
UAE: P23,433 (1,699 AED)
Switzerland: P23,311 (CHF 449)
Australia: P24,160 (A $799)
New Zealand: P24,295 (NZ $799)
Taiwan: P24,419 (NT $14,500)
Czech Republic: P25,730 (12 990 CZK)
ADVERTISEMENT - CONTINUE READING BELOW
Recommended Videos
iPhone 11 (64 GB) - Philippines: P47,990
Canada: P35,088 (C $979)
Japan: P35,265 (74,800 yen)
U.S.: P35,411 (U.S. $699)
Mexico: P36,252 (MEX $17,499)
Australia: P38,675 (A $1,199)
Thailand: P39,030 (24,900 baht)
Hong Kong: P39,211 (HKD 5,999)
China: P39,351 (¥5,499)
Malaysia: P39,494 (RM 3,399)
Russia: P40,614 (59.990 RUB)
Norway: P40,230 (8.490 NOK)
UAE: P40,674 (2,949 AED)
South Korea: P40,718 (990,000 won)
Singapore: P40,899 (SGD 1,149)
New Zealand: P41,019 (NZ $1,349)
iPhone 11 Pro (64 GB) - Philippines (P67,990)
Canada: P49,424 (C $1,379)
Japan: P50,351 (106,800 yen)
U.S.: P50,609 (U.S. $999)
Mexico: P51,789 (MEX $24,999)
Sri Lanka: P50,361 (191,800 SLRs)
Hong Kong: P56,206 (HKD 56,206)
Thailand: P56,272 (35,900 baht)
Australia: P56,416 (A $1,749)
Norway: P56,815 (11.990 NOK)
Malaysia: P56,923 (RM 4,899)
South Korea: P57,170 (1,390,000 won)
UAE: P58,191 (4,219 AED)
Singapore: P58,696 (SGD 1,649)
New Zealand: P59,263 (NZ $1,949)
Czech Republic: P59,402 (29 990 CZK)
iPhone 11 Pro Max (64 GB) - Philippines: P73,990
Canada: P54,442 (C $1,519)
U.S.: P55,675 (U.S. $1,099)
Japan: P56,480 (119,800 yen)
Mexico: P56,968 (MEX $27,499)
Norway: P61,553 (12.990 NOK)
Australia: P61,254 (A $1,899)
Malaysia: P61,570 (RM 5,299)
Hong Kong: P62,088 (HKD 9,499)
Thailand: P62,542 (39,900 baht)
South Korea: P63,751 (1,550,000 won)
UAE: P63,984 (4,639 AED)
Singapore: P64,036 (SGD 1,799)
Czech Republic: P65,344 (32 990 CZK)
New Zealand: P65,344 (NZ $2,149)
Russia: P67,694 (99.990 RUB)
ADVERTISEMENT - CONTINUE READING BELOW
For more information, check out The Mac Index website.
Share this story with your friends!
---
Help us make Spot.ph better!
Take the short survey
Load More Stories