Your Guide to Wardrobe Essentials: What to Save On and What to Splurge On
To help you shop more mindfully.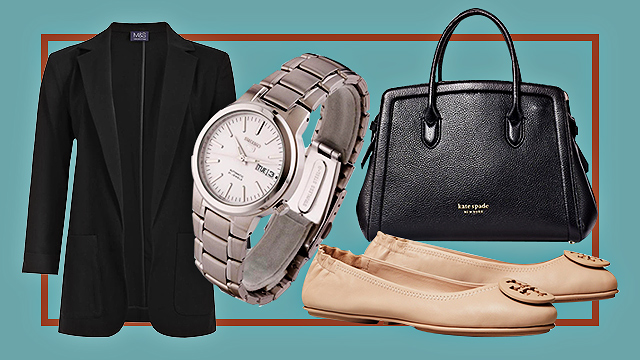 (SPOT.ph) If you're at a point in your life where you want to be more thoughtful about the way you stock your closet, we've got a comprehensive guide designed to help you create a timeless wardrobe and cultivate a more intentional approach to both shopping and styling yourself. We listed 10 closet staples worth investing in and the three cardinal tenets to keep in mind when putting them all together, which we'll recap right here: Versatility, proper fitting, and durability. If you study and perfect shopping with these three indispensable categories in mind, then you're ready to build the ultimate wardrobe.

Now that you've mastered the art of choosing, the next question on your mind may be figuring out how to split your budget between everything you need to purchase—don't worry, we're way ahead of you. Below, we list down those same 10 closet staples from our previous wardrobe guide, but break everything down into two main categories: Save or splurge. That way, you can decide which pieces you may need to set aside some money for, and which will be more within your immediate budget.
ADVERTISEMENT - CONTINUE READING BELOW
For clarity's sake, allow us to explain what we mean here by splurge: We're not telling you to only shop luxury brands and wipe out your latest paycheck every time you purchase a new piece of clothing—in the same way that buying a good car doesn't necessarily mean blowing your life savings on a Bentley. We just mean that in certain cases, it will benefit you more in the long run to spend a little extra for that assurance of great quality. Now keep in mind, while some of these pieces will likely cost you a few weeks' of your salary and others will be about the price of a handful of iced coffees, you should still consider each one an investment. More than just spending a hefty amount, you're investing time and effort into finding what will truly look and feel the best on you. The goal here is to create a more strategic approach to shopping—and figuring out how to better spend your budget will inevitably be a part of that.
CONTINUE READING BELOW
Recommended Videos
Lastly, it should go without saying that any investment purchase should be coupled with the intention to take good care of the items you're buying. There's absolutely no point in splurging on anything—no matter how great the quality—if you don't plan on handling it with the care it deserves. If you drop a few grand on a high-quality purse, for example, be sure to store it properly and use it mindfully. Find the perfect white T-shirt? Treat it with love and wash it as instructed. The way you treat your apparel today will strengthen its value in the long run. If you find from the get go that you're unable to give a piece of clothing the upkeep it needs (factors like constant dry cleaning, effective storage space, and the like), then it may not be The One for you.
ADVERTISEMENT - CONTINUE READING BELOW
Now, are you ready to start shopping more mindfully?
This handy wardrobe guide will help you map out your budget when shopping essential pieces:
Jeans: Splurge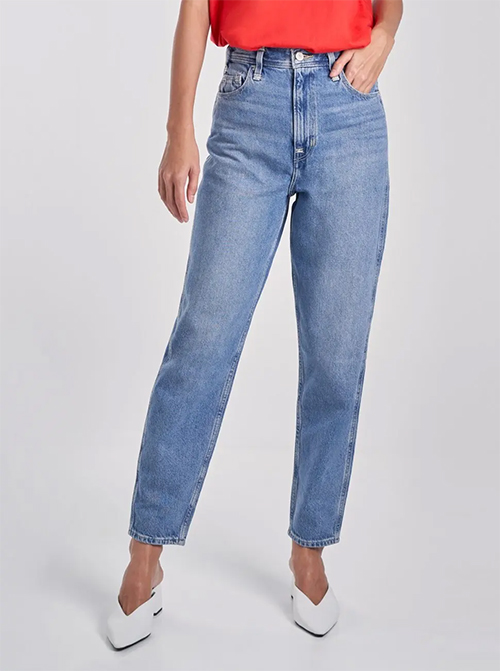 Thanks to online shopping and fast fashion, plain blue jeans can go for pretty cheap these days, but when looking for a style that can become your go-to for years, don't be afraid to spend a little extra. Denim connoisseurs and collectors out there will likely be willing to spend upwards of 10 grand to find a classic pair of genuine jeans. There's no need for that if you ask us, but we do encourage you to be meticulous when it comes to choosing material. Plenty of jeans you might chance upon at the mall are made of flimsy material that will stretch, sag, and lose its shape as time goes on. Go for jeans that are on the thicker, weightier side with a more structured build rather than one made to stretch. As we previously noted, you can't go wrong with a slim or straight cut that falls just around your ankle area. Mid- to high-waisted styles tend to be more versatile and flatter more body types, but feel free to choose whichever works best for you. Go for a mid-toned wash as they tend to look better with each stint in the wash. Avoid any stitches or patches that would make the pair stand out. Avoid rips, too as they gradually increase in size fairly quickly depending on how often you wear the pants.
ADVERTISEMENT - CONTINUE READING BELOW
White T-Shirt: Save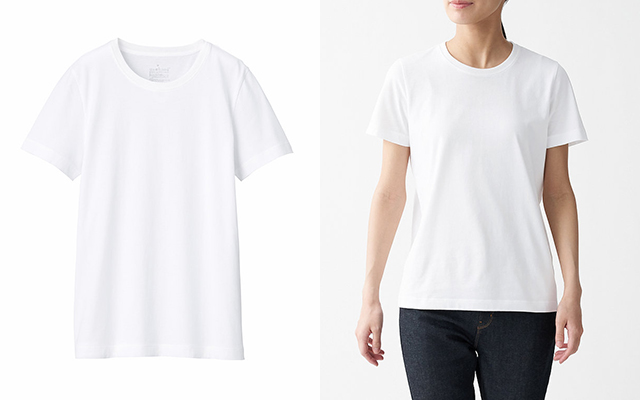 Despite the fact that Virgil Abloh's Off-White has proven that people are indeed willing to splurge on white tees close to the P20,000 mark, we don't encourage you to blow your savings on a basic T-shirt. You could easily find a worthy white tee for less than P1,000. We suggest sticking to brands specifically known for quality basics. Many fashion labels will lure you in with eye-catching styles and trendy pieces, but take it as a good sign if the store you're browsing has a flagship line of essentials that have stood the countless fashion trends coming and going. The fabrics, textures, cuts, and lengths you can shop are endless, but you can't go wrong with a classic short-sleeved crew neck and hem that falls just above the hips. Opt for a thick enough fabric that won't be see-through and won't shed or thin out too much in the wash. Try to look for one that isn't boxy, but is built with just a little curvature so it can mold to your body as you move.
ADVERTISEMENT - CONTINUE READING BELOW
Little Black Dress: Save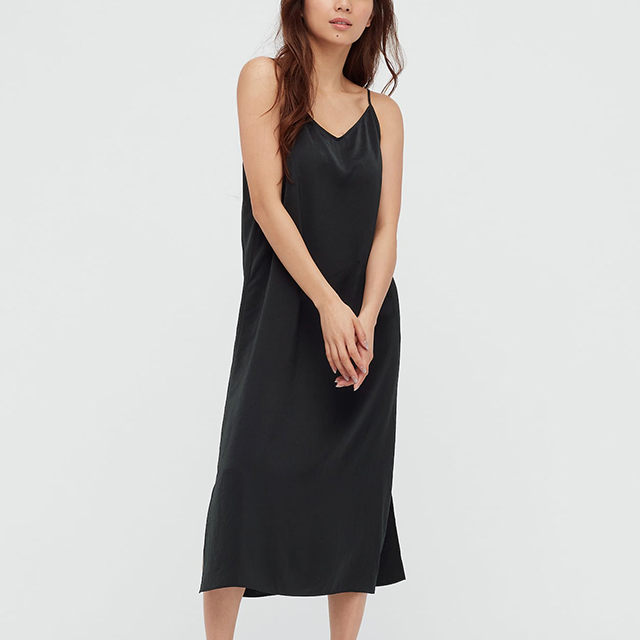 If you ask us, the key to choosing the perfect LBD is balance: Try to find a style that gracefully walks that line between formal and casual. That way, you'll be able to wear it day or night, styling it to match the occasion. Luckily, the style is widespread enough that you can typically find a reliable style without spending a crazy amount. Opt for a fabric that's neither too casual nor too formal—not cotton, but not fine silk. Choose something that has a form-flattering shape without being too tight, but still has a little stretch so you can wear it even if you lose or gain a few pounds. If you're going sleeveless (optional), adjustable straps are a bonus so you can fit the dress perfectly depending on what underwear or jewelry you have on. Go for something that isn't too bulky, so you can easily layer a jacket or other forms of outerwear on top. Make sure that it has a high-quality hemline that will withstand plenty of rounds in your washing machine. A length just above the knee and a waist line that cinches closer to the bust rather than the hip should be a safe bet.
ADVERTISEMENT - CONTINUE READING BELOW
Practical Shoes: Splurge
It's easy for any pair of shoes to get worn out quickly considering they not only spend all day carrying your full body weight, but being dragged across the floor. That's why it pays to spend a little extra on a pair of shoes that will last you years both in terms of quality and style. As we've previously mentioned, choosing the most practical pair of shoes will be a different process for each person, one that's dependent on lifestyle and habits. It should also go without saying that comfort is a top priority as you'll be likely to wear these shoes pretty much all the time. Go for classic colors like black, brown, or nude that go with everything—black is always a practical starting point as the color doesn't tend to get dirty. Opt for durable materials like leather and try to find a pair with strong soles that won't buckle under pressure or friction. A simple pair of ballet flats in a classic style is a good starting point, if you ask us. 
ADVERTISEMENT - CONTINUE READING BELOW
Blazer: Splurge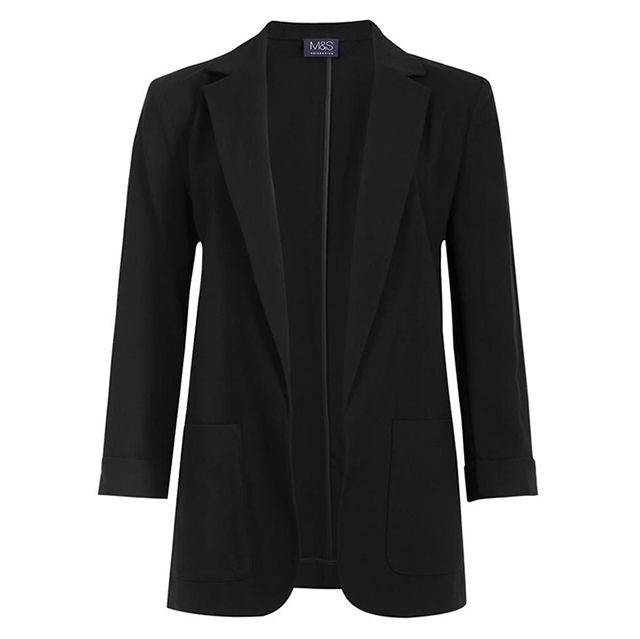 Blazers typically serve the practical purpose of dressing up an outfit and those of you who need to rock business attire at the office know how important they are to have in one's closet. We suggest shelling out a little extra for a blazer, considering that it almost always is used to elevate an outfit. They're a go-to when the assignment is "dress to impress," so it seems only fitting to splurge when the goal is to explicitly show formality and sophistication. Start with a solid black blazer first, then you can expand to other colors or even patterns later on. Go for a classic silhouette and make sure you can comfortably move your arms when you wear it.
Slacks: Save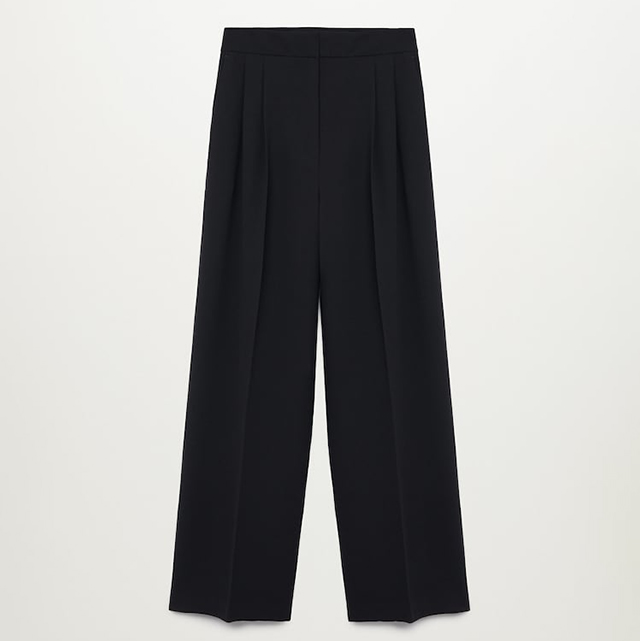 ADVERTISEMENT - CONTINUE READING BELOW
Like the indispensable LBD, a pair of slacks offer the same polish and classic appeal while being versatile enough to dress up or down. They're easy enough to shop in a variety of stores and if you ask us, there's no need to blow too much money on them so long as you can find a durable fabric and flattering silhouette. That being said, don't hesitate to spend extra on alterations, so the trousers can be perfectly tailored to your size and look all the more elegant.
White Polo: Splurge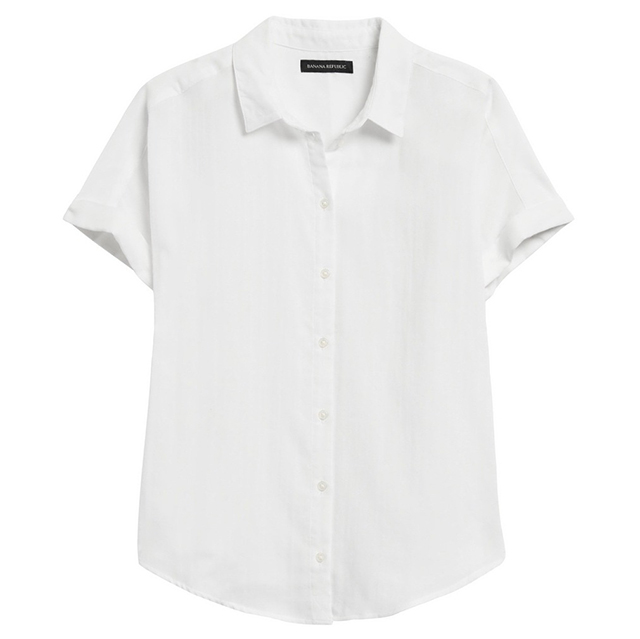 Think of the white polo as your white tee's more mature older sister—same versatility, but elevated for more formal occasions like meetings or important events. As with the aforementioned blazer, the white polo merits a fairly larger purchase considering it's usually a formal piece. Make sure your polo can look polished and dressed-up all on its own even without any heavy accessorizing or formal outerwear. Polos that aren't well-made can start to look old pretty fast, so as a general rule, you'll want to avoid that when shopping for pieces that are meant to exude sophistication.
ADVERTISEMENT - CONTINUE READING BELOW
Underwear: Splurge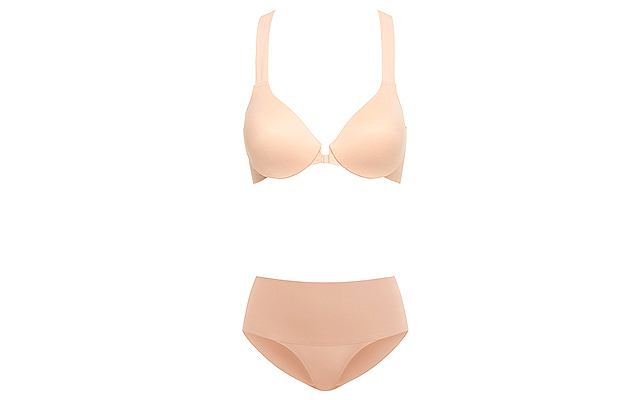 You're a full-grown adult, which means yes, it's time to invest in quality undies. Whatever you're wearing on top, a great bra-and-panties set will make it look even better, so this is an investment that will pay off right away. Go for seamless styles that won't peek through your clothing or add unnecessary bulk to your apparel. Invest in comfort, too—there's no use shopping for undies that look great on you if you don't feel good moving around when you wear them. Splurging in this particular category also means stocking up. Depending on how you dress most days and what kind of lifestyle you lead, you'll need different types of bras and panties for different types of outfits, so be sure you have the right set for every occasion.
ADVERTISEMENT - CONTINUE READING BELOW
Watch: Splurge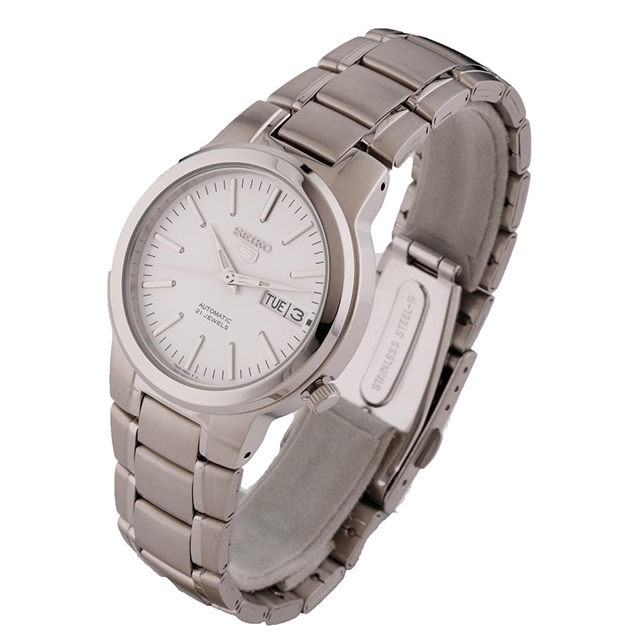 It goes without saying that it's almost always better to splurge on jewelry—rarely do cheap accessories last more than a couple of months. A watch is perhaps one of the most universal embellishments you can get there. No matter your style, gender, or lifestyle, a watch will be a worthy addition to your outfit and one that you can use every day and even pass down to your children down the line. A well-made stainless-steel timepiece with a minimalist watch face is usually a good starting point. Stick to metals first over smartwatches or leather-band watches as they tend to be less vulnerable to wear and tear. Keep in mind as well that every few years, your watch may need small repairs or battery replacements, so try to shop a brand with a service center that's accessible to you and that offers repairs within your budget.
ADVERTISEMENT - CONTINUE READING BELOW
Handbag: Splurge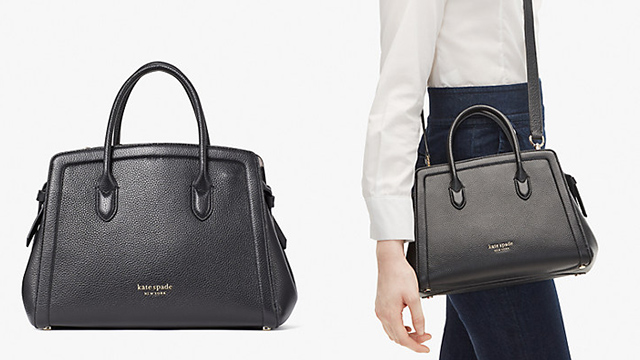 If you need help choosing an investment-worthy handbag, we've got a great list with options in a variety of timeless styles—and yes, in this case, you'll need to shell out a few grand to find a great piece. While a more affordable bag will save you some money now, you'll find that you likely need to purchase new bags every few months or so, causing your overall expenses to pile up over the years. If you know how to pick your bags, you only really need to own a few. Take good care of them and they'll be sitting in your closet for years—you'll see over time that you can always reach for the bags you took the time to choose and invest in and rely on them to go with your clothing even as the seasons pass and your style preferences change.
ADVERTISEMENT - CONTINUE READING BELOW
Hey, Spotters! Check us out on Viber to join our Community and subscribe to our Chatbot.
We are now on Quento! Download the app and enjoy more articles and videos from SPOT.ph and other Summit Media websites.
Your guide to thriving in
this
strange new world.
Share this story with your friends!
---
Help us make Spot.ph better!
Take the short survey
Load More Stories