(SPOT.ph) Anything can be a chair if you try hard enough—the hood of your car, the kitchen counter, the edge of a sidewalk, you get the gist. The concept (Read: any surface where you can rest your ass) is so simple that many of us take the ubiquitous piece of furniture for granted. But this perception shifted not too long after the world went into lockdown in March 2020. It quickly became clear that the clunky old stools, dinner-table seats, and cute-but-uncomfortable wooden chairs in our then-makeshift home offices just weren't ideal, especially considering most of us spend the majority of our waking hours sitting idle in them. 
Much like a sturdy set of sneakers or a well-made pair of blue jeans, it pays to invest in a good chair—and with all three examples, that's largely because of the same reasons: You'll spend all day in them and you'll need them for years to come. All that in mind begs the question: How do you choose the perfect office chair?
ADVERTISEMENT - CONTINUE READING BELOW
Everything You Need to Know About Chairs
A brief history of the office chair
According to Slate, the first documented evidence of body-conscious seating dates back to 3,000 B.C, but it wasn't until 1849—after millennia of thrones, stools, armchairs, and other one-person seating options were introduced—that American inventor Thomas E. Warren created the blueprint for the office chairs we know today. Dubbed the Centripetal Spring Armchair, the OG office chair was made of cast iron, varnished steel, wood, and velvet upholstery. Despite its medieval design, it featured a cushioned base, arm and backrests, caster wheels, and a revolving seat, not unlike most chairs you'd find in an office building these days.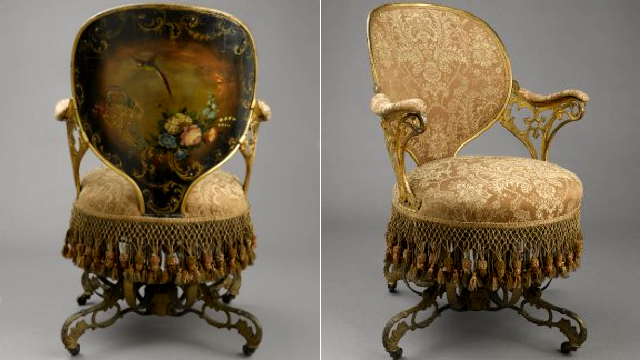 ADVERTISEMENT - CONTINUE READING BELOW
Recommended Videos
Other iterations of the office chair were produced in the decades that followed—notably American architect Frank Lloyd Wright's Larkin Building armchair, which was designed to help typists with comfort and posture, but ultimately failed due to flawed engineering. But it wasn't until the 1970s when modern ergonomics came into play. In 1976, Bill Stumpf, a designer at Herman Miller (yes, that Herman Miller) created the Ergon Chair.
Considered the world's first ergonomic work chair, the Ergon Chair, as Clark Malcolm put it, "stemmed from an idea as old as humanity itself—comfort." It featured a foam-filled seat and backrest, complex spine support, a tilting mechanism, levers to adjust height and tilt, and easy-glide castors. By 1994, nearly two decades after pioneering the technology, Herman Miller introduced the famous Aeron Chair a.k.a. "the gold standard for office seating today"—so renowned that it's displayed in the Museum of Modern Art's permanent collection. Also designed by Stumpf alongside industrial designer Don Chadwick, the Aeron's most notable features were (along with the ergonomics made famous by the Ergon) the reactive tilt and the breathable mesh back, which supports the spine and helps regulate body temperature.
ADVERTISEMENT - CONTINUE READING BELOW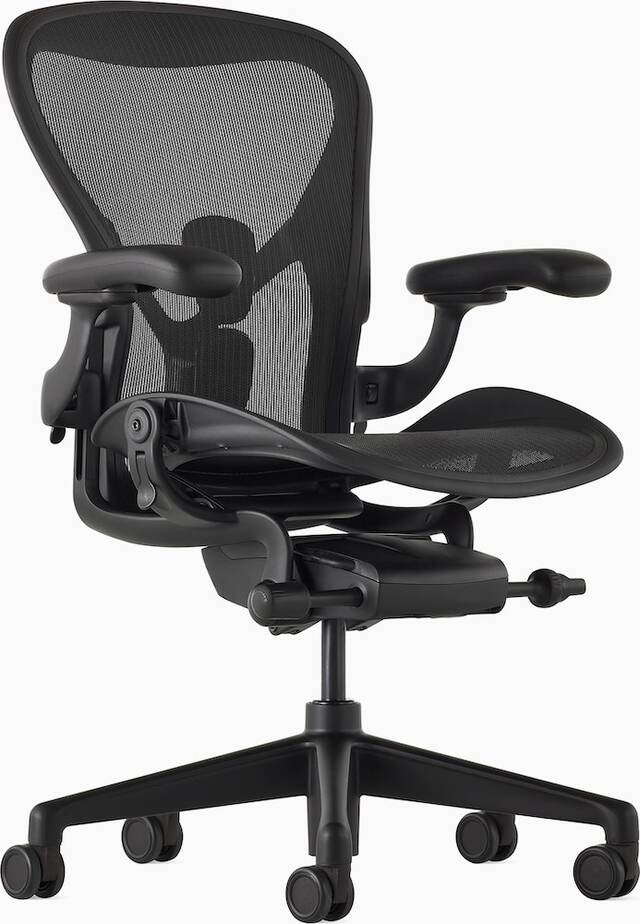 As you can imagine, it don't come cheap. Aeron chairs are currently available in the Philippines through retailer CWC Interiors. The price tag? Well over P200,000. Now, if you've got the money and are willing to spend on what's widely considered the most luxurious, well-made office chair in the world—the Rolls Royce of office chairs, if you will—then by all means. But realistically, a great majority of remote workers and paid-by-the-hour employees won't. So, back to our original question: How do you choose the perfect office chair? Thankfully, the Aeron chair provides a great blueprint of what specs to look for.
ADVERTISEMENT - CONTINUE READING BELOW
Things to Look For in a Chair
Comfort and support should be at the top of your list of office-chair dealbreakers, and in fact, the two go hand in hand. Your home-office chair should be comfortable enough to sit on for long periods and should support your movements and general work habits. Below, we list some specs to take note of when shopping, but keep in mind that not all chairs are built equally and depending on your budget, you may not be able to tick off every item on the list. Some folks, for example, can do without wheels if they don't tend to move around or a mesh back if they don't normally run hot. We've thus highlighted which features office chairs tend to include and how to analyze them. Keep these in mind before you make your purchase.
Lumbar Support
Of all the office-chair features to prioritize, we'd say lumbar support ought to be number one. The lumbar region refers to five bones in your lower back—the largest vertebrae of your entire spine. If you've ever spent a few hours in an uncomfortable chair, you'll know that poor support to the lower spine can cause severe back pain at the end of the day. Lumbar support is essential for reducing that tension that forms in your lower back, properly aligning your muscles and spine and allowing for better blood flow.
ADVERTISEMENT - CONTINUE READING BELOW
Lumbar support simply fills that gap between the lower back and the seat, supporting the natural inward curve of the lower part of your spine—this is why many remote workers opt for chair cushions against their backrests. You'll want your office chair to have a slight convex curve (reaching its high point just above the buttocks) on the lower region of the backrest, allowing the pelvis region to be tilted just slightly forward. Examine the backrest of the chair you're eyeing—a pin-straight support mechanism or concave silhouette should alert you that your chair will not provide proper lumbar support and could leave you sore by the end of the day.
Tilting Mechanism
Alongside lumbar support is the ability for your chair to recline, which promotes what's known as dynamic sitting or changing your position and posture throughout the day whilst seated. This constant movement prevents stiffness and tension in the back. Now, we're not referring to the kind of recliners you'd see in Chandler and Joey's Apartment on Friends—an adjustable backrest is a plus, but not necessary in this case. Instead, you'll just want to make sure that your chair's backrest provides enough flexibility that it tilts a few degrees backwards as you lean against it and then moves back into place with your spine as you return to your usual position.
ADVERTISEMENT - CONTINUE READING BELOW
Seat Depth and Width
Your chair should be deep and wide enough to support your back and bottom. You don't want to fit into the chair like a glove—take the time to sit-test the chair you're eyeing in the store to make sure your butt can comfortably fit, your back is fully supported, and you still have some wiggle room left. We'd also suggest that you measure the height of your desk at home to see if the chair you're looking to buy is a good match. The ideal sitting position will have your feet flat on the floor with your knees at the same level as your hips, your hips far back in the chair, and your legs comfortably fitting under the table, so make sure the chair you buy allows for this to occur.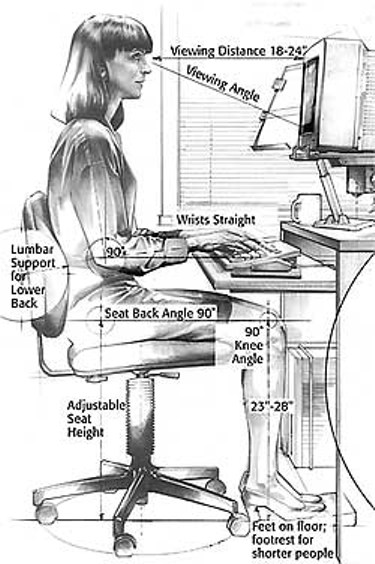 ADVERTISEMENT - CONTINUE READING BELOW
Adjustable Height
Keeping in mind what we now know about the ideal sitting position, a chair with adjustable height may be a good option if you're unable to sit-test the chair in the store, you plan to change your desk later on, you share your office chair with housemates, you move it to different rooms around the house, or you're just not confident in your measurement skills. Keep these factors in mind when deciding whether or not adjustable height is a necessary feature in the chair you'll buy.
Cushioning
A cushioned or foam-filled seat is a must for maximum comfort (and your tailbone would agree). You don't necessarily need to go all-out with the thickest, heftiest cushion out there, but make sure you have enough cushioning to prevent any feelings of pain and hardness on your bottom. And in case your current home-office chair is lacking in that department, you can also look into chair cushions.
ADVERTISEMENT - CONTINUE READING BELOW
Armrests
Armrests provide support to our upper limbs, reducing the amount of stress to the lower back when seated. Plus, lack of support in the arms creates a tendency for the body to lean forward, disrupting lumbar support. You don't need anything too fancy—just comfortable enough (cushioned if possible) to support your arms for long periods. A more crucial thing to keep in mind is the height of your armrests. According to Osmond Ergonomics, you'll want your arms to be positioned at a natural height with your shoulders relaxed and your elbows comfortable at your sides. Since armrests aren't typically adjustable, you'll need to test if the chair you're thinking of purchasing is ideal for your height—higher armrests will likely be better for taller people with longer limbs, for example.
Swivelling
A swivel mechanism, which typically rotates your seat 360 degrees, is most important for those who tend to reach around the desk or work area for various items. If you've got a big desk with files strewn about or monitors on all sides, you may want to consider getting a chair that swivels. This reduces the risk of stiffness in the shoulder and neck region. If you tend to sit still, facing just one computer, then swivelling (though not unimportant) may not be your number one priority. We also understand that swivelling may be a great feature for those that tend to fidget or can't sit still for too long—conversely, they may be a detriment to the easily distracted—so examine your daily habits when considering this feature.
ADVERTISEMENT - CONTINUE READING BELOW
Wheels
Much like a swivel feature, wheels provide added mobility for moving around or reaching for items around the work space. Similarly examine your routine and habits when considering whether wheels are necessary when buying an office chair.
Fabric and Materials
Take the time to ask the store clerk or online seller about the fabric used on the chair you're planning to buy. If you work in a warm room or tend to get sweaty, you may want to prioritize cooling or breathable textiles—can your body temperature handle suede-upholstered seats, for example? If not, maybe don't add to cart. A mesh material (as seen on the aforementioned Aeron chair) is also a great option for the backrest as it allows for better airflow and ventilation to your spinal region.
Where to Buy Office Chairs, and How Much to Shell Out
Rhett Low Back Office Chair (P4,850) from Mandaue Foam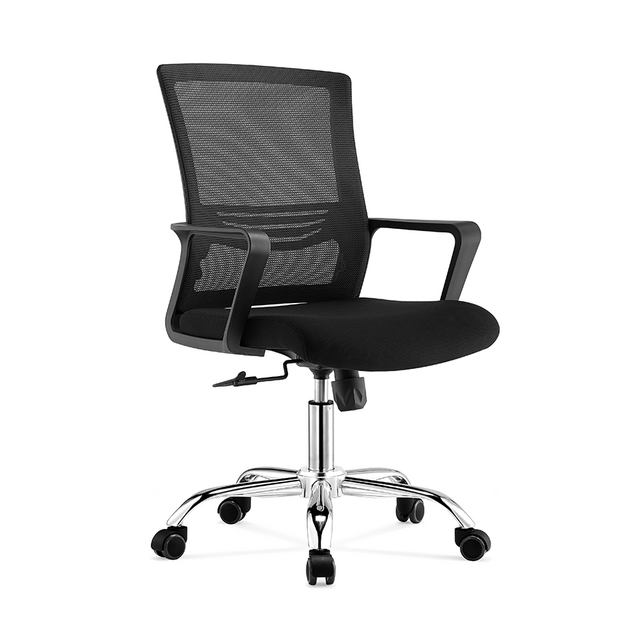 ADVERTISEMENT - CONTINUE READING BELOW
For budget-friendly picks with decent specs, check out Mandaue Foam—they've got a wide variety of office chairs in a range of styles and prices points. Go for their Rhett office chair if you're hoping to spend less than P5,000—it has a mesh back with good lumbar support, a cushioned seat, comfortable armrests, and an adjustable height lever.
Available online; see a list of Mandaue Foam stores.
MILLBERGET Swivel Chair (P6,990) from IKEA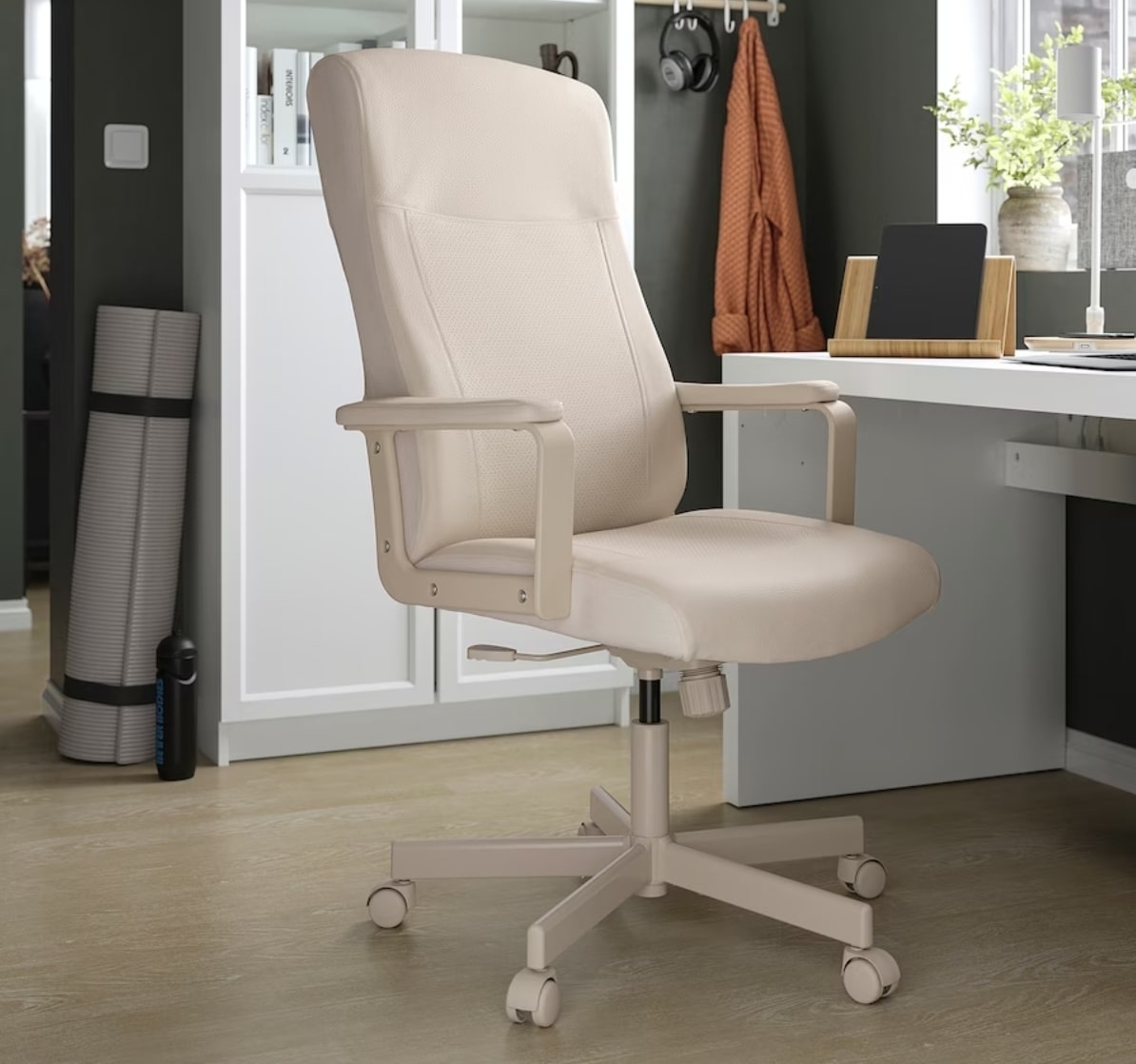 ADVERTISEMENT - CONTINUE READING BELOW
With a swivel mechanism, a generous sear width, high backrest, adjustable tilt tension and height, padded armrests, and hefty cushioning, IKEA's MILLBERGET chair is a great option for your home office that won't break the bank. Plus, that signature Scandinavian aesthetic would look great in any room. If your budget's a little lower, check out the RENBERGET.
Available online and at IKEA Philippines at the SM Mall of Asia Complex, Pasay City.
Arch Comfort Ergonomic Office Chairs (P10,500) from Stance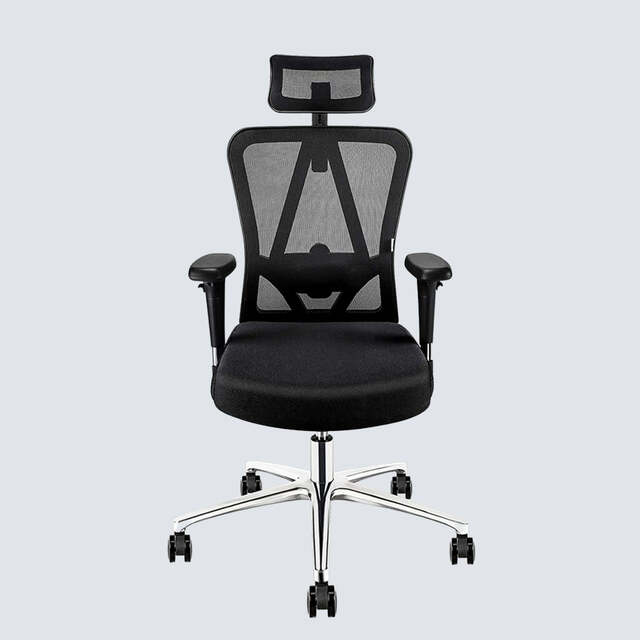 ADVERTISEMENT - CONTINUE READING BELOW
Local brand Stance is all about providing maximum comfort in the work area and they've got a wide range of office chairs depending on your needs and preferences. Our pick is the Arch Comfort Ergonomic Office Chair, which provides a breathable mesh back, 126 degree recline, adjustable height and lumbar support, memory-foam cushioning, soft-touch armrests, and even a headrest.
Available online.
Titan Evo 2022 Chair (starts at P26,990) from Secretlab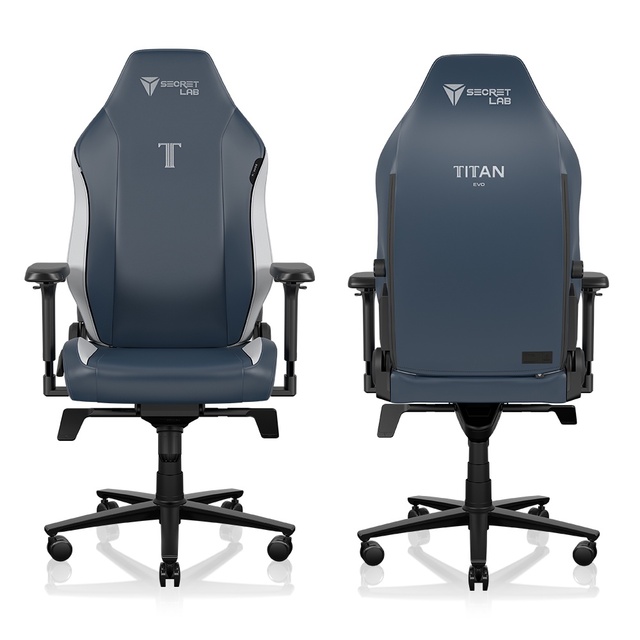 ADVERTISEMENT - CONTINUE READING BELOW
Office chairs and gaming chairs largely tend to provide the same ergonomic specs with the latter usually going all-out with added features like ultra-wide seats, headrests, themed designs, lighting, or even built-in speakers. You can definitely splurge on the extra features if your home-office chair will double as a gaming chair, but if you're just looking for the excellent comfort and support and wide build that a gaming chair provides, we recommend Secret Lab's Titan Evo 2022, which comes in three sizes so you can choose one that best suits your height and frame. It's got a four-way lumbar support system, cushioning on the seat, backrest, pillowy armrests, a cradled support for the head along with a memory foam head pillow, wide-angle reclining and tilting, and so much more.
Available on Shopee and Lazada.
Sayl Chair (P104,520) from Herman Miller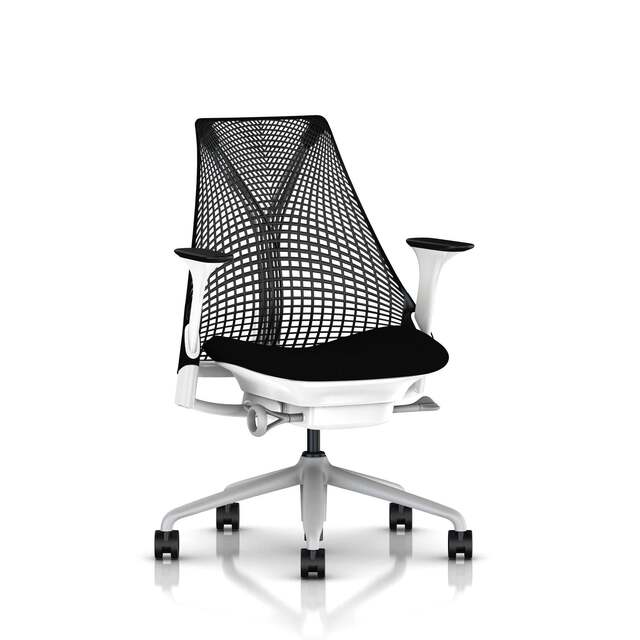 ADVERTISEMENT - CONTINUE READING BELOW
We've already waxed poetic about Herman Miller's Aeron Chair, but if you want something from the brand that's a little more wallet-friendly (relatively speaking), the Sayl Chair may be up your alley. Aside from a cushioned seat, lumbar support, and a breathable backrest, the chair's claim to fame is its ultra-adjustable design. You can adjust the tilt angle, armrest height, and seat height. Plus, it sports a cool, futuristic design and is available in a variety of chic colors.
Available online.
Share this story with your friends!
---
Help us make Spot.ph better!
Take the short survey
Load More Stories