(SPOT.ph) When we hear "Marikina City," we often think about the growing food scene and, well, monsoon floods. But at its core, Marikina stays true to its roots as the place to shop for shoes, bags, and other leather products. Yes, kids, good ol' Marikina is still the Shoe Capital of the Philippines. It's home to the world's largest pair of shoes and has been the workshop of many a cobbler. Sadly, due to economic circumstances, a lot of Marikina's OG shoemakers have closed shop or changed careers, and this has prompted the local government to put in a conscious effort to support those that remain. One of the ways they do this is by holding an annual shoe bazaar where Marikina shoemakers can showcase their products to footwear aficionados everywhere, but after a hiatus with no thanks to the pandemic, the Marikina Christmas Shoe Bazaar is back. You can find the fair at the Marikina Freedom Park, open daily from 9 a.m. to 7 p.m. until January 14.
ADVERTISEMENT - CONTINUE READING BELOW
Also read:
10 Mary Janes to Cop for When You're Feeling Dainty
Can't Cop the Latest Pair? Customize Your Sneaks With This Nike App
Check out quality shoes at a bargain at the Marikina Christmas Shoe Bazaar:
We visited this year's bazaar and found hidden gems among the many shops in the park. Here are some of our top picks from the Marikina Christmas Shoe Bazaar:
Leather Combat Boots (P2,500)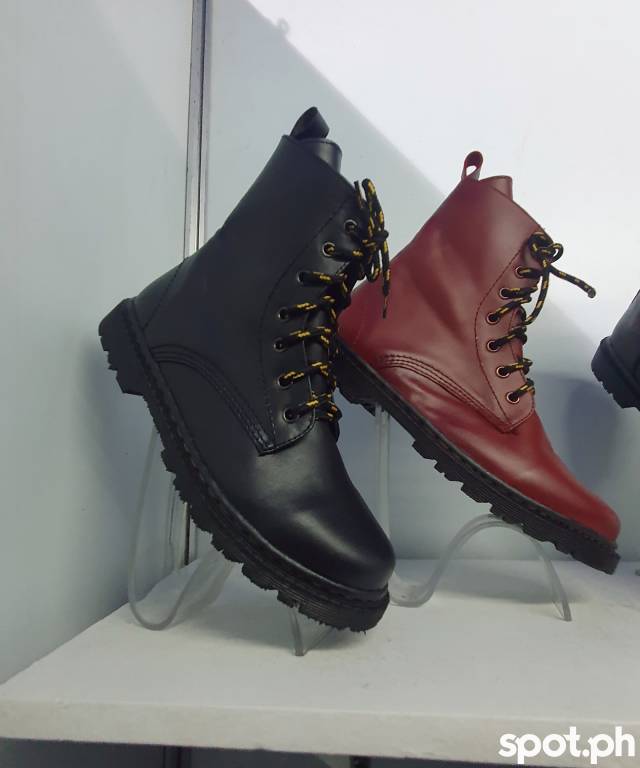 ADVERTISEMENT - CONTINUE READING BELOW
Recommended Videos
Walking around the shoe fair, these immediately made us do a double take thanks to how similar they look to Doc Martens. These all-leather, double-stitched sole combat boots are only P2,500. Quite a steal if you consider that actual DMs cost around P10,000.
Heeled Ankle Boots with Zipper (P4,200)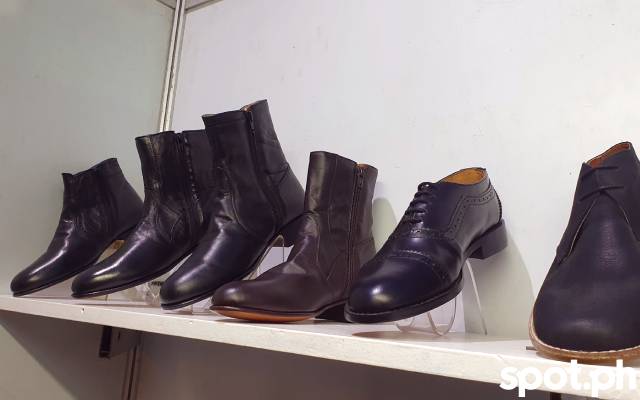 ADVERTISEMENT - CONTINUE READING BELOW
These heeled leather boots will make any outfit pop. Simple and comfy, these boots make excellent travel shoes. Made from high-quality cow leather, these pairs are built to last but still come with a lifetime warranty from the shoemakers. While on the pricier side of the spectrum at this fair, we say they are worth the investment. Trust us, we bought a pair of these five years ago and are glad to report they survived years of travel and daily use.
Birks-Inspired Men's Sandals (P1,600)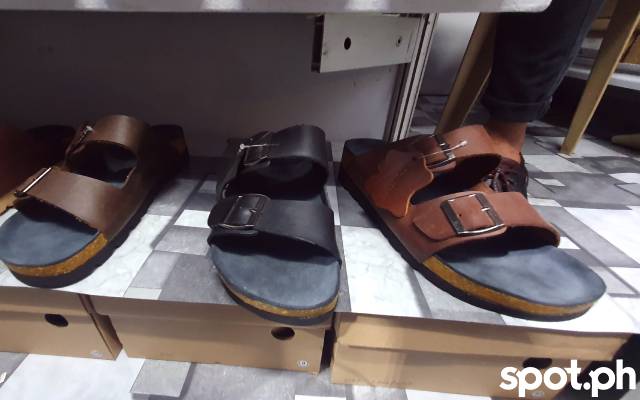 ADVERTISEMENT - CONTINUE READING BELOW
There's no denying these sandals look like trusty birks, but hey, they come at half the price of the OGs and are made from leather, so we're not complaining. 
Birks-Inspired Women's Sandals (P450)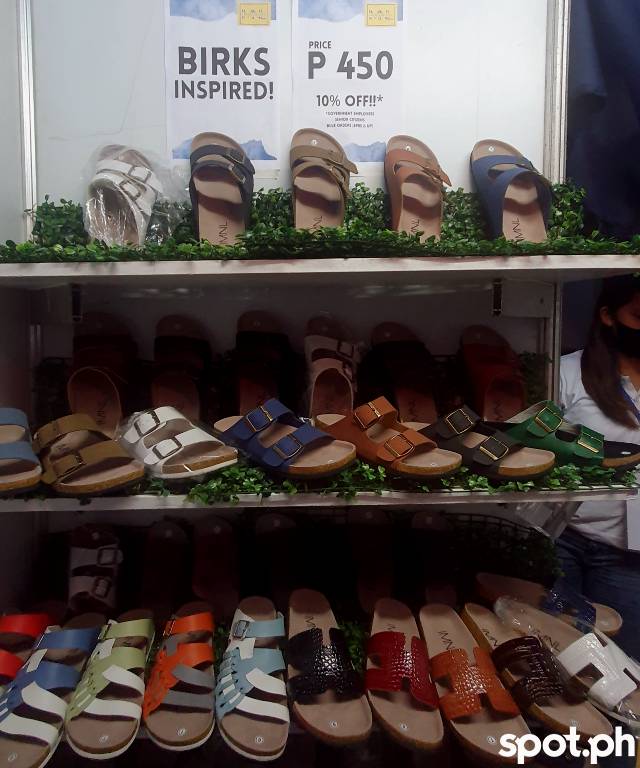 Okay, if you are wondering why the women's birks are a lot cheaper, it's mainly because they're made with synthetic leather. But don't let the difference in material deter you from choosing these sandals as they still make a good everyday pair. Plus, look at the sheer amount of styles and color options. They're enough to sate any footwear aficionados' need for birks any day.
ADVERTISEMENT - CONTINUE READING BELOW
Also read: Shy Feet? This New Birks Collection Has You Covered...Literally
Men's Dress Shoes (P2,300)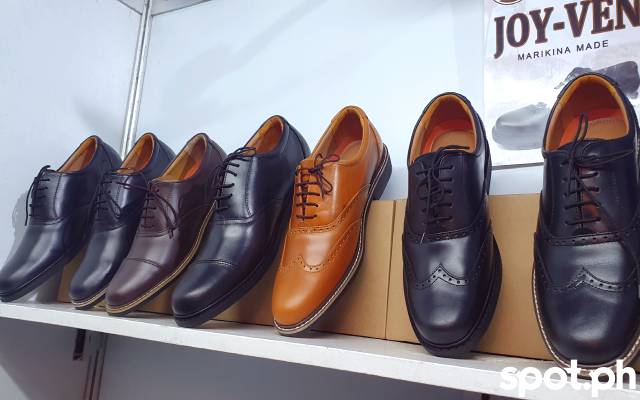 Got a special event you're going to soon, like a wedding or a formal dance? Then check out these snazzy lace-up leather dress shoes. With options from classic black and brown to lighter shades, you're bound to find a pair to match any suit or motif you need.
ADVERTISEMENT - CONTINUE READING BELOW
Various Women's Office Heels (P1,000)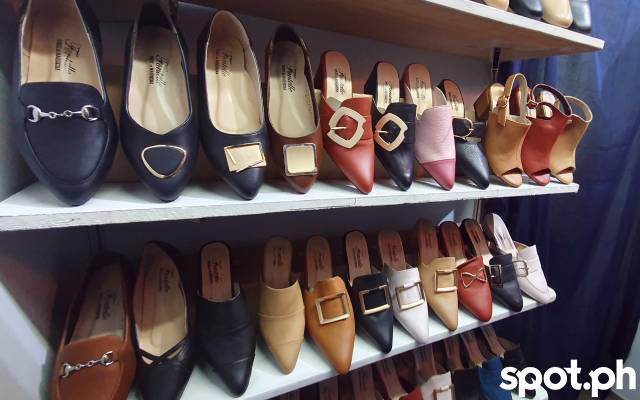 Ladies, are you looking for your next everyday office pair? If so, drop by Fontelle Shoes at the fair. Their booth offers a wide array of office-friendly staples made from leather. Yup, all these are pure leather pieces, all for P1,000 each—talk about a steal.
ADVERTISEMENT - CONTINUE READING BELOW
Men's Casual Colored Leather Boots (P3,500)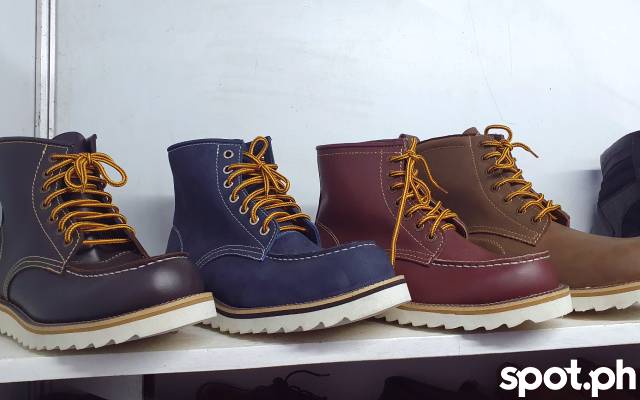 Are you looking for casual closed shoes to elevate your tees and jeans wardrobe? Then check out these colorful leather low-cut boots. They're the right balance of chic and casual, i.e., you could pull off wearing them to more formal occasions and everyday errands.
ADVERTISEMENT - CONTINUE READING BELOW
Gulong-soled Rugged Unisex Sandals (P599)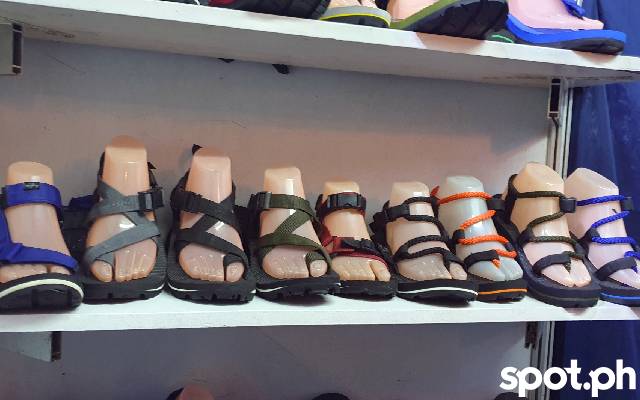 Are you an outdoorsy explorer or simply looking for a pair to take on your next trip? Take a look at these rugged sandals. Their no-frills practical design makes them a good choice for outdoor activities like hiking. Worried about their quality? Don't sweat. These sandals have soles made from car tires—yup, ready for wear and tear.
ADVERTISEMENT - CONTINUE READING BELOW
Espadrille Slip-on Flats (P500)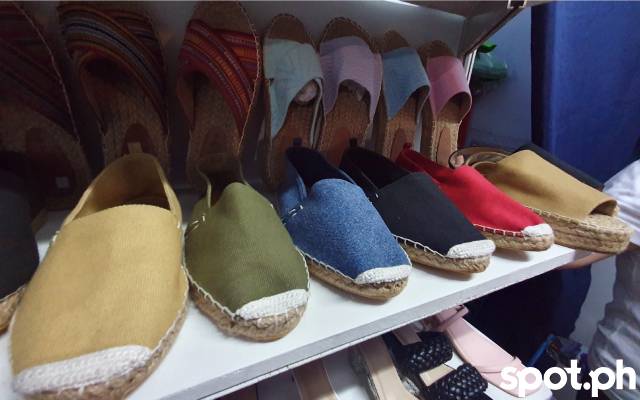 Get summer-ready with these light and airy espadrilles. These flats would go great with sun dresses, skirts, and shorts. They're your best bet to make any casual sunny outfit a little brighter.
Geometric-Designed Espadrille Wedges (P1,300)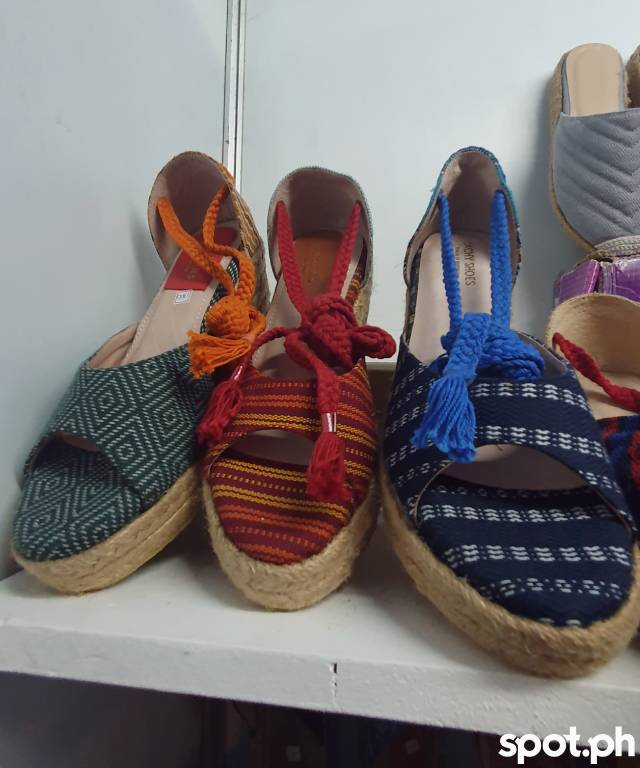 ADVERTISEMENT - CONTINUE READING BELOW
Not a fan of flats but still want to cop the espadrille aesthetic? Try these wedge heels with woven geometric designs. You could also pair these with any summery outfit, much like the flats. Let these heels bring a little extra sunshine to your step.
Also read: Yup, 7-Eleven x Crocs Clogs Exist and We Don't Know How to Feel
Bonus: Bags and Purses
Surprise! There are also some stalls that sell bags and purses at the fair. Granted, most of them are made from synthetic leather but look at these cute styles and vibrant colors, and for under P500, we ain't complaining.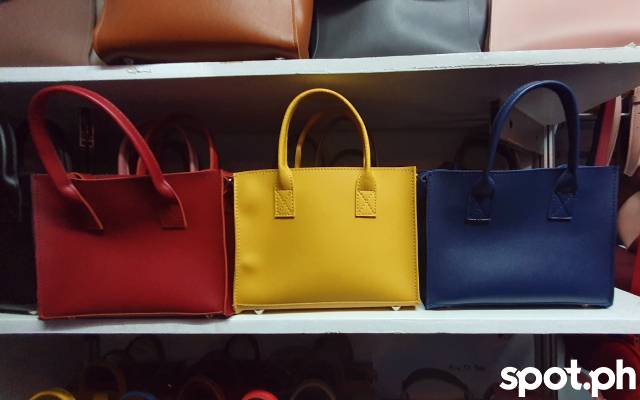 ADVERTISEMENT - CONTINUE READING BELOW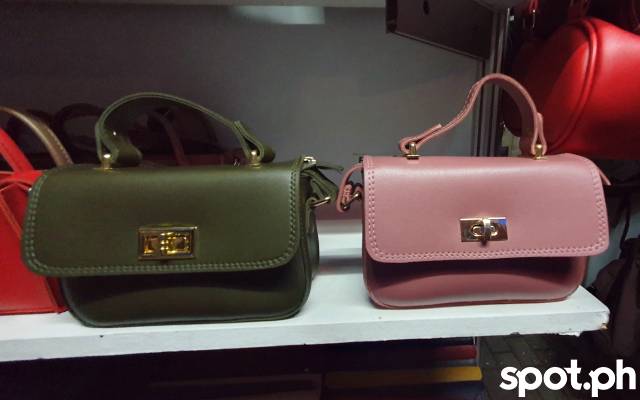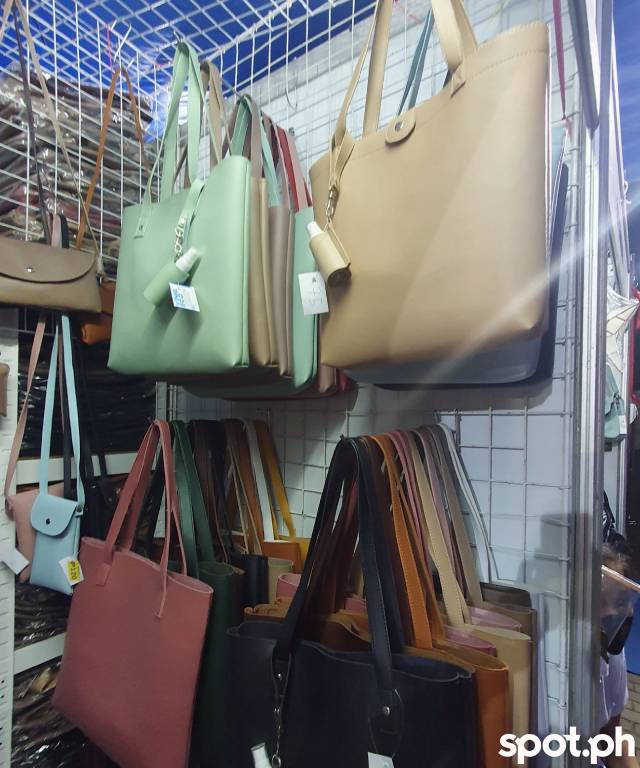 ADVERTISEMENT - CONTINUE READING BELOW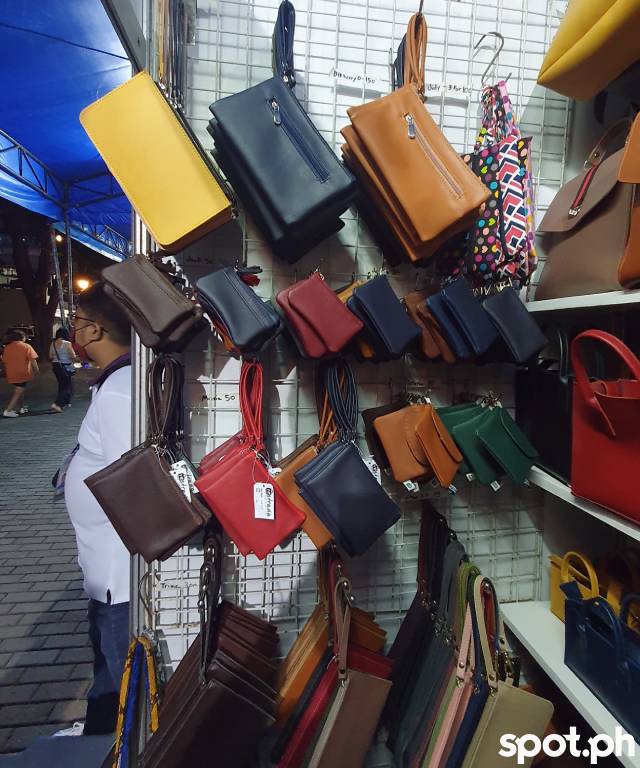 The Marikina Christmas Shoe Bazaar is at Marikina Freedom Park, Sta. Elena, Marikina. It is open daily from 9 a.m. to 7 p.m. until January 14, 2023. For more information, visit Marikina PIO's Facebook page.
ADVERTISEMENT - CONTINUE READING BELOW
Share this story with your friends!
---
Help us make Spot.ph better!
Take the short survey
Load More Stories