(SPOT.ph) A lot of businesses thrive through word of mouth. At the basic level, for example, you might choose to use a neighborhood laundromat because one of your neighbors recommended it. On a much larger scale, restaurants, theater shows, books, hotels, and other services rely on loyal customers and patrons to let people know about them.
In traditional media, we usually call these reviews, which are written after a preview. More often than not, they're upon the invitation of an establishment; and upon editorial discretion. Then, there are advertorials (a.k.a. branded content), which have a corresponding amount—whether in cash or in-kind (ex-deals)—based on a media platform's metrics as arranged by a written proposal through both party's account executives.
But the rise of influencers as a form of social media marketing is changing the game—whether good or bad, we can't quite say. Take, for instance, the recent buzz generated after a supposed influencer's "rude" message to the page of luxury Tagaytay hotel Escala went viral.  
The Viral Influencer in Question
Botchi Santos, who works with Escala Tagaytay, posted a screen capture of the message: "Hello Escala we are [name redacted] an Instagram influencer with 100,000 followers we are going to the Philippines next month (February and March), we are interested in collaborating with you, In exchange, we will post a Story, a Reel video, and an IG post during our Stay in the hotel just like we did on our previous collaboration in exchange of a 1 night stay. Just let us know if Its okay. Cheers [sic] ," wrote the supposed Instagram influencer as a direct message to the Facebook page of the luxurious Tagaytay hotel. Sans the punctuation, capitalization, and conjunction lapses (not to mention, a more formal proposal), this is a common message of intent from content creators to many establishments.
ADVERTISEMENT - CONTINUE READING BELOW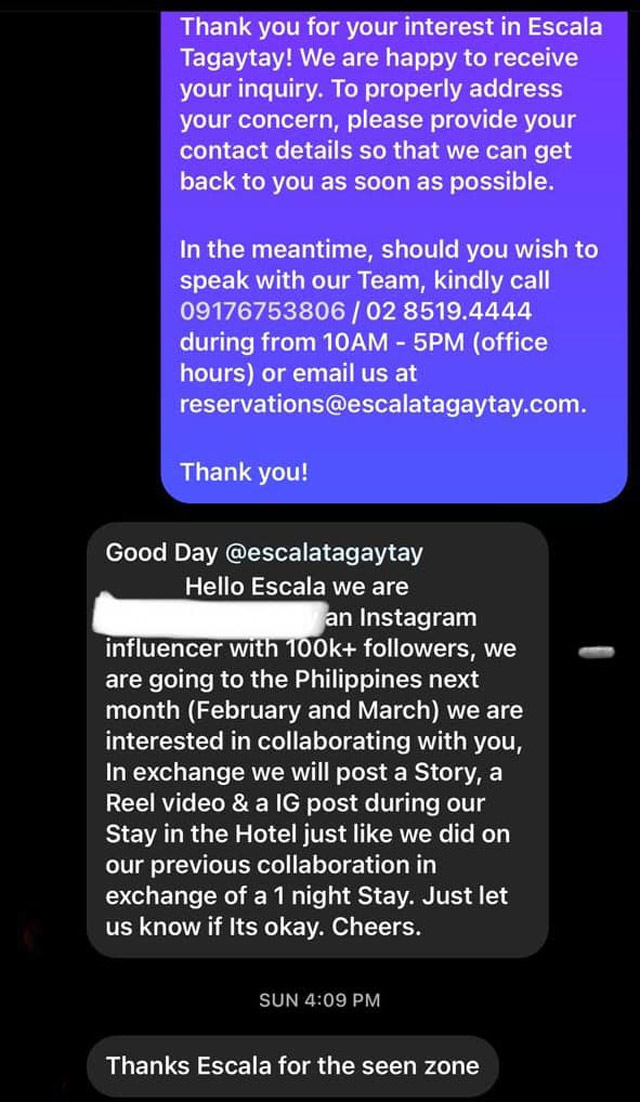 Before giving Escala Tagaytay the chance to reply, the Instagram influencer immediately followed up with a message: "Thanks Escala for the seen zone."
In response, Santos penned an open letter to the "Instagram influencer with 100,000 followers."
"We apologize for the seen zone.
Unfortunately, before we could come up with an appropriate response, (with the approval of the right person/manager who is different from the person manning our social media channels) you brushed us off really quickly.
We are sorry if our timeliness does not meet your expectations. We did give you the option to call us with our working schedule & contact details if you felt it to be very urgent and could not wait.
There is also the small matter of you messaging on a Sunday midnight. The people who decide on such requests have other obligations (READ: live their own private personal lives) as well on weekends."
The post was punctuated with a note: "Definitely not the RIGHT way to ask for something FREE" and the hashtags #EntitledMuch and #Rude.
As it turns out, the same Instagram account also reached out to a resort in San Juan, La Union. And after not getting a response, the Instagram influencer once again expressed their gratitude with much sarcasm. "Thanks for reading our message (seen zone) without bothering to reply. We rate this a five star on your good customer service, they really do there [sic] job. Keep it up. Congrats," read their note. A series of exchanges revealed that the Instagram influencer expected the resort's customer service operates 24/7 "since your [sic] in the hospitality business."
Also read:
How to Succeed as an 'Influencer'? We Asked MasarapBa for Tips
The Ever-Evolving Tale of the Entitled Influencer

What Is an Influencer?
According to Merriam-Webster, an influencer is "one who exerts influence" or "a person who inspires or guides the actions of others." Cambridge Dictionary gives more details about it: "a person who is paid by a company to show and describe its products and services on social media, encouraging other people to buy them."
With the blurring of lines between traditional media and new media, influencers and online content creators are nowadays often invited to product launches, theater and film previews, restaurant and hotel openings, and other businesses that rely on brand visibility, most especially online.
"There's nothing wrong in sending proposals for collaboration. But we should make sure that we know when it's appropriate to follow up on our request. I don't find it unethical, especially if the influencer is qualified to offer collaboration. That's actually a win-win situation. They need to do a self-assessment if the value of their platform corresponds to the free product and service. It's like sending resumes to an employer. We do it in a proper way. If we didn't receive a response, that automatically means either we're not qualified or the company's not interested," Melo Villareal of Out of Town Blog tells SPOT.ph. Villareal has been a travel content maker since the early aughts.
ADVERTISEMENT - CONTINUE READING BELOW
Robinsons Hotels and Resort, the hospitality arm of Robinsons Land, also recognizes the wide audience of influencers. "We do maintain a healthy relationship with influencers who best aligns with and believes in our brand, more so with those who find a home in all of our properties nationwide. As with any partnership, we always try to evaluate if we can be of value to each other. Nonetheless, our doors are always open for invitations to make Robinsons Hotels and Resorts an integral part of making the best experience to explore more and have enriching moments around the Philippines," Nonito Antonio O. Cuizon, Marketing Director of Robinsons Hotels and Resorts, says.
The Question of Ethics
"An ethical process would be a request complete with proposed deliverables and exposure, what would be the expected impressions from said collaboration, and what is your target audience? Or, in exchange for content, what would the expected quality and format of the content delivered be? If it's something the hotel or airline or product is missing or wants more of, then it's a great match. If not, the party can politely decline," U.S.-based travel blogger Pema Chinyam tells SPOT.ph in an exchange. She talks about her many travels all over the world on her website Pema Travels, which has the tagline: "On Top of the World and Under the Sea: Photo and Film Journeys through the eyes of a Tibetan traveler."
When asked about influencers asking for perks in exchange for exposure, Chinyam explained that it all really depends on what the exposure is and how large and specific their niche is. However, established brands may find these collaborations useless, unless the influencer provides value in the niche market or creates high-quality content that may possibly have a huge impact on brand awareness. 
"If you're an international hotel chain and an influencer with 100,000 followers asks for a stay in exchange for exposure, you'd really want to know how that would benefit you if you have no idea about the authenticity or demographics of their following. Bots and 13-year-old followers don't do much, and neither do TikTok videos, in my opinion. I used to run the social media for a five-star property and really disliked influencers asking for free stays. I did, however, consider those who had a portfolio of beautiful photographs of previous hotel collaborations. Video even more so," she adds.
Influencers Getting a Bad Rap
Kate Alvarez, who comes from a traditional background in media as a magazine editor and experience as a commercial model handled by an agent, compares the production and marketing practices during the pre-influencer and influencer era.
"Times have changed. I remember when I was part of a magazine editorial team. We would send letters to brands introducing our new magazine in hopes of being added to their PR list and establishing a professional relationship. When print was dying and replaced by digital media and blogs (influencers were not a thing yet), it was acceptable to reach out to brands and businesses to introduce yourself in hopes of collaborating or being tapped for paid projects.
ADVERTISEMENT - CONTINUE READING BELOW
Back then it was okay to ask a restaurant or hotel if you could use their venue for your fashion shoot for free, because both parties know that the magazine exposure had real value and potential returns.
These days, let's be honest, how do you react to the term influencer? If you cringe, roll your eyes, or think of the over-filtered Instagrammers that annoy you to death, I don't blame you! Thanks to the "big bad bloggers" and unprofessional influencers that give the industry a bad rap, the term influencer seems to connote negativity more than inspiration now. Whenever I have coffee with my friends who run businesses, PR firms, modeling agencies, and production houses, we often talk about how influencers are running the world and ruining it at the same time," she tells SPOT.ph. Alvarez blogs about travel and lifestyle on Kate Was Here.
Influence as a Marketing Strategy
Influencer marketing hinges on the popularity of a person to endorse a product or service. It's basically your friendly neighbor that tells you where to buy the best isaw in your area, but with Google Analytics, trends, followers and views, and a whole lot of money.
Since its backbone rests on the ever-evolving Internet, strategies of influencer marketing or social media marketing also undergo constant change. Different types of influencers have penetrated the market, from nano- and micro-influencers to Hollywood celebrities. Then there are also other players in the social media field, including the bloggers who have been around since Geocities and Blogspot, vloggers and their signature "Hey, guys" greeting, and other forms of content creators. TikTok, in addition, has also given birth to everyday influencers as trends drive toward less-scripted content. With the democratization of influence, so does the misplaced confidence in demanding freebies.
A senior marketing manager, who chose to remain anonymous, cited the creator economy or influencer economy as a possible root cause of this issue. Through creator economy platforms like TikTok, Facebook, Instagram, and YouTube, content creators earn revenue from their creations. This, of course, is all well and good; and a great answer to what gig workers have been demanding. On the opposite side of the coin, "everything kailangan may kapalit, nagiging ganon 'yong culture," they add in an exchange with SPOT.ph. They liken these platforms to a talent agency.
"Ang mali lang, some people tend to abuse the system. They can buy their followers on Instagram, kaya hindi ako gano'n nabibilib. You can actually buy your followers on IG, right? There are bots to do that. So mas naniniwala pa ako sa Key Opinion Leaders talaga. Meaning, very specific 'yong tina-tackle nila na content. For example, tech; or food. Alam mong consistent sila sa gano'n. 'Yong paiba-iba, I doubt din. A lot of them are in it for clout or just to be seen. Walang focus. 'Yong mga ganon, wala rin 'yang impact sa benta mo. [...] If you're knowledgable and you know how the [marketing] industy works, makikita mo naman kung sino 'yong may brand lift and conversion from the influencers e," they explain. Influencers are okay for brand awareness, but conversion demands a more experienced key player like an affiliate marketer, they narrated.
ADVERTISEMENT - CONTINUE READING BELOW
"When I read stuff from all these influencers, I don't automatically believe in them. Kasi more than half of the time, these are being fed to them for free. Wala na 'yung before na authentic reviews, for example, of restaurants or products. [...] That's what I kind of miss early on, mas gano'n pa 'yong influencers, bloggers, bloggers."
Alvarez agrees. She also thinks that influencers should not go after brands.
"Brands, PR gurus, and marketing firms were not born yesterday. They're aware that the terms influencer and celebrity are so loosely used these days. They know that it's easy to buy followers (IG giveaway booster, anyone?) and fake your engagement rate. It's not just PR people; your social media followers know if all you got was a free shampoo or tomato sauce in exchange for those reels and posts that you're trying to pass off as a paid endorsement. But it's not just bad influencers who are ruining the industry. Some brands bypass casters, agents, makeup artists, photographers, and production houses by going straight to influencers who are willing to create full-production content in exchange for a loot bag or talent fee that's [a quarter of] the industry standard.
If you're a true influencer or celebrity, common knowledge is that you don't go after the brands. They go after you. Unless of course you have real influence, i.e. your followers actually buy the product and follow the brand after you posted about it. But celebrities who have that kind of power and influence don't even need to "ligaw" brands.
And if you're a well-paid influencer, shouldn't you be able to afford an ice cream cone instead of composing a long-winded message in hopes of getting it for free?"
It All Boils Down to Common Courtesy and Ethics
In a May 2022 insight by Nielsen, a global agency known for audience measurement, data, and analytics, they concluded that: "Brands that align themselves with the right influencers can become a trusted source for consumers—and the brand they remember when they want to make a purchase."
These facts cannot be argued. While influencers have the power to make brands known, brands also have power over influencers through money, fame, and content.
Alvarez, for example, still "adheres to the editorial practices and standards [she] learned from [her] publishing jobs. When she get sent press kits and freebies, there is careful curation and discretion on which platform to use for a particular production, whether a blog post, listicle, review, or social media story. She's also "picky about the brands [she] works with," making sure that the products don't go against what she advocates. "I'm proud of the few brands I've worked with because our professional relationship has depth."
In an exchange with SPOT.ph, Santos of Escala pointed out that "[they] probably would have given them a free stay anyway," had the Instagram influencer not been rude or exuded self-entitlement. "We have nothing against vloggers and influencers. We work with a lot of them. We have worked with vloggers with a much smaller audience of followers," he adds.
ADVERTISEMENT - CONTINUE READING BELOW
And jaded as we are with the overarching capitalist worldview, it still remains that at the very least, common courtesy should not be forgotten.
Share this story with your friends!
---
Help us make Spot.ph better!
Take the short survey
More Videos You Can Watch
Load More Stories