10 Amazing Videos for Exploring the World's Best Beaches
Who says you can't check out a beach while sitting at home?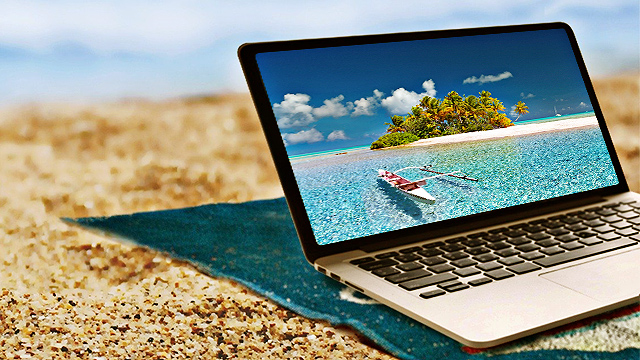 (SPOT.ph) Dry season in the Philippines is almost over, and we haven't even worn our newly bought swimwear yet as travel restrictions are put in place amid the COVID-19 pandemic. Flying to other countries to experience some of the world's best beaches is out of the question, too. It's a good thing that a lot of 360-degree videos (a.k.a. immersive videos or spherical videos) of beautiful coastlines have been uploaded online pre-quarantine. Unlike your usual clips, these things let you pan around by clicking on the directional buttons or dragging left and right—as if you're right there at the beach: looking up the clear blue sky, listening to the waves, and burrowing your feet in the sand.
Also read:
10 Amazing Underwater Spots You Can Visit From Your Couch
10 Philippine Museums and Galleries You Can Visit From Home
10 Museums Around the World That You Can Visit With Google Street View
10 UNESCO Heritage Sites You Can Check Out From Your Couch
ADVERTISEMENT - CONTINUE READING BELOW
Check out these 360-degree video clips of the beautiful beaches around the world:
Myrtos Beach (Greece)
Lying between two mountains—Agia Dynati and Kalon Oros, Myrtos Beach in the Ionian Islands is a majestic seascape so blue you'd think it's edited. Even this 360-degree video shows the sea's brilliant turquoise color, which turns out to be caused by sediments from the white rocks along the coast. Turn up the volume and listen to the crashing of the waves, chirping of the birds, and chattering of people. (Yes, people—when was the last time you saw a crowd? Probably too long ago.)
CONTINUE READING BELOW
Recommended Videos
Baa Atoll (Maldives)
Talk about the world's best beaches and what easily comes to mind are the coasts of Maldives. Officially the Republic of Maldives, this small island nation in South Asia boasts natural atoll, luxurious resorts, and small coral islands and sandbanks. This immersive video features Amilla Fushi Resort—a high-end island resort in the Baa Atoll. The accompanying music is so relaxing, you can easily let your mind wander and imagine you're right there with your feet touching the white sand. 
Caribbean
The Caribbean, an archipelago of over 700 islands, islets, and reefs in the Americas, has everything that you need for a tropical getaway. But while we can't fly to the other side of the world just yet, this eight-minute video brings you from a yacht sailing in turquoise blue waters to a white-sand shore behind the shade of a coconut tree. The calm sound of the push and pull of the water might also bring you to sleep.
ADVERTISEMENT - CONTINUE READING BELOW
Malibu (California)
No, we're not talking about Miley Cyrus' song "Malibu" (which really has nothing to do with the beach town). Popular among surfers and beach-lovers, Malibu boasts "21 miles of scenic beauty"—a slogan plastered on signboards around the city. The empty beach strip and soothing nature sounds in this 32-minute clip can help you find your Zen.
Malaekahana (Hawaii)
Wake up to a beautiful sunrise along Malaekahana Beach in Oahu—at least after you log in on your computer and hit play on YouTube. This beach strip is famous for surfing (even during winter) and is a great place for camping under the stars at night.
Fitzroy Island (Australia)
Fitzroy Island in Queensland is a tropical paradise surrounded by the Great Barrier Reef. Take a virtual tour through the 360-degree video, which features stops in Nudey Beach, a 3.6-kilometer track where you can hike to the summit and enjoy a panoramic view of the turquoise blue waters, and the lighthouse.
Buck Island Reef (Caribbean)
National Geographic's immersive video of the Caribbean is one for the books. Underwater photographer Brian Skerry takes you to the depths of Buck Island Reef, which is the U.S.' first protected marine monument. Turn on the volume and listen to an informative narration about the elkhorn coral barrier reef that covers much of the island and home to over 250 marine species like spotted eagle rays, Blacktip reef sharks, and Leatherback turtles.
Cala Millor Beach (Spain)
Cala Millor on Balearic Island has been welcoming tourists to its beautiful coast since the '60s. Aside from swimming in its calm waters, you can also lounge around the expensive resorts in the area, eat out in the fine-dining restaurants, or go bar-hopping. Until then, this seven-minute 360-degree video transports you to this tropical paradise by a virtual tour of two kilometers of fine white sand and looping audio of crashing waves.
ADVERTISEMENT - CONTINUE READING BELOW
Red Sea (Egypt)
This rare video footage features up to 80 wild spinner and bottlenose dolphins filmed for seven days in the Red Sea in Egypt. Their high-pitched whistles and calls meld in the background of soothing music, which sounds a lot like a cathartic scene from a movie.
Bimini Island (Bahamas)
Another high-tech video from National Geographic lets viewers come face-to-face (virtually, at least) with not just one but a whole group of great hammerhead sharks swimming in the Bahamas. Bimini Island, specifically, is home to 13 species of sharks like Shortfin Mako sharks, Bigeye Thresher sharks, and Sixgill sharks.
Share this story with your friends!
---
Help us make Spot.ph better!
Take the short survey
Load More Stories