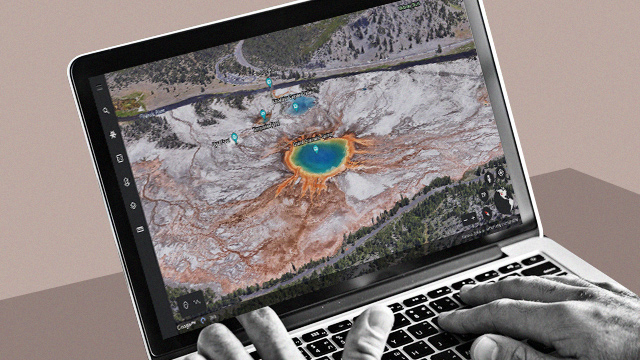 (SPOT.ph) By now you've probably toured museums and galleries in the Philippines, explored UNESCO Heritage Sites, and went on an island-hopping tour without having to pack your bags. If you're looking for something a bit different to your virtual tours, look no further: Google Earth and Google Maps let you check out unique destinations with just a few clicks. We've taken care of your itinerary with this selection of places that are strange, visually striking, or both. And if that's not enough, you could actually go "out of this world" and check out what's there beyond the Earth.
ADVERTISEMENT - CONTINUE READING BELOW
Also read:
10 Amazing Videos for Exploring the World's Best Beaches
10 UNESCO Heritage Sites You Can Check Out From Your Couch
10 Amazing Underwater Spots You Can Visit From Your Couch
You can check out these weird but fascinating destinations online: 
Grand Prismatic Spring (Wyoming, U.S.)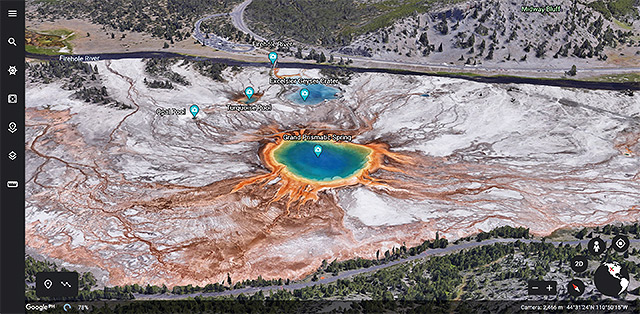 Located in Yellowstone National Park, this gradient-like hot spring is the largest in the United States and the third largest in the world, measuring 370 feet long and 160 feet wide. Aside from the size, this hot spring is so fascinating because of the prismatic colors that come in streaks of orange, yellow, and green in the spring's deep-blue waters. Fun fact: According to Yellowstone National Park's official site, Yellowstone microbes that can be found in the hot spring work as a living thermometer. This has "helped investigators solve crimes" and aided NASA's search for extraterrestrial life "on seemingly inhospitable planets." 
ADVERTISEMENT - CONTINUE READING BELOW
Recommended Videos
Bird People (Tamagawa Aqueduct Greenway, Tokyo, Japan)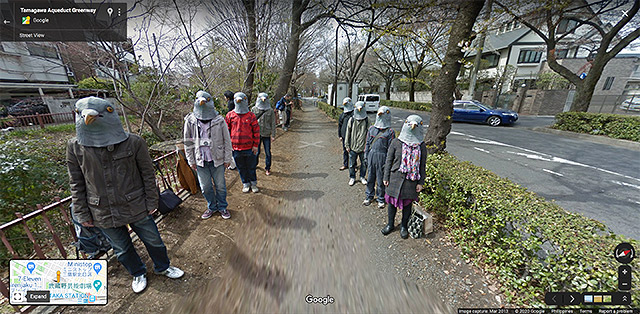 Along Tamagawa-josui in Western Tokyo, you'll be greeted by a group of "bird people" who are lined up on the sidewalk. It's speculated that they're art-school students from the nearby Musashino Art University who decided to play a prank upon learning that the Google camera would be roaming the area. So, they decided to buy pigeon head masks and assemble on a particular day when they would be caught on cam.
ADVERTISEMENT - CONTINUE READING BELOW
Desert Breath (Red Sea, Egypt)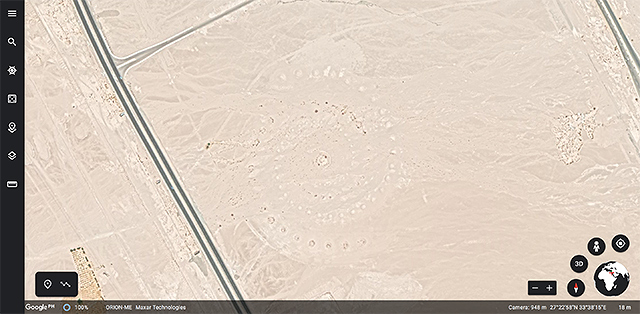 This one-of-a-kind art installation in the Sahara Desert has been slowly disintegrating since it was finished in 1997. It was created by the D.A.ST. Arteam, a collaboration between installation artist Danae Stratou, industrial designer Alexandra Stratou, and architect Tella Constantinides. "Desert Breath" features 89 protruding cones that form a spiral to represent the concept of infinity in a desert setting. It covers approximately 100,000 square meters of land, and took two years to complete. The center used to hold a body of water that was 30 meters deep. 
ADVERTISEMENT - CONTINUE READING BELOW
Trementina Base (near San Miguel Ranch Airport, New Mexico)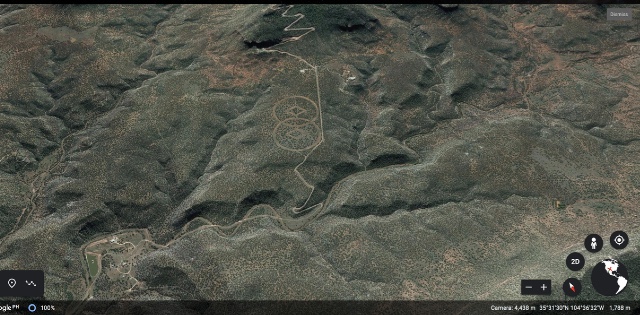 Trementina Base is owned by the Church of Spiritual Technology, an affiliate of the Church of Scientology. It bears the organization's symbol—two diamonds inside interlocked circles—and serves as a guide for Scientologists returning to Earth. According to an article by Atlas Obscura, it is believed that the symbol was placed by senior members to guide L. Ron Hubbard, the founder of the Church of Scientology, in his return. This facility serves as "archival storage" of Hubbard's important scriptures, lectures, and other records, which are all stored in titanium capsules and calamity-proof vaults.
ADVERTISEMENT - CONTINUE READING BELOW
Haveforeningen Harekær (Brøndby, Denmark)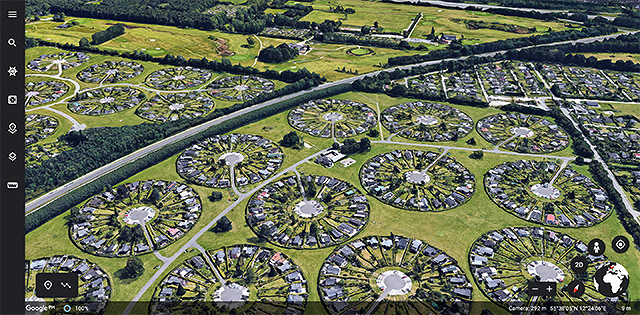 Located in the Green Kile part of Brondby, this suburb-like area is actually owned by the Harekær garden association. People who live in apartments and are tired of the city noise can escape to the Haveforeningen where they can enjoy a sense of community, spend the weekend in a small cozy home, and tend to their own garden lot. Haveforeningen features houses divided into 12 circular villages, and each house is typically rented between April and October, according to Lonely Planet.
ADVERTISEMENT - CONTINUE READING BELOW
Airplane Graveyard (Tucson, Arizona, U.S.)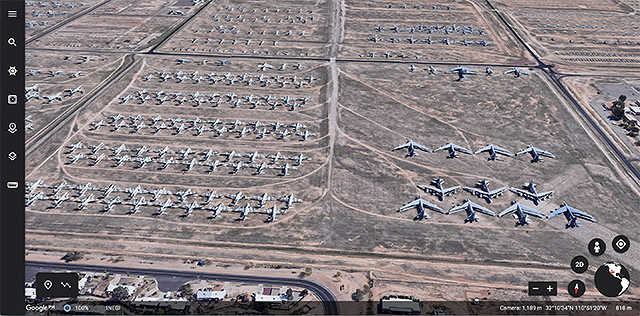 The 309th Aerospace Maintenance and Regeneration Group, or The Boneyard, is a 2,600-acre maintenance facility where the United States Air Force retires their aircraft and store missiles. It's located on the Davis-Monthan Air Force Base in Tucson, Arizona. Tucson's low humidity is ideal in helping prevent metal parts from eroding. Some of the aircraft parked in this facility were used during World War II, the Cold War, and the Vietnam War. The aircraft junkyard workers try to rescue parts from these aircraft so they can use them for maintaining current warfighter planes. 
ADVERTISEMENT - CONTINUE READING BELOW
Atacama Giant (Tarapaca, Chile)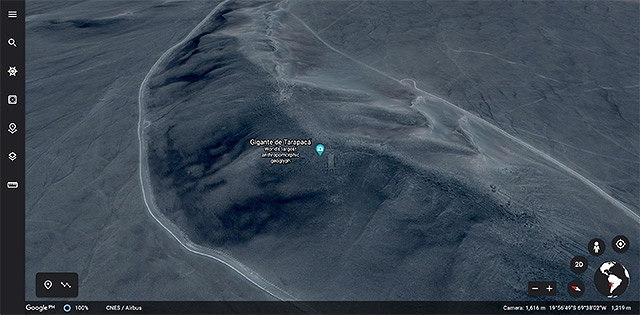 This geoglyph is about 390 feet tall, which makes it one of the largest ancient geoglyphs in the world. The creation of this geoglyph dates back to 1,000 and 1,400 C.E., and it's surrounded by smaller geoglyphs that depict images of birds and other designs. Ancient people treated Atacama as a rain god. They used the geoglyph to calculate the moon's movement.  
ADVERTISEMENT - CONTINUE READING BELOW
Iwami Ginzan Silver Mine (Honshu, Japan)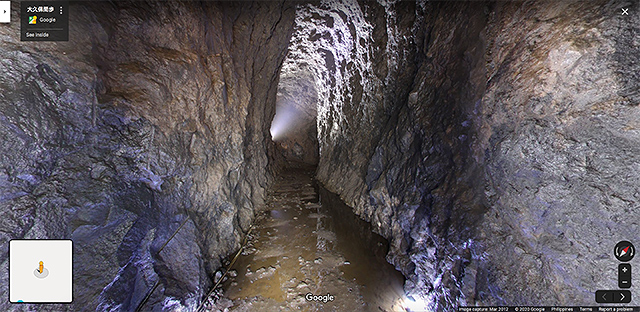 Remember all those tours where the guide would make a stop at a historical tunnel and invite you to check out what's inside, only to instantly feel a sense of dread or claustrophobia and skip the tour? Well, if you're not comfy with exploring small, dark spaces but have always been curious, perhaps an online visit might be more your speed. The Iwami Ginzan Silver Mine is an underground silver mine in Oda, Japan, and is known as the largest silver mine in the country. It was discovered in 1526—around one-third of 16th-century silver came from this mine. before it was closed in the 1920s. It was declared as a UNESCO World Heritage Site in 2007 and is listed as "Iwami Ginzan Silver Mine and its Cultural Landscape."
ADVERTISEMENT - CONTINUE READING BELOW
Space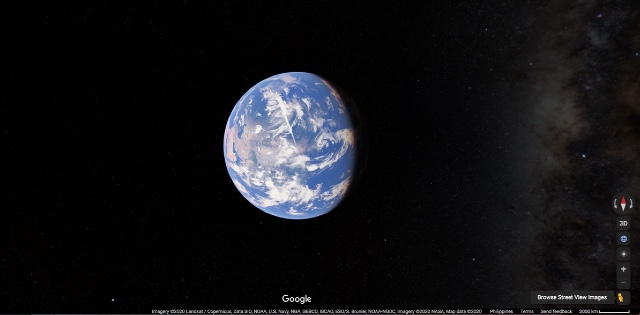 Not a lot of people are as lucky as Howard Wolowitz in The Big Bang Theory, but that doesn't mean we non-aerospace engineers can't ever check out space—and much more comfortably than Howie at that. Just load Google Maps from any location you've pinned it to, zoom out until you reach the limit, and wait for a sidebar to pop up! From there, you will see a list of planets and moons. You can zoom in and explore the details of more than a handful of celestial bodies. Talk about an out-of-this world journey!
ADVERTISEMENT - CONTINUE READING BELOW
Cerne Abbas Giant (Dorchester, U.K.)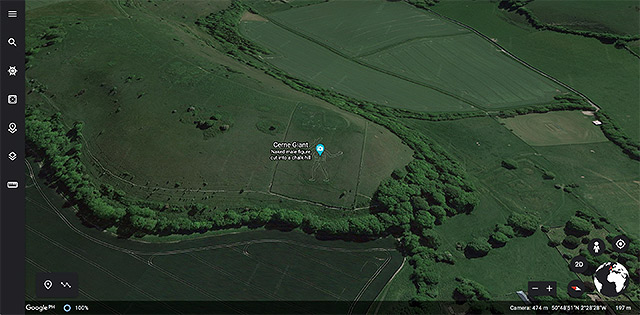 The Cerne Abbas Giant is a 180-foot naked male figure with a very noticeable erection and a large bat. You can find him near his namesake village in Dorchester, Dorset, carved into a steep hill using chalk. According to The Independent, experts believe that the Cerne Abbas Giant was created as a form of political satire by English statesman Baron Holles for fellow English statesman Oliver Cromwell. Other theories say that the Cerne Abbas Giant depicts the Roman god Hercules.  
ADVERTISEMENT - CONTINUE READING BELOW
Share this story with your friends!
---
Help us make Spot.ph better!
Take the short survey
Load More Stories